Abstract
This paper investigates the adsorption characteristics of palm oil boiler mill fly ash (POFA) derived from an agricultural waste material in removing Cd(II) and Cu(II) from aqueous solution via column studies. The performance of the study is described through the breakthrough curves concept under relevant operating conditions such as column bed depths (1, 1.5, and 2 cm) and influent metal concentrations (5, 10, and 20 mg/L). The Cd(II) and Cu(II) uptake mechanism is particularly bed depth- and concentration-dependant, favoring higher bed depth and lower influent metal concentration. The highest bed capacity of 34.91 mg Cd(II)/g and 21.93 mg Cu(II)/g of POFA was achieved at 20 mg/L of influent metal concentrations, column bed depth of 2 cm, and flow rate of 5 mL/min. The whole breakthrough curve simulation for both metal ions were best described using the Thomas and Yoon–Nelson models, but it is apparent that the initial region of the breakthrough for Cd(II) was better described using the BDST model. The results illustrate that POFA could be utilized effectively for the removal of Cd(II) and Cu(II) ions from aqueous solution in a fixed-bed column system.
This is a preview of subscription content, log in to check access.
Access options
Buy single article
Instant access to the full article PDF.
US$ 39.95
Price includes VAT for USA
Subscribe to journal
Immediate online access to all issues from 2019. Subscription will auto renew annually.
US$ 99
This is the net price. Taxes to be calculated in checkout.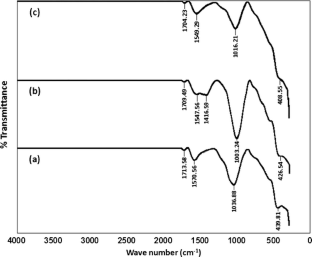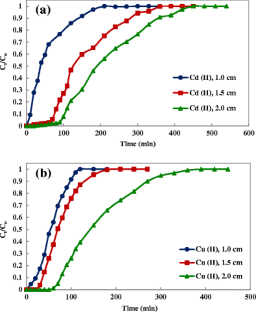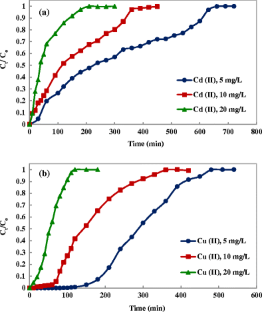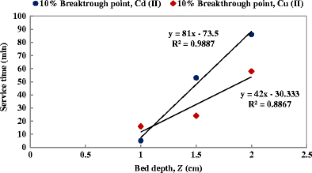 References
Ahmad AA, Hameed BH (2010) Fixed-bed adsorption of reactive azo dye onto granular activated carbon prepared from waste. J Hazard Mater 175:298–303

Ahmad T, Rafatullah M, Ghazali A, Sulaiman O, Hashim R (2011) Oil palm biomass-based adsorbents for the removal of water pollutants: a review. J Environ Sci Health Part C 29:177–222

APHA (1998) Standard methods for the examination of water and wastewater 20th ed. American Public Health Association, Washington

Aziz ASA, Manaf LA, Man HC, Kumar NS (2014) Kinetic modeling and isotherm studies for copper(II) adsorption onto palm oil boiler mill fly ash (POFA) as a natural low-cost adsorbent. BioResources 9:336–356

Baral SS, Das N, Ramulu TS, Sahoo SK, Das SN, Chaudhury GR (2009) Removal of Cr (VI) by thermally activated weed Salvinia cucullata in a fixed-bed column. J Hazard Mater 161:1427–1435

Bernard A (2008) Cadmium and its adverse effects on human health. Indian J Med Res 128:557–564

Bharathi KS, Badabhagni N, Nidheesh PV (2011) Breakthrough data analysis of adsorption of Cd (II) on coir pith column. Electron J Environ Agric Food Chem 10:2638–2658

Bohart GS, Adams EQ (1920) Some aspects of the behavior of charcoal with respect to chlorine. J Am Chem Soc 42:523–544

Chen S, Yue Q, Gao B, Li Q, Xu X, Fu K (2012) Adsorption of hexavalent chromium from aqueous solution by modified corn stalk: a fixed-bed column study. Bioresour Technol 113:114–120

Chowdhury ZZ, Zain SM, Rashid AK, Rafique RF, Khalid K (2013) Breakthrough curve analysis for column dynamics sorption of Mn(II) ions from wastewater by using Mangostana garcinia peel-based granular-activated carbon. J Chem. doi:10.1155/2013/959761

Chu KH, Hashim MA (2007) Copper biosorption on immobilized seaweed biomass: column breakthrough characteristics. J Environ Sci 19:928–932

Cooney DO (1999) Adsorption design for wastewater treatment. CRC Press, Boca Raton

Demirbas A (2008) Heavy metal adsorption onto agro-based waste materials: a review. J Hazard Mater 157:220–229

Foo KY, Hameed BH (2009) Value-added utilization of oil palm ash: a superior recycling of the industrial agricultural waste. J Hazard Mater 172:523–531

Futalan CM, Kan C-C, Dalida ML, Pascua C, Wan M-W (2011) Fixed-bed column studies on the removal of copper using chitosan immobilized on bentonite. Carbohydr Polym 83:697–704

Hagino N, Yoshioka Y (1961) A study of the etiology of Itai-Itai disease. J Jpn Orthop Assoc 35:812–815

Han RP, Wang Y, Zhao X, Wang YF, Xie FL, Cheng JM, Tang MS (2009) Adsorption of methylene blue by phoenix tree leaf powder in a fixed-bed column: experiments and prediction of breakthrough curves. Desalination 245:284–297

Hasfalina CM, Maryam RZ, Luqman CA, Rashid M (2012) Adsorption of copper (II) from aqueous medium in fixed-bed column by kenaf fibres. APCBEE Procedia 3:255–263

Hutchins RA (1973) Designing activated carbon systems. Chem Eng 80:133

IUPAC (1982) Manual of symbols and terminology of colloid surface. Butterworths, London

Larous S, Meniai AH, Lehocine MB (2005) Experimental study of the removal of copper from aqueous solutions by adsorption using sawdust. Desalination 185:483–490

Liu D, Sun D (2012) Modeling adsorption of Cu(II) using polyaniline-coated sawdust in a Fixed-bed column. Environ Eng Sci 29:461–465

Mohamed AR, Lee KT, Noor NM, Zainudin NF (2006) Oil palm ash Ca/(OH)2/CaSO4 absorbent for flue gas desulfurization. Chem Eng Technol 28:939–945

Naiya TK, Bhattacharya AK, Das SK (2009) Adsorption of Cd(II) and Pb(II) from aqueous solutions on activated alumina. J Colloid Interface Sci 333:14–26

Qaiser S, Saleemi AR, Umar M (2009) Biosorption of lead from aqueous solution by Ficus religiosa leaves: batch and column study. J Hazard Mater 166:998–1005

Sharma R, Singh B (2013) Removal of Ni (II) ions from aqueous solutions using modified rice straw in a fixed bed column. Bioresour Technol 146:519–524

Shuit SH, Tan KT, Lee KT, Kamaruddin AH (2009) Oil palm biomass as a sustainable energy source: a Malaysian case study. Energy 34:1225–1235

Sivaprakash B, Rajamohan N, Mohamed AS (2010) Batch and column sorption of heavy metal from aqueous solution using marine alga Sargassum tenerrimum. Int J Chem Tech Res 2:155–162

Teoh CH (2002) The palm oil industry in Malaysia—from seed to frying pan. Malaysia: Plantation Agriculture, WWF. http://assets.panda.org/downloads/oilpalmchainpartaandb_esri.pdf. Accessed 20 May 2013

Thomas HC (1944) Heterogeneous ion exchange in a flowing system. J Am Chem Soc 66:1466–1664

Wang FY, Wang H, Ma JW (2010) Adsorption of cadmium (II) ions from aqueous solution by a new low-cost adsorbent-bamboo charcoal. J Hazard Mater 177:300–306

WHO (2011) Cadmium in drinking water: background document for development of WHO guidelines for drinking-water quality. World Health Organization, Geneva

Yoon YH, Nelson JH (1984) Application of gas adsorption kinetics. I. A theoretical model for respirator cartridge service life. Am Ind Hyg Assoc J 45:509–516
Acknowledgments
The authors are truly grateful for the support and funding provided by the Faculty of Environmental Studies and Engineering of Universiti Putra Malaysia throughout the research.
Additional information
Responsible editor: Bingcai Pan
About this article
Cite this article
Aziz, A.S.A., Manaf, L.A., Man, H.C. et al. Column dynamic studies and breakthrough curve analysis for Cd(II) and Cu(II) ions adsorption onto palm oil boiler mill fly ash (POFA). Environ Sci Pollut Res 21, 7996–8005 (2014). https://doi.org/10.1007/s11356-014-2739-5
Received:

Accepted:

Published:

Issue Date:
Keywords
Adsorption characteristics

Breakthrough curve modeling

Fixed-bed column system

Heavy metals

Palm oil boiler mill fly ash (POFA)