Abstract
Chronic concentrations of polycyclic aromatic hydrocarbons (PAHs) have been commonly detected in international estuaries ecosystems. Reliable indicators still need to be found in order to properly assess the impact of PAHs in fish. After an in vivo chronic exposure to hydrocarbons, the enzymatic activity of 7-ethoxyresorufin O-deethylase (EROD) and the antioxidant defense system were assessed in sea bass, Dicentrarchus labrax. A total of 45 fish were exposed to the water-soluble fraction of Arabian crude oil, similar to a complex pollution by hydrocarbons chronically observed in situ, while 45 other control fish sustained the same experimental conditions in clean seawater. Fish samples were made after a 21-day exposure period and after a 15-day recovery period in clean fresh water. Throughout the experiment, liver EROD activity was significantly higher in contaminated fish than in control fish. In addition, nonenzymatic (total glutathione) and enzymatic (GPx, SOD, and CAT) antioxidant defense parameters measured in liver were not significantly different in fish. Furthermore, in gills, glutathione content had significantly increased while SOD activity had significantly decreased in contaminated fish compared to controls. On the other hand, CAT and GPx activities were not affected. Chronic exposure to PAHs disturbing the first step (SOD) and inhibiting the second step (GPx and CAT) could induce oxidative stress in tissues by the formation of oxygen radicals. After the postexposure period, there was no significant difference between control and contaminated fish in any of the antioxidant defense parameters measured in gills, attesting to the reversibility of the effects.
This is a preview of subscription content, log in to check access.
Access options
Buy single article
Instant access to the full article PDF.
US$ 39.95
Price includes VAT for USA
Subscribe to journal
Immediate online access to all issues from 2019. Subscription will auto renew annually.
US$ 99
This is the net price. Taxes to be calculated in checkout.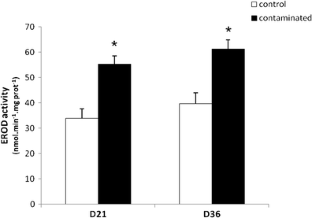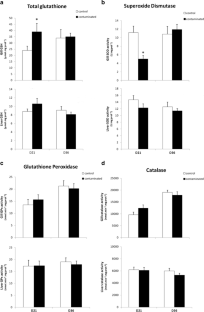 References
Ahmad I, Hamid T, Fatima M, Chand HS, Jain SK, Athar M, Raisuddin S (2000) Induction of hepatic antioxidants in freshwater catfish (Channa punctatus Bloch) is a biomarker of paper mill effluent exposure. Biochim Biophys Acta 1523:37–48

Ahmad I, Pacheco M, Santos MA (2003) Naphthalene-induced differential tissue damage association with circulating fish phagocyte induction. Ecotoxicol Environ Saf 54:7–15

Ahmad I, Oliveira M, Pacheco M, Santos MA (2005) Anguilla anguilla L. oxidative stress biomarkers responses to copper exposure with or without β-naphthoflavone exposure. Chemosphere 61:267–275

Babo S, Vasseur P (1992) In vitro effects of Thiram on liver antioxidant enzyme activities in rainbow trout (Oncorhynchus mykiss). Aquat Toxicol 22:61–68

Bainy A, Saito E, Carvalho P, Junqueira V (1996) Oxidative stress in gill, erythrocytes, liver and kidney of Nile tilapia (Oreochromis niloticus) from a polluted site. Aquat Toxicol 34:151–162

Bradford M (1976) A rapid and sensitive method for quantification of microgram quantities of protein utilising the principle of protein-dye binding. Anal Biochem 72:248–254

Buhler D, Williams D (1988) The role of biotransformation in the toxicity of chemicals. Aquat Toxicol 11:19–28

Couillard C, Wirgin I, Lebeuf M, Lagare B (2004) Reduction of cytochrome P4501A with age in Atlantic tomcod from the St. Lawrence estuary, Canada: relationship with emaciation and possible effect of contamination. Aquat Toxicol 68:233–247

Danion M, Le Floch S, Lamour F, Guyomarch J, Quentel C (2011a) Bioconcentration and immunotoxicity of an experimental oil spill in European sea bass (Dicentrarchus labrax L.). Ecotoxicol Environ Saf 74:2167–2174

Danion M, Le Floch S, Kanan R, Lamour F, Quentel C (2011b) Effects of in vivo chronic hydrocarbons pollution on sanitary status and immune system in sea bass (Dicentrarchus labrax L.). Aquat Toxicol 105:300–311

Della Torre C, Tornambè A, Cappello S, Mariottini M, Perra G, Giuliani S, Falugi C, Crisari A, Yakimov M, Magaletti E (2012) Modulation of CYP1A and genotoxic effects in European seabass (Dicentrarchus labrax) exposed to weathered oil: a mesocosm study. Mar Environ Res 76:48–55

Deneke S, Fanburg B (1989) Regulation of cellular glutathione. Am J Physiol 257:163–173

Dorval J, Hontela A (2003) Role of glutathione redox cycle and catalase in defense against oxidative stress induced by endosulfan in adrenocortical cells of rainbow trout (Oncorhynchus mykiss). Toxicol App Pharmacol 192:191–200

Evans D (1987) The fish gill: site of action and model for toxic effects of environmental pollutants. Environ Health Perspect 71:47–58

Fang Y, Yang S, Wu G (2002) Free radicals, antioxidants, and nutrition. Nutrition 18:872–879

Frenzilli G, Falleni A, Scarcelli V, Del Barga I, Pellegrini S, Savarino G, Mariotti V, Benedetti M, Fattorini D, Regoli F, Nigro M (2008) Cellular responses in the cyprinid Leuciscus cephalus from a contaminated freshwater ecosystem. Aquat Toxicol 89:188–196

Gallagher E, Canada A, Di Giulio R (1992) The protective role of glutathione in chlorothalonil-induced toxicity to channel catfish. Aquat Toxicol 23:155–168

George S, Christiansen J, Killie B, Wright J (1995) Dietary crude-oil exposure during sexual-maturation induces hepatic mixed-function oxygenase (CYP1A) activity at very low environmental temperatures in polar cod, Boreogadus saida. Marine Ecology Progress Series 122:307–312

González-Doncel M, González L, Fernández-Torija C, Navas JM, Tarazona JV (2008) Toxic effects of an oil spill on fish early life stages may not be exclusively associated to PAHs: studies with prestige oil and medaka (Oryzias latipes). Aquat Toxicol 87:280–288

Gravato C, Santos M (2003) Dicentrarchus labrax biotransformation and genotoxicity responses after exposure to a secondary treated industrial/urban effluent. Ecotoxicol Environ Saf 55:300–306

Gravato C, Teles M, Oliveira M, Santos M (2006) Oxidative stress, liver biotransformation and genotoxic effects induced by copper in Anguilla anguilla, the influence of pre-exposure to β-naphthoflavone. Chemosphere 65:1821–1830

Greco L, Serrano R, Blanes M, Serrano E, Capri E (2010) Bioaccumulation markers and biochemical responses in European sea bass (Dicentrarchus labrax) raised under different environmental conditions. Ecotoxicol Environ Saf 73:38–45

Hahn M (1998) Aryl hydrocarbon receptor: a comparative perspective. Comp Biochem Physiol 121:23–53

Hahn M (2002) Aryl hydrocarbon receptors: diversity and evolution. Biol Interactions 141:131–160

Jee J, Kang J (2005) Biochemical changes of enzymatic defense system after phenanthrene exposure in olive flounder, Paralichthys olivaceus. Physiol Res 54:585–591

Jifa W, Xiuxian S, You W (2006) Response of integrated biomarkers of fish (Lateolabrax japonicus) exposed to benzo[a]pyrene and sodium dodecylbenzene sulfonate. Ecotoxicol Environ Saf 65:230–236

Jung J, Yim U, Han G, Shim W (2009) Biochemical changes in rockfish, Sebastes schlegeli, exposed to dispersed crude oil. Comp Biochem Physiol C: Toxicol Pharmacol 150:218–223

Kappus H (1985) Lipid peroxidation: mechanisms, analysis, enzymology and biological relevance. In: Sies H (ed) Oxidative Stress. Academic, London pp, pp 273–310

Kavitha P, Rao JV (2008) Toxic effects of chlorpyrifos on antioxidant enzymes and target enzyme acetylcholinesterase interaction in mosquito fish, Gambusia affinis. Environm Toxicol Pharmacol 26:192–198

Kennedy C, Farrell A (2008) Immunological alterations in juvenile Pacific herring, Clupea pallasi, exposed to aqueous hydrocarbons derived from crude oil. Environ Pollut 153:638–648

Kerambrun E, Sanchez W, Henry F, Amara R (2011) Are biochemical biomarker responses related to physiological performance of juvenile sea bass (Dicentrarchus labrax) and turbot (Scophthalmus maximus) caged in a polluted harbour? Comp Biochem Physiol C: Toxicol Pharmacol 154:187–195

Kerambrun E, Le Floch S, Sanchez W, Thomas Guyon H, Meziane T, Henry F, Amara R (2012) Responses of juvenile sea bass, Dicentrarchus labrax, exposed to acute concentrations of crude oil, as assessed by molecular and physiological biomarkers. Chemosphere 87:692–702

Klumpp D, Humphrey C, Huasheng H, Tao F (2002) Toxic contaminants and their biological effects in coastal waters of Xiamen, China: II. Biomarkers and embryo malformation rates as indicators of pollution stress in fish. Mar Pollut Bull 44:761–769

Landis G, Yu MH (eds) (1995) Introduction to environmental toxicology: impacts of chemicals upon ecological systems. Lewis, Boca Raton

Li F, Ji L, Luo Y, Oh K (2007) Hydroxyl radical generation and oxidative stress in Carassius auratus liver as affected by 2,4,6-trichlorophenol. Chemosphere 67:13–19

Liochev S, Fridovich I (1992) Superoxide generated by glutathione reductase initiates a vanadate-dependent free radical chain oxidation of NADH. Archives Biochem Biophys 294:403–406

Livingstone D (1991) Organic xenobiotic metabolism in marine invertebrates. Adv Comp. Environ, Physiol

Livingstone D, Lemaire P, Matthews A, Peters L, Bucke D, Law R (1993) Pro-oxidant, antioxidant and 7-ethoxyresorufin O-deethylase (EROD) activity responses in liver of Dab (Limanda limanda) exposed to sediment contaminated with hydrocarbons and other chemicals. Mar Pollut Bull 26:602–606

Mallatt J (1985) Fish gill structural changes induced by toxicants and other irritants: a statistical review. Can J Fish Aquat Sci 42:630–648

Marklund S, Marklund G (1974) Involvement of superoxide anion radical in autoxidation of pyrogallol and a convenient assay of superoxide dismutase. Eur J Biochem 47:469–474

Meador J, Stein J, Reichert W, Varanasi U (1995) Bioaccumulation of polycyclic hydrocarbons by marine organism. Rev Environ Contam Toxicol 143:79–165

Milinkovitch T, Ndiaye A, Sanchez W, Le Floch S, Thomas-Guyon H (2011) Liver antioxidant and plasma immune responses in juvenile golden grey mullet (Liza aurata) exposed to dispersed crude oil. Aquat Toxicol 101:155–164

Milinkovitch T, Imbert N, Sanchez W, Le Floch S, Thomas-Guyon H (2013) Toxicological effects of crude oil and oil dispersant: biomarkers in the heart of the juvenile golden grey mullet (Liza aurata). Ecotoxicol Environ Saf 88:1–8

Nahrgang J, Camus L, Gonzalez P, Jönsson M, Christiansen JS, Hop H (2010) Biomarker responses in polar cod (Boreogadus saida) exposed to dietary crude oil. Aquat Toxicol 96:77–83

Oliva M, González de Canales ML, Gravato C, Guilhermino L, Perales JA (2010) Biochemical effects and polycyclic aromatic hydrocarbons (PAHs) in Senegal sole (Solea senegalensis) from a Huelva estuary (SW Spain). Ecotoxicol Environ Saf 73:1842–1851

Oliveira M, Pacheco M, Santos M (2008) Organ specific antioxidant responses in golden grey mullet (Liza aurata) following a short-term exposure to phenanthrene. Sci Total Environ 396:70–78

Oliveira-Ribeiro C, Vollaire Y, Sanchez-Chardi A, Roche H (2005) Bioaccumulation and the effects of organochlorine pesticides, PAH and heavy metals in the Eel (Anguilla anguilla) at the Camargue Nature Reserve. France Aquat Toxicol 74:53–69

Paglia DE, Valentine WN (1967) Studies on the quantitative and qualitative characterization of erythrocyte glutathione peroxidase. J Lab Clin Med 70:158–169

Pandey S, Parvez S, Ansari R, Ali M, Kaur M, Hayat F, Ahmad F, Raisuddin S (2008) Effects of exposure to multiple trace metals on biochemical, histological and ultrastructural features of gills of a freshwater fish, Channa punctata Bloch. Chem Biol Interact 174:183–192

Pastore A, Federici G, Bertini E, Piemonte F (2003) Analysis of glutathione: implication in redox and detoxification. Clin Chim Acta 333:19–39

Ramachandran S, Hodson P, Khan C, Lee K (2004) Oil dispersant increases PAH uptake by fish exposed to crude oil. Ecotoxicol Environ Saf 59:300–308

Reynaud S, Deschaux P (2006) The effects of polycyclic aromatic hydrocarbons on the immune system of fish: a review. Aquat Toxicol 77:229–238

Saera-Vila A, Benedito-Palos L, Sitjà-Bobadilla A, Nácher-Mestre J, Serrano R, Kaushik S, Pérez-Sánchez J (2009) Assessment of the health and antioxidant trade-off in gilthead sea bream (Sparus aurata L.) fed alternative diets with low levels of contaminants. Aquaculture 296:87–95

Sanchez W, Palluel O, Meunier L, Coquery M, Porcher J, Aït-Aïssa S (2005) Copper-induced oxidative stress in three-spined stickleback: relationship with hepatic metal levels. Environ Toxicol Pharm 19:177–183

Sanchez W, Porcher J-M (2009) Fish biomarkers for environmental monitoring within the Water Framework Directive of the European Union. Trends Anal Chem 28:150–158

Shi H, Sui Y, Wang X, Luo Y, Ji L (2005) Hydroxyl radical production and oxidative damage induced by cadmium and naphthalene in liver of Carassius auratus. Comp Biochem Physiol Part C: Toxicol Pharmacol 140:115–121

Sun Y, Yu H, Zhang J, Yin Y, Shi H, Wang X (2006) Bioaccumulation, depuration and oxidative stress in fish Carassius auratus under phenanthrene exposure. Chemosphere 63:1319–1327

Sureda A, Box A, Tejada S, Blanco A, Caixach J, Deudero S (2011) Biochemical responses of Mytilus galloprovincialis as biomarkers of acute environmental pollution caused by the Don Pedro oil spill (Eivissa Island, Spain). Aquat Toxicol 101:540–549

Timme-Laragy A, Van Tiem A, Linney E, Di Giulio R (2009) Antioxidant responses and NRF2 in synergistic developmental toxicity of PAHs in zebrafish. Toxicol Sci 109:217–227

Van der Oost R, Beyer J, Vermeulen N (2003) Fish bioaccumulation and biomarkers in environmental risk assessment: a review. Environ Toxicol Pharmacol 13:57–149

Vandeputte C, Guizon I, Genestie-Denis I, Lorenzon G (1994) A microtiter plate assay for total glutathione and glutathione disulfide contents in cultured/isolated cells: performance study of a new miniaturized protocol. Cell Biol Toxicol 10:415–421

Wang J-Z, Nie Y-F, Luo X-L, Zeng E (2008) Occurrence and phase distribution of polycyclic aromatic hydrocarbons in riverine runoff of the Pearl River Delta. China Mar Pollut Bull 57:767–774

Wessel N, Santos R, Menard D, Le Menach K, Buchet V, Lebayon N, Loizeau V, Burgeot T, Budzinski H, Akcha F (2010) Relationship between PAH biotransformation as measured by biliary metabolites and EROD activity, and genotoxicity in juveniles of sole (Solea solea). Mar Environ Res 69:S71–S73

Winston G, Di Giulio R (1991) Prooxidant and antioxidant mechanisms in aquatic organisms. Aquat Toxicol 19:137–161

Yuen B, Au D (2006) Temporal changes of ethoxyresorufin-O-deethylase (EROD) activities and lysosome accumulation in intestine of fish on chronic exposure to dietary benzo(a)pyrene: linking EROD induction to cytological effects. Toxicol Chem 25:2593–2600

Yunker M, Backus S, Graf Pannatier E, Jeffries D, Macdonald R (2002) Sources and Significance of Alkane and PAH Hydrocarbons in Canadian Arctic Rivers. Estuar Coast Shelf Sci 55:1–31
Acknowledgments
This study was supported by a PhD grant from ANSES (French agency for food, environmental, and occupational health and safety) and the County Council of the region of Brittany. The authors thank Sally Ferguson (Alba Traduction) for proofreading this document.
Additional information
Responsible editor: Philippe Garrigues
About this article
Cite this article
Danion, M., Floch, S.L., Lamour, F. et al. EROD activity and antioxidant defenses of sea bass (Dicentrarchus labrax) after an in vivo chronic hydrocarbon pollution followed by a post-exposure period. Environ Sci Pollut Res 21, 13769–13778 (2014). https://doi.org/10.1007/s11356-014-2720-3
Received:

Accepted:

Published:

Issue Date:
Keywords
Dicentrarchus labrax L

PAHs

EROD

Glutathione

SOD

CAT

GPx