Abstract
The presence of pharmaceutical drugs in the environment is an important field of toxicology, since such residues can cause deleterious effects on exposed biota. This study assessed the ecotoxicological acute and chronic effects of two anticholinesterasic drugs, neostigmine and pyridostigmine in Daphnia magna. Our study calculated 48 h-EC50 values for the immobilization assay of 167.7 μg L−1 for neostigmine and 91.3 μg L−1 for pyridostigmine. In terms of feeding behavior, we calculated a 5 h-EC50 for filtration rates of 7.1 and 0.2 μg L−1 for neostigmine and pyridostigmine, respectively; for the ingestion rates, the calculated EC50 values were, respectively, 7.5 and 0.2 μg L−1 for neostigmine and pyridostigmine. In the reproduction assay, the most affected parameter was the somatic growth rate (LOECs of 21.0 and 2.9 μg L−1 for neostigmine and pyridostigmine, respectively), followed by the fecundity (LOECs of 41.9 and 11.4 μg L−1 for neostigmine and pyridostigmine, respectively). We also determined a 48 h-IC50 for cholinesterase activity of 1.7 and 4.5 μg L−1 for neostigmine and pyridostigmine, respectively. These results demonstrated that both compounds are potentially toxic for D. magna at concentrations in the order of the μg L−1.
This is a preview of subscription content, log in to check access.
Access options
Buy single article
Instant access to the full article PDF.
US$ 39.95
Price includes VAT for USA
Subscribe to journal
Immediate online access to all issues from 2019. Subscription will auto renew annually.
US$ 99
This is the net price. Taxes to be calculated in checkout.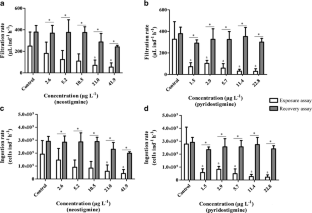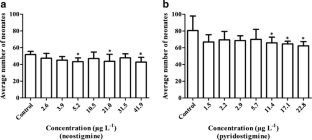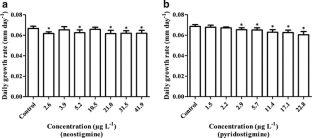 References
Abrantes N, Gonçalves F (2003) The dynamics of Ceriodaphnia pulchella (Cladocera) in laboratory. Acta Oecol 24(1):S245–S249

Abu-Qare AW, Abou-Donia MB (2002) Binding of pyridostigmine bromide, N, N-diethyl-m–toluamide and permethrin, alone and in combinations, to human serum albumin. Arch Toxicol 76(4):203–208. doi:10.1007/s00204-002-0328-8

Alberto AC, Rocío OB, Fernando MJ (2011) Age effect on the antioxidant activity of Daphnia magna (Anomopoda: Daphniidae): does younger mean more sensitivity? J Environ Biol 32(4):481–487

American Society for Testing and Materials (ASTM) (1980) Standard Practice for Conducting Acute Toxicity Tests with Fishes, Macroinvertebrates and Amphibians, Report E-729-780. ASTM, Philadelphia

Andreozzi R, Raffaele M, Nicklas P (2003) Pharmaceuticals in STP effluents and their solar photodegradation in aquatic environment. Chemosphere 50(10):1319–1330. doi:10.1016/S0045-6535(02)00769-5

Aquilonius SM, Eckernäs SA, Hartvig P, Lindström B, Osterman PO, Stålberg E (1983) Clinical pharmacology of pyridostigmine and neostigmine in patients with myasthenia gravis. J Neurol Neurosurg Psychiatry 46(10):929–935. doi:10.1136/jnnp.46.10.929

Baird DJ, Soares AMVM, Girling A, Barber I, Bradley M, Calow P (1988) The long-term maintenance of Daphnia magna Straus for use in ecotoxicity tests: problems and prospects. Proceedings of the 1st European Conference on Ecotoxicology; Copenhagen, Denmark.

Baird DJ, Barber I, Bradley M, Calow P, Soares AMVM (1989) The Daphnia bioassay: a critique. Hydrobiologia 188/189(1):403–406. doi:10.1007/BF00027806

Baird DJ, Barber I, Calow P (1990) Clonal variation in general responses of Daphnia magna Straus to toxic stress.1. Chronic life-history effects. Funct Ecol 4(3):399–407

Barata CA, Baird DJ (1998) Phenotypic plasticity and constancy of life-history traits in laboratory clones of Daphnia magna Straus: effects of neonatal length. Funct Ecol 12(3):442–452. doi:10.1046/j.1365-2435.1998.00201.x

Barata C, Baird DJ, Soares AMVM, Guilhermino L (2001) Biochemical factors contributing to response variation among resistant and sensitive clones of Daphnia magna Straus exposed to ethyl parathion. Ecotoxicol Environ Saf 49(2):155–163. doi:10.1006/eesa.2001.2052

Barata CA, Solayan A, Porte C (2004) Role of B-esterases in assessing toxicity of organophosphorus (chlorpyrifos, malathion) and carbamate (carbofuran) pesticides to Daphnia magna. Aquat Toxicol 66(2):125–139. doi:10.1016/j.aquatox.2003.07.004

Barata CA, Damásio JB, López MA, Kuster M, López de Alda M, Barceló D, Riva MC, Raldúa D (2007) Combined use of biomarkers and in situ bioassays in Daphnia magna to monitor environmental hazards of pesticides in the field. Environ Toxicol Chem 26(2):370–379. doi:10.1897/06-209R.1

Barnes KK, Kolpin DW, Furlong ET, Zaugg SD, Meyer MT, Barber LB (2008) A national reconnaissance of pharmaceuticals and other organic wastewater contaminants in the United States — I) Groundwater. Sci Total Environ 402(2–3):192–200. doi:10.1016/j.scitotenv.2008.04.028

Bocquené G, Galgani F, Truquet P (1991) Acetylcholinesterase activity in the common prawn (Palaemon serratus) contamined by carbaryl and phosalone: choice of a method for detection of effects. Ecotoxicol Environ Saf 22(3):248–254. doi:10.1016/0147-6513(91)90083-2

Booij LHDJ, Drobnik L (2009) Neostigmine as a reversal agent: effects and side-effects. Anesteziol Ratownictwo 3:304–335

Bradford M (1976) A rapid and sensitive method for the quantitation of microgram quantities of protein utilizing the principle of protein-dye binding. Anal Biochem 72:248–254. doi:10.1016/0003-2697(76)90527-3

Bradley MC, Baird DJ, Calow P (1991) Mechanisms of energy allocation to reproduction in the cladoceran Daphnia magna Straus. Biol J Linn Soc 44(4):325–333. doi:10.1111/j.1095-8312.1991.tb00623.x

Brun GL, Bernier M, Losier R, Doe K, Jackman P, Lee HB (2006) Pharmaceutically active compounds in Atlantic Canadian sewage treatment plant effluents and receiving waters and potential for environmental effects as measured by acute and chronic aquatic toxicity. Environ Toxicol Chem 25(8):2163–2176. doi:10.1897/05-426R.1

Burns CW (2000) Crowding-induced changes in growth, reproduction and morphology of Daphnia. Freshw Biol 43(1):19–29. doi:10.1046/j.1365-2427.2000.00510.x

Conti-Fine BM, Milani M, Kaminski HJ (2006) Myasthenia gravis: past, present, and future. J Clin Invest 116(11):2843–2854. doi:10.1172/JCI29894

Day KE, Kaushik NK (1987) An assessment of the chronic toxicity of the synthetic pyrethroid, fenvalerate, to Daphnia galeata mendotae, using life tables. Environ Pollut 44(1):13–26. doi:10.1016/0269-7491(87)90125-4

Day KE, Kaushik NK, Solomon KR (1987) Impact of fenvalerate on enclosed freshwater planktonic communities and on in situ rates of filtration of zooplankton. Can J Fish Aquat Sci 4(10):1714–1728. doi:10.1139/f87-210

Detra RL, Collins WJ (1991) The relationship of parathion concentration environ, exposure time, cholinesterase inhibition and symptoms of toxicity in midge lavae (Chironomidae: Diptera). Environ Toxicol Chem 10(8):1089–1095. doi:10.1002/etc.5620100814

Diamantino TC, Almeida E, Soares AMVM, Guilhermino L (2003) Characterization of cholinesterases from Daphnia magna Straus and their inhibition by zinc. Bull Environ Contam Toxicol 71(2):219–225. doi:10.1007/s00128-003-0153-7

Duquesne S (2006) Effects of an organophosphate on Daphnia magna at suborganismal and organismal levels: Implications for population dynamics. Ecotoxicol Environ Saf 65(2):145–150. doi:10.1016/j.ecoenv.2006.01.008

Duquesne S, Küster E (2010) Biochemical, metabolic, and behavioural responses and recovery of Daphnia magna after exposure to an organophosphate. Ecotoxicol Environ Saf 73(3):353–359. doi:10.1016/j.ecoenv.2009.11.008

Dzyadevych SV, Chovelon JM (2002) A comparative photodegradation studies of methyl parathion by using Lumistox test and conductometric biosensor technique. Mater Sci Eng C 21(1–2):55–60. doi:10.1016/S0928-4931(02)00058-9

Ellman GL, Courtney KD, Andres V Jr, Feather-Stone RM (1961) A new and rapid colorimetric determination of acetylcholinesterase activity. Biochem Pharmacol 7:88–95

Enserink EL, Kerkhofs MJJ, Baltus CAM, Koeman JH (1995) Influence of food quantity and lead-exposure on maturation in Daphnia-magna - evidence for a trade-off mechanism. Funct Ecol 9(2):175–185

EPA Environmental Protection Agency. (1989) Short-Term Methods for Estimating the Chronic Toxicity of Effluents and Receiving Waters to Freshwater Organisms, EPA, 600/4/001.

Escatin E, Porte C (1996) Acetylcholinesterase inhibition in the crayfish Procambarus clarkii exposed to fenitrothion. Ecotoxicol Environ Saf 34(2):160–164. doi:10.1006/eesa.1996.0058

Escher BI, Bramaz N, Eggen RIL, Richter M (2005) In vitro assessment of modes of toxic action of pharmaceuticals in aquatic life. Environ Sci Technol 39(9):3090–3100. doi:10.1021/es048590e

Fernández-Casalderrey A, Ferrando MD, Andreu-Moliner E (1994) Effect of sublethal concentrations of pesticides on the feeding behavior of Daphnia magna. Ecotoxicol Environ Saf 27(1):82–89. doi:10.1006/eesa.1994.1008

Finney DJ (1971) Probit Analysis, 3rd edn. Cambridge University Press, Cambridge

Garric J, Vollat B, Duis K, Pery A, Junker T, Ramil M, Fink G, Ternes T (2007) Effects of the parasiticide ivermectin on the cladoceran Daphnia magna and the green alga Pseudokirchneriella subcapitata. Chemosphere 69(6):903–910. doi:10.1016/j.chemosphere.2007.05.070

Gauld DT (1951) The grazing rate of planktonic copepods. J Mar Biol Assoc U K 29(3):695–706. doi:10.1017/S0025315400052875

Gaworecki KM, Roberts AP, Ellis N, Sowers AD, Klaine SJ (2009) Biochemical and behavioral effects of diazinon exposure in hybrid striped bass. Environ Toxicol Chem 28(1):105–112. doi:10.1897/08-001.1

Ginebreda A, Muñoz I, de Alda ML, Brix R, López-Doval J, Barceló D (2010) Environmental risk assessment of pharmaceuticals in rivers: Relationships between hazard indexes and aquatic macroinvertebrate diversity indexes in the Llobregat River (NE Spain). Environ Int 36(2):153–162. doi:10.1016/j.envint.2009.10.003

Ginjupalli GK, Baldwin WS (2013) The time- and age-dependent effects of the juvenile hormone analog pesticide, pyriproxyfen on Daphnia magna reproduction. Chemosphere 92(9):1260–1266. doi:10.1016/j.chemosphere.2013.04.061

Godfrey E, Woessner WW, Benotti MJ (2007) Pharmaceuticals in On-Site Sewage Effluent and Ground Water, Western Montana. Ground Water 45(3):263–271. doi:10.1111/j.1745-6584.2006.00288.x

Halbach U (1984) Population dynamics of rotifers and its consequences for ecotoxicology. Hydrobiologia 109(1):79–96. doi:10.1007/BF00006300

Han GH, Hur HG, Kim SD (2006) Ecotoxicological risk of pharmaceuticals from wastewater treatment plants in Korea: occurrence and toxicity to Daphnia magna. Environ Toxicol Chem 25(1):265–271. doi:10.1897/05-193R.1

Hartmann HJ, Kunkel DD (1991) Mechanisms of food selection in Daphnia. Hydrobiologia 225(1):129–154. doi:10.1007/BF00028392

Herbrandson C, Bradbury SP, Swackhamer DL (2003) Influence of suspended solids on acute toxicity of carbofuran to Daphnia magna: I Interactive effects. Aquat Toxicol 63(4):333–342. doi:10.1016/S0166-445X(02)00206-0

Hutchinson T (2008) Intelligent testing strategies in ecotoxicology: approaches to reduce and replace fish and amphibians in toxicity testing. Nat Centre Replac Refin Reduction Anim Res 14:1–11

Jelic A, Gros M, Ginebreda A, Cespedes-Sánchez R, Ventura F, Petrovic M, Barceló D (2011) Occurrence, partition and removal of pharmaceuticals in sewage water and sludge during wastewater treatment. Water Res 45(3):1165–1176. doi:10.1016/j.watres.2010.11.010

Juchelka CM, Snell TM (1995) Rapid toxicity assessment using ingestion rate of cladocerans and ciliates. Arch Environ Contam Toxicol 28(4):508–512. doi:10.1007/BF00211634

Kaminski HJ (2009) Myasthenia gravis and related disorders, 2nd ed. Humana Press: New York.

Kolpin DW, Furlong ET, Meyer MT, Thurman EM, Zaugg SD, Barber LR, Buxton HT (2002) Pharmaceuticals, hormones, and other organic wastewater contaminants in U.S. streams, 1999–2000: a national reconnaissance. Environ Sci Technol 36(6):1202–1211. doi:10.1021/es011055j

Kooijman SALM, Metz JAJ (1984) On the dynamics of chemically stressed populations: The deduction of population consequences from individual effects. Ecotoxicol Environ Saf 8(3):254–274. doi:10.1016/0147-6513(84)90029-0

Lampert W (1988) The relative importance of food limitation and predation in the seasonal cycle of two Daphnia species. Verh. - Int. Ver. Theor. Angew Limnol 23:713–718

Levine BS, Parker RM (1991) Reproductive and developmental toxicity studies of pyridostigmine bromide in rats. Toxicology 69(3):291–300

Lindberg R, Jarnheimer PA, Olsen B, Johansson M, Tysklind M (2004) Determination of antibiotic substances in hospital sewage water using solid phase extraction and liquid chromatography/mass spectrometry and group analogue internal standards. Chemosphere 57(10):1479–1488. doi:10.1016/j.chemosphere.2004.09.015

Loos R, Gawlik BM, Locoro G, Rimaviciute E, Contini S, Bidoglio G (2009) EU-wide survey of polar organic persistent pollutants in European river waters. Environ Pollut 157(2):561–568. doi:10.1016/j.envpol.2008.09.020

López-Serna R, Pérez S, Ginebreda A, Petrović M, Barceló D (2010) Fully automated determination of 74 pharmaceuticals in environmental and waste waters by online solid phase extraction–liquid chromatography-electrospray-tandem mass spectrometry. Talanta 83(2):410–424. doi:10.1016/j.talanta.2010.09.046

Maltby L (1999) Studying stress: the importance of organism level responses. Ecological Applications 9(2):431–440

Marques CR, Abrantes N, Gonçalves F (2004a) Life-history traits of standard and autochthonous cladocerans: I. Acute and chronic effects of acetylsalicylic acid. Environ Toxicol 19(5):518–526. doi:10.1002/tox.20059

Marques CR, Abrantes N, Gonçalves F (2004b) Life-history traits of standard and autochthonous cladocerans: II. Acute and chronic effects of acetylsalicylic acid metabolites. Environ Toxicol 9(5):527–540. doi:10.1002/tox.20060

McWilliam RA, Baird DJ (2002) Post-exposure feeding depression: a new toxicity endpoint for use in laboratory studies with Daphnia magna. Environ Toxicol Chem 21(6):1198–1205. doi:10.1002/etc.5620210612

Meyer JS, Ingersoll CG, McDonald LL, Boyce MS (1986) Estimating uncertainity in population growth rates: Jackknife vs. Bootstrap techniques. Ecology 67(5):1156–1166. doi:10.2307/1938671

Miao XS, Bishay F, Chen M, Metcalfe CD (2004) Occurrence of antimicrobials in the final effluents of wastewater treatment plants in Canada. Environ Sci Technol 38(13):3533–3541. doi:10.1021/es030653q

Muyssen BTA, De Schamphelaere KAC, Janssen CR (2009) Calcium accumulation and regulation in Daphnia magna: Links with feeding, growth and reproduction. Comp Biochem Physiol A 152:53–57

Nunes B (2011) The Use of Cholinesterases in Ecotoxicology. Rev Environ Contam Toxicol 212:29–59. doi:10.1007/978-1-4419-8453-1_2

O'Brien RD (1967) Insecticides: Action and metabolism. Academic Press, New York

OECD (Organization for the Economic Cooperation and Development) (1998) Daphnia magna reproduction test — test guideline 211. Paris, France.

OECD (Organization for the Economic Cooperation and Development) (2000) Daphnia magna immobilization test — test guideline 211. Paris, France.

Parrot JL, Blunt BR (2005) Life-cycle exposure of fathead minnows (Pimephales promelas) to an ethinylestradiol concentration below 1 ng/L reduces egg fertilization success and demasculinizes males. Environ Toxicol 20(2):131–141. doi:10.1002/tox.20087

Pereira JL, Marques CR, Gonçalves F (2004) Allometric relations for Ceriodaphnia spp. and Daphnia spp. Ann Limnol 40(1):11–14. doi:10.1051/limn/2004001

Pessoa PC, Luchmann KH, Ribeiro AB, Veras MM, Correa JRMB, Nogueira AJ, Bainy ACD, Carvalho PSM (2011) Cholinesterase inhibition and behavioral toxicity of carbofuran on Oreochromis niloticus early life stages. Aquat Toxicol 105:312–320

Printes LB, Callaghan A (2003) Intraclonal variability in Daphnia acetylcholinesterase activity: the implications for its applicability as a biomarker. Environ Toxicol Chem 22(9):2042–2047. doi:10.1897/02-424

Printes LB, Callaghan A (2004) A comparative study on the relationship between acetylcholinesterase activity and acute toxicity in Daphnia magna exposed to anticholinesterase insecticides. Environ Toxicol Chem 23(5):1241–1247. doi:10.1897/03-202

Quinn B, Gagné F, Blaise C (2008) An investigation into the acute and chronic toxicity of eleven pharmaceuticals (and their solvents) found in wastewater effluent on the cnidarian, Hydra attenuate. Sci Total Environ 389(2–3):306–314. doi:10.1016/j.scitotenv.2007.08.038

Reynaldi S, Duquesne S, Jung K, Liess M (2006) Linking feeding activity and maturation of Daphnia magna following short-term exposure to fenvalerate. Environ Toxicol Chem 25(7):1826–1830. doi:10.1897/05-469R.1

Richardson ML, Bowron JM (1985) The fate of pharmaceutical chemicals in the aquatic environment: A review. J Pharm Pharmacol 37(1):1–12. doi:10.1111/j.2042-7158.1985.tb04922.x

Sacher F, Lange FT, Brauch HJ, Blankenhorn I (2001) Pharmaceuticals in groundwaters Analytical methods and results of a monitoring program in Baden-Württemberg, Germany. J Chromatogr A 938(1–2):199–210. doi:10.1016/S0021-9673(01)01266-3

Sakshaug S, Strøm H, Berg C, Litleskare I, Blix HS, Rønning M, Granum, T (2011) Drug Consumption in Norway. Folkehelseinstituttet Oslo, 2006–2010.

Sancho E, Sanchez M, Ferrando MD, Andreu-Moliner E (2003) Comparative Study of the Toxicity of Molinate for Freshwater Organisms. Bull Environ Contam Toxicol 70(4):723–730. doi:10.1007/s00128-003-0043-z

Scholten MCT, Foekema EM, Dokkum HP, Kaag NHBM, Jak RG (2005) Eutrophication management and ecotoxicology, 1st edn. Springer Berlin Heidelberg, New York

Schwab BW, Hayes EP, Fiori JM, Mastrocco FJ, Roden NM, Cragin D, Meyerhoff RD, D'Aco VJ, Anderson PD (2005) Human pharmaceuticals in US surface waters: A human health risk assessment. Regul Toxicol Pharmacol 42(3):296–312. doi:10.1016/j.yrtph.2005.05.005

Schwarzenbach RP, Escher BI, Fenner K, Hofstetter TB, Johnson CA, von Gunten U, Wehrli B (2006) The Challenge of micropollutants in aquatic system. Science 313(5790):1072–1077. doi:10.1126/science.1127291

Soares AMVM (1989) Clonal variation in life-history traits in Daphnia magna Straus (Crustacea, Caldocera), implications for ecotoxicology. University of Sheffield, Dissertation

Song X, Tian H, Bressler J, Pruett S, Pope C (2002) Acute and repeated restraint stress have little effect on pyridostigmine toxicity or brain regional cholinesterase inhibition in rats. Toxicol Sci 69(1):157–164. doi:10.1093/toxsci/69.1.157

Stein JR (1973) Handbook of Phycological Methods: Culture Methods and Growth Measurements. Cambridge. University Press, London, Reino Unido.

Stross RG, De Bernardi R (1997) Brood size at first reproduction in a synchronous population of arctic and pond Daphnia. Mem Ist Ital Idrobiol Dott 56:131–142

Ternes TA, Kreckel P, Mueller J (1999a) Behaviour and occurrence of estrogens in municipal sewage treatment plants - II. Aerobic batch experiments with activated sludge. Sci Total Environ 225(1–2):91–99. doi:10.1016/S0048-9697(98)00335-0

Ternes TA, Stumpf M, Mueller J, Haberer K, Wilken RD, Servos M (1999b) Behavior and occurrence of estrogens in municipal sewage treatment plants - I. Investigations in Germany, Canada and Brazil. Sci Total Environ 225(1–2):81–90. doi:10.1016/S0048-9697(98)00334-9

Tiwari DC, Jain R, Sharma S (2008) Electrochemical behaviour of pyridostigmine bromide-an anticolinergic drug at polyaniline/polypyrrole composite polymer electrode. Indian J Chem Technol 15(4):319–324

Veselá S, Ondruška V, Kuča K, Patočka P (2006) Freshwater microcrustacean Daphnia magna Straus as an early screen model to compare toxicity of acetylcholinesterase inhibitors. J Appl Biomed 4(2):105–110

Vieno N, Tuhkanen T, Kronberg L (2007) Elimination of pharmaceuticals in sewage treatment plants in Finland. Water Res 41(5):1001–1012. doi:10.1016/j.watres.2006.12.017

Villarroel MJ, Ferrando MD, Sancho E, Andreu E (1999) Daphnia magna feeding behavior after exposure to tetradifon and recovery from intoxication. Ecotoxicol Environ Saf 44(1):40–46. doi:10.1006/eesa.1999.1817

Villarroel MJ, Sancho E, Andreu-Moliner E, Ferrando MD (2009) Biochemical stress response in tetradifon exposed Daphnia magna and its relationship to individual growth and reproduction. Sci Total Environ 407(21):5537–5542. doi:10.1016/j.scitotenv.2009.06.032

Waggott A (1981) Trace organic substances in the River Lee Great Britain. In: Cooper WJ (ed) Chemical Water Reuse, vol 2. Ann Arbor Science, Ann Arbor, pp 55–99

Weigel S (2003) Occurrence, distribution and fate of pharmaceuticals and further polar contaminants in the marine environment. Dissertation, University of Hamburg.

Weigel S, Bester K, Hühnerfuss H (2001) New method for rapid solid-phase extraction of large-volume water samples and its application to non-target screening of North Sea water for organic contaminants by gas chromatography–mass spectrometry. J Chromatogr A 912(1):151–161. doi:10.1016/S0021-9673(01)00529-5

Zar JH (1996) Biostatistical Analysis, 3rd edn. Prentice-Hall, Inc., USA

Zeilinger J, Steger-Hartmann T, Maser E, Goller S, Vonk R, Länge R (2009) Effects of synthetic gestagens on fish reproduction. Environ Toxicol Chem 28(12):2663–2670. doi:10.1897/08-485.1

Zinkl JG, Lockhart WL, Kenny SA, Ward FJ (1991) The effects of cholinesterase inhibiting insecticides on fish. In: Mineau P (ed) Cholinesterase-Inhibiting Insecticides. Elsevier, New York, pp 234–254

Zobov VV, Berezinskii LA, Aslyamova AA, Reznik VS (2005) Delayed Effects of Daphnia intoxication with selective and nonselective inhibitors of acetylcholinesterase. Bull Exp Biol Med 139(1):68–69. doi:10.1007/s10517-005-0214-5
Acknowledgments
The present work was partially funded by Fundação para a Ciência e a Tecnologia (FCT), by project "BiOtoMetal" (PTDC/AMB/70431/2006).
Ethical standards
All the here-described experiments comply with the Portuguese and European Union current laws.
Conflict of interest
The authors declare that they have no conflict of interest.
Additional information
Responsible editor: Philippe Garrigues
About this article
Cite this article
Rocha, R., Gonçalves, F., Marques, C. et al. Environmental effects of anticholinesterasic therapeutic drugs on a crustacean species, Daphnia magna . Environ Sci Pollut Res 21, 4418–4429 (2014). https://doi.org/10.1007/s11356-013-2339-9
Received:

Accepted:

Published:

Issue Date:
Keywords
Neostigmine

Pyridostigmine

Cholinesterase inhibition

Feeding rates

Acute and chronic toxicity

Ecological relevance

Drugs in the environment

Freshwater crustaceans