Abstract
Some relevant shortcomings have been identified in the current approach for the classification of ecological status in marine water bodies, leading to delays in the fulfillment of the Water Framework Directive objectives. Natural variability makes difficult to settle fixed reference values and boundary values for the Ecological Quality Ratios (EQR) for the biological quality elements. Biological responses to environmental degradation are frequently of nonmonotonic nature, hampering the EQR approach. Community structure traits respond only once ecological damage has already been done and do not provide early warning signals. An alternative methodology for the classification of ecological status integrating chemical measurements, ecotoxicological bioassays and community structure traits (species richness and diversity), and using multivariate analyses (multidimensional scaling and cluster analysis), is proposed. This approach does not depend on the arbitrary definition of fixed reference values and EQR boundary values, and it is suitable to integrate nonlinear, sensitive signals of ecological degradation. As a disadvantage, this approach demands the inclusion of sampling sites representing the full range of ecological status in each monitoring campaign. National or international agencies in charge of coastal pollution monitoring have comprehensive data sets available to overcome this limitation.
This is a preview of subscription content, log in to check access.
Access options
Buy single article
Instant access to the full article PDF.
US$ 39.95
Price includes VAT for USA
Subscribe to journal
Immediate online access to all issues from 2019. Subscription will auto renew annually.
US$ 99
This is the net price. Taxes to be calculated in checkout.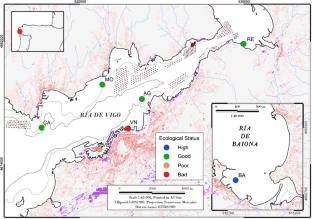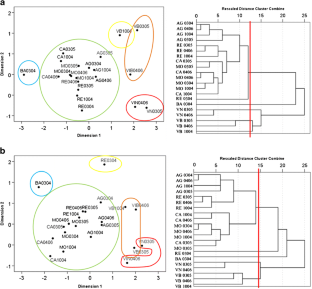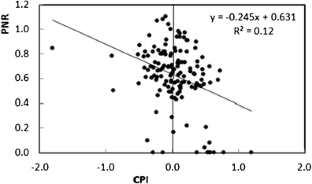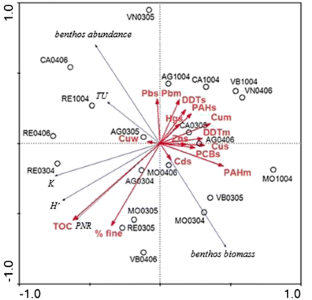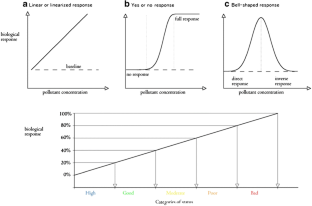 References
Beiras R, Bellas J, Fernández N, Lorenzo J, Cobelo-García A (2003a) Assessment of coastal marine pollution in Galicia (NW Iberian Peninsula); metal concentrations in seawater, sediments and mussels (Mytilusgalloprovincialis) versus embryo-larval bioassays using Paracentrotus lividus and Ciona intestinalis. Mar Environ Res 56:531–553

Beiras R, Fernández N, Bellas J, Besada V, González-Quijano A, Nunes T (2003b) Integrative assessment of marine pollution in Galician estuaries using sediment chemistry, mussel bioaccumulation, and embryo-larval toxicity bioassays. Chemosphere 52:1209–1224

Beiras R, Durán I, Parra S, Urrutia MB, Besada V, Bellas J, Viñas L, Sánchez-Marín P, González-Quijano A, Franco MA, Nieto O, González JJ (2012a) Linking chemical contamination to biological effects in coastal pollution monitoring. Ecotoxicology 21:9–17

Beiras R, Durán I, Bellas J, Sánchez-Marín P (2012b) Biological effects of contaminants: Paracentrotus lividus sea urchin embryo test with marine sediment elutriates. ICES Techniques in marine Environmental Sciences, No 51:13

Bellas J, Fernández N, Lorenzo I, Beiras R (2008) Integrative assessment of coastal pollution in a Ría coastal system (Galicia, NW Spain): correspondence between sediment chemistry and toxicity. Chemosphere 72:826–835

Bellas J, Nieto O, Beiras R (2011) Integrative assessment of coastal pollution: development and evaluation of sediment quality criteria from chemical contamination and ecotoxicological data. Cont Shelf Res 31:448–456

Blanchet H, Lavesque N, Ruellet T, Dauvin JC, Sauriau PG, Desroy N, Desclaux C, Leconte M, Bachelet G, Janson A-L, Bessineton C, Duhamel S, Jourde J, Mayot S, Simon S, Montaudouin X (2008) Use of biotic indices in semi-enclosed coastal ecosystems and transitional waters habitats—implications for the implementation of the European Water Framework Directive. Ecol Ind 8:360–372

Bode A, Alvarez-Ossorio MT, Cabanas JM, Miranda A, Varela M (2009) Recent trends in plankton and upwelling intensity off Galicia (NW Spain). Progr Oceanog 83:342–350

Bode A, Anadón R, Morán XAG, Nogueira E, Teira E, Varela M (2011) Decadal variability in chlorophyll and primary production off NW Spain. Climatic Res 48:293–305

British Ecological Society (1990) Ecological issues No. 1. River Water Quality. Field Studies Council, Shrewsbury

Carletti A, Heiskanen AS. (eds.) (2009) Water Framework Directive intercalibration technical report. Part 3: coastal and transitional waters. JRC Scientific and technical reports. European Commission. EUR 23838 EN/3-2009

Chainho P, Costa JL, Chaves ML, Dauer D, Costa MJ (2007) Influence of seasonal variability in benthic invertebrate community structure on the use of biotic indices to assess the ecological status of a Portuguese estuary. Mar Poll Bul 54:586–1597

Dagnino A, Allen JI, Moore MN, Broeg K, Canesi L, Viarengo A (2007) Development of an expert system for the integration of biomarker responses in mussels into an animal health index. Biomarkers 12(2):155–172

Dauvin JC (2007) Paradox of estuarine quality: benthic indicators and indices, consensus or debate for the future. In: Devlin M et al. (eds) Implementation of the Water Framework Directive in European marine waters. Mar Poll Bull 55(Spec. Issue 1–6):271–81

Del Valls TA, Chapman PM (1998) Site-specific sediment quality values for the Gulf of Cádiz (Spain) and San Francisco Bay (USA), using the sediment quality triad and multivariate analysis. Ciencias Marinas 24(3):313–336

Durán I, Beiras R (2010) Assessment criteria for using the sea-urchin embryo test with sediment elutriates as a tool to classify the ecotoxicological status of marine water bodies. Environ Toxicol Chem 29(5):1192–1198

Durán I, Beiras R, (2013) Ecotoxicologically based marine acute Water Quality Criteria for metals intended for protection of coastal areas. Sci Tot Environ. doi:10.1016/j.scitotenv.2013.05.077

Durán I, Nieto O (2011) Electrochemical speciation of dissolved Cu, Pb and Zn in an estuarine ecosystem (Ria de Vigo, NW Spain): comparison between data treatment methods. Talanta 85:1888–1896

Engle VD, Summers JK (1999) Refinement, validation, and application of a benthic condition index for Gulf of Mexico estuaries. Estuaries 22:624–35

European Commission (2000) Directive 2000/60/EC of the European Parliament and of the Council of 23 October 2000 establishing a framework for Community action in the field of water policy. Official Journal of the European Union, L 327, 22.12.2000, 1–73

European Commission (2008a) Commission Decision of 30 October 2008 establishing, pursuant to Directive 2000/60/EC of the European Parliament and of the Council, the values of the Member State monitoring system classifications as a result of the intercalibration exercise. Official Journal of the European Union L 332/20, 10.12.2008, 1–25

European Commission (2008b) Directive 2008/105/EC of the European Parliament and the Council on environmental quality standards in the field of water policy, amending and subsequently repealing Council Directives 82/176/EEC, 83/513/EEC, 84/156/EEC, 84/419/EEC, 86/280/EEC and amending Directive 2000/60/EC. 2008

European Commission (2008c) Directive 2008/56/EC of the European Parliament and the Council of 17 June 2008 establishing a framework for community action in the field of marine environmental policy (Marine Strategy Framework Directive). Official Journal of the European Union L 164/19, 25.06.2008, 1–22

European Commission (2010) Decision 2010/477/EU of 1 September 2010 on criteria and methodological standards on good environmental status of marine waters. Official Journal L 232, 02/09/2010 P. 0014–0024

European Environment Agency (2012). European waters - assessment of status and pressures. EEA Report No 8/2012. ISSN 1725–9177

Figueiras FG, Lavarta U, Fernández-Reiriz MJ (2002) Coastal upwelling, primary production and mussel growth in the Rías Baixas of Galicia. Hydrobiogía 484:121–131

Gotelli NJ, Ellison AM (2004) A primer of ecological statistics. Sinauer, Sunderland, USA

Gray JS (1989) Effects of environmental stress on species rich assemblages. Biol J Linn Soc 37:19–32

ICES (2012). Integrated marine environmental monitoring of chemicals and their effects. ICES cooperative research report No. 135, Nov 2012. International Council for the exploration of the Sea, Copenhagen, 277 pp

Labrune C, Amouroux JM, Sarda R, Dutrieux E, Thorin S, Rosenberg R, Grémarec A (2006) Characterization of the ecological quality of the coastal Gulf of Lions (NW Mediterranean). A comparative approach based on three biotic indices. Mar Pollut Bull 52:34–47

Landis WG, Matthews RA, Matthews GB (1997) Design and analysis of multispecies toxicity test for pesticide registration. Ecol Applicat 7(4):1111–1116

Legendre L, Legendre P (1998) Numerical ecology, 2nd edn. Elsevier, Amsterdam

Long ER, MacDonald DD, Smith SL, Calder FD (1995) Incidence of adverse biological effects within ranges of chemical concentrations in marine and estuarine sediments. Environ Manage 19:81–97

MacDonald DD, Carr RS, Calder FD, Long ER, Ingersoll CG (1996) Development and evaluation of sediment quality guidelines for Florida coastal waters. Ecotoxicology 5:253–278

Margalef R (1958) Information theory in ecology. General Systems 3:36–71

Marín-Guirao L, Cesar A, Marín A, Lloret J, Vita R (2005) Establishing the ecological quality status of soft-bottom mining-impacted coastal water bodies in the scope of the Water Framework Directive. Mar Pollut Bull 50:374–387

Marques LJC, Patrício J, Teixeira J, Neto JM (2009) Ecological indicators for coastal and estuarine environmental assessment. WIT Press, Southampton

Matthews G, Matthews R, Landis W (1995) Nonmetric conceptual clustering in ecology and ecotoxicology. Artif Intell App 9:41–48

Muxika I, Borja A, Bald J (2007) Using historical data, expert judgment and multivariate analysis in assessing reference conditions and benthic ecological status, according to the European Water Framework Directive. Mar Poll Bull 55(1–6):16–29

OSPAR Commission (1997) Agreed ecotoxicological assessment criteria for trace metals, PCBs, PAHs, TBT and some organochlorine pesticides. Brussels 2–5 September. OSPAR 97/15/1, OSPAR Commission, London

OSPAR Commission (2006) Agreement on background concentrations for contaminants in seawater, biota and sediment (OSPAR agreement 2005–6). OSPAR Commission, London

OSPAR Commission (2008) Draft agreement on assessment criteria. OSPAR 08/6/7-E (L). Brest (France): 23–27 June 2008. OSPAR Commission, London

OSPAR Commission (2012) CEMP 2011 assessment report. OSPAR Commission, London

Pearson TH, Rosenberg R (1978) Macrobenthic succession in relation to organic enrichment and pollution of the marine environment. Oceanogr Mar Biol Ann Rev 16:229–311

Pinto R, Patrício J, Baeta A, Fath BD, Neto JM, Marques JC (2009) Review and evaluation of estuarine biotic indices to assess benthic condition. Ecol Indicat 9(1):1–25

Puente A, Díaz RJ (2008) Is it possible to assess the ecological status of highly stressed natural estuarine environments using macroinvertebrates indices? Mar Poll Bull 56:1880–1889

Puente A, Juanes JA, García A, Álvarez C, Revilla JA, Carranza I (2008) Ecological assessment of soft bottom benthic communities in northern Spanish estuaries. Ecol Indicat 8(4):373–388

Quintino V, Elliot M, Rodrigues AM (2006) The derivation, performance and role of the univariate and multivariate indicators of benthic change: Case studies at differing spatial scales. Jour Exper Mar Biol Ecol 330:368–382

Reish DJ (1955) The relation of polychaetous annelids to harbour pollution. Public Health Rep 70:1168–1174

Reynoldson TB, Thompson SP, Milani D (2002) Integrating multiple toxicological endpoints in a decision-making framework for contaminated sediments. Hum Ecol Risk Assess 8(7):1569–1584

Rosenberg R, Blomqvist M, Nilsson HC, Cederwall H, Dimming A (2004) Marine quality assessment by use of benthic species-abundance distributions: a proposed new protocol within the European Union Water Framework Directive. Mar Poll Bull 49:728–739

Saco-Álvarez L, Durán I, Lorenzo JI, Beiras R (2010) Methodological basis for the optimization of a marine sea-urchin embryo test (SET) for the ecological assessment of coastal water quality. Ecotoxicol Environ Saf 73:491–499

Shannon CE, Weaver W (1949) The mathematical theory of communication. University of Illinois Press

Shin PKS, Fong KYS (1999) Multiple discriminant analysis of marine sediment data. Mar Poll Bull 39(1–12):285–294

Svendsen C, Spurgeon DK, Hankard PK, Weeks JM (2004) A review of lysosomal membrane stability measured by neutral red retention: is it a workable earthworm biomarker? Ecotoxicol Environm Saf 57:20–29

Teixeira H, Salas F, Neto JM, Patrício J, Pinto R, Veríssimo H, García-Charton JA, Marcos C, Pérez-Ruzafa A, Marques JC (2008) Ecological indices tracking distinct impacts along disturbance-recovery gradients in a temperate NE Atlantic Estuary—guidance on reference values. Estuar Coast Shelf Sci 80:130–140

Weisberg SB, Ranasinghe JA, Dauer DM, Schaffner LC, Diaz RJ, Frithsen JB (1997) An estuarine benthic index of biotic integrity (B-IBI) for the Chesapeake Bay. Estuaries 20:149–158
Acknowledgments
Authors wish to thank A. Freire, T. Tato, and N. Trigo for their technical assistance. We also thank Dr. A. Bode and an anonymous referee for their comments that enriched the manuscript. This work was partially funded by the Spanish Ministry of Science and Innovation through the Research Project CTM2009-10908. One of us (I.D.) was granted with a FPU Fellowship from the Spanish Government.
Additional information
Responsible editor: Philippe Garrigues
About this article
Cite this article
Beiras, R., Durán, I. Objective classification of ecological status in marine water bodies using ecotoxicological information and multivariate analysis. Environ Sci Pollut Res 21, 13291–13301 (2014). https://doi.org/10.1007/s11356-013-2186-8
Received:

Accepted:

Published:

Issue Date:
Keywords
Ecological status

Multivariate analysis

Pollution

Ecotoxicological bioassays

Community structure

Water framework directive