Abstract
Caviar (fish roe of sturgeon) may contain high levels of contaminants. An inductively coupled plasma-optical emission spectrometer and a direct mercury analyzer were used to assess the contents of four heavy metals (Hg, Se, Sn, and Ba) in caviar of wild Persian sturgeon sea foods. The levels of Hg ranged from 1.39 to 1.50 μg g−1, Se from 0.90 to 1.10 μg g−1, Sn from 0.23 to 0.33, and Ba from 0.71 to 1.17 μg g−1. Evaluation of these levels showed that except for Hg, the average concentrations of other metals are significantly lower than adverse level for the human consumption when compared with Food and Agricultural Organization of the United Nations and World Health Organization permissible limits. Therefore, their contribution to the total body burden of these heavy metals can be considered as negligibly small given that caviar is a luxury product.
This is a preview of subscription content, log in to check access.
Access options
Buy single article
Instant access to the full article PDF.
US$ 39.95
Price includes VAT for USA
Subscribe to journal
Immediate online access to all issues from 2019. Subscription will auto renew annually.
US$ 99
This is the net price. Taxes to be calculated in checkout.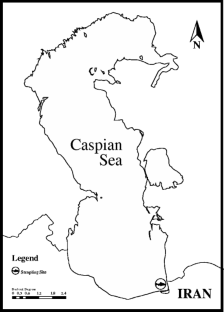 References
Agusa T, Kunito T, Tanabe S, Pourkazemi M, Aubrey DG (2004) Concentrations of trace elements in muscle of sturgeons in the Caspian Sea. Mar Pollut Bull 49:789–800

Anan Y, Kunito T, Ikemoto T, Kubota R, Watanabe I, Tanabe S, Miyazaki N, Petrov EA (2002) Elevated concentrations of trace elements in Caspian seals (Phoca caspica) found stranded during the mass mortality events in 2000. Arch Environ Contam Toxicol 42:354–362

ASTDR (2003) Toxicological profile for selenium. Department of Health and Human Service. Public Health Service, Agency for Toxic Substances and Disease Registry, Atlanta, Georgia, p 599

ASTDR (2007) Barium and compounds. Department of Health and Human Service. Public Health Service, Agency for Toxic Substances and Disease Registry, Atlanta, Georgia, p 2

Bhattacharyya S, Chaudhuri P, Dutta S, Chandra Santra S (2010) Assessment of total mercury level in fish collected from East Calcutta Wetlands and Titagarh sewage fed aquaculture in West Bengal, India. Bull Environ Contam Toxicol 84:618–622

Bilandzic N, Dokic M, Sedak M (2011) Metal content determination in four fish species from the Adriatic Sea. Food Chem 124:1005–1010

Billard R, Lecointre G (2001) Biology and conservation of sturgeon and paddle fish. Rev Fish Biol Fish 10:355–392

Carvalho ML, Santiago S, Nunes ML (2005) Assessment of the essential element and heavy metal content of edible fish muscle. Anal Bioanal Chem 382:426–432

De Meulenaer T, Raymakers C (1996) Sturgeons of the Caspian Sea and the international trade in caviar. TRAFFIC International pp 71

Dumont HJ (1998) The Caspian Lake: history, biota, structure, and function. Limnol Oceanogr 43:44–52

European Union (2005) Commission regulation as regards heavy metals. Amending Regulation 466/2001, no 78/2005.

Falnoga I, Tusek-Znidaric M (2007) Selenium–mercury interactions in man and animals. Biol Trace Elem Res 119(3):212–220

FDA (2001) Fish and fisheries products hazards and controls guidance, U.S. Food and Drug Administration, Center for Food Safety & Applied Nutrition, Chapter 9, Environmental chemical contaminants and pesticides, 26 pp

Food and Agricultural Organization of the United Nations and World Health Organization (FAO/WHO) (1984) List of maximum levels recommended for contaminations by the joint FAO/WHO Codex Alimentarius Commission. Second Series CAC/FAL, Rome 3:1–8

Food and Agricultural Organization of the United Nations and World Health Organization (FAO/WHO) (2009) Codex general standard for food additives, Codex standards, 192–1995, 259 pp

Graham LJ, Murphy BR (2007) The decline of the Beluga sturgeon: a case study about fisheries management. J Nat Res Life Sci Edu 36:66–75

Guven K, Ozbay C, Unlu E, Satar A (1999) Acute lethal toxicity and accumulation of copper in Gammarus pulex (L.) (Amphipoda). Turk J Biol 23:510–521

Heidary S, Imanpour Namin J, Monsefrad F (2012) Bioaccumulation of heavy metals Cu, Zn, and Hg in muscles and liver of the stellate sturgeon (Acipenser stellatus) in the Caspian Sea and their correlation with growth parameters. Iran J Fish Sci 11(2):325–337

Hosseini SV, Aflaki F, Sobhanardakani S, Tayebi L, Babakhani Lashkane A, Regenstein JM (2012) Analysis of mercury, selenium and tin concentrations in canned fish marketed in Iran. Environ Monit Assess. doi:10.1007/s10661-012-3033-y

IUCN (2012) Sturgeon more critically endangered than any other group of species. Press release 28 December 2012. IUCN, Gland, Switzerland

Ivanov VP, Vlasenko AD, Khodorevskaya RP, Raspopov VM (1999) Contemporary status of Caspian sturgeon (Acipenseridae) stock and its conservation. J Appl Ichthyol 15:103–105

Iwegbue CMA, Nwajei GE, Arimoro FO, Eguavoen O (2009) Characteristic levels of heavy metals in canned sardines consumed in Nigeria. Environmentalist 29:431–435

Kaneko JJ, Ralston NVC (2007) Selenium and mercury in pelagic fish in the Central North Pacific near Hawaii. Biol Trace Elem Res 119:242–254

Karpinsky MG (1992) Aspects of the Caspian Sea benthic ecosystem. Mar Pollut Bull 24:384–389

Khodorevskaya RP, Zhuravleva OL, Vlasenko AD (1997) Present status of commercial stocks of sturgeons in the Caspian Sea basin. Environ Biol Fish 48:209–219

Khodorevskaya RP, Ruban GI, Pavlov DS (2009) Behaviour, migrations, distribution and stocks of sturgeons in the Volga-Caspian basin. Special publication no 3. World Sturgeon Conservation Society, Germany

Mahalakshmi M, Balakrishnan S, Indira K, Srinivasan M (2012) Characteristic levels of heavy metals in canned tuna fish. J Toxicol Environ Health Sci 4:43–45

Mendil D, Demirci Z, Tuzen M, Soylak M (2010) Seasonal investigation of trace element contents in commercially valuable fish species from the Black Sea, Turkey. Food Chem Toxicol 48:865–870

Mol S (2011) Levels of heavy metals in canned bonito, sardines, and mackerel produced in Turkey. Biol Trace Elem Res 143:974–982

Olgunoğlu IA, Olgunoğlu MP (2011) Concentrations of metal contaminants, vitamin and mineral in waxed caviar from Mugil cephalus (L.,1758). Afr J Agric Res 6(4):1041–1046

Ordiano-Flores A, Galván-Magaña F, Rosiles-Martínez R (2011) Bioaccumulation of mercury in muscle tissue of yellowfin tuna, Thunnus albacares, of the Eastern Pacific Ocean. Biol Trace Elem Res 144(1–3):606–620

Pikitch EK, Doukakis P, Lauck L, Chakrabarty P, Erickson DL (2005) Status, trends and management of sturgeon and paddlefish fisheries. Fish Fish 6:233–265

Pourang N, Tanabe S, Rezvani S, Dennis JH (2005) Trace elements accumulation in edible tissues of five sturgeon species from the Caspian Sea. Environ Monit Assess 100:89–108

Pourkazemi M (2006) Caspian Sea sturgeon conservation and fisheries: past present and future. J Appl Ichthyol 22:12–16

Rad SS, Ranjbar GA, Jooshideh H, Arshad U (2009) Heavy metal concentrations in the selected tissues of the Persian sturgeon, Acipenser persicus, from southern coast of the Caspian Sea. Iran J Fish Sci 8:175–184

Ralston NVC, Blackwell JL, Raymond LJ (2007) Importance of molar ratios in selenium-dependent protection against methylmercury toxicity. Biol Trace Elem Res 119(3):255–268

Rezayi M, Esmaeli Sari A, Valinasab T (2011) Mercury and selenium content in Otolithes ruber, and Psettodes erumei from Khuzestan Shore, Iran. Bull Environ Contam Toxicol 86:511–514

Ruelas-Inzunza J, Meza-Lopez G, Paez-Osuna F (2008) Mercury in fish that are of dietary importance from the coasts of Sinaloa (SE Gulf of California). J Food Comp Anal 21:211–218

Sadeghirad M, Arshad A, Joushideh H, Amini Ranjbar GR (2005) Assessing heavy metal content of muscle tissue and Caviar of Acipenser persicus in southern Caspian Sea. Iran Sci Fish J 14:79–100

Sae S, Dehkordi S, Fallah AA, Nematollahi A (2010) Arsenic and mercury in commercially valuable fish specied from the Persian Gulf: influence of season and habitat. Food Chem Toxicol 48:2945–2950

Sivaperumal P, Sankar TV, Nair PGV (2007) Heavy metal concentrations in fish, shellfish and fish products from internal markets of India vis-à-vis international standards. Food Chem 102:612–620

Sobhanardakani S, Tayebi L, Farmany A (2011) Toxic metal (Pb, Hg and As) contamination of muscle, gill and liver tissues of Otolithes rubber, Pampus argenteus, Parastromateus niger, Scomberomorus commerson and Onchorynchus mykiss. World Appl Sci J 14:1453–1456

Sobhanardakani S, Tayebi L, Farmany A, Cheraghi M (2012) Analysis of trace elements (Cu, Cd and Zn) in muscle, gill and liver tissues of some fish species using anodic stripping voltammetry. Environ Monit Assess 184(11):6607–6611

Spry DJ, Wiener JG (1991) Metal bioavailability and toxicity to fish in low-alkalinity lakes: a critical review. Environ Pollut 71:243–304

Sumitani H, Suekane S, Nakatani A, Tatsuka K (1993) Inductively-coupled plasma-atomic emission spectrometric determination of tin in canned food. J AOAC Int 76:1374–1377

Tarley CRT, Coltro WKT, Matsushita M, De Souza NE (2001) Characteristics levels of some heavy metals from Brazilian canned sardines (Sardinella brasiliensis). J Food Comp Anal 14(6):611–617

Tayebi L, Sobhanardakani S, Farmany A, Cheraghi M (2011) Mercury content in edible part of Otolithes ruber marketed in Hamedan, Iran. International Conference on Environmental and Ecological Engineering. World Academy of Science, Engineering and Technology, Venice, Italy

Turkmen M, Turkmen A, Tepe Y, Tore Y, Ates A (2009) Determination of metals in fish species from Aegean and Mediterranean Seas. Food Chem 113:233–237

Wang W, Batterman S, Chernyak S, Nriagu J (2008) Concentrations and risks of organic and metal contaminants in Eurasian caviar. Ecotoxicol Environ Saf 71:138–148

Watanabe I, Kunito T, Tanabe S, Amano M, Koyama Y, Miyazaki N, Petrov EA, Tatsukawa R (2002) Accumulation of heavy metals in Caspian seals (Phoca caspica). Arch Environ Contam Toxicol 43:109–120

Webb MAH, Feist GW, Fitzpatrick MS, Foster EP, Schreck CB, Plumlee M, Wong C, Gundersen DT (2006) Mercury concentrations in gonad, liver, and muscle of white sturgeon Acipenser transmontanus in the Lower Columbia River. Arch Environ Contam Toxicol 50:443–451

Wiener JG, Spry DJ (1996) Toxicological significance of mercury in freshwater fish. In: Beyer WN, Heinz GH, Redmon-Norwood AW (eds) Environmental contaminants in wildlife interpreting tissue concentrations. Lewis, Boca Raton, FL, pp 297–339

Williot P, Arlat G, Chebanov M, Gulyas T, Kasimov R, Kirschbaum F, Patriche N, Pavlovskaya LP, Poliakova L, Pourkazemi M, Kim Y, Zhuang P, Zholdasova IM (2002) Conservation and broodstock management. Int Rev Hydrobiol 87:483–506

World Health Organization (WHO) (1996) Health criteria other supporting information, Guidelines for drinking water quality, vol. 2 (second edition), WHO, Geneva pp.318–388

Yasunaga G, Watanabe I, Prudente MS, Suburamanian A, Qui V, Tanabe S (2000) Trace elements accumulation in waders from Asia. Toxicol Environ Chem 77:75–92

Yilmaz F (2009) The comparison of heavy metal concentrations (Cd, Cu, Mn, Pb, and Zn) in tissues of three economically important fish (Anguilla anguilla, Mugil cephalus and Oreochromis niloticus) inhabiting Köycegiz Lake-Mugla (Turkey). Turk J Sci Technol 4:7–15

Yılmaz AB, Kemal Sangun M, Yanghoglu D, Turan C (2010) Metals (major, essential to non-essential) composition of the different tissues of three demersal fish species from Iskenderun Bay, Turkey. Food Chem 123:410–415
Additional information
Responsible editor: Philippe Garrigues
About this article
Cite this article
Hosseini, S.M., Sobhanardakani, S., Navaei, M.B. et al. Metal content in caviar of wild Persian sturgeon from the southern Caspian Sea. Environ Sci Pollut Res 20, 5839–5843 (2013). https://doi.org/10.1007/s11356-013-1598-9
Received:

Accepted:

Published:

Issue Date:
Keywords
Caviar

Toxic metal

Persian sturgeon

Caspian Sea