Abstract
Atmospheric carbonaceous aerosols were sampled discontinuously from July 2006 to December 2009 at Nam Co Comprehensive Observation and Research Station (NCOS) in the central Tibetan Plateau (TP). The mean daily concentration of carbonaceous aerosols increased from 268 to 330 ng m−3, and pollution episodes could significantly increase the mean level of carbonaceous aerosols in the total mass concentration. Organic carbon was the main component of carbonaceous aerosols at NCOS, and black carbon (BC) accounted for 5.8 %. Seven-day air masses backward trajectories calculated by the Hybrid Single-Particle Lagrangian Integrated Trajectory model and the aerosol optical depth distribution in the TP and South Asia both suggested that atmospheric pollutants emitted from Northern India and South Asia could penetrate into central TP by southwest winds. Due to the seasonal variations of emission sources and regional atmospheric conditions, calculated BC deposition flux in the nonmonsoon season was higher than that in the monsoon season. Increased BC concentration in snowpack in winter from 2007 to 2009 indicated that the atmospheric environment in central TP became more polluted and the influences from human activities have strengthened. Pollution episodes could significantly increase BC concentrations in the snowpack on a seasonal scale, which would furthermore affect the surface albedo.
This is a preview of subscription content, log in to check access.
Access options
Buy single article
Instant access to the full article PDF.
US$ 39.95
Price includes VAT for USA
Subscribe to journal
Immediate online access to all issues from 2019. Subscription will auto renew annually.
US$ 99
This is the net price. Taxes to be calculated in checkout.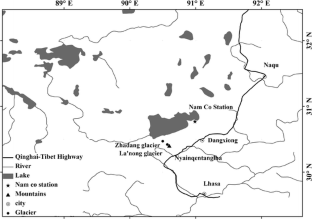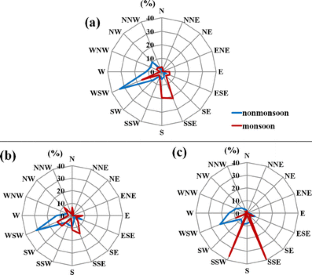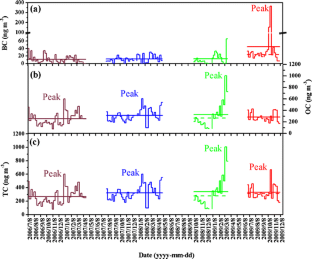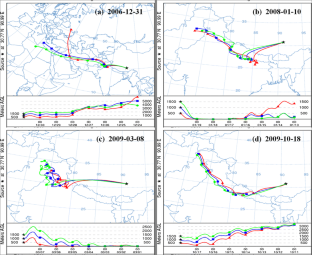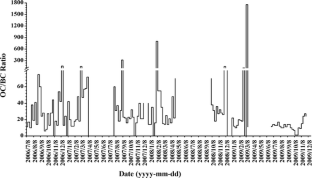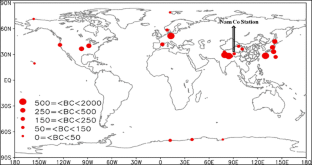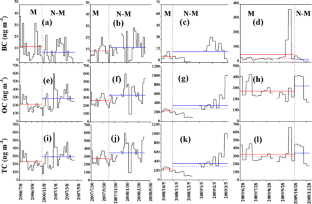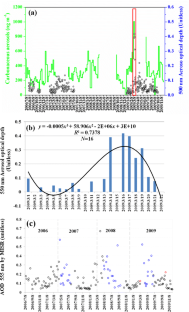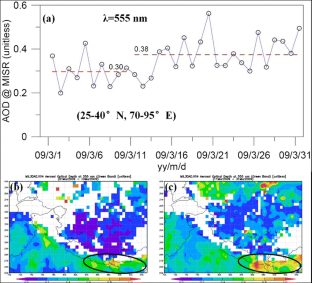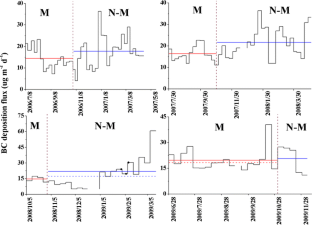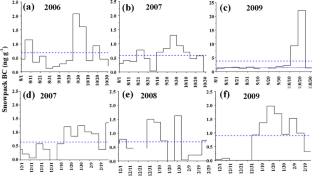 References
Babu SS, Chaubey JP, Moorthy KK, Gogoi MM, Kompalli SK, Sreekanth V, Bagare SP, Bhatt BC, Gaur VK, Prabhu TP, Singh NS (2011) High altitude (4520 m amsl) measurements of black carbon aerosols over western trans-Himalayas: seasonal heterogeneity and source apportionment. J Geophys Res 116:D24201

Bauer SE, Menon S, Koch D, Bond TC, Tsigaridis K (2010) A global modeling study on carbonaceous aerosol microphysical characteristics and radiative effects. Atmos Chem Phys 10:7439–7456

Chaubey JP, Moorthy KK, Babu SS, Nair VS, Tiwari A (2010) Black carbon aerosols over coastal Antarctica and its scavenging by snow during the Southern Hemispheric summer. J Geophys Res 115:D10210

Chow JC, Watson JG (2002) PM2.5 carbonate concentrations at regionally representative Interagency Monitoring of Protected Visual Environment sites. J Geophys Res 107(D21):8344

Cuffey KU, Paterson WSB (2010) The physics of glaciers, 4th edn., chapter 2. Elsevier, Burlington, p 12

Flanner MG, Zender CS, Randerson JT, Rasch PJ (2007) Present-day climate forcing and response from black carbon. J Geophys Res 112:D11202

Flanner MG, Zender CS, Hess PG, Mahowald NM, Painter TH, Ramanathan V, Rasch PJ (2009) Springtime warming and reduced snow cover from carbonaceous particles. Atmos Chem Phys 9:2481–2497

Hara K, Osada K, Yabuki M, Hayashi M, Yamanouchi T, Shiobara M, Wada M (2008) Measurement of black carbon at Syowa station, Antarctica: seasonal variation, transport processes and pathways. Atmos Chem Phys 8:9883–9929

Jones GS, Christidis N, Stott PA (2011) Detecting the influence of fossil fuel and bio-fuel black carbon aerosols on near surface temperature changes. Atmos Chem Phys 11:799–816

Kirchstetter TW, Novakov T (2004) Evidence that the spectral dependence of light absorption by aerosols is affected by organic carbon. J Geophys Res 109:D21208

Koch D (2001) Transport and directive radiative forcing of carbonaceous and sulfate aerosols in the GISS GCM. J Geophys Res 106(20):311–332

Marinoni A, Cristofanelli P, Laj P, Duchi R, Calzolari F, Decesari S, Sellegri K, Vuillermoz E, Verza GP, Villani P, Bonasoni P (2010) Aerosol mass and black carbon concentrations, a two year record at NCO-P (5079 m, Southern Himalayas). Atmos Chem Phys 10:8551–8562

Ming J, Cachier H, Xiao CD, Qin DH, Kang SC, Hou SG, Xu JZ (2008) Black carbon record based on a shallow Himalayan ice core and its climatic implications. Atmos Chem Phys 8:1343–1352

Ming J, Xiao CD, Cachier H, Qin DH, Qin X, Li ZQ, Pu JC (2009) Black carbon (BC) in the snow of glaciers in west China and its potential effects on albedos. Atmos Res 92:114–123

Ming J, Xiao CD, Sun JY, Kang SC, Bonasoni P (2010) Carbonaceous particles in the atmosphere and precipitation of the Nam Co region, central Tibet. J Environ Sci 22(11):1748–1756

Novakov T, Menon S, Kirchstetter TW, Koch D, Hansen JE (2005) Aerosol organic carbon to black carbon ratios: analysis of published data and implications for climate forcing. J Geophys Res 110:D21205

Pant P, Hegde P, Dumka UC, Sagar R, Satheesh SK, Moorthy KK, Saha A, Srivastava MK (2006) Aerosol characteristics at a high-altitude location in central Himalayas: optical properties and radiative forcing. J Geophys Res 111:D17206

Ramachandran S, Rajesh TA (2007) Black carbon aerosol mass concentrations over Ahmedabad, an urban location in western India: comparison with urban sites in Asia, Europe, Canada, and the United States. J Geophys Res 112:D06211

Ramanathan V, Carmichael G (2008) Global and regional climate changes due to black carbon. Nat Geosci 1:221–227

Ramanathan V, Chung C, Kim D, Bettge T, Buja L, Kiehl JT, Washington WM, Fu Q, Sikka DR, Wild M (2005) Atmospheric brown clouds: impacts on South Asian climate and hydrological cycle. Proc Natl Acad Sci USA 102:5326–5333

Ramanathan V, Ramana MV, Roberts G, Kim D, Corrigan C, Chung C, Winker D (2007) Warming trends in Asia amplified by brown cloud solar absorption. Nature- Letters 448:575–579

Rengarajan R, Sarin MM, Sudheer AK (2007) Carbonaceous and inorganic species in atmospheric aerosols during wintertime over urban and high-altitude sites in North India. J Geophys Res 112:D21307

Shrestha P, Barros AP, Khlystov A (2010) Chemical composition and aerosol size distribution of the middle mountain range in the Nepal Himalayas during the 2009 pre-monsoon season. Atmos Chem Phys 10:11605–11621

Skeie RB, Berntsen T, Myhre G, Pedersen CA, Ström J, Gerland S, Ogren JA (2011) Black carbon in the atmosphere and snow, from pre-industrial times until present. Atmos Chem Phys 11:6809–6836

Spracklen DV, Carslaw KS, Pöschl U, Rap A, Forster PM (2011) Global cloud condensation nuclei influenced by carbonaceous combustion aerosol. Atmos Chem Phys 11:9067–9087

Wang C (2009) The sensitivity of tropical convective precipitation to the direct radiative forcings of black carbon aerosols emitted from major regions. Ann Geophys 27:3705–3711

Warren SG, Wiscombe WJ (1980) A model for the spectral albedo of snow II: snow containing atmospheric aerosols. J Atmos Sci 37:2734–2745

Wen YP, Xu XB, Tang J, Zhao YC, Zhang XC (2001) Enrichment characteristics and origin of atmospheric aerosol elements at Mt Waliguan. Q J Appl Meteorol 12(4):400–408

Xia XA, Zong XM, Cong ZY, Chen HB, Kang SC, Wang PC (2011) Baseline continental aerosol over the central Tibetan Plateau and a case study of aerosol transport from South Asia. Atmos Environ 45:7370–7378

Xu BQ, Cao JJ, Hansen J, Yao TD, Joswia DR, Wang NL, Wu GJ, Wang M, Zhao HB, Yang W, Liu XQ, He JQ (2009) Black soot and the survival of Tibetan glaciers. Proc Natl Acad Sci USA-Environ Sci 106(52):22114–22118

Yasunari TJ, Bonasoni P, Laj P, Fujita K, Vuillermoz E, Marinoni A, Cristonfanelli P, Duchi R, Tartari G, Lau KM (2010) Estimated impact of black carbon deposition during pre-monsoon season from Nepal Climate Observatory—pyramid data and snow albedo changes over Himalayan glaciers. Atmos Chem Phys 10:6603–6615

Zhang G, Li J, Li XD, Xu Y, Guo LL, Tang JH, Lee CSL, Liu X, Chen YJ (2010) Impact of anthropogenic emissions and open biomass burning on regional carbonaceous aerosols in South China. Environ Pollut 158:3392–3400

Zhao SY, Ming J, Xiao CD, Sun WJ, Qin X (2012) A preliminary study on measurements of black carbon (BC) in the atmosphere of northwest Qilian Shan. J Environ Sci 24(1):152–159
Acknowledgments
This work was supported by the Global Change Research Program of China (2010CB951401), National Natural Science Foundation of China (Grants 41121001 and 40901046), State Key Laboratory of Cryospheric Sciences (SKLCS-ZZ-2012-01-06), China Special Fund for Meteorological Research in the Public Interest (GYHY201106023), Basic Research Fund of CAMS (2011Z003, 2010Z002), and the Climate Change Science Foundation of CMA (2013–2014 and no. 1411342000001). We would like to thank the anonymous reviewers for the helpful comments. Logistic help was from the staff at the NCOS.
Additional information
Responsible editor: Gerhard Lammel
About this article
Cite this article
Zhao, S., Ming, J., Sun, J. et al. Observation of carbonaceous aerosols during 2006–2009 in Nyainqêntanglha Mountains and the implications for glaciers. Environ Sci Pollut Res 20, 5827–5838 (2013). https://doi.org/10.1007/s11356-013-1548-6
Received:

Accepted:

Published:

Issue Date:
Keywords
Black carbon

Organic carbon

Snowpack

Pollution

Tibetan Plateau (TP)