Abstract
In order to screen dioxin pollution in sediment of Three Gorges Dam (TGD) area, three sediment cores were obtained from two sites in 2010~2011; each core was divided into different samples with every 10 cm depth. Sediment dating determined by radiometry (137Cs, 210Pb) and concentrations of dioxins were analyzed by high-resolution gas chromatography/mass spectrometry. The results indicated: Sediment dating showed no significant difference among all the samples from the same core and the two locations (ANOVA, p > 0.05). The total amount of polychlorinated dibenzo-p-dioxins (PCDD)/Fs in all sample ranged from 30.7 to 371 pg/g dry weight (d.w.), with the mean value of 66.2 pg/g d.w. PCDDs occupied 60.33~85.22 % of dioxins in each sample, and PCDFs contributed to a very small extend. There was no significant difference in the dioxin concentration between 2010 and 2011 and in the two locations (t test, p > 0.05), but the vertical distribution of dioxins showed significant different in different depths. Toxic equivalent (TEQ) (WHO 2005, Humans) of samples ranged from 0.15 to 1.60 pg/g d.w.; the mean was 0.41 pg/g d.w. No significant difference was found in TEQ between 2010 and 2011(t test, p > 0.05). It could be concluded that the distribution of dioxins showed the spatial heterogeneous which resulted from the strong mixing and sediment deposition characteristics. Dioxin concentration in sediment cores was low with very low environmental risk potential. Dioxins at the two sites had the same origin, and exogenous input was the main source. It is the first report on the dioxins concentrations in sediment cores in the TGD area.
This is a preview of subscription content, log in to check access.
Access options
Buy single article
Instant access to the full article PDF.
US$ 39.95
Price includes VAT for USA
Subscribe to journal
Immediate online access to all issues from 2019. Subscription will auto renew annually.
US$ 99
This is the net price. Taxes to be calculated in checkout.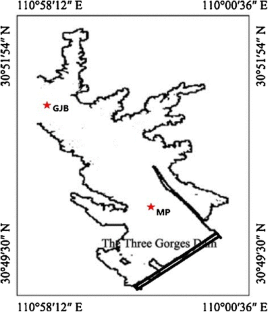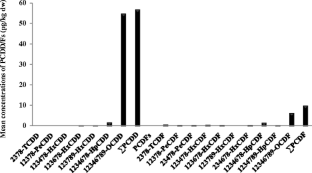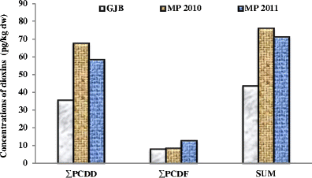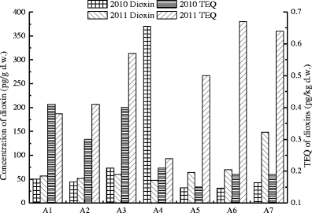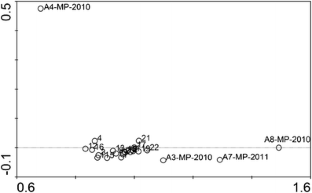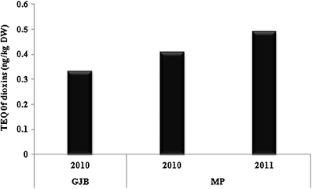 Abbreviations
PCDD:

Polychlorinated dibenzo-p-dioxins

PCDF:

Polychlorinated dibenzofurans

I-TEQ:

Toxic equivalent calculated using TEF proposed by WHO in 2005

TGD:

Three Gorges Dam

TGR:

Three Gorges Reservoir
References
Appleby PG (2001) Chronostratigraphic techniques in recent sediments. In: Last WM, Smol JP (eds) Tracking environmental change using lake sediments volume 1: basin analysis, coring, and chronological techniques. Kluwer Academic, Dordrecht, pp 171–203

Appleby PG, Nolan PJ, Gifford DW, Godfrey MJ, Oldfield F, Anderson NJ, Battarbee RW (1986) 210Pb dating by low background gamma counting. Hydrobiologia 141:21–27

Appleby PG (1998) Dating recent sediments by 210Pb: problems and solutions. In: Illus E., ed., Dating of sediments and determination of sedimentation rate. STUK A-145, Finland: 7–24

Appleby PG, Richardson N, Nolan PJ (1992) Self-absorption corrections for well-type germaniun detectors. Nucl Inst Methods B 71:228–233

Bao ZC, Kang JX, Zhao LW (1995) Analysis of polychlorinated dibenzo-p-dioxins and dibenzofurans in pentachlorophenol and sodium pentachlorophenate. Environ Chem (China) 14:317–321

Chen JF, Xia XM, Ye XR, Jin HY (2002) Marine organic pollution history in the Changjiang estuary and Zhejiang coastal area—HCHs and DDTs stratigraphical records. Mar Pollut Bull 45:391–396, sp

Chen J, Luo J, Qiu Z, Xu C, Huang Y, Jin Y, Saito N, Yoshida T, Ozawa K, Cao J, Shu W (2008) PCDDs/PCDFs and PCBs in water samples from the Three Gorges Reservoir. Chemosphere 70:1545–1551

Chinese State Environmental Protection Administration (2010) The ecology and environment monitoring bulletin of Three Gorges project. Chinese Environmental Science, Beijing, in Chinese

Covaci A, Gheorghe A, Voorspoels S, Maervoet J, Steen Redeker E, Blust R, Schepens P (2005) Polybrominated diphenyl ethers, polychlorinated biphenyls and organochlorine pesticides in sediment cores from the Western Scheldt River (Belgium): analytical aspects and depth profiles. Environ Int 31:367–375

Gomez-Gutierrez A, Garmacho E, Bayona JM, Albaigés J (2007) Screening ecological risk assessment of persistent organic pollutants in Mediterranean Sea sediments. Environ Int 33:867–876

Guo Z, Lin T, Zhang G, Zheng M, Zhang Z, Hao Y et al (2007) The sedimentary fluxes of polycyclic aromatic hydrocarbons in the Yangtze River Estuary coastal sea for the past century. Sci Total Environ 386:33–41

Liang ZX, Guo W, Zhang JR (1992) An experimental study on sedimentation problems in TGD area. J Yangtze River Sci Res inst 9(4):48–54

Lohmann R, Jones KC (1998) Dioxins and furans in air and deposition: a review of levels, behaviour and processes. Sci Total Environ 219:53–81

Lohmann R, Breivik K, Dachs J, Muir D (2007) Global fate of POPs: current and future research directions. Environ Pollut 150:150–165

Magdalena U, Maciej Z (2011) Polychlorinated dibenzo-p-dioxins and polychlorinated dibenzofurans in sediments from two Ethiopian rift valley lakes. Polish J Environ Stud 20(4):1069–1074

Moreira LS, Moreira-Turcq P, Turcq B (2012) Paleohydrological changes in an Amazonian floodplain lake: Santa Ninha Lake. J Paleolimnol 48(2):339–350

Müller B, Berg M, Yao ZP, Zhang XF, Wang D, Pfluger A (2008) How polluted is the Yangtze River? Water quality downstream from the Three Gorges Dam. Sci Total Environ 402:232–247

Osamu K, Takashi K, Yoshihisa W (2007) Polychlorinated dibenzo-p-dioxins and dibenzofurans in paddy soils and river sediments in Akita, Japan. Chemosphere 67:557–573

Schramm K-W, Henkelman B, Kettrup A (1995) PCDD/F sources and levels in River Elbe sediments. Water Res 29(9):2160–2166

Shiozaki A, Someya M, Kunisue T, Takahashi S et al (2010) Contamination status of dioxins in sediments from Saigon River Estuary, Vietnam. In: Obayashi Y, Isobe T, Subramanian A, Suzuki S, Tanabe S (eds) Interdisciplinary studies on environmental chemistry—environmental research in Asia, pp 31–45

Song W, Ford JC, Li A, Mills WJ, Buckley DR, Rockne KJ (2004) Polybrominated diphenyl ethers in the sediments of the great lakes. 1. Lake superior. Environ Sci Technol 38:3286–3293

Sun YZ, Zhang B, Gao LR (2005) Polychlorinated dibenzo-p-dioxins and dibenzofurans in surface sediments from the estuary area of Yangtze River, People's Republic of China. Bull Environ Contam Toxicol 75:910–914

Takigami H, Sakai S, Brouwer A (2005) Bio/chemical analysis of dioxin-like compounds in sediment samples from Osaka Bay, Japan. Environ Technol 26(4):459–469

UNEP (1999) Dioxin and furan inventories. National and regional emissions of PCDD/PCDF. UNEP Chemicals, Geneva

Van den Berg M, Birnbaum LS, Denison M, De Vito M, Farland W et al (2006) The 2005 world health organization reevaluation of human and mammalian toxic equivalency factors for dioxins and dioxin-like compounds. Toxicol Sci 93(2):223–241

Wang JX, Bi YH, Pfister G, Henkelmann B, Zhu K, Schramm K-W (2009) Determination of PAH, PCB, and OCP in water from the Three Gorges Reservoir accumulated by semipermeable membrane devices (SPMD). Chemosphere 75(8):1119–1127

Yao SC, Xue B, Li SJ, Liu JF, Xia WL (2006) Sedimentation rates in Honghu, Chaohu and Taihu lakes in the middle and low reaches of the Yangtze River. Resour Environ Yangtze Basin 15(5):569–574

Zhang J (1995) Geochemistry of trace metals from Chinese river/estuary systems: an overview. Estuar Coast Shelf Sci 41:631–658

Zhou L, Li HR, Yu ZQ, Ren M, Zeng XY et al (2012) Chlorinated and brominated dibenzo-p-dioxins and dibenzofurans in surface sediment from Taihu Lake, China. J Environ Monitor 14(7):1935–1942
Acknowledgments
This study has been jointly supported by the Chinese National Major Programs of Water Body Pollution Control and Remediation (2009ZX07104-005) and the German Ministry of Education and Research (BMBF, 02WT1130). We are thankful to Dr. Weilan Xia for his help to measure the sediment date. We are also grateful to the editor, the anonymous referees for their expert assistance and comments on this manuscript.
Additional information
Responsible editor: Hongwen Sun
About this article
Cite this article
Chen, L., Bi, Y., Zhu, K. et al. Contamination status of dioxins in sediment cores from the Three Gorges Dam area, China. Environ Sci Pollut Res 20, 4268–4277 (2013). https://doi.org/10.1007/s11356-012-1447-2
Received:

Accepted:

Published:

Issue Date:
Keywords
Dioxins

Sediment core

Three Gorges Dam (TGD)