Abstract
The inhibitory effect of chromium (Cr) on photosystem II (PSII) activity was investigated in the green alga Chlamydomonas reinhardtii during different phases of the cell cycle. Algae were cultivated in continuous light or a light/dark cycle (16:8 h) to obtain a synchronously dividing cell culture. The cell division phases were determined with the DNA-specific fluorescent probe SYBR green using flow cytometry. The effect of Cr on PSII activity was investigated after a 24-h treatment with algal cultures having different proportions of newly divided cells (G0/G1), dividing cells at the DNA replication phase (S), and dividing cells at the mitosis phase (G2/M). Using chlorophyll a fluorescence parameters based on PSII electron transport capacity in dark- (ΦMII) and light-adapted (Φ′MII) equilibrium state, we found that the effect of Cr differs depending on the stage of the cell cycle. When algal cultures had a high proportion of cells actively dividing (M phase), the toxic effect of Cr on PSII activity appeared to be much higher and PSII quantum yield was decreased by 80 % compared to algal cultures mainly in the G0/G1 phase. Therefore, the inhibitory effect of Cr on photosynthesis appears to be different according to the cell cycle state of the algal population.
This is a preview of subscription content, log in to check access.
Access options
Buy single article
Instant access to the full article PDF.
US$ 39.95
Price includes VAT for USA
Subscribe to journal
Immediate online access to all issues from 2019. Subscription will auto renew annually.
US$ 99
This is the net price. Taxes to be calculated in checkout.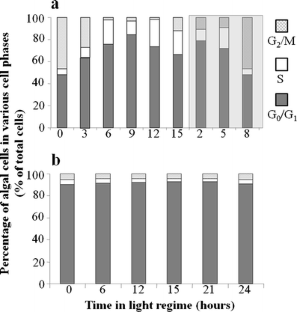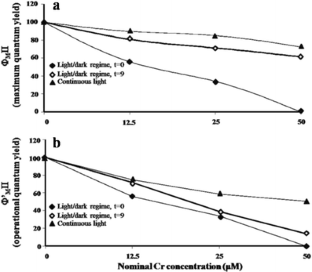 References
Ait Ali N, Dewez D, Didur O, Popovic R (2006) Inhibition of photosystem II photochemistry by Cr is caused by the alteration of both D1 protein and oxygen evolving complex. Photosynth Res 89:81–87

Ait Ali N, Juneau P, Didur O, Perreault F, Popovic R (2008) Effect of dichromate on photosystem II activity in xanthophyll-deficient mutants of Chlamydomonas reinhardtii. Photosynth Res 95:45–53

Appenroth KJ, Stöckel J, Srivastava A, Strasser RJ (2001) Multiple effects of chromate on the photosynthetic apparatus of Spirodela polyrhiza as probed by OJIP chlorophyll a fluorescence measurements. Environ Pollut 115:49–64

Baker NR (2008) Chlorophyll fluorescence: a probe of photosynthesis in vivo. Annu Rev Plant Biol 59:89–113

Canadian Council of Ministers of the Environment (1999) Canadian water quality guidelines for the protection of aquatic life. No. 1299; ISBN 1-896997-34-1

Didur O, Perreault F, Oukarroum A, Dewez D, Popovic R (2012) Alteration of photosystem II activity by atrazine on Chlamydomonas reinhardtii synchronized and asynchronized cell cycle cultures. Toxicol Environ Chem 94:906–917

Eleftheriou EP, Adamakis ID, Melissa P (2011) Effects of hexavalent chromium on microtubule organization, ER distribution and callose deposition in root tip cells of Allium cepa L. Protoplasma 249:401–416

Farinas B, Mary C, de O Manes C, Bhaud Y, Peaucellier G, Moreau H (2006) Natural synchronisation for the study of cell division in the green unicellular alga Ostreococcus tauri. Plant Mol Biol 60:277–292

Genty B, Briantais JM, Baker NR (1989) The relationship between the quantum yield of photosynthetic electron transport and quenching of chlorophyll fluorescence. Biochim Biophys Acta 990:87–92

Hagiwara SY, Bolige A, Zhang Y, Takahashi M, Yamagishi A, Goto K (2002) Circadian gating of photoinduction of commitment to cell-cycle transitions in relation to photoperiodic control of cell reproduction in Euglena. Photochem Photobiol 76:105–115

Hanikenne M (2003) Chlamydomonas reinhardtii as a eukaryotic photosynthetic model for studies of heavy metal homeostasis and tolerance. New Phytol 159:331–340

Harris EH (1989) The Chlamydomonas sourcebook: A comprehensive guide to biology and laboratory use. Academic, San Diego, p 780

Horcsik ZT, Kovacs L, Laposi R, Meszaros I, Lakatos G, Garab G (2007) Effect of chromium on photosystem II in the unicellular green alga, Chlorella pyrenoidosa. Photosynthetica 45:65–69

Jacquet S, Partensky F, Marie D, Casotti R, Vaulot D (2001) Cell cycle regulation by light in Prochlorococcus strains. Appl Environ Microbiol 67:782–790

Kaftan D, Meszaros T, Whitmarsh J, Nedbal L (1999) Characterization of photosystem II activity and heterogeneity during the cell cycle of the green alga Scenedesmus quadricauda1. Plant Physiol 120:433–441

Kalita TL, Titlyanova TV, Titlyanov EA (2007) New rhythmic changes in mitosis and growth in low differentiated green and red marine macroalgae. Russ J Mar Biol 33:207–212

Kitajima M, Butler WL (1975) Quenching of chlorophyll fluorescence and primary photochemistry in chloroplasts by dibromothymoquinone. Biochim Biophys Acta 376:105–115

Labra M, Bernasconi M, Grassi F, De Mattia F, Sgorbati S, Airoldi R, Citterio S (2007) Toxic and genotoxic effects of potassium dichromate in Pseudokirchneriella subcapitata detected by microscopy and AFLP marker analysis. Aquat Bot 86:229–235

Lichtenthaler HK (1987) Chlorophylls and caretonoids: Pigments of photosynthetic biomembranes. In: Packer L, Douce R (eds) Methods in enzymology, vol 148. Academic, London, pp 350–382

Mallick N, Mohn FH (2003) Use of chlorophyll fluorescence in metal-stress research: a case study with the green microalga Scenedesmus. Ecotox Environ Saf 55:64–69

Mohanty P, Allakhverdiev SI, Murata N (2007) Application of low temperatures during photoinhibition allows characterization of individual steps in photodamage and the repair of photosystem II. Photosynth Res 94:217–224

Moriyama T, Terasawa K, Sekine K, Toyoshima M, Koike M, Fujiwara M, Sato N (2010) Characterization of cell-cycle-driven and light driven gene expression in a synchronous culture system in the unicellular rhodophyte Cyanidioschyzon merolae. Microbiology 156:1730–1737

Perreault F, Ait Ali N, Saison C, Popovic R, Juneau P (2009) Dichromate effect on energy dissipation of photosystem II and photosystem I in Chlamydomonas reinhardtii. J Photochem Photobiol B 96:24–29

Rodriguez MC, Barsanti L, Passarelli V, Evangelista V, Conforti V, Gualtieri P (2007) Effects of chromium on photosynthetic and photoreceptive apparatus of the alga Chlamydomonas reinhardtii. Environ Res 105:234–239

Saha R, Nandi R, Saha B (2011) Sources and toxicity of hexavalent chromium. J Coord Chem 64:1782–1806

Spudich J, Sager R (1980) Regulation of the Chlamydomonas cell cycle by light and dark. J Cell Biol 85:136–145

Strasser BJ, Dau H, Heinze I, Senger H (1999) Comparison of light induced and cell cycle dependent changes in the photosynthetic apparatus: a fluorescence induction study on the green alga Scenedesmus obliquus. Photosynth Res 60:217–227

Swaminathan P, Venugopal R, Mallayan P, Lakshmanan U (2009) Chromium-induced in vivo DNA changes in marine algae Oscillatoria willei BDU 130511 (Cyanophyta). Int J Algae 11:395–402

Szivak I, Behra R, Sigg L (2009) Metal-induced reactive oxygen species production in Chlamydomonas reinhardtii (Chlorophyceae). J Phycol 45:427–435

Zayed AM, Terry M (2003) Chromium in the environment: factors affecting biological remediation. Plant Soil 249:139–156
Acknowledgments
This research was supported by a Natural Sciences and Engineering Research Council grant awarded to RP.
Additional information
This report is dedicated to the memory of Pr. Radovan Popovic (1940–2012).
Responsible editor: Elena Maestri
About this article
Cite this article
Didur, O., Dewez, D. & Popovic, R. Alteration of chromium effect on photosystem II activity in Chlamydomonas reinhardtii cultures under different synchronized state of the cell cycle. Environ Sci Pollut Res 20, 1870–1875 (2013). https://doi.org/10.1007/s11356-012-1389-8
Received:

Accepted:

Published:

Issue Date:
Keywords
Cell cycle

Photosynthesis

Chromium toxicity

Chlamydomonas reinhardtii