Abstract
A method was developed for the determination of benzotriazoles (BTs) in dishwasher tabs. BTs consist of 1H-benzotriazole and/or tolyltriazole, i.e., a technical mixture of the two isomers 4-methylbenzotriazole and 5-methylbenzotriazole (5-MBT). The method consisted of weighing of an aliquot of the tab, addition of the internal standard 5-MBT, precipitation of the soaps with CaCl2 and KOH, derivatization of the filtrate with acetic acid anhydride in a two-phase system, and analysis of the organic toluene layer by gas chromatography with mass spectrometry in the selected ion monitoring mode. Eleven of 12 different dishwasher tabs from the German market were tested positive with BTs ranging from 2 to 66 mg/tab. Dishwashing experiments were performed to show that at least 99 % of the BT amount used in the dishwasher did not remain on the dishes but was released into the wastewater treatment system. The annual release of BTs into the water system was estimated to be ~80 tons. Since 70 % or less of the BTs can be degraded in wastewater treatment plants, at least 24 tons are annually released into rivers in Germany.
This is a preview of subscription content, log in to check access.
Access options
Buy single article
Instant access to the full article PDF.
US$ 39.95
Price includes VAT for USA
Subscribe to journal
Immediate online access to all issues from 2019. Subscription will auto renew annually.
US$ 99
This is the net price. Taxes to be calculated in checkout.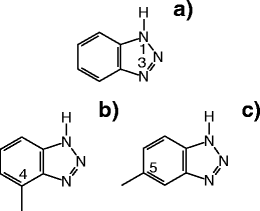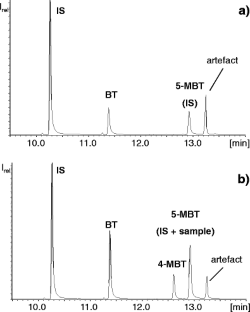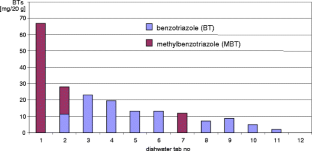 References
Babic-Samardzija K, Hackerman N (2005) Triazole, benzotriazole and substituted benzotriazoles as corrosion inhibitors of iron in aerated acidic media. J Solid State Electrochem 9:483–497

Cancilla D (1998) Detection of aircraft deicing/antiicing fluid additives in a perched water monitoring well at an international airport. Environ Sci Technol 32:3834–3835

Giger W, Schaffner C, Kohler H-PE (2006) Benzotriazole and tolyltriazole as aquatic contaminants. 1. Input and occurrence in rivers and lakes. Environ Sci Technol 40:7186–7192

Hart DS, Davis LC, Erickson LE, Callender TM (2004) Sorption and partitioning parameters of benzotriazole compounds. Microchem J 77:9–17

Hem LJ, Hartnik T, Roseth R, Breedveld GD (2003) Photochemical degradation of benzotriazole. J Environ Sci Health A 38:471–481

Janna H, Scrimshaw MD, Williams RJ, Churchley J, Sumpter JP (2011) From dishwasher to tap? Xenobiotic substances benzotriazole and tolyltriazole in the environment. Environ Sci Technol 45:3858–3864

Kadar E, Dashfield S, Hutchinson TH (2010) Developmental toxicity of benzotriazole in the protochordate Ciona intestinalis (Chordata, Ascidiae). Anal Bioanal Chem 396:641–647

Kiss A, Fries E (2009) Occurrence of benzotriazoles in the rivers Main, Hengstbach, and Hegbach (Germany). Environ Sci Pollut Res 16:702–710

Kiss A, Fries E (2012) Seasonal source influence on river mass flows of benzotriazoles. J Environ Monit 14:697–703

Liu Y-S, Ying G-G, Shareef A, Kookana RS (2012) Occurrence and removal of benzotriazoles and ultraviolet filters in a municipal wastewater treatment plant. Environ Pollut 165:225–232

Loos R, Gawlik BM, Locoro G, Rimaviciute E, Contini S, Bidoglio G (2009) EU-wide survey of polar organic persistent pollutants in European river waters. Environ Pollut 157:561–568

Pervova MG, Kirichenko VE, Saloutin VI (2010) Determination of 1,2,3-benzotriazole in aqueous solutions and air by reaction-gas–liquid chromatography. J Anal Chem 65:276–279

Reemtsma T, Miehe U, Duennbier U, Jekel M (2010) Polar pollutants in municipal wastewater and the water cycle: occurrence and removal of benzotriazoles. Water Res 44:596–604

Seeland A, Oetken M, Kiss A, Fries E, Oehlmann J (2012) Acute and chronic toxicity of benzotriazoles to aquatic organisms. Environ Sci Pollut Res 19:1781–1790

Statistisches Bundesamt (2010a) https://www.destatis.de/DE/ZahlenFakten/GesellschaftStaat/Bevoelkerung/HaushalteFamilien/HaushalteFamilien.html

Statistisches Bundesamt (2010b) https://www.destatis.de/DE/ZahlenFakten/GesellschaftStaat/EinkommenKonsumLebensbedingungen/AusstattungGebrauchsguetern/Tabellen/Haushaltsgeraete_D.html.

Voutsa D, Hartmann P, Schaffner C, Giger W (2006) Benzotriazoles, alkylphenols and bisphenol A in municipal wastewaters and in the Glatt River, Switzerland. Environ Sci Pollut Res 13:333–341

Weiss S, Jakobs J, Reemtsma T (2006) Discharge of three benzotriazole corrosion inhibitors with municipal wastewater and improvements by membrane bioreactor treatment and ozonation. Environ Sci Technol 40:7193–7199

Weiss S, Reemtsma T (2005) Determination of benzotriazole corrosion inhibitors from aqueous environmental samples by liquid chromatography-electrospray ionization-tandem mass spectrometry. Anal Chem 77:7415–7420

Wu X, Chou N, Lupher D, Davis LC (1998) Benzotriazoles: toxicity and degradation. Conference on Hazardous Waste Research: 374–382
Additional information
Responsible editor: Hongwen Sun
About this article
Cite this article
Vetter, W., Lorenz, J. Determination of benzotriazoles in dishwasher tabs from Germany and estimation of the discharge into German waters. Environ Sci Pollut Res 20, 4435–4440 (2013). https://doi.org/10.1007/s11356-012-1386-y
Received:

Accepted:

Published:

Issue Date:
Keywords
Benzotriazole

Tolylbenzotriazole

Dishwasher tabs

N-acetyl-benzotriazole

GC/MS

Dishwashing