Abstract
The common sole, Solea solea (Linneus, 1758), and the Senegalese sole, Solea senegalensis (Kaup, 1858), are two important commercial species that coexist in the NW Mediterranean. In order to assess the species' ability to respond to chemical insults, a comparison of activities on enzymes involved in xenobiotic metabolism was carried out. Juveniles of both species were sampled in winter 2011 from the Ebro Delta region, and activities of selected enzymes such as acetylcholinesterase (AChE), carboxylesterase (CbE), ethoxyresorufin O-deethylase (EROD) and glutathione S-transferase (GST) were determined in several tissues. Lipid peroxidation (LP) levels in plasma were measured as a sign of oxidative stress. In vitro exposures to selected pesticides were contrasted, analysing AChE and CbE activities in several tissue homogenates. Overall, enzymatic activities were higher in S. solea except for gill GST and CbE and kidney GST, while plasmatic LP levels were similar. In vitro contrasts revealed lower IC50 values for CbE activities in S. solea, suggesting a greater buffer capacity of this enzyme to potentially reduce pesticide toxicity over AChE.
This is a preview of subscription content, log in to check access.
Access options
Buy single article
Instant access to the full article PDF.
US$ 39.95
Price includes VAT for USA
Subscribe to journal
Immediate online access to all issues from 2019. Subscription will auto renew annually.
US$ 99
This is the net price. Taxes to be calculated in checkout.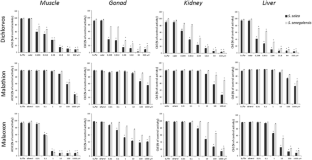 References
Aker WG, Hu X, Wang P, Hwang H-M (2008) Comparing the relative toxicity of malathion and malaoxon in blue catfish Ictalurus furcatus. Environ Toxicol 28:548–554

Alvarez-Muñoz D, Lara-Martín PA, Blasco J, Gomez-Parra A, Gonzalez-Mazo E (2007) Presence, biotransformation and effects of sulfocarboxylic acids in the benthic fish Solea senegalensis. Environ Int 33:565–570

Alvarez-Muñoz D, Gomez-Parra A, Blasco J, Sarasquete C, Gonzalez-Mazo E (2009) Oxidative stress and histopathology damage related to the metabolism of dodecylbenzene sulfonate in Senegalese sole. Chemosphere 74:1216–1223

Bradford M (1976) A rapid and sensitive method for the quantification of microgram quantities of protein utilizing the principle of protein dye binding. Anal Biochem 72:248–254

Burke MD, Mayer RT (1974) Ethoxyresorufin direct fluorimetric assay of microsomal O-dealkylation which is preferentially induced by 3-methylcholantrene. Drug Metab Dispos 2:583–588

Cardellicchio N, Buccolieri A, Giandomenico S, Lopez L, Pizzulli F, Spada L (2007) Organic pollutants (PAHs, PCBs) in sediments from the Mar Piccolo in Taranto (Ionian Sea, Southern Italy). Mar Pollut Bull 55:451–458

Costa PM, Caeiro S, Vale C, DelValls TA, Costa MH (2012) Can the integration of multiple biomarkers and sediment geochemistry aid solving the complexity of sediment risk assessment? A case study with a benthic fish. Environ Pollut 161:107–120

Damásio J, Navarro Ortega A, Tauler R, Lacorte S, Barcelo D (2010) Identifying major pesticides affecting bivalve species exposed to agricultural pollution using multi-biomarker and multivariate methods. Ecotoxicology 19:1084–1094

Eljarrat E, De La Cal A, Larrazabal D, Fabrellas B, Fernandez-Alba AR, Borrull F, Marce RM, Barcelo D (2005) Occurrence of polybrominated diphenylethers, polychlorinated dibenzo-p-dioxins, dibenzofurans and biphenyls in coastal sediments from Spain. Environ Pollut 136:493–501

Ellman GL, Courtney KD, Andres V Jr, Featherstone RM (1961) A new and rapid colorimetric determination of acetylcholinesterase activity. Biochem Pharmacol 7:88–95

Engqvist L (2005) The mistreatment of covariate interaction terms in linear model analyses of behavioral and evolutionary ecology studies. Anim Behav 70:967–971

Fitzsimmons PN, Lien GJ, Nichols JW (2007) A compilation of in vitro rate and affinity values for xenobiotic biotransformation in fish, measured under physiological conditions. Comp Biochem Physiol 145C:485–506

Fonseca VF, França S, Serafim A, Lopes B, Bebianno MJ, Cabral HN (2011a) Multi-biomarker responses to estuarine habitat contamination in three fish species: Dicentrarchus labrax, Solea senegalensis and Pomatoschistus microps. Aquat Toxicol 102:216–227

Fonseca VF, Franca S, Vasconcelos RP, Serafim A, Company R, Lopes B, Bebianno MJ, Cabral HN (2011b) Short-term variability of multiple biomarker response in fish from estuaries: influence of environmental dynamics. Mar Environ Res 72:172–178

Fulton M, Key P (2001) Acetylcholinesterase inhibition in estuarine fish and invertebrates as an indicator of organophosphorus insecticide exposure and effects. Environ Toxicol Chem 20:37–45

Garcia E, Molinero A, Flos R (1991) Growth comparative study in two species of sole: Solea solea and Solea senegalensis in the Mediterranean Sea. Aquacult Environ 14:112–113

Gómez-Gutiérrez AI, Jover E, Bodineau L, Albaigés JM, Bayona JM (2006) Organic contaminant loads into the western Mediterranean Sea: estimate of Ebro River inputs. Chemosphere 65:224–236

Gómez-Gutiérrez A, Garnacho E, Bayona JM, Albaigés J (2007) Assessment of the Mediterranean sediments contamination by persistent organic pollutants. Environ Pollut 148:396–408

Habig WH, Pabst MJ, Jakoby WB (1974) Glutathione S-transferases. The first enzymatic step in mercapturic acid formation. J Biol Chem 249:7130–7139

Karczmar AG (2010) Cholinesterases (ChEs) and the cholinergic system in ontogenesis and phylogenesis, and non-classical roles of cholinesterases—a review. Chem-Biol Interact 187:34–43

Köck M, Farré M, Martínez E, Gadjda-Schrantz K, Ginebreda A, Navarro A, López de Alda M, Barceló D (2010) Integrated ecotoxicological and chemical approach for the assessment of pesticide pollution in the Ebro River delta (Spain). J Hydrol 383:73–82

Laguerre C, Sanchez-Hernandez JC, Kohler HR, Triebskorn R, Capowiez Y, Rault M, Mazzia C (2009) B-type esterases in the snail Xeropicta derbentina: an enzymological analysis to evaluate their use as biomarkers of pesticide exposure. Environ Pollut 157:199–207

Livingstone DR (2001) Contaminant-stimulated reactive oxygen species production and oxidative damage in aquatic organisms. Mar Pollut Bull 42:656–666

López-Galindo C, Vargas-Chacoff L, Nebot E, Casanueva JF, Rubio D, Solé M, Mancera JM (2010a) Biomarker responses in Solea senegalensis exposed to sodium hypochlorite used as antifouling. Chemosphere 78:885–893

López-Galindo C, Vargas-Chacoff L, Nebot E, Casanueva JF, Rubio D, Solé M, Mancera JM (2010b) Subletal effects of the organic antifoulant Mexel 432 on osmoregulation and xenobiotic detoxification in the flatfish Solea senegalensis. Chemosphere 79:78–85

Mañosa S, Mateo R, Guitart R (2001) A review of the effects of agricultural and industrial contamination on the Ebro Delta biota and wildlife. Environ Monit Assess 71:187–205

Mastropaolo W, Yourno J (1981) An ultraviolet spectrophotometric assay for α-naphtyl acetate and α-naphtyl butyrate esterases. Anal Biochem 115:188–193

Oliva M, González de Canales ML, Gravato C, Guilhermino L, Perales JA (2010) Biochemical effects and polycyclic aromatic hydrocarbons (PAHs) in Senegal sole (Solea senegalensis) from Huelva estuary (SW Spain). Ecotox Environ Safe 73:1842–1851

Oliva M, Vicente JJ, Gravato C, Guilhermino L, Galindo-Riano MD (2012) Oxidative stress biomarkers in Senegal sole, Solea senegalensis, to assess the impact of heavy metal pollution in a Huelva estuary (SW Spain): seasonal and spatial variation. Ecotox Environ Safe 75:151–162

Pascoli F, Negrato E, Di Giancamillo A, Bertotto D, Domeneghini C, Simontacchi C, Mutinelli F, Radaelli G (2011) Evaluation of oxidative stress biomarkers in Zosterisessor ophiocephalus from the Venice Lagoon, Italy. Aquat Toxicol 101:512–520

Pathiratne A, George SG (1998) Toxicity of malathion to Nile tilapia, Oreochromis niloticus and modulation by other environmental contaminants. Aquat Toxicol 43:261–271

Quéro J-C, Dessouter M, Lagardère F (1986) Soleidae. In: Whitehead P, Bauchot ML, Hureau J-C, Nielsen J, Tortonese E (eds) Fishes of north-eastern Atlantic and Mediterranean, vol 3. The Chaucer Press Ltd, Bungay

Ru S, Wei X, Jiang M, Li Y (2003) In vivo and in vitro inhibitions of red drum (Sciaenops ocellatus) brain acetylcholinesterase and liver carboxylesterase by monocrotophos at sublethal concentrations. Water Air Soil Pollut 149:17–25

Sogorb MA, Vilanova E (2002) Enzymes involved in the detoxification of organophosphorus, carbamate and pyrethroid insecticides through hydrolysis. Toxicol Lett 128:215–228

Solé M, Baena M, Arnau S, Carrasson M, Maynou F, Cartes JE (2010) Muscular cholinesterase activities and lipid peroxidation levels as biomarkers in several Mediterranean marine fish species and their relationship with ecological variables. Environ Int 36:202–211

Solé M, Vega S, Varó I (2012) Characterization of type "B" esterases and hepatic CYP450 isoenzimes in Senegalese sole for their further application in monitoring studies. Ecotoxicol Environ Safe 78:72–79

Soler C, James KJ, Picó Y (2007) Capabilities of different liquid chromatography tandem mass spectrometry systems in determining pesticide residues in food: application to estimate their daily intake. J Chromatogr A 1157:73–84

Suarez-Serrano A, Ibáñez C, Lacorte S, Barata C (2010) Ecotoxicological effects of rice field waters on selected planktonic species: comparison between conventional and organic farming. Ecotoxicology 19:1523–1535

Teixeira CM, Cabral HN (2010) Comparative analysis of the diet, growth and reproduction of the soles, Solea solea and Solea senegalensis, occurring in sympatry along the Portuguese coast. J Mar Biol Assoc UK 90:995–1003

Trisciani A, Corsi I, Della Torre C, Perra G, Focardi S (2011) Hepatic biotransformation genes and enzymes and PAH metabolites in bile of common sole (Solea solea, Linnaeus, 1758) from an oil-contaminated site in the Mediterranean Sea: a field study. Mar Pollut Bull 62:806–814

Valavanidis A, Vlahogianni T, Dassenakis M, Scoullos M (2006) Molecular biomarkers of oxidative stress in aquatic organisms in relation to toxic environmental pollutants. Ecotox Environ Safe 64:178–189

van der Oost R, Lopes SCC, Komen H, Satumalay K, van den Bos R, Heida H, Vermeulen NPE (1998) Assessment of environmental quality and inland water pollution using biomarker responses in caged carp (Cyprinus carpio): use of a bioactivation: detoxication ratio as a biotransformation index (BTI). Mar Environ Res 46:315–319

van der Oost R, Beyer J, Vermeulen N (2003) Fish bioaccumulation and biomarkers in environmental risk assessment: a review. Environ Toxicol Pharmacol 13:57–149

Varó I, Navarro JC, Amat F, Guilhermino L (2003) Effect of dichlorvos on cholinesterase activity of the European sea bass (Dicentrarchus labrax). Pestic Biochem Phys 75:61–72

Varó I, Navarro JC, Nunes B, Guilhermino L (2007) Effects of dichlorvos aquaculture treatments on selected biomarkers of gilthead sea bream (Sparus aurata L.) fingerlings. Aquaculture 266:87–96

Varó I, Amat F, Navarro JC (2008) Acute toxicity of dichlorvos to Aphanius iberus (Cuvier & Valenciennes, 1846) and its anti-cholinesterase effects on this species. Aquat Toxicol 88:53–61

Vinagre C, Fonseca V, Maia R, Amara R, Cabral H (2008) Habitat specific growth rates and condition indices for the sympatric soles Solea solea (Linnaeus, 1758) and Solea senegalensis (Kaup, 1858), in the Tagus estuary, Portugal, based on otolith daily increments and RNA–DNA ratio. J Appl Ichthyol 24:163–169

Wessel N, Santos R, Menard D, Le Menach K, Buchet V, Lebayon N, Loizeau V, Burgeot T, Budzinski H, Akcha F (2010) Relationship between PAH biotransformation as measured by biliary metabolites and EROD activity, and genotoxicity in juveniles of sole (Solea solea). Mar Environ Res 69:S71–S73

Wheelock CE, Phillips BM, Anderson BS, Miller JL, Miller MJ, Hammock BD (2008) Applications of carboxylesterase activity in environmental monitoring and toxicity identification evaluations (TIEs). Rev Environ Contam Toxicol 195:117–178
Acknowledgments
This work was financed by the Ministry of Science and Innovation of Spain (ref CTM2010-16611). The authors want to thank IRTA-Generalitat de Catalunya from Sant Carles de la Rápita (Spain) for generously letting us use their facilities during the fish sampling, Y. Picó (U. Valéncia) for the pesticide residue analysis in fish and the Water Catalan Agency (ACA; Generalitat de Catalunya) for the sediment analysis data. A. Torreblanca and R. Siscar are acknowledged for their valuable comments.
Additional information
Responsible editor: Philippe Garrigues
About this article
Cite this article
Sànchez-Nogué, B., Varó, I. & Solé, M. Comparative analysis of selected biomarkers and pesticide sensitivity in juveniles of Solea solea and Solea senegalensis . Environ Sci Pollut Res 20, 3480–3488 (2013). https://doi.org/10.1007/s11356-012-1355-5
Received:

Accepted:

Published:

Issue Date:
Keywords
In vitro

Xenobiotic metabolism

Pollutants

Benthic fish