Abstract
The concentrations of heavy metals (Cd, Cr, Cu, Ni, Pb, and Zn) and organic carbon in surface sediments, collected from the southern Bohai Bay, were determined to assess the potential contamination and determine the environmental risks associated with heavy metals. Results showed that heavy metal concentrations in the sediments generally met the China Marine Sediment Quality criteria. Both the ecotoxicological index and the potential ecological risk index suggest that the combined ecological risk of the six studied metals may be low, with the highest ecotoxicological potential zones located in the offshore area. The methods of enrichment factor and geoaccumulation index suggested that elevated concentrations of Cd, Cr, and Ni are presented in the region. Multivariate analysis also indicated that the lithogenic factor dominates the distribution of most part of the considered metals in the study area, whereas Cd and Cr are clearly influenced by anthropogenic inputs. The results of this study are likely to be a useful tool to authorities in charge of sustainable marine management.
This is a preview of subscription content, log in to check access.
Access options
Buy single article
Instant access to the full article PDF.
US$ 39.95
Price includes VAT for USA
Subscribe to journal
Immediate online access to all issues from 2019. Subscription will auto renew annually.
US$ 99
This is the net price. Taxes to be calculated in checkout.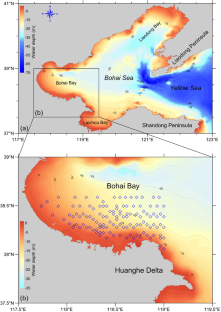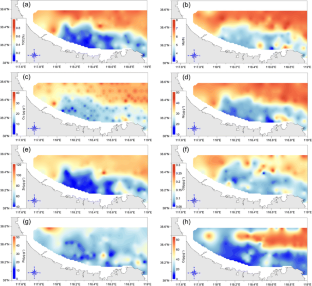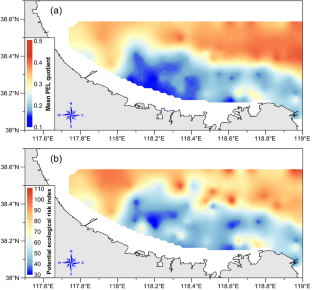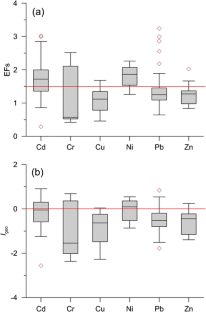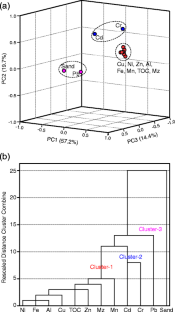 References
Bergaya F, Theng BKG, Lagaly G (2006) Modified clays and clay minerals. In: Faïza Bergaya BKGT, Gerhard L (eds) Developments in clay science, vol 1. Elsevier, p 261. doi:10.1016/S1572-4352(05)01007-X

CSBTS (2002) Marine sediment quality. Standards Press of China, Beijing

Feng H, Jiang H, Gao W, Weinstein MP, Zhang Q, Zhang W, Yu L, Yuan D, Tao J (2011) Metal contamination in sediments of the western Bohai Bay and adjacent estuaries, China. J Environ Manag 92(4):1185–1197. doi:10.1016/j.jenvman.2010.11.020

Gao X, Chen C-TA (2012) Heavy metal pollution status in surface sediments of the coastal Bohai Bay. Water Res 46(6):1901–1911. doi:10.1016/j.watres.2012.01.007

Gao X, Li P (2012) Concentration and fractionation of trace metals in surface sediments of intertidal Bohai Bay, China. Mar Pollut Bull 64(8):1529–1536. doi:10.1016/j.marpolbul.2012.04.026

Gao S, Luo T-C, Zhang B-R, Zhang H-F, Y-w H, Zhao Z-D, Hu Y-K (1998) Chemical composition of the continental crust as revealed by studies in East China. Geochimica et Cosmochimica Acta 62(11):1959–1975. doi:10.1016/s0016-7037(98)00121-5

Håkanson L (1980) An ecological risk index for aquatic pollution control. A sedimentological approach. Water Res 14(8):975–1001. doi:10.1016/0043-1354(80)90143-8

Hamer K, Karius V (2002) Brick production with dredged harbour sediments. An industrial-scale experiment. Waste Manage 22(5):521–530. doi:10.1016/S0956-053X(01)00048-4

Hu B, Li J, Zhao J, Yang J, Bai F, Dou Y (2012) Heavy metal in surface sediments of the Liaodong Bay, Bohai Sea: distribution, contamination, and sources. Environ Monit Assess 1–13. doi:10.1007/s10661-012-2926-0

Hyun S, Lee CH, Lee T, Choi JW (2007) Anthropogenic contributions to heavy metal distributions in the surface sediments of Masan Bay, Korea. Mar Pollut Bull 54(7):1059–1068. doi:10.1016/j.marpolbul.2007.02.013

Li X, Wai OWH, Li Y, Coles BJ, Ramsey MH, Thornton I (2000) Heavy metal distribution in sediment profiles of the Pearl River estuary, South China. Appl Geochem 15(5):567–581

Liu M, Zhang A, Fan D, Deng S, Wang L, Zhang X, Q-m Z (2012) Environmental quality of heavy metals in surface sediments in the central region of the Bohai Sea. China Environmental Science 32(2):279–290

Long ER, MacDonald DD (1998) Recommended uses of empirically derived, sediment quality guidelines for marine and estuarine ecosystems. Human and Ecological Risk Assessment: An International Journal 4(5):1019–1039. doi:10.1080/10807039891284956

Long ER, MacDonald DD, Smith S, Calder F (1995) Incidence of adverse biological effects within ranges of chemical concentrations in marine and estuarine sediments. Environ Manag 19(1):81–97. doi:10.1007/bf02472006

Long ER, Field LJ, MacDonald DD (1998) Predicting toxicity in marine sediments with numerical sediment quality guidelines. Environ Toxicol Chem 17(4):714–727. doi:10.1002/etc.5620170428

Long ER, Ingersoll CG, MacDonald DD (2006) Calculation and uses of mean sediment quality guideline quotients: a critical review. Environ Sci Technol 40(6):1726–1736. doi:10.1021/es058012d

Macdonald DD, Carr RS, Calder FD, Long ER, Ingersoll CG (1996) Development and evaluation of sediment quality guidelines for Florida coastal waters. Ecotoxicology 5(4):253–278. doi:10.1007/bf00118995

MacDonald DD, Ingersoll CG, Berger TA (2000) Development and evaluation of consensus-based sediment quality guidelines for freshwater ecosystems. Arch Environ Contam Toxicol 39(1):20–31. doi:10.1007/s002440010075

Meng W, Qin Y, Zheng B, Zhang L (2008) Heavy metal pollution in Tianjin Bohai Bay, China. J Environ Sci 20(7):814–819. doi:10.1016/s1001-0742(08)62131-2

Müller G (1979) Schwermetalle in den sedimenten des Rheins-Veranderungen seitt. Umschau 79:778–783

Müller G (1981) Die Schwermetallbelastung der sedimente des Neckars und seiner Nebenflusse: eine Bestandsaufnahme. Chem Ztg 105:157–164

Pan K, Wang W-X (2012) Trace metal contamination in estuarine and coastal environments in China. Sci Total Environ 421–422:3–16. doi:10.1016/j.scitotenv.2011.03.013

Pekey H (2006) Heavy metal pollution assessment in sediments of the Izmit Bay, Turkey. Environ Monit Assess 123(1–3):219–231. doi:10.1007/s10661-006-9192-y

Qiao S, Yang Z, Pan Y, Guo Z (2007) Metals in suspended sediments from the Changjiang (Yangtze River) and Huanghe (Yellow River) to the sea, and their comparison. Estuarine Coastal Shelf Sci 74(3):539–548. doi:10.1016/j.ecss.2007.05.042

Qiu YW, Lin D, Liu JQ, Zeng EY (2011) Bioaccumulation of trace metals in farmed fish from South China and potential risk assessment. Ecotoxicol Environ Saf 74(3):284–293. doi:10.1016/j.ecoenv.2010.10.008

Radakovitch O, Roussiez V, Ollivier P, Ludwig W, Grenz C, Probst J-L (2008) Input of particulate heavy metals from rivers and associated sedimentary deposits on the Gulf of Lion continental shelf. Estuarine Coastal Shelf Sci 77(2):285–295. doi:10.1016/j.ecss.2007.09.028

Rae JE (1997) Trace metals in deposited intertidal sediments. In: Jickells TD, Rae JE (eds) Biogeochemistry of intertidal sediments. Cambridge University Press, Cambridge, pp 16–31

Rainbow PS (2007) Trace metal bioaccumulation: models, metabolic availability and toxicity. Environ Int 33(4):576–582. doi:10.1016/j.envint.2006.05.007

Roussiez V, Ludwig W, Radakovitch O, Probst J-L, Monaco A, Charrière B, Buscail R (2011) Fate of metals in coastal sediments of a Mediterranean flood-dominated system: an approach based on total and labile fractions. Estuarine Coastal Shelf Sci 92(3):486–495. doi:10.1016/j.ecss.2011.02.009

Sahuquillo A, Rigol A, Rauret G (2003) Overview of the use of leaching/extraction tests for risk assessment of trace metals in contaminated soils and sediments. TrAC Trends in Analytical Chemistry 22(3):152–159. doi:10.1016/S0165-9936(03)00303-0

Simpson SL, Batley GE (2007) Predicting metal toxicity in sediments: a critique of current approaches. Integr Environ Assess Manag 3(1):18–31. doi:10.1002/ieam.5630030103

Simpson SL, Batley GE, Chariton AA, Stauber JL, King CK, Chapman JC, Hyne RV, Gale SA, Roach AC, Maher WA (2005) Handbook for sediment quality assessment. CSIRO, Bangor

Sundaray SK, Nayak BB, Lin S, Bhatta D (2011) Geochemical speciation and risk assessment of heavy metals in the river estuarine sediments—a case study: Mahanadi basin, India. J Hazard Mater 186(2–3):1837–1846. doi:10.1016/j.jhazmat.2010.12.081

Taylor SR, McLennan SM (1995) The geochemical evolution of the continental crust. Rev Geophys 33(2):241–265. doi:10.1029/95rg00262

Tessier A, Campbell PGC, Bisson M (1979) Sequential extraction procedure for the speciation of particulate trace metals. Anal Chem 51:844–851

Wang W-X, Rainbow PS (2008) Comparative approaches to understand metal bioaccumulation in aquatic animals. Comparative biochemistry and physiology—part c: toxicology. Pharmacology 148(4):315–323. doi:10.1016/j.cbpc.2008.04.003

Williams TP, Bubb JM, Lester JN (1994) Metal accumulation within salt marsh environments: a review. Mar Pollut Bull 28(5):277–290. doi:10.1016/0025-326X(94)90152-X

Zhan S, Peng S, Liu C, Chang Q, Xu J (2010) Spatial and temporal variations of heavy metals in surface sediments in Bohai Bay, North China. Bull Environ Contam Toxicol 84(4):482–487. doi:10.1007/s00128-010-9971-6

Zhang J, Liu CL (2002) Riverine composition and estuarine geochemistry of particulate metals in China—weathering features, anthropogenic impact and chemical fluxes. Estuarine, Coastal and Shelf Science 54(6):1051–1070. doi:10.1006/ecss.2001.0879

Zhang L, Ye X, Feng H, Jing Y, Ouyang T, Yu X, Liang R, Gao C, Chen W (2007) Heavy metal contamination in western Xiamen Bay sediments and its vicinity, China. Mar Pollut Bull 54(7):974–982. doi:10.1016/j.marpolbul.2007.02.010

Zhang W, Feng H, Chang J, Qu J, Xie H, Yu L (2009) Heavy metal contamination in surface sediments of Yangtze River intertidal zone: an assessment from different indexes. Environ Pollut 157(5):1533–1543. doi:10.1016/j.envpol.2009.01.007

Zhou H, Peng X, Pan J (2004) Distribution, source and enrichment of some chemical elements in sediments of the Pearl River Estuary, China. Cont Shelf Res 24(16):1857–1875. doi:10.1016/j.csr.2004.06.012
Acknowledgments
We would like to thank the Editor Stuart Simpson and three anonymous reviewers for their thorough and thoughtful reviews of the manuscript. This work was jointly supported by the Project of State Oceanic Administration, China (no. 908-01-CJ04), the Marine Public Welfare Research Project (grant no. 200805063), National Natural Science Foundation of China (grant nos. 41206049, 40976036 and 40906033), Open Foundation of the State Key Laboratory of Loess and Quaternary Geology (grant no. SKLLQG1107), and Open Foundation of the Key Laboratory of Marine Hydrocarbon Resources and Environmental Geology (grant no. MRE201231).
Additional information
Responsible editor: Stuart Simpson
Electronic supplementary material
Below is the link to the electronic supplementary material.
About this article
Cite this article
Hu, B., Li, G., Li, J. et al. Spatial distribution and ecotoxicological risk assessment of heavy metals in surface sediments of the southern Bohai Bay, China. Environ Sci Pollut Res 20, 4099–4110 (2013). https://doi.org/10.1007/s11356-012-1332-z
Received:

Accepted:

Published:

Issue Date:
Keywords
Heavy metal contamination

Sediment quality guidelines

Multivariate statistics

Bohai Bay