Abstract
Atmospheric pollutants may cause damage to monuments and historical buildings. Besides air contaminants, soluble salts are also responsible for stone deterioration and decay in outdoor and indoor monuments. The problem of how to conserve works of arts thus requires a deep knowledge of contaminants' concentration and distribution inside buildings. In this work, water-soluble ions inside St. Mark's Basilica in Venice were studied, with the aim of understanding their principal source and distribution inside the building. With the aid of Fourier transform infrared spectroscopy and scanning electron microscopy analysis, the interaction between ions and surface's material was also investigated. Ion chromatographic analysis of depositions highlighted a large amount of "deteriorating agents" such as sulphates and chlorides. A possible source in the innermost area of the basilica has been found for formates and nitrates. On the contrary, a decrease of chloride, from the entrance to the innermost area, has been found, which indicates that the source is outside the building. It is emphasized that different contaminants behave differently on different material, and the effect of pollution inside churches and monuments is not easy to predict. Wood and brick seem to react differently than stone and mortar to the damaging action of salts and pollutants. The present work should be considered a useful tool for the future preservation of St. Mark's Basilica in Venice.
This is a preview of subscription content, log in to check access.
Access options
Buy single article
Instant access to the full article PDF.
US$ 39.95
Price includes VAT for USA
Subscribe to journal
Immediate online access to all issues from 2019. Subscription will auto renew annually.
US$ 99
This is the net price. Taxes to be calculated in checkout.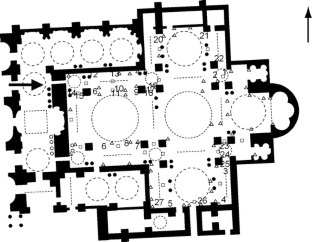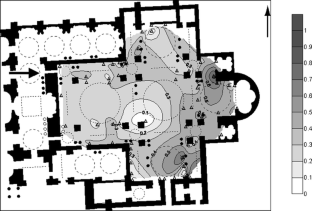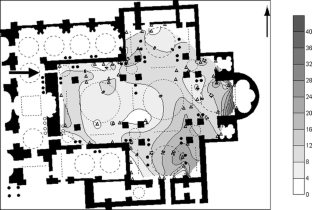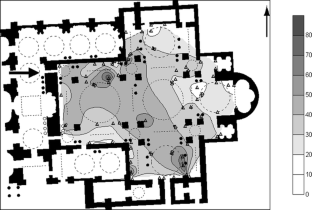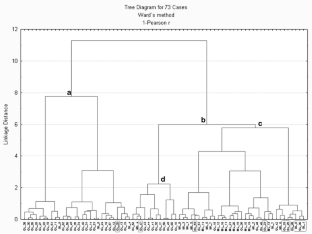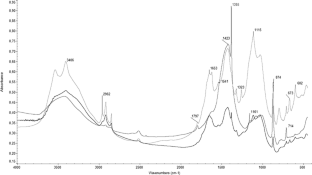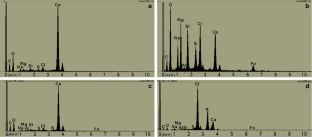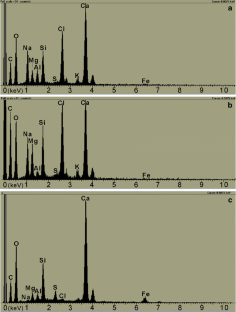 References
Baer NS, Banks PN (1985) Indoor air pollution: effects on cultural and historic materials. Int J Mus Manage Curatorship 4:9–20

Bakolas A, Biscontin G, Contardi V, Franceschi E, Moropoulou A, Palazzi D, Zendri E (1995) Thermoanalytical research on traditional mortars in Venice. Thermochim Acta 269–270:817–828

Bencs L, Spolnik Z, Limpens-Neilen D, Shellen HL, Jutte B, Van Grieken R (2007) Comparison of hot-air and low-radiant pew heating systems on the distribution and transport of gaseous air pollutants in the mountain church of Rocca Pietore from artwork conservation points of view. J Cult Herit 8:264–271

Brimblecombe P (1990) The composition of museum atmospheres. Atmos Environ Part B Urban Atmos 24:1–8

Camuffo D, Vincenzi S (1985) Computing the energy balance of a statue of bronze: the San Marco's horses as a case study. Sci Total Environ 44:147–158

Camuffo D, Brimblecombe P, Van Grieken R, Busse H-J, Sturaro G, Valentino A, Bernardi A, Blades N, Shooter D, De Bock L, Gysels K, Wieser M, Kim O (1999) Indoor air quality at the Correr Museum, Venice, Italy. Sci Total Environ 236:135–152

Camuffo D, Grieken RV, Busse H-J, Sturaro G, Valentino A, Bernardi A, Blades N, Shooter D, Gysels K, Deutsch F, Wieser M, Kim O, Ulrych U (2001) Environmental monitoring in four European museums. Atmos Environ 35:127–140

Colston BJ, Watt DS, Munro HL (2001) Environmentally-induced stone decay: the cumulative effects of crystallization-hydration cycles on a Lincolnshire oopelsparite limestone. J Cult Herit 2:297–307

Contini D, Genga A, Cesari D, Siciliano M, Donateo A, Bove MC, Guascito MR (2010) Characterisation and source apportionment of PM10 in an urban background site in Lecce. Atmos Res 95:40–54

De Bock LA, Van Grieken RE, Camuffo D (1995) Micro-analysis of museum aerosols to elucidate the soiling of paintings. J Aerosol Sci 26:S513–S514

Esbert RM, Dìaz-Pache F, Grossi CM, Alonso FJ, Ordaz J (2001) Airborne particulate matter around the Cathedral of Burgos (Castilla y León, Spain). Atmos Environ 35:441–452

Fassina V (1978) A survey on air pollution and deterioration of stonework in Venice. Atmos Environ 12:2205–2211

Fine PM, Cass GR, Simoneit BRT (1999) Characterization of fine particle emissions from burning church candles. Environ Sci Technol 33:2352–2362

Haneef SJ, Johnson JB, Dickinson C, Thompson GE, Wood GC (1992) Effect of dry deposition of NO x and SO2 gaseous pollutants on the degradation of calcareous building stones. Atmos Environ Part A Gen Top 26:2963–2974

Hatchfield PB, Carpenter JM (1986) The problem of formaldehyde in museum collections. Mus Manage Curatorship 5:183–188

Lars-Gunnar J (1990) Synergistic effects of air pollutants on the atmospheric corrosion of metals and calcareous stones. Mar Chem 30:113–122

Lau C, Fiedler H, Hutzinger O, Schwind KH, Hosseinpour J (1997) Levels of selected organic compounds in materials for candle production and human exposure to candle emissions. Chemosphere 34:1623–1630

Lee S-C, Wang B (2004) Characteristics of emissions of air pollutants from burning of incense in a large environmental chamber. Atmos Environ 38:941–951

Loupa G, Charpantidou E, Karageorgos E, Rapsomanikis S (2007) The chemistry of gaseous acids in medieval churches in Cyprus. Atmos Environ 41:9018–9029

Martínez-Arkarazo I, Angulo M, Bartolomé L, Etxebarria N, Olazabal MA, Madariaga JM (2007) An integrated analytical approach to diagnose the conservation state of building materials of a palace house in the metropolitan Bilbao (Basque Country, North of Spain). Anal Chim Acta 584:350–359

McInnes LM, Covert DS, Quinn PK, Germani MS (1994) Measurements of chloride depletion and sulfur enrichment in individual sea-salt particles collected from the remote marine boundary layer. J Geophys Res 99:8257–8268

Moropoulou A, Bisbikou K, Van Grieken R, Torfs K, Polikreti K (2001) Correlation between aerosols, deposits and weathering crusts on ancient marbles. Environ Technol 22:607–618

Norwich JJ (1991) Tourist pollution: the future's most pervasive problem. Mus Manag Curatorship 10:45–52

Ozga I, Bonazza A, Bernardi E, Tittarelli F, Favoni O, Ghedini N, Morselli L, Sabbioni C (2011) Diagnosis of surface damage induced by air pollution on 20th-century concrete buildings. Atmos Environ 45:4986–4995

Pérez-Rodrìguez JL, Maqueda C, Jiménez de Haro MC, Rodrìguez-Rubio P (1998) Effect of pollution on polychromed ceramic statues. Atmos Environ 32:993–998

Primerano P, Marino G, Di Pasquale S, Mavilia L, Corigliano F (2000) Possible alteration of monuments caused by particles emitted into the atmosphere carrying strong primary acidity. Atmos Environ 34:3889–3896

Prodi F, Belosi F, Contini D, Santachiara G, Di Matteo L, Gambaro A, Donateo A, Cesari D (2009) Aerosol fine fraction in the Venice Lagoon: particle composition and sources. Atmos Res 92:141–150

Sabbioni C, Zappia G, Riontino C, Blanco-Varela MT, Aguilera J, Puertas F, Balen KV, Toumbakari EE (2001) Atmospheric deterioration of ancient and modern hydraulic mortars. Atmos Environ 35:539–548

Sabbioni C, Ghedini N, Bonazza A (2003) Organic anions in damage layers on monuments and buildings. Atmos Environ 37:1261–1269

Samie F, Tidblad J, Kucera V, Leygraf C (2005) Atmospheric corrosion effects of HNO3—method development and results on laboratory-exposed copper. Atmos Environ 39:7362–7373

Spolnik Z, Worobiec A, Samek L, Bencs L, Belikov K, Van Grieken R (2007) Influence of different types of heating systems on particulate air pollutant deposition: the case of churches situated in a cold clima. J Cult Herit 8:7–12

Tittarelli F, Moriconi G, Bonazza A (2008) Atmospheric deterioration of cement plaster in a building exposed to a urban environment. J Cult Herit 9:203–206
Acknowledgments
This work was supported by the National Research Council of Italy (CNR). The authors are grateful to Arch. Ettore Vio, Proto of St. Mark, for the assistance in sampling and interpretation of the results.
Additional information
Responsible editor: Philippe Garrigues
About this article
Cite this article
Morabito, E., Zendri, E., Piazza, R. et al. Deposition in St. Mark's Basilica of Venice. Environ Sci Pollut Res 20, 2579–2592 (2013). https://doi.org/10.1007/s11356-012-1162-z
Received:

Accepted:

Published:

Issue Date:
Keywords
Atmospheric deposition

Indoor air pollution

Ionic chromatography

Cultural heritage

Venice

St. Mark's Basilica