Abstract
Purpose
In this study, we investigated the effect of diphenyl diselenide [(PhSe)2] on chlorpyrifos (CPF)-induced hepatic and hematologic toxicity in rats.
Methods
Rats were pre-treated with (PhSe)2 (5 mg/kg) via the oral route (oral gavage) once a day for 7 days. On the eighth and ninth days, rats were treated with (PhSe)2 (5 mg/kg) 30 min prior to CPF (50 mg/kg, by subcutaneous route). The aspartate aminotransferase, alanine aminotransferase, and lactate dehydrogenase activities were determined in plasma of rats. Lipid peroxidation, protein carbonyl, and non-protein thiol levels as well as catalase, superoxide dismutase, glutathione peroxidase, glutathione reductase, and gluthatione S-transferase activities were determined in livers of rats. Hematological parameters were also determined.
Results
The results showed that CPF caused hepatic oxidative damage, as demonstrated by an increase in lipid peroxidation and protein carbonyl levels which was associated with a decrease in antioxidant defenses. CPF exposure caused a reduction in the leukocyte, indicating hematologic toxicity. (PhSe)2 was effective in attenuating these toxic effects caused by CPF exposure in rats.
Conclusions
The results indicated that (PhSe)2 was effective in protecting the hepatic and hematologic toxicity induced by acute CPF exposure in rats.
This is a preview of subscription content, log in to check access.
Access options
Buy single article
Instant access to the full article PDF.
US$ 39.95
Price includes VAT for USA
Subscribe to journal
Immediate online access to all issues from 2019. Subscription will auto renew annually.
US$ 99
This is the net price. Taxes to be calculated in checkout.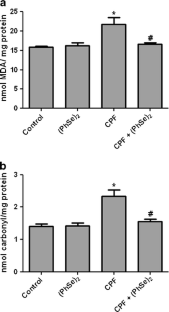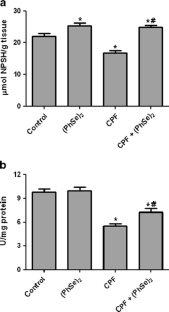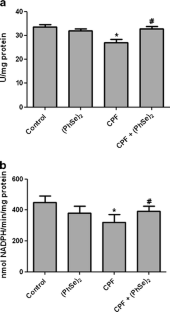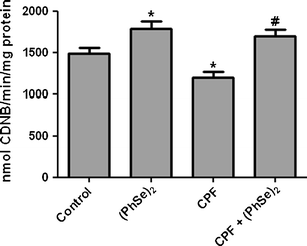 References
Acker CI, Luchese C, Prigol M, Nogueira CW (2009) Antidepressant-like effect of diphenyl diselenide on rats exposed to malathion: involvement of Na+K+ATPase activity. Neurosci Lett 455:168–172

Aebi H (1984) Catalase in vitro. Methods Enzymol 105:121–126

Aly N, El-Gendy K, Mahmoud F, El-Sebae AK (2010) Protective effect of vitamin C against chlorpyrifos oxidative stress in male mice. Pestic Biochem Physiol 97:7–12

Ambali S, Akanbi D, Igbokwe N, Shittu M, Kawu M, Ayo J (2007) Evaluation of subchronic chlorpyrifos poisoning on hematological and serum biochemical changes in mice and protective effect of vitamin C. J Toxicol Sci 32:111–120

Arthur JR (2000) The glutathione peroxidases. Cell Mol Life Sci 57:1825–1835

Barbosa NBV, Rocha JBT, Wondracek DC, Perottoni J, Zeni G, Nogueira CW (2006) Diphenyl diselenide reduces temporarily hyperglycemia: possible relationship with oxidative stress. Chem Biol Interact 163:230–238

Borges LP, Brandao R, Godoi B, Nogueira CW, Zeni G (2008) Oral administration of diphenyl diselenide protects against cadmium-induced liver damage in rats. Chem Biol Interact 171:15–25

Bradford MM (1976) A rapid and sensitive method for the quantitation of microgram quantities of protein utilizing the principles of protein-dye binding. Anal Biochem 72:248–254

Brandão R, Borges LP, de Oliveira R, Rocha JBT, Nogueira CW (2008) Diphenyl diselenide protects against hematological and immunological alterations induced by mercury in mice. J Biochem Mol Toxicol 22:311–319

Brandão R, Acker CI, Leite MR, Barbosa NBV, Nogueira CW (2009a) Diphenyl diselenide protects against glycerol-induced renal damage in rats. J Appl Toxicol 29:612–618

Brandão R, Borges LP, Nogueira CW (2009b) Concomitant administration of sodium 2,3-dimercapto-1-propanesulphonate (DMPS) and diphenyl diselenide reduces effectiveness of DMPS in restoring damage induced by mercuric chloride in mice. Food Chem Toxicol 47:1771–1778

Carlberg I, Mannervik B (1985) Glutathione reductase. Methods Enzymol 113:484–489

Çetin E, Kanbur M, Silici S, Eraslan G (2010) Propetamphos-induced changes in haematological and biochemical parameters of female rats: protective role of própolis. Food Chem Toxicol 48:1806–1810

CIPAC Handbook, Volume H (1998) Analysis of technical and formulated pesticides. In: W. Dobrat and A. Martijn (eds). Black Bear Press, King's Hedges Road, Cambridge, UK, 359 pp

Da Rocha JT, Pinton S, Mazzanti A, Mazzanti CM, Beckemann DV, Nogueira CW, Zeni G (2011) Effects of diphenyl diselenide on lipid profile and hepatic oxidative stress parameters in ovariectomized female rats. J Pharm Pharmacol 63:663–669

Eaton DL, Daroff RB, Autrup H, Bridges J, Buffler P, Costa LG, Coyle J, Mckhann G, Mobley WC, Nadel L, Neubert D, Schulte-Hermann R, Spencer PS (2008) Review of the toxicology of chlorpyrifos with an emphasis on human exposure and neurodevelopment. Crit Rev Toxicol 38:1–125

Ellman GL (1959) Tissue sulfhydryl groups. Arch Biochem 82:70–77

Goel A, Dani V, Dhawan DK (2006) Role of zinc in mitigating the toxic effects of chlorpyrifos on hematological alterations and electron microscopic observations in rat blood. Biometals 19:483–492

Gokcimen A, Gulle K, Demirin H, Bayram D, Kocak A, Altuntas I (2007) Effects of diazinon at different doses on rat liver and pancreas tissues. Pest Biochem Physiol 87:103–108

Habig WH, Pabst MJ, Jakoby WB (1974) Glutathione S-transferases, the first enzymatic step in mercapturic acid formation. J Biol Chem 249:7130–7139

Halliwell B (2011) Free radicals and antioxidants—quo vadis? Trends Pharmacol Sci 32:125–130

Hayes JD, Flanagan JU, Jowsey IR (2005) Glutathione transferases. Annu Rev Pharmacol Toxicol 45:51–88

Khan SM, Sobti RC, Kataria L (2005) Pesticide-induced alteration in mice hepatooxidative status and protective effects of black tea extract. Clin Chim Acta 358:131–138

Khan SM, Kour G (2007) Subacute oral toxicity of chlorpyriphos and protective effect of green tea extract. Pest Biochem Phisiol 89:118–123

Kobayashi SD, Voyich JM, DeLeo FR (2003) Regulation of the neutrophil-mediate inflammatory response to infection. Microbes Infect 5:1337–1344

Kousba AA, Sultatos LG, Poet TS, Timchalk C (2004) Comparison of chlorpyrifos-oxon and paraoxon acetylcholinesterase inhibition dynamics: potential role of a peripheral binding site. Toxicol Sci 80:239–248

Kwong TC (2002) Organophosphate pesticides: biochemistry and clinical toxicology. Ther Drug Monit 24:144–149

Luchese C, Stangherlin EC, Gay BM, Nogueira CW (2009) Antioxidant effect of diphenyl diselenide on oxidative damage induced by smoke in rats: involvement of glutathione. Ecotoxicol Environ Saf 72:248–254

Lukaszewicz-Hussain A (2010) Role of oxidative stress in organophosphate insecticide toxicity—short review. Pest Biochem Physiol 98:145–150

Mansour SA, Mossa AH (2010) Oxidative damage, biochemical and histopathological alterations in rats exposed to chlorpyrifos and the antioxidant role of zinc. Pest Biochem Physiol 96:14–23

Miglioranza KSB, Sagrario MDAG, de Moreno JEA, Moreno VJ, Escalante AH, Osterrieth ML (2002) Agricultural soil as a potential source of input of organochlorine pesticides into a nearby pond. Environ Sci Pollut Res 9:250–256

Misra HP, Fridovich I (1972) The role of superoxide anion in the autoxidation of epinephrine and simple assay for superoxide. J Biol Chem 247:3170–3175

Mutch E, Williams FM (2007) Diazinon, chlorpyriphos and parathion are metabolized by multiple cytochrome P450 in human liver. Toxicology 224:22–32

Ncibi S, Othman MB, Akacha A, Krifi MN, Zourgui L (2008) Opuntia ficus indica extract protects against chlorpyrifos-induced damage on mice liver. Food Chem Toxicol 46:797–802

Nogueira CW, Rocha JBT (2010) Diphenyl diselenide: a janus-faced molecule. J Braz Chem Soc 21:2055–2017

Ohkawa H, Ohishi N, Yagi K (1979) Assay for lipid peroxides in animal tissues by thiobarbituric acid reaction. Anal Biochem 95:351–358

Paulmier C (1986) Selenoorganic functional groups. In: Paulmier C (ed) Selenium reagents and intermediates in organic synthesis, 1st edn. Pergamon Press, Oxford, pp 25–51

Prigol M, Luchese C, Nogueira CW (2009a) Antioxidant effect of diphenyl diselenide on oxidative stress caused by acute physical exercise in skeletal muscle and lungs of mice. Cell Biochem Funct 27:216–222

Prigol M, Schumacher RF, Nogueira CW, Zeni G (2009b) Convulsant effect of diphenyl diselenide in rats and mice and its relationship to plasma levels. Toxicol Lett 189:35–39

Reitman S, Frankel S (1957) A colorimetric method for the determination of serum glutamic oxalacetic and glutamic pyruvic transaminases. Am J Clin Pathol 28:56–63

Reznick AZ, Packer L (1994) Oxidative damage to proteins: spectrophotometric method for carbonyl assay. Methods Enzymol 233:357–363

Sharma R, Yang Y, Sharma A, Awasthi S, Awastchi YC (2004) Antioxidant role of glutathione S-transferases: protection against oxidant toxicity and regulation of stress-mediated apoptosis. Antioxid Redox Signal 6:289–300

Soltatinejad K, Abdollahi M (2009) Current opinion on the science of organophosphate pesticides and toxic stress: a systematic review. Med Sci Monit 15:75–90

Sutcu R, Altuntas I, Yildirim B, Karahan N, Demirin H, Delibas N (2006) The effects of subchronic methidathion toxicity on rat liver: role of antioxidant vitamins C and E. Cell Biol Toxicol 22:221–227

Tripathi S, Srivastav AK (2010) Liver profile of rats after long-term ingestion of different doses of chlorpyrifos. Pest Biochem Physiol 97:60–65

Uzun FG, Demir F, Kalender S, Bas H, Kalender Y (2010) Protective effect of catechin and quercetin on chlorpyrifos-induced lung toxicity in male rats. Food Chem Toxicol 48:1714–1720

Verma RS, Mehta A, Srivastava N (2007) In vivo chlorpyrifos induced oxidative stress: attenuation by antioxidant vitamins. Pest Biochem Physiol 88:191–196

Wendel A (1981) Glutathione peroxidase. Methods Enzymol 77:325–333
Acknowledgments
The authors thank to Rio Grande do Sul State Research Foundation (FAPERGS), Brazilian Research Council (CNPq), FAPERGS/CNPq (PRONEX) research grant no. 10/0005-1 and FAPERGS 10/07116.
Additional information
Responsible editor: Markus Hecker
About this article
Cite this article
Acker, C.I., Souza, A.C.G., dos Santos, M.P. et al. Diphenyl diselenide attenuates hepatic and hematologic toxicity induced by chlorpyrifos acute exposure in rats. Environ Sci Pollut Res 19, 3481–3490 (2012). https://doi.org/10.1007/s11356-012-0882-4
Received:

Accepted:

Published:

Issue Date:
Keywords
Pesticides

Chlorpyrifos

Selenium

Organoselenium

Liver damage

Hematologic