Abstract
Purpose
Fish farming in barrage pond is a rearing system commonly used worldwide. Obtaining good water quality is essential to improve sustainability of these ecosystems, both for health of fish consumers and environmental considerations. However, ponds are often located in agricultural landscape, but few study reports impact of pesticide pressure on these ecosystems. This study characterizes five sites in Northeastern France. This work establishes an initial framework for pesticide monitoring with the aim to improve understanding of the fate of pesticides in ponds.
Methods
This framework is based on surveys indicating managements and Geographical Information System (GIS) for five ponds and their watersheds (sites: C-0, C-25, C-45, C-75 and C-85) and completes with some analysis of a large spectrum of pesticide residues in surface waters.
Results
Watersheds show a gradient of crop proportion ranging from 0% to 82% of the watershed area, mainly rapeseed, wheat, barley and maize. Ponds were representative of local Northeastern France management. Many pesticides, and also nutrients, were measured in water with concentrations varying between sites and seasons. The sum of quantified molecules ranged from 0.17 μg/l for site C-0 (March) to 8.81 μg/l for site C-25 (October). Concentrations of metaldehyde, quinmerac, isoproturon and bentazon were sometimes above 1 μg/l.
Conclusions
There is a strong connection between pond and watershed, due to water supply throughout the fish production cycle. Sites with small pond/big watershed are the most exposed to acute contamination a few days after spraying because water discharges are not diluted.
This is a preview of subscription content, log in to check access.
Access options
Buy single article
Instant access to the full article PDF.
US$ 39.95
Price includes VAT for USA
Subscribe to journal
Immediate online access to all issues from 2019. Subscription will auto renew annually.
US$ 99
This is the net price. Taxes to be calculated in checkout.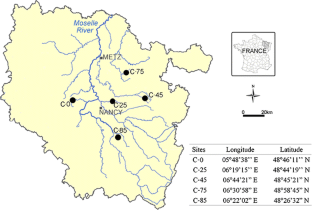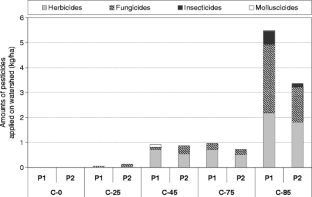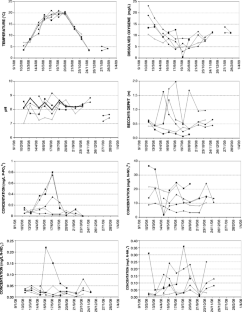 References
AFNOR (1994) AFNOR, Water Quality, 2nd edn. Association Française de Normalisation (AFNOR), Paris

AFNOR (1997) Water quality—determination of selected plant treatment agents—method using high performance liquid chromatography with UV detection after solid–liquid extraction. Association Française de Normalisation (AFNOR), Paris

AFNOR (2003) Water quality—determination of selected phenoxyalkanoic herbicides, including bentazones and hydroxybenzonitriles by gas chromatography and mass spectrometry after solid phase extraction and derivatization. Association Française de Normalisation (AFNOR), Paris

APHA (1976) Standard methods for the examination of water and wastewater. American Public Health Association, Washington, pp 420–423

Balashov DA, Recoubratsky AV (2011) Hypoxia tolerance of hybrids of carp Cyprinus carpio and golden carp Carassius auratus. JIchthyol 51(8):641–645

Banas D (2001) Flux de matière en étang piscicole extensif: rétention, sédimentation, exportation. PhD report, Metz University

Banas D, Masson G, Leglize L, Pihan JC (2002) Discharge of sediments, nitrogen (N) and phosphorus (P) during the emptying of extensive fishponds: effect of rain-fall and management practices. Hydrobiologia 472(1–3):29–38

Banas D, Masson G, Leglize L, Usseglio-Polatera P, Boyd CE (2008) Assessment of sediment concentration and nutrients loads in effluents drained from extensively-managed fishponds in France. Environ Poll 152(3):679–685

Barbe J, Lavergne E, Rofes G (1990) Diagnose rapide des plans d'eau—report no. 79–2. Cemagref. Lyon

Bostock J, McAndrew B, Richards R, Jauncey K, Telfer T, Lorenzen K, Little D, Ross L, Handisyde N, Gatward I, Corner R (2010) Aquaculture: global status and trends. Philos Trans R Soc Lond B Biol Sci 365(1554):2897–2912

Boussemart J-P, Leleu H, Ojo O (2011) Could society's willingness to reduce pesticide use be aligned with farmers' economic self-interest? Ecol Econ 70(10):1797–1804

Bruslé J, Quignard J-P (2004) Les poissons et leur environnement. Tech & Doc Lavoisier Editions, Paris

Calumpang SMF, Medina MJB, Tejada AW, Medina JR (1995) Environmental impact of two molluscicides: niclosamide and metaldehyde in a rice paddy ecosystem. Bull Envir Contam Toxicol 55:494–501

Couteux A (2008) Index phytosanitaire. ACTA Editions, Lille

Chambre d'Agriculture de Lorraine (2005) La pisciculture d'étang. CRAL. http://cra-lorraine.fr/fichiers/div-pisciculture-etang.pdf. Accessed 20 may 2011

Devault DA, Gérino M, Laplanche C, Julien F, Winterton P, Merlina G, Delmas F, Lim P, Sánchez-Pérez JM, Pinelli E (2009) Herbicide accumulation and evolution in reservoir sediments. Sci Total Environ 407(8):2659–2665

Drozdzyński D (2008) Studies on residues of pesticides used in rape plants protection in surface waters of intensively exploited arable lands in Wielkopolska Province of Poland. Ann Agr Env Med 15:231–235

Dubus IG, Hollis JM, Brown CD (2000) Pesticides in rainfall in Europe. Env Poll 110:331–344

European commission (2006) REACH http://ec.europa.eu/environment/chemicals/reach/reach_intro.htm. Accessed 20 May 2011

Itavi (1999) La pisciculture d'étang française. Itavi Editions, Paris

Jablonowski ND, Schäffer A, Burauel P (2011) Still present after all these years: persistence plus potential toxicity raise questions about the use of atrazine. Environ Sci Poll Res 18(2):328–331

Joulin A, Chalons A, Royer J (2006) Cartographie du potentiel de contamination des eaux par les produits phytosanitaires). Grappe Lorraine. http://www.lorraine.environnement.gouv.fr/IMG/pdf/Carto_risques_potentiel_pesticide_Lorraine.pdf. Accessed 20 June 2010

Lazartigues A (2010) Pesticides et polyculture d'étang: de l'épandage sur le bassin versant aux résidus dans la chair de poisson. PhD report, Nancy University, pp 1–24. http://pegase.scd.inpl-nancy.fr/theses/2010_LAZARTIGUES_A.pdf accessed 30 December 2011

Lerch RN, Sadler EJ, Sudduth KA, Baffaut C, Kitchen NR (2011) Herbicide transport in Goodwater Creek Experimental Watershed: I. Long-term research on atrazine. J Am Water Resour As 47(2):209–223

Lithourgidis AS, Dordas CA, Damalas CA, Vlachostergios DN (2011) Annual intercrops: an alternative pathway for sustainable agriculture. Aust J Crop Sci 5(4):396–410

Loos R, Gawlik BM, Locoro G, Rimaviciute E, Contini S, Bidoglio G (2009) EU-wide survey of polar organic persistent pollutants in European river waters. Environ Poll 157(2):561–568

Martin JD (2009) Sources and preparation of data for assessing trends in concentrations of pesticides in streams of the United States, 1992–2006. U.S. Geological Survey Scientific Investigations Report 2009–5062, http://pubs.er.usgs.gov/publication/sir20095062. Accessed 26 April 2011

MétéoFrance (2009) Risques météorologiques. MétéoFrance. http://www.risques.meteo.edu/. Accessed 22 June 2010

Ministère A de l'Agriculture et de la Pêche (2008) Ecophyto 2018. Report, Paris

Ministère A de l'Écologie et du Développement Durable (2005) Circulaire DCE 2005/12 no. 14 du 28 juillet 2005 relative à la définition du "bon état" et à la constitution des référentiels pour les eaux douces de surface (cours d'eau, plans d'eau), en application de la directive européenne 2000/60/DCE du 23 octobre 2000, ainsi qu'à la démarche à adopter pendant la phase transitoire (2005–2007). http://www.eau-artois-picardie.fr/IMG/pdf/Circulaire_DCE_200512.pdf Accessed 13 July 2011

Mouri G, Takizawa S, Oki T (2011) Spatial and temporal variation in nutrient parameters in stream water in a rural–urban catchment, Shikoku, Japan: effects of land cover and human impact. J Environ Manage 92(7):1837–1848

Preisendorfer RW (1986) Secchi disk science: visual optics of natural waters. Limnol Oceanogr 31:909–926

Sattler C, Nagel UJ (2010) Factors affecting farmers' acceptance of conservation measures—a case study from north-eastern Germany. Land Use Policy 27(1):70–77

Schwarzenbach RP, Escher BI, Fenner K, Hofstetter TB, Johnson CA, von Gunten U, Wehrli B (2006) The challenge of micropollutants in aquaticsystems. Science 313:1072–1077

Trintignac P, Kerleo V (2004) Impact des étangs à gestion piscicole sur l'environnement. SMIDAP. http://www.observatoire-eau.vendee.fr/suivi/redirect_doc.asp?ID=136. Accessed 10 June 2010

Vecchio Y, Bourbon B, Valadou B (2009) Aquaculture, introductions and transfers and transgenics. Report. NASCO. http://www.nasco.int/pdf/far_aquaculture/AquacultureFAR_France.pdf Assessed 27 october 2011

WFD (2000) Directive 2000/60/EC of the European Parliament and of the Council of 23 October 2000 establishing a framework for community action in the field of water policy. Official J Eur Comm, L 327/1-L 327/72

Zhong Y, Power G (1997) Fisheries in China: progress, problems, and prospects. Can J Fish Aquat Sci 54(1):224–238
Acknowledgments
The authors are grateful to the "Agence de l'Eau Rhin-Meuse" and the "Zone Atelier Moselle" for their financial support of this project. They sincerely thank Cindy Messana for her technical assistance, farmers for their participation to surveys and fish farmers for their help during fishing. The French ONEMA Agency (Office National de l'Eau et des Milieux Aquatiques) is also acknowledged to its technical assistance.
Additional information
Responsible editor: Philippe Garrigues
Electronic supplementary material
Below is the link to the electronic supplementary material.
About this article
Cite this article
Lazartigues, A., Banas, D., Feidt, C. et al. Pesticide pressure and fish farming in barrage pond in Northeastern France Part I: site characterization and water quality. Environ Sci Pollut Res 19, 2802–2812 (2012). https://doi.org/10.1007/s11356-012-0784-5
Received:

Accepted:

Published:

Issue Date:
Keywords
Pesticides

Pond

Shallow lake

Watershed

Management

Surveys

GIS

Water quality