Abstract
Purpose
Urban waterways are impacted by diffuse stormwater runoff, yet other discharges can unintentionally contaminate them. The Okeover stream in Christchurch, New Zealand, receives air-conditioning discharge, while its ephemeral reach relies on untreated stormwater flow. Despite rehabilitation efforts, the ecosystem is still highly disturbed. It was assumed that stormwater was the sole contamination source to the stream although water quality data were sparse. We therefore investigated its water and sediment quality and compared the data with appropriate ecotoxicological thresholds from all water sources.
Methods
Concentrations of metals (Zn, Cu and Pb) in stream baseflow, stormwater runoff, air-conditioning discharge and stream-bed sediments were quantified along with flow regimes to ascertain annual contaminant loads. Metals were analysed by ICP-MS following accredited techniques.
Results
Zn, Cu and Pb concentrations from stormflow exceeded relevant guidelines for the protection of 90% of aquatic species by 18-, 9- and 5-fold, respectively, suggesting substantial ecotoxicity potential. Sporadic copper (Cu) inputs from roof runoff exceeded these levels up to 3,200-fold at >4,000 μg L−1 while Cu in baseflow from air-conditioning inputs exceeded them 5.4-fold. There was an 11-fold greater annual Cu load to the stream from air-conditioning discharge compared to stormwater runoff. Most Zn and Cu were dissolved species possibly enhancing metal bioavailability. Elevated metal concentrations were also found throughout the stream sediments.
Conclusions
Environmental investigations revealed unsuspected contamination from air-conditioning discharge that contributed greater Cu annual loads to an urban stream compared to stormwater inputs. This discovery helped reassess treatment strategies for regaining ecological integrity in the ecosystem.
This is a preview of subscription content, log in to check access.
Access options
Buy single article
Instant access to the full article PDF.
US$ 39.95
Price includes VAT for USA
Subscribe to journal
Immediate online access to all issues from 2019. Subscription will auto renew annually.
US$ 99
This is the net price. Taxes to be calculated in checkout.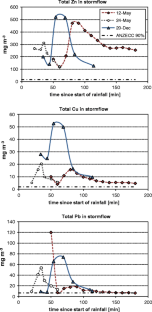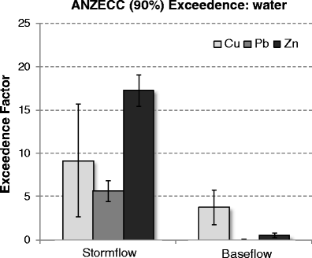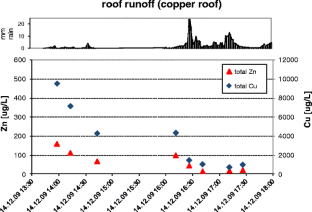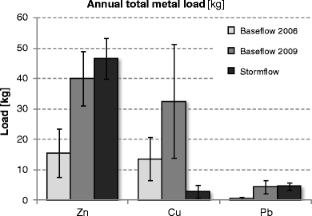 References
ANZECC (2000) Australian and New Zealand guidelines for fresh and marine water quality, Australian and New Zealand Environment and Conservation Council

APHA (2005) Standards methods for the examination of water and wastewater, 21st edn. American Public Health Association, Washington DC

Beasley G, Kneale P (2002) Reviewing the impact of metals and PAHs on macroinvertebrates in urban watercourses. Prog Phys Geog 26:236–270

Blakely T, Harding J (2005) Longitudinal patterns in benthic communities in an urban stream under restoration. New Zeal J Mar Fresh 39:17–28

Brown J, Peake B (2006) Sources of heavy metals and polycyclic aromatic hydrocarbons in urban stormwater runoff. Sci Total Environ 359:145–155

CCC (2003) Waterways, wetlands and drainage guide; part B; design. Christchurch City Council, Christchurch

Critchley MM, Cromar NJ, McClure N, Fallowfield HJ (2002) Biofilms in copper plumbing systems: sensitivity to copper and chlorine and implications for corrosion. Wat Sci Technol 2(4):81–87

Davie AP, Shokouhian M, Ni SB (2001) Loading estimates of lead, copper, cadmium, and zinc in urban runoff from specific sources. Chemosphere 44:997–1009

Egodawatta P, Thomas E, Goonetilleke A (2009) Understanding the physical processes of pollutant build-up and wash-off on roof surfaces. Sci Total Environ 407:1834–1841

Gobel P, Dierkes C, Coldewey WC (2007) Storm water runoff concentration matrix for urban areas. J Contam Hydrol 91:26–42

Herngren L, Goonetilleke A, Ayoko GA (2005) Understanding heavy metal and suspended solids relationships in urban stormwater using simulated rainfall. J Environ Manage 76:149–158

Hur J, Yim S, Schlautman MA (2003) Copper leaching from brake wear debris in standard extraction solutions. J Environ Monit 5:837–843

Karlen C, Wallinder IO, Heijerick D, Leygraf C (2002) Runoff rates, chemical speciation and bioavailability of copper released from naturally painted copper. Environ Pollut 120:691–700

Kayhanian M, Stransky C, Bay S, Lau SL, Stenstrom MK (2008) Toxicity of urban highway runoff with respect to storm duration. Sci Total Environ 389:386–406

Lagos GE, Reveco FD, Peters DC, Maggi C (2000) Exposure of the population of Santiago, Chile, to copper contained in drinking water. In: Interdisciplinary perspectives on drinking water risk assessment and management, book series: IAHS publication, issue 260, 112–113

Lee H, Lau S-L, Kayhanian M, Stenstrom MK (2004) Seasonal first flush phenomenon of urban stormwater discharges. Water Res 38:4153–4163

McCready S, Birch G, Long E, Spyrakis G, Greely CR (2006) An evaluation of Australian sediment quality guidelines. Arch Environ Contam Toxicol 50:306–315

Merkel TH, Pehkonen SO (2006) General corrosion of copper in domestic drinking water installations: scientific background and mechanistic understanding. Corros Eng Sci Technol 41:21–37

Mosley LM, Peake BM (2001) Partitioning of metals (Fe, Pb, Cu, Zn) in urban run-off from the Kaikorai Valley, Dunedin, New Zealand. New Zeal J Mar Fresh 35:615–624

Nolan D (2005) Environmental and resource management law, 3rd edn. Lexis Nexis, Wellington

Paul M, Meyer J (2001) Streams in the urban landscape. Annu Rev Ecol Syst 32:333–365

Pennington SL, Webster-Brown JG (2008) Stormwater runoff quality from copper roofing, Auckland, New Zealand. New Zeal J Mar Fresh 42:99–108

Royuela J, Otero E (2003) The assessment of short-term data of pipe corrosion in drinking-water. 2. Copper. Corros Sci 34:1595–1606

Shaw DC, Bible K (1996) An overview of forest canopy ecosystem functions with reference to urban and riparian systems. Northwest Sci 70:1–6

Shedden B, Batchelor J, Chizmar J (2007) Roof runoff study by New Zealand metal roofing manufacturers, South Pacific Stormwater Conference, Auckland, 14 pp

Suren AM, Riis T, Biggs BJF, McMurtrie S, Barker R (2005) Assessing the effectiveness of enhancement activities in urban streams: I. habitat responses. River Res Appl 21:381–401

Sutherland RA, Tack FM, Tolosa C, Verloo M (2000) Operationally defined metal fractions in road deposited sediment, Honolulu, Hawaii. J Environ Qual 29:1431–1439

Tsihrintzis VA, Vasarhelyi GM, Lipa J (1995) Multiobjective approaches in fresh-water wetland restoration and design. Water Int 20:98–105

Waara S, Färm C (2008) An assessment of the potential toxicity of runoff from an urban roadscape during rain events. Env Sci Pollut Res 15:205–210

Walsh C, Roy A, Feminella J, Cottingham P, Groffman P, Morgan R (2005) The urban stream syndrome: current knowledge and search for a cure. J N Am Benthol Soc 24:706–723

Wicke D, Cochrane TA, O'Sullivan AD (2009) Developing a rainfall contaminant relationship model for Christchurch urban catchments. In: Proceedings of the 6th Pacific Stormwater Conference, New Zealand Water Association, Auckland, New Zealand, 29 April–1 May, 10 pp

Winterbourn M, Harding JS, McIntosh A (2007) Responses of benthic fauna of an urban stream during 6 years of restoration. New Zeal Nat Sci 32:1–12

Wood T, Shelley M (1999) A dynamic model of bioavailability of metals in constructed wetland sediments. Ecol Eng 12:231–252

Zanders JM (2005) Road sediment: characterisation and implications for the performance of vegetated strips. Sci Total Environ 339:41–47

Zhang Y, Triantafyllidou S, Edwards M (2008) Effect of nitrification and GAC filtration on copper and lead leaching in home plumbing systems. J Environ Eng-ASCE 134:521–530
Acknowledgements
University of Canterbury Facilities Management, particularly Dr. Kate Hewson, provided logistical support for this study. The Christchurch City Council and Environment Canterbury paid for many of the analytical costs in 2006. Peter McGuigan in the Environmental Engineering Laboratory provided technical guidance and support. Stuart Farrant, Eleanor Taffs, Will Jacobsen and Ingrid Cooper assisted with field reconnaissance and sampling, and Dr. Creon Upton provided feedback on the text.
Additional information
Responsible editor: Vera Slaveykova
About this article
Cite this article
O'Sullivan, A., Wicke, D. & Cochrane, T. Heavy metal contamination in an urban stream fed by contaminated air-conditioning and stormwater discharges. Environ Sci Pollut Res 19, 903–911 (2012). https://doi.org/10.1007/s11356-011-0639-5
Received:

Accepted:

Published:

Issue Date:
Keywords
Air-conditioning

Stormwater flow

Heavy metal contamination