Abstract
Goal, scope, and background
Many studies have focused on measuring fine and course particulate matter (PM) in urban and rural sites around the world. The aim of this research is to gain information on the size distribution of particles. The physical characteristics of PM in the urban air of Istanbul were determined.
Methods
PM sampling was carried out at five stations (Avcılar, Beşiktaş, Kilyos, Rasathane, and Göztepe) over a period of 2 years. PM filter samples were collected for eight different size ranges (<0.43, 0.43–1, 1–1.7, 1.7–2.6, 2.6–3.5, 3.5–5.2, 5.2–6.5, 6.5–8, and >8 μm) using a Cascade Impactor. The size distributions of the PM samples were determined.
Results and discussion
The mean total PM concentrations were 48.6 ± 34.0, 34.8 ± 11.6, 28.6 ± 13.6, 21.5 ± 9.1, and 16.8 ± 5.1 μg/m3 for the Göztepe, Beşiktaş, Avcılar, Rasathane, and Kilyos stations, respectively. The total PM concentrations were found to be 1.2–1.5 times higher in the fall and winter than in the spring and summer, except for at the station in Avcılar. The PM concentrations in Avcılar did not exhibit seasonal variations. This is thought to result from the intense industrial activity in the area. PM2.6 (below 2.6 μm particles) comprised up to 62% of the total amount of PM in samples collected at the Göztepe, Beşiktaş, and Rasathane stations during the fall and winter. PM1 was determined to be approximately 45% of the total, corresponding to 57% of the amount of PM2.5. A multi-modal PM size distribution was observed. The lowest Mass Median Aerodynamic Diameter (MMAD) values observed in Avcılar, Beşiktaş, Rasathane, and Göztepe were 4.2, 3.9, 2.9, and 3.5 μm, respectively, and were observed during the season of active household heating. No difference was measured in the MMAD values (5.2 μm) between the seasons of heating and non-heating in Kilyos.
This is a preview of subscription content, log in to check access.
Access options
Buy single article
Instant access to the full article PDF.
US$ 39.95
Price includes VAT for USA
Subscribe to journal
Immediate online access to all issues from 2019. Subscription will auto renew annually.
US$ 99
This is the net price. Taxes to be calculated in checkout.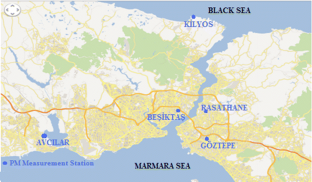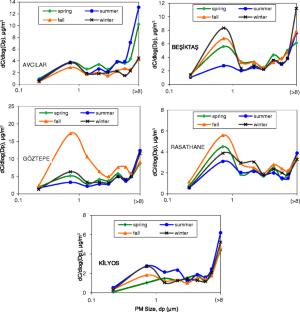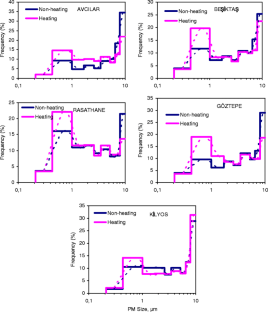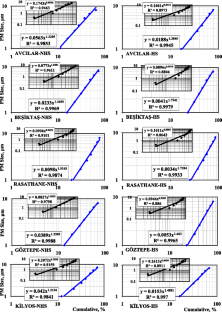 References
Alvarez FF, Rodriguez MT, Espinoza AJF, Daban AG (2004) Physical speciation of arsenic, mercury, lead, cadmium and nickel in inhalable atmospheric particles. Anal Chim Acta 524:33–40

Brüggemann E, Gerwig H, Gnauk T, Müller K, Herrmann H (2009) Influence of seasons, air mass origin and day of the week on size-segregated chemical composition of aerosol particles at a kerbside. Atmos Environ 43(15):2456–2463

Cabada J, Rees S, Takahama S, Khlystov A, Pandis SN, Davidson CI, Robinson AL (2004) Mass size distributions and size resolved chemical composition of fine particulate matter at the Pittsburgh supersite. Atmos Environ 38:3127–3141

Copley M, McDonald J (2009) Cascade impactor flow control. As appeared in İnhalation. Copley Scientific. http://www.copleyscientific.co.uk/documents. Accessed 15 January 2011

Costa DL, Dreher KL (1997) Bioavaliable transition metals in particulate matter mediate cardiopulmonary injury in healthy and compromised animal models. Environ Health Perspect 105:1053–1060

Dockery DW, Pope CA (1994) Acute respiratory effects of particulate air pollution. Annu Rev Public Health 15:107–132

Erdinger L, Dürr M, Höpker KA (2005) Correlations between mutagenic activity of organic extractions of airborne particulate matter, NOx, and sulphur dioxide in Southern Germany. Environ Sci Pollut Res 12(1):10–20

Gaga EO, Ari A, Karakaş SY, Karakaş D, Tuncel G (2008) Eskişehir Kent Merkezi'nde İnce ve Kaba Partikül Madde Derişimlerinin İncelenmesi ve Kaynak Belirlenmesi. National Air Quality Symposium, May-2008, Konya-TURKEY (in Turkish)

Goforth MR, Christoforou CS (2006) Particle size distribution and atmospheric metals measurements in a rural area in the South Easthern USA. Sci Total Environ 356(1–3):217–227

Gokhale SB, Patil RS (2004) Size distribution of aerosols (PM10) and lead (Pb) near traffic intersections in Mumbai (India). Environ Monit Assess 95:311–324

Hıeu NT, Lee BK (2010) Characteristics of particulate matter and metals in the ambient air from a residential area in the largest industrial city in Korea. Atmos Res 98:526–537

Hınds WC (1999) Aeresol technology: properties, behavior and measurement of airborne particles, second edition. Wiley Interscience, pp 75–100

Karaca F, Alagha O, Ertürk F (2005) Statistical characterization of atmospheric PM10 and PM2.5 concentrations at a non-impacted suburban site of Istanbul, Turkey. Chemosphere 59:1183–1190

Karanasiou AA, Sitaras IE, Siskos PA, Eleftheriadis K (2007) Size distribution and sources of trace metals and n-alkanes in the Athens urban aerosol during summer. Atmos Environ 41:2368–2381

Kaupp H, McLachlan MS (1999) Distribution of polychlorinated dibenzo-P-dioxins and dibenzofurans (PCDD/Fs) and polycyclic aromatic hydrocarbons (PAHs) within the full size range of atmospheric particles. Atmos Environ 34:73–83

Koçak M, Theodosi C, Zarmpas P, İm U, Bougiatioti A, Yenigun O, Mihalopoulos N (2010) Particulate matter (PM10) in İstanbul: origin, source areas and potential impact on surrounding regions. Atmos Environ. doi:10.1016/j.atmosenv.2010.10.0072010

Kopanakis I, Lydakis SN, Katsivela E, Pentari D, Zarmpas P, Mıhalopoulos N, Lazaridis M (2010) Size distribution and chemical composition of airborne particles at Akrotırı Research Station, Crete, Greece. Global NEST 12(1):54–62

Majoral C, Pape AL, Diot P, Vecellio L (2006) Comparison of various methods for processing cascade ımpactor data. Aeresol Sci Technol 40:672–682

Mandalakis M, Besis A, Stephanou EG (2009) Particle-size distribution and gas/particle partitioning of atmospheric polybrominated diphenyl ethers in urban areas of Greece. Environ Pollut 157:1227–1233

Manoli E, Voutsa D, Samara C (2002) Chemical characterization and source identification apportionment of fine and coarse air particles in Thessaloniki, Greece. Atmos Environ 36:949–961

Mazzei F, D'Alessandro A, Lucarelli F, Nava S, Prati P, Vali G, Vecchi R (2008) Characterization of particulate matter sources in an urban environment. Sci Total Environ 401:81–89

Nag S, Gupta AK, Mukhopadhyay UK (2005) Size distribution of atmospheric aerosols in Kolkata, India and the assessment of pulmonary deposition of particle mass. Indoor Built Environ 14(5):381–389

Ny MT, Lee BK (2010) Size distribution and source ıdentification of airborne particlate matter and metallic elements in a typical ındustrial city. Asian J Atmos Environ 4(1):9–19

Onat B, Şahin UA, Erol A, Bacacı M, Şahin V (2010) İstanbul'da Otoyol Kenarında PM10, PM2.5 ve PM1'in toplam ve suda çözünen metal içeriklerinin belirlenmesi, IV. National Air Pollution and Control Symposium, Ankara-TURKEY: 456–465 (in Turkish)

O'Shaughnessy PT, Raabe OG (2003) A comparison of cascade ımpactor data reduction methods. Aeresol Sci Technol 37:187–200

Pagels SJ, Gudmundsson A, Gustavsson E, Asking L, Bohgard M (2005) Evaluation of aerodynamic particle sizer and electrical low-pressure impactor for unimodal and bimodal mass-weighted size distributions. Aerosol Sci Technol 39:871–887

Park SU, Kim JW (2006) Aerosol size distributions observed at the Seoul National University campus in Korea during the Asian dust and non-Asian dust periods. Atmos Environ 40:1722–1730

Pennanen AS, Sillanpää M, Hillamo R, Quass U, John AS, Branis M, Hunová I, Meliefste K, Janssen NAH, Koskentalo T, Castaño-Vinyals G, Bouso L, Chalbot MC, Kavouras G, Salonen RO (2007) Performance of a high-volume cascade impactor in six European urban environments: mass measurement and chemical characterization of size-segregated particulate samples. Sci Total Environ 374:287–310

Perez N, Pey J, Querol X, Alastuey A, Lopez JM, Viana M (2007) Partitioning of major and trace components in PM10–PM2,5–PM1 at an urban site in Southern Europe. Atmos Environ 42:1677–1691

Pilat MJ, David SE, Bosch JC (1970) Source test cascade impactor. Atmos Environ 4:671–679

EPA (Environmental Protection Agency) (1997) Guidance for network design and optimum site exposure for PM2.5 and PM10

Samara C, Voutsa D (2005) Size distribution of airborne particulate matter and associated heavy metals in the roadside environment. Chemosphere 59:1197–1206

Singh S, Sarpa BK, Khan A, Kothalkar PK, Maya YS (2010) Development of variable configuration cascade impacter for aeresol size distribution measurement. Atmos Environ 44:795–802

Srivastava A, Jain VK (2007) Size distribution and source identification of total suspended particulate matter and associated heavy metals in the urban atmosphere of Delhi. Chemosphere 68(3):579–589

Srivastava A, Gupta S, Jain VK (2009) Winter-time size distribution and source apportionment of total suspended particulate matter and associated metals in Delhi. Atmos Res 92:88–99

Tsai DH, Wu YH, Chan CC (2008) Comparisons of commuter's exposure to particulate matters while using different transportation modes. Sci Total Environ 405:71–77

Turalıoğlu FS, Bayraktar H, Tuncel G (2008) Erzurum atmosferinde TSP, PM10, PM10-2,5, PM2,5 Kütlesel Konsantrasyonları, National Air Quality Symposium, Konya-Turkey, pp 89–97. (in Turkish)

Voutsa D, Samara C (2002) Labile and bioaccessible fractions of heavy metals in the airborne particulate matter from urban and industrial areas. Atmos Environ 36:3583–3590

Wagner A, Boman J, Gatari MJ (2008) Elemental analysis of size-fractionated particulate matter sampled in Göteborgi Sweden. Spectrochimica Acta Part B 63:1426–1431

Wang G, Huang L, Gao S, Wang L (2002) Measurements of PM10 and PM2.5 in urban area of Nanjing, China and the assessment of pulmonary deposition of particle mass. Chemosphere 48:689–695

Wang S, Feng X, Zeng X, Ma Y, Shang K (2009) A study on variations of concentrations of particulate matter with different sizes in Lanzhou, China. Atmos Environ 43:2823–2828

Yatin M, Tuncel S, Aras NK, Olmez I, Aygun S, Tuncel G (2000) Atmospheric trace elements in Ankara, Turkey: 1. factors affecting chemical composition of fine particles. Atmos Environ 34:1305–1318

Yatkın S, Bayram A (2007) Elemental composition and sources of particulate matter in the ambient air of a Metropolitan City. Atmos Res 85(1):126–139

Yın J, Harrison RM (2008) Pragmatic mass closure study for PM1, PM2.5 and PM10 at roadside, urban background and rural sites. Atmos Environ 42:980–988
Acknowledgments
We gratefully acknowledge the Scientific and Technical Research Council of Turkey (TUBITAK) and the Research Fund of the Istanbul University for financially supporting our study with project no. 107Y161 and T-3783, respectively.
Additional information
Responsible editor: Euripides Stephanou
About this article
Cite this article
Şahin, Ü.A., Scherbakova, K. & Onat, B. Size distribution and seasonal variation of airborne particulate matter in five areas in Istanbul, Turkey. Environ Sci Pollut Res 19, 1198–1209 (2012). https://doi.org/10.1007/s11356-011-0634-x
Received:

Accepted:

Published:

Issue Date:
Keywords
Particulate matter

Cascade impactor

İstanbul

Size distribution

Season

Fine PM