Abstract
Introduction
The content of 16 polycyclic aromatic hydrocarbons (PAHs) was determined in 60 samples from three environmental matrices (soils, sediments, and pine needles) in an effort to assess their distribution on a river basin scale.
Methods
A sampling campaign was carried out in 2006, selecting urban, industrial, and agricultural sampling sites along the northeast of Spain. Techniques used included pressurized liquid extraction and solid–liquid ultrasonic extraction followed by gas chromatography-electron impact ionization mass spectrometry.
Results
The mean total PAHs concentrations were 290 < 613 < 1,628 ng/g (dry weight) in pine needles, soil, and sediments, respectively. There is a good correspondence between the total concentration of soils and pine needles, as opposed to the levels between sediments and pine needles. The high concentrations found in some Pinus halepensis samples may reflect a superior uptake potential of this species in comparison to the others studied. The three matrices present a very different PAH distribution pattern, with pine needles showing a predominance of the lighter (2-, 3-, and 4-ring) PAHs, whereas 5- and 6-ring PAHs are the most abundant in soils. Sediments display a more heterogeneous pattern, with contributions of all the PAHs but different distribution depending on the site, suggesting a wider range of input sources. Established PAH molecular ratios and principal component analysis were used to identify the origins and profiles of PAHs. While sediments showed a wide range attributed to historical inputs, soils and pine needles confirmed the compartmentalization of the PAHs, with lighter airborne PAHs accumulated in pine needles and heavier ones in soils.
Conclusions
It can be suggested that the monitoring of several matrices is a strong tool to elucidate the contamination sources and accumulation patterns of PAHs. However, given the influence of the matrix type on this assessment, the information should be considered complementary, yet allowing a more comprehensive depiction of the area in question.
This is a preview of subscription content, log in to check access.
Access options
Buy single article
Instant access to the full article PDF.
US$ 39.95
Price includes VAT for USA
Subscribe to journal
Immediate online access to all issues from 2019. Subscription will auto renew annually.
US$ 99
This is the net price. Taxes to be calculated in checkout.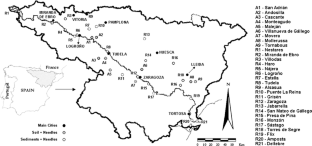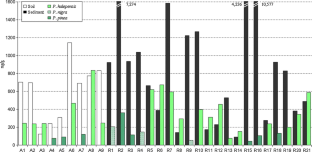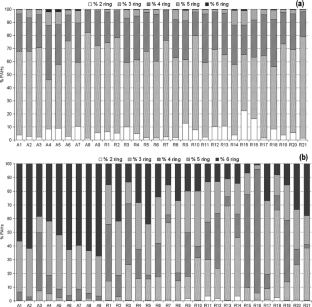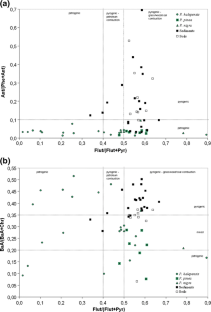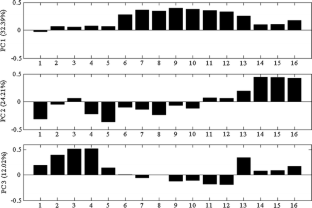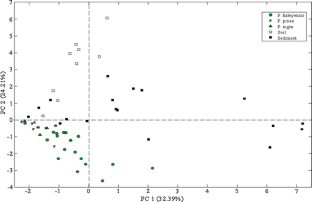 References
Augusto S, Máguas C, Matos J, Pereira MJ, Soares A, Branquinho C (2010) Lichens as an integrating tool for monitoring PAH atmospheric deposition: a comparison with soil, air and pine needles. Environ Pollut 158:483–489

Boll ES, Christensen JH, Holm PE (2008) Quantification and source identification of polycyclic aromatic hydrocarbons in sediment, soil, and water spinach from Hanoi, Vietnam. J Environ Monit 10:261–269

Bozlaker A, Muezzinoglu A, Odabasi M (2008) Atmospheric concentrations, dry deposition and air–soil exchange of polycyclic aromatic hydrocarbons (PAHs) in an industrial region in Turkey. J Hazard Mater 153:1093–1102

Dickhut RM, Canuel EA, Gustafson KE, Liu K, Arzayus KM, Walker SE, Edgecombe G, Gaylor MO, MacDonald EH (2000) Automotive sources of carcinogenic polycyclic aromatic hydrocarbons associated with particulate matter in the Chesapeake Bay region. Environ Sci Technol 34:4635–4640

U.S. Environmental Protection Agency (1998) Locating and estimating air emissions from sources of polycyclic organic matter. EPA-454/R-98-014. Office of Air Quality Planning and Standards, Research Triangle Park, NC.

Grimalt JO, van Drooge BL, Ribes A, Fernández P, Appleby P (2004) Polycyclic aromatic hydrocarbon composition in soils and sediments of high altitude lakes. Environ Pollut 131:13–24

Harrison RM, Jones M (1995) The chemical composition of airborne particles in the UK atmosphere. Sci Total Environ 168:195–214

Hildebrandt A, Lacorte S, Barceló D (2009) Occurrence and fate of organochlorinated pesticides and PAH in agricultural soils from the Ebro River basin. Arch Environ Contam Toxicol 57:247–255

Hwang HH, Wade TL (2008) Aerial distribution, temperature-dependent seasonal variation, and sources of polycyclic aromatic hydrocarbons in pine needles from the Houston metropolitan area, Texas, USA. J Environ Sci Health Part A 43:1243–1251

Hwang H-M, Wade TL, Sericano JL (2003) Concentrations and source characterization of polycyclic aromatic hydrocarbons in pine needles from Korea, Mexico and United States. Atmos Environ 37:2259–2267

IARC (2010) Monographs on the evaluation of carcinogenic risks to humans—some non-heterocyclic polycyclic aromatic hydrocarbons and some related exposures, vol. 92, Lyon—France, 858 p.

Katsoyiannis A, Terzi E, Cai QY (2007) On the use of PAH molecular diagnostic ratios in sewage sludge for the understanding of the PAH sources. Is this use appropriate? Chemosphere 69:1337–1339

Lacorte S, Raldúa D, Martínez E, Navarro A, Diez S, Bayona JM, Barceló D (2006) Pilot survey of a broad range of priority pollutants in sediment and fish from the Ebro river basin (NE Spain). Environ Pollut 140:471–482

Lang C, Tao S, Wang XJ, Zhang G, Fu JM (2008) Modeling polycyclic aromatic hydrocarbon composition profiles of sources and receptors in the Pearl River delta, China. Environ Toxicol Chem 27:4–9

Lehndorff E, Schwark L (2004) Biomonitoring of air quality in the Cologne Conurbation using pine needles as a passive sampler—part II: polycyclic aromatic hydrocarbons (PAH). Atmos Environ 38:3793–3808

Li J, Shang X, Zhao Z, Tanguay RL, Dong Q, Huang C (2010) Polycyclic aromatic hydrocarbons in water, sediment, soil, and plants of the Aojiang River waterway in Wenzhou, China. J Hazard Mater 173:75–81

Ma LL, Chu SG, Wang XT, Cheng HX, Liu XF, Xu XB (2005) Polycyclic aromatic hydrocarbons in the surface soils from outskirts of Beijing, China. Chemosphere 58:1355–1363

Mañosa S, Mateo R, Guitart R (2001) A review of the effects of agricultural and industrial contamination on the Ebro Delta biota and wildlife. Environ Monit Assess 71:187–205

Means JC, Woods SG, Hassett JJ, Banwart WL (1980) Sorption of polynuclear aromatic hydrocarbons by sediments and soils. Environ Sci Technol 14:1524–1528

Meharg AA, Wright J, Dyke H, Osborn D (1998) Polycyclic aromatic hydrocarbon (PAH) dispersion and deposition to vegetation and soil following a large scale chemical fire. Environ Pollut 99:29–36

Mielke HW, Wang G, Gonzales CR, Le B, Quach VN, Mielke PW (2001) PAH and metal mixtures in New Orleans soils and sediments. Sci Total Environ 281:217–227

Motelay-Massei A, Ollivon D, Garban B, Teil MJ, Blanchard M, Chevreuil M (2004) Distribution and spatial trends of PAHs and PCBs in soils in the Seine River basin, France. Chemosphere 55:555–565

Nadal M, Schuhmacher M, Domingo JL (2004) Levels of PAHs in soil and vegetation samples from Tarragona County Spain. Environ Pollut 132:1–11

Navarro A, Tauler R, Lacorte S, Barceló D (2006) Chemometrical investigation of the presence and distribution of organochlorine and polyaromatic compounds in sediments of the Ebro River Basin. Anal Bioanal Chem 385:1020–1030

Piccardo MT, Pala M, Bonaccurso B, Stella A, Redaelli A, Paola G, Valerio F (2005) Pinus nigra and Pinus pinaster needles as passive samplers of polycyclic aromatic hydrocarbons. Environ Pollut 133:293–301

Ratola N, Lacorte S, Alves A, Barceló D (2006) Analysis of polycyclic aromatic hydrocarbons in pine needles by gas chromatography mass spectrometry: comparison of different extraction and clean-up procedures. J Chromatogr A 1114:198–204

Ratola N, Lacorte S, Barceló D, Alves A (2009) Microwave-assisted extraction and ultrasonic extraction to determine polycyclic aromatic hydrocarbons in needles and bark of Pinus pinaster Ait and Pinus pinea L by GC-MS. Talanta 77:1120–1128

Ratola N, Amigo JM, Alves A (2010a) Levels and sources of PAHs in selected sites from Portugal: biomonitoring with Pinus pinea and Pinus pinaster needles. Arch Environ Contam Toxicol 58:631–647

Ratola N, Amigo JM, Alves A (2010b) Comprehensive assessment of pine needles as bioindicators of PAHs using multivariate analysis. The importance of temporal trends. Chemosphere 81:1517–1525

Sun J-H, Wang G-L, Chai Y, Zhang G, Li J, Feng J (2008) Distribution of polycyclic aromatic hydrocarbons (PAHs) in Henan Reach of the Yellow River, Middle China. Ecotoxicol Environ Safety 72:1614–1624

Terrado M, Barceló D, Tauler R (2006) Identification and distribution of contamination sources in the Ebro river basin by chemometrics modelling coupled to geographical information systems. Talanta 70:691–704

Tremolada P, Burnett V, Calamari D, Jones KC (1996) Spatial distribution of PAHs in the UK atmosphere using pine needles. Environ Sci Technol 30:3570–3577

Wang Z, Chen J, Yang P, Tian F, Qiao X, Bian H, Ge L (2009) Distribution of PAHs in pine (Pinus thunbergii) needles and soils correlates with their gas-particle partitioning. Environ Sci Technol 43:1336–1341

Wild SR, Jones KC (1995) Polynuclear aromatic hydrocarbons in the United Kingdom environment: a preliminary source inventory and budget. Environ Pollut 88:91–108

Yunker MB, Macdonald RW, Vingarzan R, Mitchell RH, Goyette D, Sylvestre S (2002) PAHs in the Fraser River basin: a critical appraisal of PAH ratios as indicators of PAH source and composition. Org Geochem 33:489–515

Zhang XL, Tao S, Liu WX, Yang Y, Zuo Q, Liu SZ (2005) Source diagnostics of polycyclic aromatic hydrocarbons based on species ratios: a multimedia approach. Environ Sci Technol 39:9109–9114
Acknowledgements
The authors thank Dr. Roser Chaler and Dori Fanjul for their assistance with GC-MS. This research project was founded by the European Union under the Global Change and Ecosystems (FP6) Water Cycle and Soil Related Aspects (AquaTerra, Project number 505428 GOCE). Financial support from Spanish Ministry of Education and Science, project number CTM2005-25168-E and CTM2005-07402-C02-01/TECNO. Alícia Navarro agrees the support by a grant of the Departament d'Universitats, Recerca i Societat de la Informació de la Generalitat de Catalunya (2004FI 00856). Nuno Ratola wishes to thank Fundação da Ciência e Tecnologia (Portugal) for the scholarship SFRH/BPD/67088/2009 and the project PTDC/AGR-CFL/102597/2008. This work reflects only authors' views, and the European Community is not liable for any use that may be made of the information contained.
Additional information
Responsible editor: Philippe Garrigues
About this article
Cite this article
Navarro-Ortega, A., Ratola, N., Hildebrandt, A. et al. Environmental distribution of PAHs in pine needles, soils, and sediments. Environ Sci Pollut Res 19, 677–688 (2012). https://doi.org/10.1007/s11356-011-0610-5
Received:

Accepted:

Published:

Issue Date:
Keywords
Sediment

Soil

Pine needles

PAHs

Ratios

PCA