Abstract
Purpose
Dimethyl phthalate esters (DMPEs) are a group of plasticizers commonly detected in the environment with potential adverse human health impact. The degradation of DMPEs by fungal systems has been studied to a limited extent, particularly by yeasts. In this study, a basidiomycetous yeast Trichosporon DMI-5-1 capable of degrading DMPEs was obtained and the degradation pathways were investigated.
Results
A DMPE-degrading yeast was isolated from costal sediment by enrichment culture technique and was identified as Trichosporon sp. DMI-5-1 based on microscopic morphology and 18S rDNA sequence. Comparative investigations on biodegradation of three isomers of DMPEs, namely dimethyl phthalate (DMP), dimethyl isophthalate (DMI), and dimethyl terephthalate (DMT), were carried out with this yeast strain. Trichosporon sp. DMI-5-1 could not mineralize DMPEs completely but transform them to respective monomethyl phthalate or phthalic acid. Biochemical degradation pathways for the three DMPE isomers by Trichosporon sp. DMI-5-1 were apparently different. The yeast carried out one-step ester hydrolysis of DMP and DMI to respective monoesters (monomethyl phthalate and monomethyl isophthalate, respectively) and no further metabolism of these two monoesters. Meanwhile, DMT was transformed by the yeast to monomethyl terephthalate and subsequently to terephthalic acid by stepwise hydrolysis of the two ester bonds.
Conclusions
This study shows that different catalytic processes are involved in the transformation of DMPEs by the basidiomycetous yeast Trichosporon sp. DMI-5-1 and suggests that its esterases, responsible for the initial hydrolyzing the two ester bonds of DMPEs, are highly substrate specific.
This is a preview of subscription content, log in to check access.
Access options
Buy single article
Instant access to the full article PDF.
US$ 39.95
Price includes VAT for USA
Subscribe to journal
Immediate online access to all issues from 2019. Subscription will auto renew annually.
US$ 99
This is the net price. Taxes to be calculated in checkout.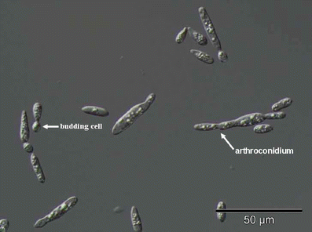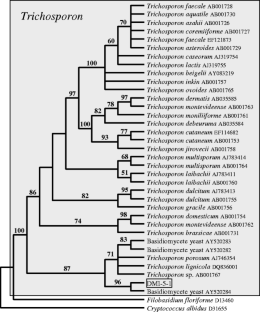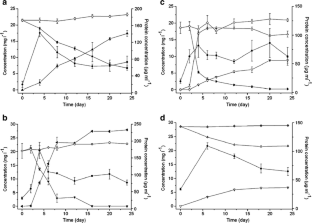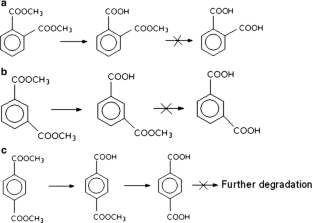 References
Akita K, Naitou C, Maruyama K (2001) Purification and characterization of an esterase from Micrococcus sp. YGJ1 hydrolyzing phthalate esters. Biosci Biotechnol Biochem 65:1680–1683

Begum A, Katsumata H, Kaneco S, Suzuki T, Ohta K (2003) Biodegradation of phthalic acid esters by bakery yeast Saccharomyces cerevisiae. Bull Environ Contam Toxicol 70:255–261

Bornscheuer UT (2002) Microbial carboxyl esterases: classification, properties and application in biocatalysis. FEMS Microbiol Rev 26:73–81

Chang HK, Zylstra GJ (1998) Novel organization of the genes for phthalate degradation from Burkholderia cepacia DBO1. J Bacteriol 180:6529–6537

Colón I, Caro D, Bourdony CJ, Rosario O (2000) Identification of phthalate esters in the serum of young Puerto Rican girls with premature breast development. Environ Health Perspect 108:895–900

Eaton RW (2001) Plasmid-encoded phthalate catabolic pathway in Arthrobacter keyseri 12B. J Bacteriol 183:3689–3703

Fromme H, Küchler T, Otto T, Pilz K, Müller J, Wenzel A (2002) Occurrence of phthalates and bisphenol A and F in the environment. Water Res 36:1429–1438

Ganji SH, Karigar CS, Pujar BG (1995) Metabolism of dimethylterephthalate by Aspergillus niger. Biodegradation 6:61–66

Gartshore J, Cooper DG, Nicell JA (2003) Biodegradation of plasticizers by Rhodotorula rubra. Environ Toxicol Chem 22:1244–1251

Gu J-D, Li J, Wang Y (2005) Biochemical pathway and degradation of phthalate ester isomers by bacteria. Water Sci Technol 52(8):241–248

Hartmans S, Smits JP, van der Werf MJ, Volkering F, de Bont JAM (1989) Metabolism of styrene oxide and 2-phenylethanol in the styrene-degrading Xanthobacter strain 124X. Appl Environ Microbiol 55:2850–2855

Iwaki H, Saji H, Nakai E, Hasegawa Y (2004) Degradation of cyclopentanol by Trichosporon cutaneum strain KUY-6A. Microbes Environ 19:241–243

Jobling S, Reynods T, White R, Parker MG, Sumpter JP (1995) A variety of environmentally persistent chemicals, including some phthalate plasticizers, are weakly estrogenic. Environ Health Perspect 103:582–587

Kaszycki P, Czechowska K, Petryszak P, Miedzobrodzki J, Pawlik B, Koloczek H (2006) Methylotrophic extremophilic yeast Trichosporon sp.: a soil-derived isolate with potential applications in environmental biotechnology. Acta Biochim Pol 53:463–473

Kim Y-H, Lee J (2005) Enzymatic degradation of dibutyl phthalate and toxicity of its degradation products. Biotechnol Lett 27:635–639

Kim Y-H, Lee J, Ahn J-Y, Gu MB, Moon S-H (2002) Enhanced degradation of an endocrine-disrupting chemical, butyl benzyl phthalate, by Fusarium oxysporum f. sp. pisi cutinase. Appl Environ Microbiol 68:4684–4688

Kurane R (1997) Microbial degradation and treatment of polycyclic aromatic hydrocarbons and plasticizers. Ann NY Acad Sci 829:118–134

Li J, Gu J-D (2007) Complete degradation of dimethyl isophthalate requires the biochemical cooperation between Klebsiella oxytoca Sc and Methylobacterium mesophilicum Sr isolated from Wetland sediment. Sci Total Environ 380:181–187

Li J, Gu J-D, Pan L (2005) Transformation of dimethyl phthalate, dimethyl isophthalate and dimethyl terephthalate by Rhodococcus rubber Sa and modeling the processes using the modified Gompertz model. Int Biodeterior Biodegrad 55:223–232

Luo Z-H, Pang K-L, Gu J-D, Chow RKK, Vrijmoed LLP (2009) Degradability of the three dimethyl phthalate isomer esters (DMPEs) by a Fusarium species isolated from mangrove sediment. Mar Pollut Bull 58:765–768

MacGillivray AR, Shiaris MP (1993) Biotransformation of polycyclic aromatic hydrocarbons by yeasts isolated from coastal sediments. Appl Environ Microbiol 59:1613–1618

Maruyama K, Akita K, Naitou C, Yoshida M, Kitamura T (2005) Purification and characterization of an esterase hydrolyzing monoalkyl phthalates from Micrococcus sp. YGJ1. J Biochem 137:27–32

Middelhoven WJ (1993) Catabolism of benzene compounds by ascomycetous and basidiomycetous yeasts and yeastlike fungi. A literature review and an experimental approach. Antonie Van Leeuwenhoek 63:125–144

Middelhoven WJ, Koorevaar M, Schuur GW (1992) Degradation of benzene compounds by yeasts in acidic soils. Plant Soil 145:37–43

Middelhoven WJ, Scorzetti G, Fell JW (2004) Systematics of the anamorphic basidiomycetous yeasts genus Trichosporon Behrend with the description of five novel species: Trichosporon vadense, T. smithiae, T. dehoogii, T. scarabaeorum and T. gamsii. Int J Syst Evol Microbiol 54:975–986

Philips MW, Gordon GLR (1989) Growth characteristics on cellobiose of three different anaerobic fungi isolated from the ovine rumen. Appl Environ Microbiol 55:1695–1702

Pradeepkumar S, Karegoudar TB (2000) Metabolism of dimethylphthalate by Aspergillus niger. J Microbiol Biotechnol 10:518–521

Rambaut A (1999) Se-Al. Department of Zoology, University of Oxford, Oxford OX1 4JD, UK. http://evolve.zoo.ox.ac.uk/Se-Al/Se-Al.html

Rocha-Santos T, Ferreira F, Silva L, Freitas AC, Pereira R, Diniz M, Castro L, Peres I, Duarte AC (2010) Effects of tertiary treatment by fungi on organic compounds in a kraft pulp mill effluent. Environ Sci Pollut Res 17:866–874

Sambrook J, Russell DW (2001) Molecular cloning: a laboratory manual, 3rd edn. Cold Spring Harbor Laboratory Press, New York

Sietmann R, Hammer E, Schauer F (2002) Biotransformation of biarylic compounds by yeasts of the genus trichosporon. Syst Appl Microbiol 25:332–339

Sivamurthy K, Swamy BM, Pujar BG (1991) Transformation of dimethylterephthalate by the fungus Sclerotium rolfsii. FEMS Microbiol Lett 79:37–40

Staples CA, Peterson DR, Parkerton TF, Adams WJ (1997) The environmental fate of phthalate esters: a literature review. Chemosphere 35:667–749

Swofford DL (2002) PAUP*: phylogenetic analysis using parsimony (and other methods). ver. 4.0b10. Sinauer, Sunderland

Tortella GR, Diez MC, Duran N (2005) Fungal diversity and use in decomposition of environmental pollutants. Crit Rev Microbiol 31:197–212

Vega D, Bastide J (2003) Dimethylphthalate hydrolysis by specific microbial esterase. Chemosphere 51:663–668

Wagner M, Oehlmann J (2009) Endocrine disruptors in bottled mineral water: total estrogenic burden and migration from plastic bottles. Environ Sci Pollut Res 16:278–286

Wang YP, Gu J-D (2006) Degradability of dimethyl terephthalate by Variovorax paradoxus T4 and Sphingomonas yanoikuyae DOS01 isolated from deep-ocean sediments. Ecotoxicology 15:549–557

White TJ, Bruns T, Lee S, Taylor J (1990) Amplification and direct sequencing of fungal ribosomal RNA genes for phylogenetics. In: Innis MA, Gelfand DH, Sninsky JJ, White TJ (eds) PCR protocools: a guide to methods and applications. Academic Press, San Diego, pp 315–322

Xu X-R, Li H-B, Gu J-D (2005) Biodegradation of an endocrine-disrupting chemical di-n-butyl phthalate ester by Pseudomonas fluorescens B-1. Int Biodeterior Biodegrad 55:9–15
Acknowledgments
The work described in this paper was substantially supported by grants from City University of Hong Kong (Project Nos. 7002220 and 9610037), the Research Grants Council of the Hong Kong Special Administrative Region, China (Project No. CA04/05. SC01), and National Natural Science Foundation of China (Project No. 41006099), which are gratefully acknowledged. The authors would also like to thank Ms. Jessie Lai of The University of Hong Kong and Miss Alice Chan of City University of Hong Kong for technical support in HPLC analysis.
Additional information
Responsible editor: Philippe Garrigues
About this article
Cite this article
Luo, Z., Wu, Y., Pang, K. et al. Comparison of initial hydrolysis of the three dimethyl phthalate esters (DMPEs) by a basidiomycetous yeast, Trichosporon DMI-5-1, from coastal sediment. Environ Sci Pollut Res 18, 1653–1660 (2011). https://doi.org/10.1007/s11356-011-0525-1
Received:

Accepted:

Published:

Issue Date:
Keywords
Biodegradation

Dimethyl phthalate esters

Plasticizers

Trichosporon sp.

Basidiomycetous yeast