Abstract
Purpose
Metal bioavailability-based sediment quality analysis, inferred from geochemical partitioning data, may contribute to improve sediment management policies. This is important because decision-making processes should not give similar priorities to sediments offering contrasting environmental risks associated to metal bioavailability. However, current uses of Sediment Quality Guidelines (SQGs) as interpretive tools to support decisions about dredging-related activities have not considered the changes in metal bioavailability upon sediment resuspension.
Methods
Sediments from a Cu-contaminated site in Guanabara Bay (Brazil) were submitted to 16-h resuspension experiments in estuarine water to assess the susceptibility of Cu mobilization to the dissolved phase and alteration in the solid phase partitioning between a potentially bioavailable (1 mol/l HCl-extractable) phase and concentrated HNO3-extractable phase.
Results
After sediment resuspensions, dissolved Cu levels became slightly lower (in a surface water-resuspension treatment) or slightly higher (in a bottom water-resuspension treatment). In both treatments, the 1 mol/l HCl-extractable solid phase concentrations changed from seven times lower to two times higher values than an SQG adopted in Brazilian legislation. This change was explained by a transition from concentrated HNO3-extractable phases to reactive HCl-extractable phases upon resuspension.
Conclusions
An evaluation of metal susceptibility to present geochemical partitioning changes, as can be inferred from HCl-extractable fraction analyses before and after resuspension experiments, is recommended as an additional criterion to assess environmental risks of sediment dredging in relation to resuspension-sensitive metals, such as Cu.
This is a preview of subscription content, log in to check access.
Access options
Buy single article
Instant access to the full article PDF.
US$ 39.95
Price includes VAT for USA
Subscribe to journal
Immediate online access to all issues from 2019. Subscription will auto renew annually.
US$ 99
This is the net price. Taxes to be calculated in checkout.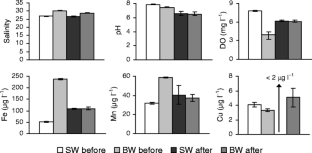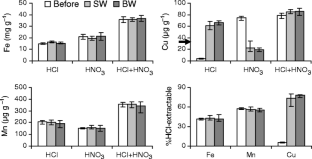 References
Ahlf W, Drost W, Heise S (2009) Incorporation of metal bioavailability into regulatory frameworks—metal exposure in water and sediment. J Soils Sediments 9:411–419

Birch GF, Hogg TD (2011) Sediment quality guidelines for copper and zinc for filter-feeding estuarine oysters? Environ Pollut 159:108–115

Birch GF, Hutson P (2009) Use of sediment risk and ecological/conservation value for strategic management of estuarine environments: Sydney estuary, Australia. Environ Manage 44:836–850

CONAMA (2004) Procedures for the evaluation of dredging materials in Brazilian jurisdictional waters. Resolution #344/2004. Diário Oficial da República Federativa do Brasil, Brasília (in Portuguese)

Eggleton J, Thomas KV (2004) A review of factors affecting the release and bioavailability of contaminants during sediment disturbance events. Environ Int 30:973–980

Hübner R, Astin KB, Herbert RJH (2009) Comparison of sediment quality guidelines (SQGs) for the assessment of metal contamination in marine and estuarine environments. J Environ Monit 11:713–722

Huerta-Diaz MA, Morse JW (1990) A quantitative method for determination of trace metal concentration in sedimentary pyrite. Mar Chem 29:119–144

Huerta-Diaz MA, Delgadillo-Hinojosa F, Hernández-Ayón M, Segovia-Zavala JA, García-Esquivel Z, López-Zárate H, Siqueiros-Valencia A, Galindo-Bect S (2008) Diagnosis of trace metal contamination in sediments: the example of Ensenada and El Sauzal, two harbors in Baja California, Mexico. Mar Environ Res 66:345–358

Kornicker WA, Morse JW (1991) Interactions of divalent cations with the surface of pyrite. Geochim Cosmochim Acta 55:2159–2171

Long ER, MacDonald DD, Smith SL, Calder FD (1995) Incidence of adverse biological effects within ranges of chemical concentrations in marine and estuarine sediments. Environ Manage 19:81–97

Machado W, Villar LS, Monteiro FF, Viana LCA, Santelli RE (2010) Relation of acid-volatile sulfides (AVS) with metals in sediments from eutrophicated estuaries: is it limited by metal-to-AVS ratios? J Soils Sediments 10:1606–1610

Maranho LA, Abreu I, Santelli RE, Cordeiro RC, Soares-Gomes A, Moreira LB, Morais RD, Abessa DMS (2009) Sediment toxicity assessment of Guanabara Bay, Rio de Janeiro, Brazil. J Coast Res SI56:851–855

Morse JW (1994) Interactions of trace metals with authigenic sulfide minerals: implications for their bioavailability. Mar Chem 46:1–6

Rebello AL, Haekel W, Moreira I, Santelli R, Schroeder F (1986) The fate of heavy metals in an estuarine tropical system. Mar Chem 18:215–225

Simpson SL, Batley GE (2007) Predicting metal toxicity in sediments: a critique of current approaches. Integ Environ Assess Manage 3:18–31

Sokolowski A, Wolowicz M, Hummel H (2007) Metal sources to the Baltic clam Macoma balthica (Mollusca: Bivalvia) in the southern Baltic Sea (the Gulf of Gdansk). Mar Environ Res 63:236–256

Torres RJ, Abessa DMS, Santos FC, Maranho LA, Davanso MB, Nascimento MRL, Mozeto AA (2009) Effects of dredging operations on sediment quality: contaminant mobilization in dredged sediments from the Port of Santos, SP, Brazil. J Soils Sediments 9:420–432

Urban SR, Corrêa AXR, Schettini CAF, Schwingel PR, Sperb RM, Radetski CM (2010) Physicochemical and ecotoxicological evaluation of estuarine water quality during a dredging operation. J Soils Sediments 10:65–76

USEPA (1994) Microwave assisted acid digestion of sediments, sludges, soils and oils. USEPA Method 3051
Acknowledgments
The authors thank the critical comments from two anonymous referees, the financial support from Rio de Janeiro State Research Foundation (FAPERJ) and Brazilian Research Council (CNPq), and a post-doctoral grant from Brazilian Ministry of Education (PNPD/CAPES) to A.P.C. Rodrigues.
Additional information
Responsible editor: Markus Hecker
About this article
Cite this article
Machado, W., Rodrigues, A.P.C., Bidone, E.D. et al. Evaluation of Cu potential bioavailability changes upon coastal sediment resuspension: an example on how to improve the assessment of sediment dredging environmental risks. Environ Sci Pollut Res 18, 1033–1036 (2011). https://doi.org/10.1007/s11356-011-0517-1
Received:

Accepted:

Published:

Issue Date:
Keywords
Sediment quality

Copper contamination

Sediment resuspension

Potential bioavailability