Abstract
Introduction
A Microcoleus sp. consortium, obtained from the Ebro delta microbial mat, was maintained under different conditions including uncontaminated, lead-contaminated, and acidic conditions.
Materials and methods
Terminal restriction fragment length polymorphism and 16S rRNA gene library analyses were performed in order to determine the effect of lead and culture conditions on the Microcoleus sp. consortium.
Results
The bacterial composition inside the consortium revealed low diversity and the presence of specific terminal-restriction fragments under lead conditions. 16S rRNA gene library analyses showed that members of the consortium were affiliated to the Alpha, Beta, and Gammaproteobacteria and Cyanobacteria. Sequences closely related to Achromobacter spp., Alcaligenes faecalis, and Thiobacillus species were exclusively found under lead conditions while sequences related to Geitlerinema sp., a cyanobacterium belonging to the Oscillatoriales, were not found in presence of lead.
Discussion
This result showed a strong lead selection of the bacterial members present in the Microcoleus sp. consortium. Several of the 16S rRNA sequences were affiliated to nitrogen-fixing microorganisms including members of the Rhizobiaceae and the Sphingomonadaceae. Additionally, confocal laser scanning microscopy and scanning and transmission electron microscopy showed that under lead-contaminated condition Microcoleus sp. cells were grouped and the number of electrodense intracytoplasmic inclusions was increased.
This is a preview of subscription content, log in to check access.
Access options
Buy single article
Instant access to the full article PDF.
US$ 39.95
Price includes VAT for USA
Subscribe to journal
Immediate online access to all issues from 2019. Subscription will auto renew annually.
US$ 99
This is the net price. Taxes to be calculated in checkout.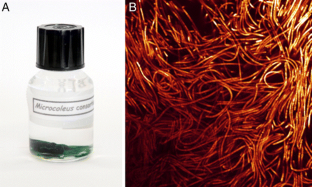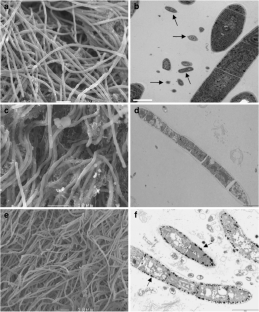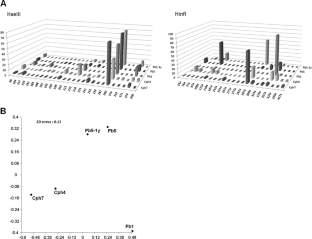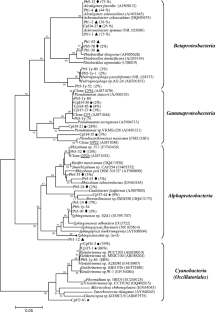 References
Altschul S, Madden T, Schaffer A, Zhang J, Zhang Z, Miller W, Lipman D (1998) Gapped blast and psi-blast: a new generation of protein database search programs. Nucleic Acids Res 25:3389–3402

Anagnostidis K (1989) Geitlerinema, a new genus of oseillatorialean cyanophyte. Plant Syst Evol 164:33–46

Bruckner CG, Bahulikar R, Rahalkar M, Schink B, Kroth PG (2008) Bacteria Associated with Benthic Diatoms from Lake Constance: phylogeny and Influences on Diatom Growth and Secretion of Extracellular Polymeric Substances. Appl Environ Microbiol 74:7740–7749

Bruneel O, Duran R, Koffi K, Casiot C, Fourçans A, Elbaz-Poulichet F, Personne JC (2005) Microbial diversity in a pyrite-rich tailings impoundment (Carnoulès, France). Geomicrobiol J 22:249–257

Bruneel O, Pascault N, Egal M, Bancon-Montigny C, Goñi-Urriza MS, Elbaz-Poulichet F, Personne JC, Duran R (2008) Archaeal diversity in a Fe-As rich acid mine drainage at Carnoulès (France). Extremophiles 12:563–571

Burnat M, Diestra E, Esteve I, Sole A (2010) Confocal Laser Scanning Microscopy Coupled to a Spectrofluorometric Detector as a Rapid Tool for Determining the In Vivo Effect of Metals on Phototrophic Bacteria. Bull Environ Contam Toxicol 84:55–60

Carrasco JA, Armario P, Pajuelo E, Burgos A, Caviedes MA, Lopez R, Chamber MA, Palomares AJ (2005) Isolation and characterisation of symbiotically effective Rhizobium resistant to arsenic and heavy metals after the toxic spill at the Aznalcollar pyrite mine. Soil Biol Biochem 37:1131–1140

De Oteyza TG, Grimalt JO, Diestra E, Sole A, Esteve I (2004) Changes in the composition of polar and apolar crude oil fractions under the action of Microcoleus consortia. Appl Microbiol Biotechnol 66:226–232

De Philippis R, Paperi R, Sili C, Vincenzini M (2003) Assessment of the metal removal capability of two capsulated cyanobacteria, Cyanospira capsulata and Nostoc PCC7936. J Appl Phycol 15:155–161

Desnoues N, Lin M, Guo XW, Ma LY, Carreno-Lopez R, Elmerich C (2003) Nitrogen fixation genetics and regulation in a Pseudomonas stutzeri strain associated with rice. Microbiol Sgm 149:2251–2262

Diestra E, Sole A, Marti M, de Oteyza TG, Grimalt JO, Esteve I (2005) Characterization of an oil-degrading Microcoleus consortium by means of confocal scanning microscopy, scanning electron microscopy and transmission electron microscopy. Scanning 27:176–180

Esteve I, Ceballos D, Martinez-Alonso M, Gaju N, Guerrero R (1994) Development of versicolored microbial mats: Succession of microbial communities. In: Stal LJ, Caumette P (eds) Microbial mats: Structure, Development and Environmental Significance. NATO ASI Series, G 35. Springer, Heidelberg, pp 415–420

Filatov DA (2002) PROSEQ: a software for preparation and evolutionary analysis of DNA sequence data sets. Mol Ecol Notes 2:621–624

Fourçans A, de Oteyza TG, Wieland A, Solé A, Diestra E, van Bleijswijk J, Grimalt JO, Kühl M, Esteve I, Muyzer G, Caumette P, Duran R (2004) Characterization of functional bacterial groups in a hypersaline microbial mat community (Salins-de-Giraud, Camargue, France). FEMS Microbiol Ecol 51:55–70

Fourcans A, Sole A, Diestra E, Ranchou-Peyruse A, Esteve I, Caumette P, Duran R (2006) Vertical migration of phototrophic bacterial populations in a hypersaline microbial mat from Salins-de-Giraud (Camargue, France). FEMS Microbiol Ecol 57:367–377

Garcia-Pichel F, Prufert-Bebout L, Muyzer G (1996) Phenotypic and Phylogenetic Analyses Show Microcoleus chthonoplastes To Be a Cosmopolitan Cyanobacterium. Appl Environ Microbiol 62:3284–3291

Heng LY, Jusoh K, Ling CHM, Idris M (2004) Toxicity of single and combinations of lead and cadmium to the cyanobacteria anabaena flos-aquae. Bull Environ Contam Toxicol 72:373–379

Incharoensakdi A, Kitjaharn P (2002) Zinc Biosorption from Aqueous Solution by a Halotolerant Cyanobacterium Aphanothece halophytica. Curr Microbiol 45:261–264

Jungblut AD, Allen MA, Burns BP, Neilan BA (2009) Lipid biomarker analysis of cyanobacteria-dominated microbial mats in meltwater ponds on the McMurdo Ice Shelf, Antarctica. Org Geochem 40:258–269

Kumar S, Tamura K, Nei M (2004) MEGA3: Integrated software for Molecular Evolutionary Genetics Analysis and sequence alignment. Brief Bioinform 5:150–163

Lane DJ (1991) rDNA sequencing. In: Stachenbrady E (ed) Nucleic acid techniques in bacterial systematics. Wiley, Chichester, pp 115–175

Margheri MC, Piccardi R, Ventura S, Viti L (2003) Giovannetti, Genotypic diversity of oscillatoriacean strains belonging to the genera Geitlerinema and Spirulina determined by 16 S rDNA restriction analysis. Curr Microbiol 46:359–364

McGregor GB, Rasmussen JP (2008) Cyanobacterial composition of microbial mats from an Australian thermal spring: a polyphasic evaluation. FEMS Microbiol Ecol 63:23–35

Mergeay M, Nies D, Schlegel HG, Gerits J, Charles P, Vangijsegem F (1985) Alcaligenes-Eutrophus Ch34 Is a Facultative Chemolithotroph with Plasmid-Bound Resistance to Heavy-Metals. J Bacteriol 162:328–334

Paissé S, Coulon F, Goñi-Urriza MS, Peperzak L, McGenity TJ, Duran R (2008) Structure of bacterial communities along a hydrocarbon contamination gradient in a coastal sediment. FEMS Microbiol Ecol 66:295–305

Païssé S, Goñi-Urriza MS, Fahy A, Duran R (2010) Molecular Profiling of Bacterial Communities via 16 S rRNA Gene Based Approaches – Focus T-RFLP. Volume 5: Experimental Protocols and Appendices - Chapter 58. In: Timmis KN (ed) Handbook of Hydrocarbon and Lipid Microbiology. Springer, Heidelberg, pp 4113–4125

Perez MD, Maidana NI, Comas A (2009) Phytoplankton composition of the Ebro River estuary, Spain. Acta Bot Croat 68:11–27

Pfennig N, Truper HG (1992) The family Chromatiaceae. In: Balows A, Trüper HG, Dworkin M, Harder W, Schleifer KH (eds) The Prokaryotes. Springer, New York, pp 3200–3222

Rippka R, Deruelles J, Waterbury JB, Herdman M, Stanier RY (1979) Generic Assignments, Strain Histories and Properties of Pure Cultures of Cyanobacteria. J Gen Microbiol 111:1–61

Roane TM (1999) Lead resistance in two bacterial isolates from heavy metal-contaminated soils. Microb Ecol 37:218–224

Rodelo G, Gomez A, Ruiz Manriquez A (2002) Biosorption of Pb(II) by Thiobacillus ferrooxidans. Rev Int Contaminacion Ambiental 18:33–37

Roeselers G, Norris TB, Castenholz RW, Rysgaard S, Glud RN, Kuhl M, Muyzer G (2007) Diversity of phototrophic bacteria in microbial mats from Arctic hot springs (Greenland). Environ Microbiol 9:26–38

Romo S, Miracle MR, Hernandezmarine M (1993) Geitlerinema-Amphibium (Ag Ex Gom) Anagnostidis (Cyanophyceae)—Morphology, Ultrastructure and Ecology. Archiv Fur Hydrobiologie 69:11–27

Sanchez-Chardi A, Lopez-Fuster MJ, Nadal J (2007) Bioaccumulation of lead, mercury, and cadmium in the greater white-toothed shrew, Crocidura russula, from the Ebro Delta (NE Spain): Sex- and age-dependent variation. Environ Pollut 145:7–14

Sanchez O, Diestra E, Esteve I, Mas J (2005) Molecular characterization of an oil-degrading cyanobacterial consortium. Microb Ecol 50:580–588

Silva SMF, Pienaar RN (1997) Epipelic marine Cyanophytes of Bazaruto Island, Inhambane, Mozambique. S Afr J Bot 63:459–464

Silva SMF, Pienaar RN (1999) Marine cyanophytes from the Western Cape, South Africa: Oscillatoriales. S Afr J Bot 65:1–22

Sole A, Gaju N, Esteve I (2003) The biomass dynamics of cyanobacteria in an annual cycle determined by confocal laser scanning microscopy. Scanning 25:1–7

Shyu C, Soule T, Bent SJ, Foster JA, Forney LJ (2007) MiCA: a Web-Based Tool for the Analysis of Microbial Communities Based on Terminal-Restriction Fragment Length Polymorphisms of 16 S and 18 S rRNA. Genes Microb Ecol 53:562–570

Thompson JD, Gibson TJ, Plewniak F, Jeanmougin F, Higgins DG (1997) The CLUSTAL X windows interface: Flexible strategies for multiple sequence alignment aided by quality analysis tools. Nucleic Acids Res 25:4876–4882

Trajanovska S, Britz ML, Bhave M (1997) Detection of heavy metal ion resistance genes in Gram-positive and Gram-negative bacteria isolated from a lead-contaminated site. Biodegradation 8:113–124

Tripathi BN, Mehta SK, Gaur JP (2003) Differential sensitivity of Anabaena doliolum to Cu and Zn in batch and semicontinuous cultures. Ecotoxicol Environ Saf 56:311–318

Tripathi M, Munot HP, Shouche Y, Meyer JM, Goel R (2005) Isolation and functional characterization of Siderophore-producing lead- and cadmium-resistant Pseudomonas putida KNP9. Curr Microbiol 50:233–237

Videira SS, de Araujo JLS, Rodrigues LD, Baldani VLD, Baldani JI (2009) Occurrence diversity nitrogen fixing Sphingomonas bacteria associated rice plants grown Brazil. FEMS Microbiol Lett 293:11–19

Ward DM, Bateson MM, Ferris MJ, Kuhl M, Wieland A, Koeppel A, Cohan FM (2006) Cyanobacterial ecotypes in the microbial mat community of Mushroom Spring (Yellowstone National Park, Wyoming) as species-like units linking microbial community composition, structure and function. Philos Trans R Soc B Biol Sci 361:1997–2008

Weisburg WG, Barns SM, Pelletier DA, Lane DJ (1991) 16 S ribosomal DNA amplification for phylogenetic study. J Bacteriol 173:697–703

Wieland A, Kuhl M, McGowan L, Fourcans A, Duran R, Caumette P, de Oteyza G, Grimalt JO, Sole A, Diestra E, Esteve I, Herbert RA (2003) Microbial mats on the Orkney Islands revisited: Microenvironment and microbial community composition. Microb Ecol 46:371–390
Acknowledgements
This research was supported by the following grants: DGICYT (CGL2008-01891/BOS), FONCICYT (000000000095887) and the Aquitaine Region council through the CTP program (20074380409-12). We express our thanks to the staff of the Servei de Microscòpia at the Universitat Autònoma de Barcelona and to J. Maldonado for technical assistance. We also thank Marc Alamany and Francesc Fornells from Ecología Portuaria S. L. (Spain) for their valuable comments on the manuscript. Finally, we acknowledge Pilar Jarque and Cristina Sosa for their help.
Additional information
Responsible editor: Elena Maestri
About this article
Cite this article
Giloteaux, L., Solé, A., Esteve, I. et al. Bacterial community composition characterization of a lead-contaminated Microcoleus sp. consortium. Environ Sci Pollut Res 18, 1147–1159 (2011). https://doi.org/10.1007/s11356-010-0432-x
Received:

Accepted:

Published:

Issue Date:
Keywords
Microcoleus

Lead

T-RFLP

16S rRNA

SEM

TEM

CSLM