Abstract
The grass-free lawn is a novel development in modern ornamental horticulture where the traditional monoculture of grass is replaced by a variety of mowing-tolerant clonal forbs. It brings floral aesthetics and a diverse species approach to the use of lawn space. How the number of constituent forb species affects the aesthetic and structural performance of grass-free lawns was investigated using grass-free lawns composed of four, six and twelve British native clonal perennial forb species. Lawn productivity was seen to increase with increasing species number, but the relationship was not linear. Plant cover was dynamic in all lawn types, varied between years and was not representative of individual species' floral performance. The behaviour of component species common to all lawns suggested that lawns with 12 species show greater structural stability than lawns with lower species number. Visual performance in lawns with the greatest species number was lower than in lawns with fewer species, with increasing variety in floral size and individual species floral productivity, leading to a trade-off between diversity and floral performance. Individual species were seen to have different aesthetic functions in grass-free lawns by providing flowers, ground coverage or both.
This is a preview of subscription content, log in to check access.
Access options
Buy single article
Instant access to the full article PDF.
US$ 39.95
Price includes VAT for USA
Subscribe to journal
Immediate online access to all issues from 2019. Subscription will auto renew annually.
US$ 99
This is the net price. Taxes to be calculated in checkout.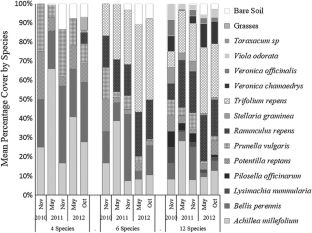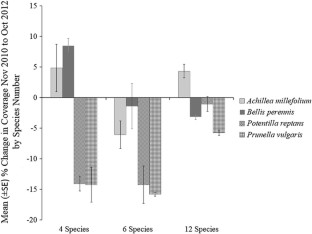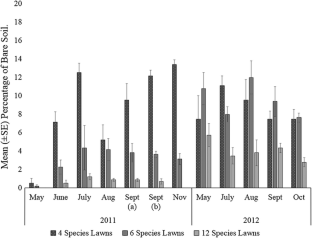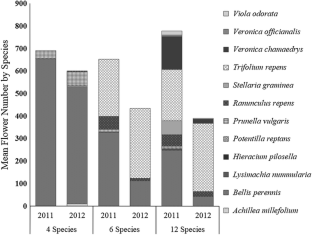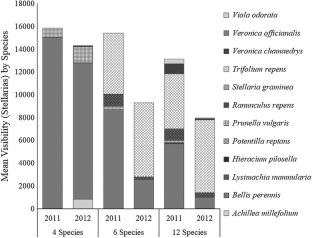 References
Anon (2011) National Soil Resources Institute. Available: http://www.landis.org.uk/sitereporter/. Accessed 03 Mar 2011

Anon (2012) UK Climate: Summer 2012. Available: http://www.metoffice.gov.uk/climate/uk/2012/summer.html. Accessed 01 Dec 2012

Barnhart, SK (1998) Estimating available pasture forage. Available: http://www.extension.iastate.edu/Publications/PM1758.pdf. Accessed 21 Nov 2010

Borman FH, Balmori D, Geballe TG (2001) Redesigning the American lawn. A search for environmental harmony. Yale University Press, New Haven & London

Crider, FJ (1955) Root growth stoppage resulting from defoliation of grass. Technical Bulletin 1102. US Department of Agriculture

Daniels S (1995) The wild lawn handbook: alternatives to the traditional front lawn. Macmillan, New York

Dunnet N, Hitchmough J (2004) The dynamic landscape. Design, ecology and management of naturalistic urban planting. Taylor & Francis, London & New York

Griffin JN, O'Gorman EJ, Emmerson MC, Jenkins SR, Klein AM, Loreau M, Symstad A (2009) Biodiversity and the stability of ecosystem functioning. In: Naeem S, Bunker E, Hector A, Loreau M, Perrings C (eds) Biodiversity, ecosystem functioning, and human wellbeing: an ecological and economic perspective. Oxford University Press, Oxford

Gross K, Cardinale BJ, Fox JW, Gonzalez A, Loreau M, Polley HW, Reich PB, van Ruijven J (2014) Species richness and the temporal stability of biomass production: a new analysis of recent biodiversity experiments. Am Nat 183:1–12

HAAHR M (2010) True random number service. (Online). Available: http://www.random.org/2010

Hadden EJ (2012) Beautiful No-Mow Yards. 50 amazing lawn alternatives. Timber, Portland

Hector A, Schmid B, Beierkuhnlein C, Caldeira MC, Diemer M, Dimitrakopoulos PG, Finn JA, Freitas H, Giller PS, Good J, Harris R, Hogberg P, Huss-Danell K, Joshi J, Jumpponen A, Korner C, Leadley PW, Loreau M, Minns A, Mulder CPH, O'donovan G, Otway SJ, Pereira JS, Prinz A, Read DJ, Scherer-Lorenzen M, Schulze ED, Siamantziouras ASD, Spehn EM, Terry AC, Troumbis AY, Woodward FI, Yachi S, Lawton JH (1999) Plant diversity and productivity experiments in European grasslands. Science 286:1123–1127

Hooper DU, Chapin FS III, Ewel JJ, Hector A, Inchausti P, Lavorel S, Lawton JH, Lodge DM, Loreau M, Naeem S, Schmid B, Setälä H, Symstad AJ, Vandermeer J, Wardle DA (2005) Effects of biodiversity on ecosystem functioning: a consensus of current knowledge. Ecol Monogr 75:3–35

Huston MA, Fridley JD, Garnier E, Grime JP, Hodgeson JG, Lauenroth WK, Thompson K, Vandermeer JH, Wardle DA (2000) No consistent effect of plant diversity on productivity. Science 289(5483):1255–1255

Ignatieva ME, Stewart GH (2009) Homogeneity of urban biotopes and similarity of landscape design language in former colonial cities. In: Mcdonnell MJ, Hahs AK, Breuste JH (eds) Ecology of cities and towns: a comparative approach. Cambridge University Press, Cambridge

Jacques WA, Edmond DB (1952) Root development in some common New Zealand pasture plants V. The effect of defoliation and root pruning on cocksfoot (Dactylis glomerata) and perennial rye-grass (Lolium perenne). NZ J Sci 34:231–248

Jenkins VS (1994) The lawn: a history of an American obsession. Smithsonian Institution Press, Washington, DC

Larson KL, Cook E, Strawhacker C, Hall SJ (2010) The influence of diverse values, ecological structure, and geographic context on residents' multifaceted landscaping decisions. Hum Ecol 38:747–761

Lindemann-Matthies P, Bose E (2007) Species richness, structural diversity and species composition in meadows created by visitors of a botanical garden in Switzerland. Landsc Urban Plan 79:298–307

Lindemann-Matthies P, Junge X, Matthies D (2010) The influence of plant diversity on people's perception and aesthetic appreciation of grassland vegetation. Biol Conserv 143:195–202

McCann KS (2000) The diversity–stability debate. Nature 405:228–233

McMahan LR (2006) Understanding cultural reasons for the increase in both restoration efforts and gardening with native plants. Nativ Plants 7:31–34

MINITAB (2012) Minitab 16 Statistical Software. Minitab Inc.

Mulder CPH, Jumpponen A, Högberg P, Huss-Danell K (2002) How plant diversity and legumes affect nitrogen dynamics in experimental grassland communities. Community Ecol 133:312–421

Müller N, Werner P (2010) Urban biodiversity and the case for implementing the convention on biological diversity in towns and cities. In: Müller N, Werner P, Kelcey JG (eds) Urban Biodiversity and Design. Wiley–Blackwell, Oxford

Nassauer JI (1995) Messy ecosystems, orderly frames. Landsc J 14:161–170

Nassauer JI, Wang Z, Dayrell E (2009) What will the neighbours think? Cultural norms and ecological design. Landsc Urban Plan 92:282–292

Rayburn E, Lozier J (2003) A falling plate meter for estimating pasture forage mass. Available: http://www.wvu.edu/~agexten/forglvst/fallplate.pdf. Accessed 21 Dec 2010

Robbins P (2007) Lawn people. How grasses, weeds and chemicals make us who we are. Temple University Press, Philadelphia

Robbins P, Sharp J (2003) The lawn-chemical economy and its discontents. Antipode 35:955–979

Schultz W (1995) A man's turf: the perfect lawn. Clarkson Potter, New York

Sharples P, Hayman, Steven (2008) The Lawn Guide. The easy way to a perfect lawn, S&H Publishing

Smith LS, Fellowes MDE (2013) Towards a lawn without grass: the journey of the imperfect lawn and its analogues. Stud Hist Gard Des Landsc 33:1–13

Smith LS, Fellowes E (2014a) The grass-free lawn: floral performance and management implications. (unpublished data, in review)

Smith LS, Fellowes E (2014b) The grass-free lawn: management and species choice for optimum ground cover and plant diversity. Urban For Urban Green, 13 (in press)

Tilman D, Knops J, Wedin D, Reich P, Ritchie M, Siemann E (1997) The influence of functional diversity and composition on ecosystem processes. Science 277:1300–1302

Van den Berga AE, Vleka CAJ, Coeterierb JF (1998) Group differences in the aesthetic evaluation of nature development plans: a multilevel approach. J Environ Psychol 18:141–157
Acknowledgments
The authors would like to thank the Royal Horticultural Society of Great Britain, the Garden Centre Association's Dick Allen Scholarship Fund, Mr Simon Bass and the Finnis–Scott Foundation for kindly supporting this study. All research carried out complies with UK law and accepted research practice.
About this article
Cite this article
Smith, L.S., Fellowes, M.D.E. The influence of plant species number on productivity, ground coverage and floral performance in grass-free lawns. Landscape Ecol Eng 11, 249–257 (2015). https://doi.org/10.1007/s11355-014-0264-9
Received:

Revised:

Accepted:

Published:

Issue Date:
Keywords
Environmental horticulture

Lawn alternative

Plant diversity

Urban greening