Abstract
Recently, the conversion of plantations into natural forests has attracted increasing attention, but little is known about how to convert a windthrown plantation into a natural forest. We examined the initial 3-year effects of salvage logging, site preparation, planting, and weeding in comparison with the effects of legacy retention after a typhoon blowdown on the changes in terrestrial environments and plant compositions and the similarity of the species composition to that of the intact natural forest. Our major findings are as follows: (1) A homogeneous, sunny, and flat environment continued for 3 years in the planted and weeded plot, whereas a heterogeneous environment was observed in the legacy retention plot; however, the light environment changed slightly in the planted plot. (2) The species composition in the planted plots changed greatly due to invasion by annual, biennial, and perennial herbs and early successional trees. Alien species also invaded the planted row. Conversely, the species composition changed little in the legacy retention, which was likely due to the presence of residual plants that prevented shade-intolerant species from being established. (3) The legacy retention, followed by the residual row, was the closest to the natural forest with respect to species composition, whereas the planted row was the most dissimilar from the natural forest. Legacy retention appears to be the most appropriate way to restore a natural forest immediately after a windthrow, yet supplemental planting may be necessary to restore the desired broadleaved species.
This is a preview of subscription content, log in to check access.
Access options
Buy single article
Instant access to the full article PDF.
US$ 39.95
Price includes VAT for USA
Subscribe to journal
Immediate online access to all issues from 2019. Subscription will auto renew annually.
US$ 99
This is the net price. Taxes to be calculated in checkout.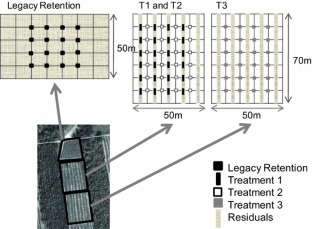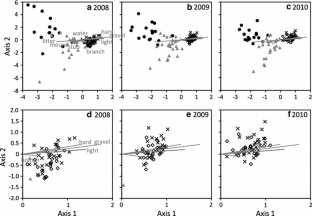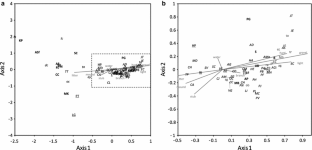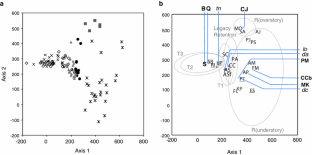 References
Banner A, LePage P (2008) Long-term recovery of vegetation communities after harvesting in the coastal temperate rainforests of northern British Columbia. Can J Forest Res Revue Canadienne De Recherche Forestiere 38:3098–3111. doi:10.1139/x08-145

Banta JA, Stark SC, Stevens MHH, Pendergast TH, Baumert A, Carson WP (2008) Light reduction predicts widespread patterns of dominance between asters and goldenrods. Plant Ecol 199:65–76. doi:10.1007/s11258-008-9412-3

Beatty SW (1984) Influence of microtopography and canopy species on spatial patterns of forest understory plants. Ecology 65:1406–1419

Beatty SW, Stone EL (1986) The variety of soil microsites created by tree falls. Can J Forest Res Revue Canadienne De Recherche Forestiere 16:539–548. doi:10.1139/x86-094

Bell FW, Newmaster SG (2002) The effects of silvicultural disturbances on the diversity of seed-producing plants in the boreal mixedwood forest. Can J Forest Res Revue Canadienne De Recherche Forestiere 32:1180–1191. doi:10.1139/x02-024

Chapman EL, Chambers JQ, Ribbeck KF, Baker DB, Tobler MA, Zeng HC, White DA (2008) Hurricane Katrina impacts on forest trees of Louisiana's Pearl River basin. Forest Ecol Manag 256:883–889. doi:10.1016/j.foreco.2008.05.057

del Rio CMR (2006) Changes in understory composition following catastrophic windthrow and salvage logging in a subalpine forest ecosystem. Can J Forest Res Revue Canadienne De Recherche Forestiere 36:2943–2954. doi:10.1139/x06-169

Drever CR, Peterson G, Messier C, Bergeron Y, Flannigan M (2006) Can forest management based on natural disturbances maintain ecological resilience? Can J Forest Res Revue Canadienne De Recherche Forestiere 36:2285–2299. doi:10.1139/x06-132

Elliott KJ, Hitchcock SL, Krueger L (2002) Vegetation response to large scale disturbance in a southern Appalachian forest: Hurricane Opal and salvage logging. J Torr Bot Soc 129:48–59

Fischer A, Lindner M, Abs C, Lasch P (2002) Vegetation dynamics in central European forest ecosystems (near-natural as well as managed) after storm events. Folia Geobot 37:17–32

Flinn KM (2007) Microsite-limited recruitment controls fern colonization of post-agricultural forests. Ecology 88:3103–3114. doi:10.1890/06-2124.1

Ford ED (1979) An ecological basis for predicting the growth and stability of plantation forests. In: Ford ED, Malcolm DC, Atterson J (eds) The ecology of even-aged forest plantations. Inst Terr Ecol, Cambridge, pp 147–174

Forestry Agency (2011) Forestry and rural mountain communities. In: Annual report on trends in forests and forestry, pp 14–17

Foster DR, Knight DH, Franklin JF (1998) Landscape patterns and legacies resulting from large, infrequent forest disturbances. Ecosystems 1:497–510

Halpern CB (1988) Early successional pathways and the resistance and resilience of forest communities. Ecology 69:1703–1715

Halpern CB, Spies TA (1995) Plant-species diversity in natural and managed forests of the pacific-northwest. Ecol Appl 5:913–934

Hannah PR (1987) Regeneration methods for oaks. North J Appl For 4:97–101

Honnay O, Bossuyt B, Verheyen K, Butaye J, Jacquemyn H, Hermy M (2002) Ecological perspectives for the restoration of plant communities in European temperate forests. Biodivers Conserv 11:213–242

Japan Meteorological Agency (2010) Climate statistics. In: Japan Meteorological Agency. http://www.data.jma.go.jp/obd/stats/etrn/index.php. Accessed 3 Jan 2012

Johnson DW, Curtis PS (2001) Effects of forest management on soil C and N storage: meta analysis. Forest Ecol Manag 140:227–238. doi:10.1016/s0378-1127(00)00282-6

Jonasova M, Vavrova E, Cudlin P (2010) Western Carpathian mountain spruce forest after a windthrow: natural regeneration in cleared and uncleared areas. Forest Ecol Manag 259:1127–1134. doi:10.1016/j.foreco.2009.12.027

Kint V, Geudens G, Mohren GMJ, Lust N (2006) Silvicultural interpretation of natural vegetation dynamics in ageing Scots pine stands for their conversion into mixed broadleaved stands. Forest Ecol Manag 223:363–370. doi:10.1016/j.foreco.2005.11.018

Lang KD, Schulte LA, Guntenspergen GR (2009) Windthrow and salvage logging in an old-growth hemlock-northern hardwoods forest. Forest Ecol Manag 259:56–64. doi:10.1016/j.foreco.2009.09.042

Mabry C, Korsgren T (1998) A permanent plot study of vegetation and vegetation-site factors fifty-three years following disturbance in central New England, USA. Ecoscience 5:232–240

McGee GG (2001) Stand-level effects on the role of decaying logs as vascular plant habitat in Adirondack northern hardwood forests. J Torr Bot Soc 128:370–380

Morimoto J, Morimoto M, Nakamura F (2011) Initial vegetation recovery following a blowdown of a conifer plantation in monsoonal East Asia: impacts of legacy retention, salvaging, site preparation, and weeding. Forest Ecol Manag

Newmaster SG, Bell FW (2002) The effects of silvicultural disturbances on cryptogam diversity in the boreal-mixedwood forest. Can J Forest Res Revue Canadienne De Recherche Forestiere 32:38–51

Peck JH, Peck CJ, Farrar DR (1990) Influences of life history attributes on formation of local and distant fern populations. Am Fern J 80:126–142

Peltzer DA, Bast ML, Wilson SD, Gerry AK (2000) Plant diversity and tree responses following contrasting disturbances in boreal forest. Forest Ecol Manag 127:191–203

Penrod KA, McCormick LH (1996) Abundance of viable hay-scented fern spores germinated from hardwood forest soils at various distances from a source. Am Fern J 86:69–79

Peterson CJ, Campbell JE (1993) Microsite differences and temporal change in plant communities of treefall pits and mounds in an old-growth forest. Bull Torrey Bot Club 120:451–460

Peterson CJ, Leach AD (2008) Salvage logging after windthrow alters microsite diversity, abundance and environment, but not vegetation. Forestry 81:361–376

Peterson CJ, Pickett STA (1995) Forest reorganization: a case study in an old-growth forest catastrophic blowdown. Ecology 76:763–774

Prestemon JP, Wear DN, Stewart FJ, Holmes TP (2006) Wildfire, timber salvage, and the economics of expediency. Forest Pol Econ 8:312–322. doi:10.1016/j.forpol.2004.07.003

Rydgren K, Hestmark G, Okland RH (1998) Revegetation following experimental disturbance in a boreal old-growth Piceaabies forest. J Veg Sci 9:763–776

Rydgren K, Okland RH, Hestmark G (2004) Disturbance severity and community resilience in a boreal forest. Ecology 85:1906–1915

Sessions J, Bettinger P, Buckman R, Newton M, Hamann AJ (2004) Hastening the return of complex forests following fire: the consequences of delay. J For 102:38–45

Shimizu T (2003) Naturalized plants of Japan, 1st edn. Heibonsha, Tokyo

Soltes R, Skolek J, Homolova Z, Kyselova Z (2010) Early successional pathways in the Tatra Mountains (Slovakia) forest ecosystems following natural disturbances. Biologia 65:958–964. doi:10.2478/s11756-010-0110-y

Stahelin R (1943) Factors influencing the natural restocking of high altitude burns by coniferous trees in the central Rocky Mountains. Ecology 24:19–30

Stephenson NL (1999) Reference conditions for giant sequoia forest restoration: structure, process, and precision. Ecol Appl 9:1253–1265

Takafumi H, Hiura T (2009) Effects of disturbance history and environmental factors on the diversity and productivity of understory vegetation in a cool-temperate forest in Japan. Forest Ecol Manag 257:843–857. doi:10.1016/j.foreco.2008.10.020

Tsushima T, Kanno M, Terasawa K, Kohata Y, Abe T, Sato H, Mioka O, Hara H, AsaiT (2005) Report of the damage from typhoon no. 18 in 2004. Koushunai-Kihou. Hokkaido Forestry Research Institute, pp 1–12

Ulanova NG (2000) The effects of windthrow on forests at different spatial scales: a review. Forest Ecol Manag 135:155–167

Wyatt JL, Silman MR (2010) Centuries-old logging legacy on spatial and temporal patterns in understory herb communities. Forest Ecol Manag 260:116–124. doi:10.1016/j.foreco.2010.04.010

Yamagawa H, Ito S, Nakao T (2010) Restoration of semi-natural forest after clearcutting of conifer plantations in Japan. Landsc Ecol Eng 6:109–117. doi:10.1007/s11355-009-0088-1

Zenner EK, Berger AL (2008) Influence of skidder traffic and canopy removal intensities on the ground flora in a clearcut-with-reserves northern hardwood stand in Minnesota, USA. Forest Ecol Manag 256:1785–1794. doi:10.1016/j.foreco.2008.05.030

Zerbe S (2002) Restoration of natural broad-leaved woodland in Central Europe on sites with coniferous forest plantations. Forest Ecol Manag 167:27–42. doi:10.1016/s0378-1127(01)00686-7
Acknowledgments
This research was partially supported by a Grant-in-Aid for Scientific Research (A) (19208013, 2007–2010) from the Ministry of Education, Science, Sports, and Culture. The National Forest Service of Ishikari provided invaluable logistical support. Valuable field support and comments were provided by the members of the Laboratory of Forest Ecosystem Management, Hokkaido University.
Appendix
Appendix
Abbreviation
Species name
Tree
 AJ
Acer japonicum
 AM
Acer mono
 AP
Acer palmatum
 AS
Abies sachalinensis
 ASf
Acanthopanax sciadophylloides
 AU
Acer ukurunduense
 B
Betula spp.
 CC
Cornus controversa
 CCb
Carpinus cordata
 CJ
Cercidiphyllum japonicum
 FL
Fraxinus lanuginosa
 FM
Fraxinus mandshurica
 KP
Kalopanax pictus
 MB
Morus bombycis
 MK
Magnolia kobus
 MO
Magnolia obovata
 PA
Phellodendron amurense
 PG
Picea glehnii
 PJ
Picea jezoensis
 PM
Prunus maximowiczii
 PS
Prunus ssiori
 Q
Quercus crispula
 S
Salix spp.
 SA
Sorbus alnifolia
 SC
Sorbus commixta
 UD
Ulmus davidiana
Shrub
 AE
Aralia elata
 HP
Hydrangea paniculata
 LG
Leucothoe grayana
 PT
Pachysandra terminalis
 RI
Rubus idaeus
 SR
Sambucus racemosa
Herb
 AC
Aralia cordata
 ACt
Agrostis clavata
 AD
Aruncus dioicus
 AG
Aster glehni
 AM
Anaphalis margaritacea
 AMm
Artemisia montana
 AS
Agrostis scabra
 CA
Circaea alpina
 CH
Calamagrostis hakonensis
 CJ
Carex japonica
 CK
Cirsium kamtschaticum
 CL
Calamagrostis langsdorffii
 CM
Clinopodium micranthum
 CO
Carex oxyandra
 CP
Carex puberula
 EC
Elsholtzia ciliata
 EG
Eupatorium glehnii
 HA
Hypericum ascyron
 HE
Hypericum erectum
 JE
Juncus effusus
 JT
Juncus tenuis
 LC
Luzula capitata
 LJ
Lysimachia japonica
 LR
Lactuca raddeana
 LU
Lycopus uniflorus
 MC
Muhlenbergia curviaristata
 MD
Maianthemum dilatatum
 MH
Muhlenbergia hakonensis
 PA
Plantago asiatica
 PB
Panicum bisulcatum
 PF
Potentilla freyniana
 PH
Picris hieracioides
 PJ
Petasitis japonicus
 PL
Persicaria longiseta
 PN
Persicaria nepalensis
 PV
Patrinia villosa
 SC
Senecio cannabifolius
 SV
Solidago virgaurea
 TP
Tiarella polyphylla
 TT
Trillium tschonoskii
 VG
Viola grypoceras
 VS
Viola selkirkii
Alien species
 ag
Agrostis gigantea
 cc
Conyza canadensis
 ea
Erigeron annuus
 hm
Hypericum majus
 ob
Oenothera biennis
 pl
Panicum lanuginosum
 pt
Poa trivialis
 ra
Rumex acetosella
 sg
Solidago gigantean
 to
Taraxacum officinale
 tr
Trifolium repens
Fern
 ay
Athyrium yokoscense
 da
Dryopteris austriaca
 dc
Dryopteris crassirhizoma
 lc
Lycopodium clavatum
 lo
Lycopodium obscurum
 oc
Osmunda cinnamomea
 tn
Thelypteris nipponica
About this article
Cite this article
Morimoto, M., Morimoto, J., Moriya, Y. et al. Forest restoration following a windthrow: how legacy retention versus plantation after salvaging alters the trajectory of initial recovery. Landscape Ecol Eng 9, 259–270 (2013). https://doi.org/10.1007/s11355-012-0206-3
Received:

Revised:

Accepted:

Published:

Issue Date:
Keywords
Disturbance

Succession trajectory

Natural forest restoration

Biological legacies