Abstract
In limited-water-level reservoirs, areas along the reservoir shoreline are often exposed within the drawdown zone when water levels are reduced from normal to limited levels during the flood season. To prevent erosion and conserve the landscape, test plantings and landscaping along the shoreline have been implemented at some dam reservoirs. The establishment of vegetation within the drawdown zone contributes to both landscape and wildlife habitat conservation. Distribution, habitat, and seed-dispersal period of willows such as Salix subfragilis were investigated at Miharu Dam reservoir in northeastern Japan. Eight willow species were found around the dam, but S. subfragilis dominated within the drawdown zone. Field survey results beginning in 1995 indicate that the size of the S. subfragilis community increased after initial impoundment. Although many other Salix species disperse seeds prior to the drawdown period, S. subfragilis disperses during and after drawdown in the spring; thus, when water levels are lower than normal, its seeds are supplied to the newly exposed zones that provide suitable habitat for Salix seedling establishment. Our results suggest that S. subfragilis dominated because of water-resistant properties and timing of the seed dispersal period.
This is a preview of subscription content, log in to check access.
Access options
Buy single article
Instant access to the full article PDF.
US$ 39.95
Price includes VAT for USA
Subscribe to journal
Immediate online access to all issues from 2019. Subscription will auto renew annually.
US$ 99
This is the net price. Taxes to be calculated in checkout.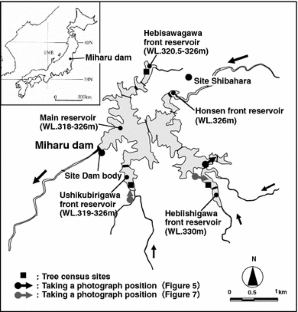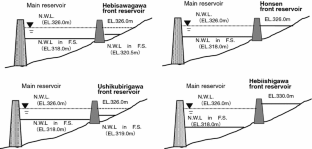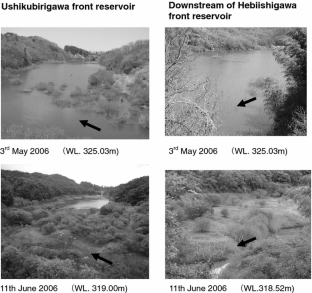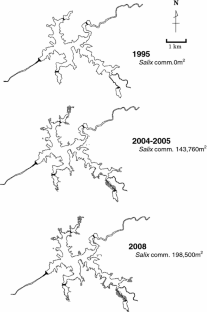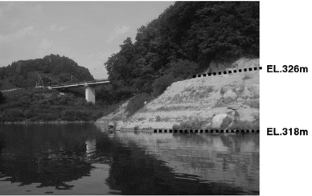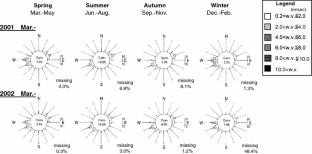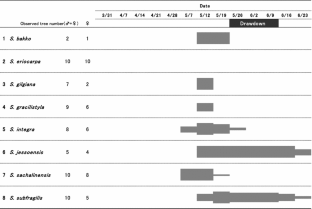 References
Azami K, Kageyama N, Ito H (2003) The impact of first filling on the composition of a forest community at the Miharu Dam reservoir, Fukushima Prefecture, northeast Japan. Veg Sci 20:71–82 (in Japanese with English summary)

Azami K, Koizumi K, Nisida S, Ohrui M (2005) The change of wind direction and velocity after first filling of water at Miharu Dam reservoir, Fukushima Prefecture, northeast Japan. Eng Dams 226:40–59 (in Japanese)

Azami K, Marutani S, Tano H, Sakai S (2007) The habitat and development of the willow community at the upstream entrance of the reservoir of the Egawa Dam. J Jpn Soc Dam Eng 17(2):116–124 (in Japanese with English summary)

Azami K, Takemoto M, Ohstuka O, Yamagishi S, Nakazawa S (2012) Meteorology and species composition of vegetation, birds, and fishes before and after initial impoundment of the Miharu Dam reservoir, Japan (REVIEW). Landsc Ecol Eng 8(1):81–105

Flora-Kanagawa Association (2001) Flora of Kanagawa 2001. The Kanagawa Prefectural Museum of Natural History (in Japanese)

Fujiwara N, Imoto I (1999) Classification of reservoir shore-level habitat for planting and selection for adjusted flora. Eng Dams 153:12–18 (in Japanese)

Fukushima flora Compilation Committee (1987) Flora of Fukushima prefecture. Fukushima, Japan (in Japanese)

Heibonsha (1989) Wild flowers of Japan woody plants. Tokyo University Publishers, Tokyo (in Japanese)

Higashi S (1979) Geo-dynamic process theory—environment estimation by vegetation distinction. Hokkaido University Press, Sapporo (in Japanese)

Higashi S, Okitani K, Takeda M (1991) Applicable species for vegetation work on the water side. Japan Forestry Society Hokkaido Branch Thesis Collection, vol 39, pp 150–152 (in Japanese)

Japan Dam Foundation (2001) Dam handbook. Tokyo, Japan (in Japanese)

Japanese Society of Pedology (1997) Soil survey handbook. Hakuyusya, Tokyo (in Japanese)

Krzyzanek E, Kasza H, Krzanowski W, Kuflikowski T, Pajak G (1986) Succession of communities in the Goczalkowice Dam reservoir in the period 1955–1982. Arch Hydrobiol 106(1):21–43

Ministry of Land, Infrastructure, Transport and Tourism, Japan, River Environment Division (2006) Guideline to planting on dam reservoir shorelines (in Japanese)

Niiyama K (1990) The role of seed dispersal and seedling traits in colonization and coexistence of Salix species in a seasonally flooding habitat. Ecol Res 5:317–331

Oliver BA (1955) Biology of the eye brook reservoir-II. The second seven years. J Inst Water Eng 9:511–519

Scott ML, Friedman JM, Auble GT (1996) Fluvial process and establishment of bottomland trees. Geomorphology 14:327–339

Tadeusz K (1971) The overgrowing of the dam reservoir at Goczalkowice in the years 1967–1969. Arch Hydrobiol 13(3):313–321

Takehara A (1989) Flowering size, flowering age and sex ratio of willow population along the Hirose River, northeast Japan. Ecol Rev 21:265–266

Yanai S, Kikuzawa K (1991) Characteristics of seed germination and seedling establishment in three Salix species demonstrated by a field germination experiment. Jpn J Ecol 41:145–148 (in Japanese)
Acknowledgments
This study was conducted with the support of the Water Resources Environment, Watershed Ecology Research Group. We thank Namiko Kageyama, Hitomi Hashimoto, Satomi Iwaya, Takaya Higuchi (OYO Corporation), Kenzo Sei (Saitama University), Chikara Imai (Green Flower), and Kenichi Matubayashi for their advice and help with data collection.
About this article
Cite this article
Azami, K., Fukuyama, A., Asaeda, T. et al. Conditions of establishment for the Salix community at lower-than-normal water levels along a dam reservoir shoreline. Landscape Ecol Eng 9, 227–238 (2013). https://doi.org/10.1007/s11355-012-0200-9
Received:

Revised:

Accepted:

Published:

Issue Date:
Keywords
Dam reservoir

Limited-water-level method

Drawdown

Salix communities

Seed dispersal