Abstract
This paper presents high temperature quasi-static and dynamic tensile testing. Samples are heated by an induction system controlled with a pyrometer. A high-speed camera (500 fps) is used to determine displacement fields with a digital image correlation software. For such tests a specific marking procedure of the sample is applied. This method is used to characterize the mechanical behaviour of a C68 high-carbon steel at temperatures up to 720 °C. Stress-strain curves are given from room temperature up to 720 °C at strain rates ranging from 400 /s to 4 × 102 /s.
This is a preview of subscription content, log in to check access.
Access options
Buy single article
Instant access to the full article PDF.
US$ 39.95
Price includes VAT for USA
Subscribe to journal
Immediate online access to all issues from 2019. Subscription will auto renew annually.
US$ 99
This is the net price. Taxes to be calculated in checkout.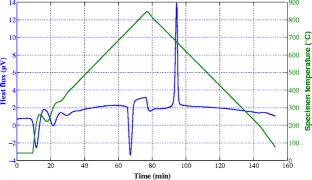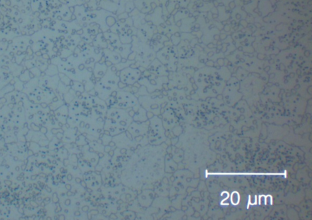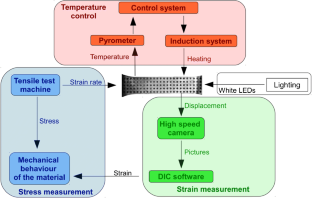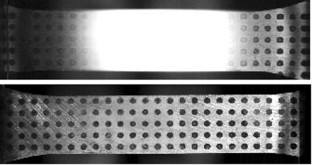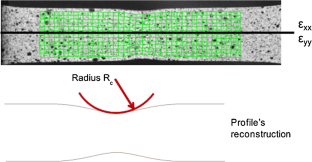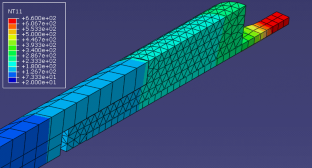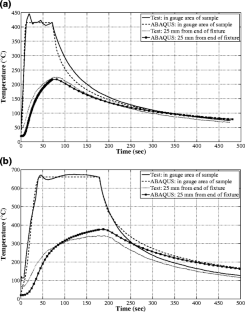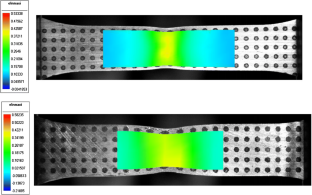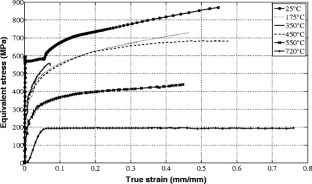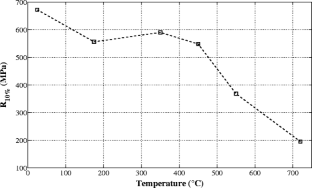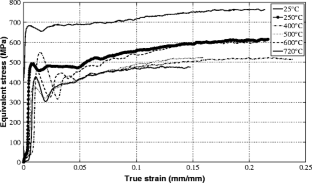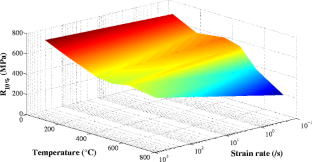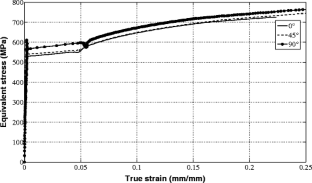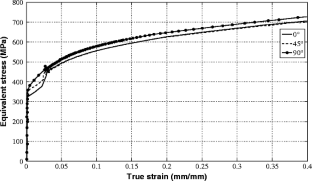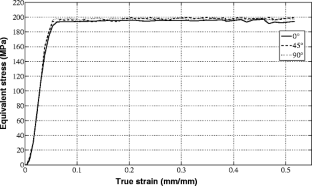 References
1.

Anwander M, Zagar B, Weiss B, Weiss H (2000) Noncontacting strain measurements at high temperatures by the digital laser speckle correlation. Exp Mech 40(1):98–105

2.

Baird J (1971) The effects of strain-ageing due to interstitial solutes on the mechanical properties of metals. Metall Rev 16(1):1–18

3.

Bridgman P (1952) Studies in large plastic flow and fracture. McGraw-Hill

4.

Chen J, Young B (2006) Stress-strain curves for stainless steel at elevated temperatures. Eng Struct 28:229–239

5.

Clausen A, Auestad T (2002) Split-Hopkinson tension bar: experimental set-up and theoretical considerations. Tech. rep, Norwegian University of Science and Technology

6.

Codrington J, Nguyen P, Ho S, Kotousov A (2009) Induction heating apparatus for high temperature testing of thermo-mechanical properties. Appl Therm Eng 29:2783–2789

7.

Dudescu C, Naumann J, Stockmann M, Nebel S (2006) Characterisation of thermal expansion coefficient of anisotropic materials by electronic speckle pattern interferometry. Strain 42(3):197–205

8.

Grant B, Stone H, Withers P, Preuss M (2009) High-temperature strain field measurement using digital image correlation. J Strain Anal Eng Des 44:263–271

9.

Harding J,Wood E, Campbell J (1960) Tensile testing of materials at impact rates of strain. J Mech Eng Sci 2(2):88–96

10.

Keh A, Nakada Y, Leslie W (1968) Dislocation Dynamics, chap. Dynamic strain aging in iron and steel. McGraw-Hill, pp 381–408

11.

Kolsky H (1949) An investigation of mechanical properties of materials at very high rates of loading. Proc Phys Soc Sect B 62:676–700

12.

Liu J, Lyons J, Sutton M, Reynolds A (1998) Experimental characterization of crack tip deformation fields in alloy 718 at high temperatures. J Eng Mater Technol 120:71–78

13.

Liu J, Sutton M, Lyons J, Deng X (1998) Experimental investigation of near crack tip creep deformation in alloy 800 at 650°C. Int J Fract 91:233–268

14.

Løckberg O, Malmo J, Slettemoen G (1985) Interferometric measurement of high temperature objects by electronic speckle pattern interferometry. Appl Opt 24(19):3167–3172

15.

Luo G, Wu J, Fan J, Shi H, Lin Y, Zhang J (2004) Deformation behaviour of an ultrahigh carbon steel (UHCS-3.0Si) at elevated temperature. Mater Sci Eng A 379:302–307

16.

Lyons J, Liu J, Sutton M (1996) High-temperature deformation measurements using digital image correlation. Exp Mech 36:64–70

17.

Pan B, Wu D, Xia Y (2010) High-temperature deformation field measurement by combining transient aerodynamic heating simulation system and reliability-guided digital image correlation. Opt Lasers Eng 48(9):841–848

18.

Post D, Wood J (1989) Determination of thermal strains by moiró interferometry. Exp Mech 29(3):318–322

19.

Raujol-Veillé J, Toussaint F, Tabourot L, Vautrot M, Balland P (2011) EF simulation of a steel thin-wall short-tube forming process. In: AIP conference proceedings, vol 1353, p 258

20.

Sène N, Balland P, Arrieux R, Moreau J (2011) Micro-deep drawing on aluminium crystals in order to validate multiscale modeling. Exp Mech 51(6):1007–1016

21.

Sène N, Balland P, Arrieux R, Vacher P (2011) Determination and validation of micro-forming limit diagrams for very thin materials. Int J Mater Form:1–8

22.

Sharpe W (2009) A high-frequency high-temperature optical strain/displacement gage. Exp Mech 50(2):227–237

23.

Spittel M, Spittel T (2009) Springer Materials - The Landolt-Börnstein Database, chap. Steel symbol/number: C67/1.0603. Springer Berlin Heidelberg

24.

Tarigopula V, Hopperstad O, Clausen A, Langseth M (2009) Effect of pre-straining on localisation and fracture of dual-phase steel at elevated rates of strain. In: DYMAT 2009-9th international conference on the mechanical and physical behaviour of materials under dynamic loading, vol 1, pp 801–807

25.

Tarigopula V, Hopperstad O, Langseth M, Clausen A, Hild F (2008) A study of localisation in dual-phase high-strength steels under dynamic loading using digital image correlation and FE analysis. Int J Solids Struct 45(2):601–619

26.

Vacher P, Dumoulin S, Morestin F, Mguil-Touchal S (1999) Bidimentional strain measurement using digital images. In: Proceedings of the institution of mechanical engineers, Journal of Mechanical Engineering Science vol 213, no 8, pp 811–817

27.

Verleysen P, Degrieck J (2004) Experimental investigation of the deformation of hopkinson bar specimens. Int J Impact Eng 30(3):239–253

28.

Vilamosa V, Clausen A, Hopperstad O, Børvik T, Skjervold S (2012) Measurement of local strain and heat propagation during high-temperature testing in a split-hopkinson tension bar system. In: EPJ web of conferences, vol 26

29.

Völkl R, Fischer B (2004) Mechanical testing of ultra-high temperature alloys. Exp Mech 44(2):121–127

30.

Völkl R, Fischer B, Beschliesser M, Glatzel U (2008) Evaluating strength at ultra-high temperatures methods and results.Mater Sci Eng A 483–484:587–589

31.

Wagner D, Moreno J, Prioul C (1998) Dynamic strain aging sensitivity of heat affected zones in C–Mn steels. J Nucl Mater 252(3):257–265

32.

Yang L, Ettemeyer A (2003) Strain measurement by threedimensional electronic speckle pattern interferometry: potentials, limitations, and applications. Opt Eng 42(5):1257–1266

33.

Zhang Z, Hauge M, Ødegård J, Thaulow C (1999) Determining material true stress-strain curve from tensile specimens with rectangular cross-section. Int J Solids Struct 36(23):3497–3516
About this article
Cite this article
Vautrot, M., Balland, P., Hopperstad, O.S. et al. Experimental Technique to Characterize the Plastic Behaviour of Metallic Materials in a Wide Range of Temperatures and Strain Rates: Application to a High-Carbon Steel. Exp Mech 54, 1163–1175 (2014). https://doi.org/10.1007/s11340-013-9839-x
Received:

Accepted:

Published:

Issue Date:
Keywords
High temperature

High strain rate

High-carbon steel