Abstract
Bridge static and dynamic vibration monitoring is a key activity for both safety and maintenance purposes. The development of vision-based systems allows to use this type of devices for remote estimation of a bridge vibration, simplifying the measuring system installation. The uncertainty of this type of measurements is strongly related to the experimental conditions (mainly the pixel-to-millimeters conversion, the target texture, the camera characteristics and the image processing technique). In this paper two different types of cameras are used to monitor the response of a bridge to a train pass-by. The acquired images are analyzed using three different image processing techniques (Pattern Matching, Edge Detection and Digital Image Correlation) and the results are compared with a reference measurement, obtained by a laser interferometer providing single point measurements. Tests with different zoom levels are shown and the corresponding uncertainty values are estimated. As the zoom level decreases it is possible not only to measure the displacement of one point of the bridge, but also to grab images from a wide structure portion in order to recover displacements of a large number of points in the field of view. The extreme final solution would be having wide area measurements with no targets, to make measurements really easy, with clear advantages, but also with some drawbacks in terms of uncertainty to be fully comprehended.
This is a preview of subscription content, log in to check access.
Access options
Buy single article
Instant access to the full article PDF.
US$ 39.95
Price includes VAT for USA
Subscribe to journal
Immediate online access to all issues from 2019. Subscription will auto renew annually.
US$ 99
This is the net price. Taxes to be calculated in checkout.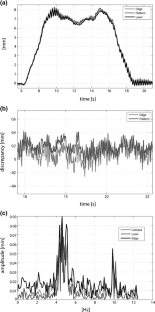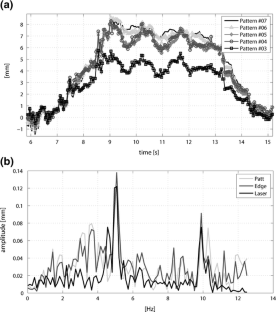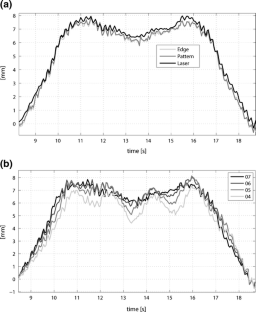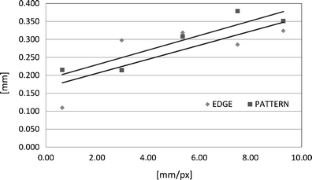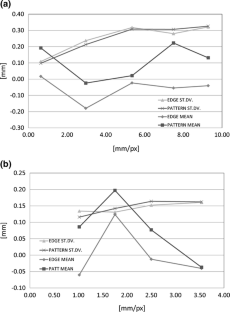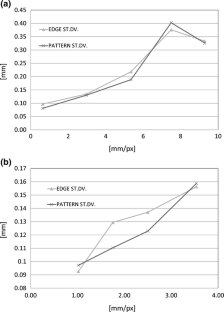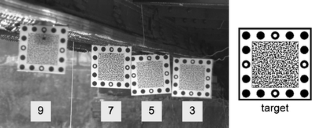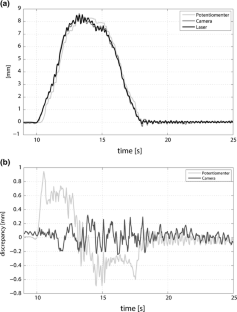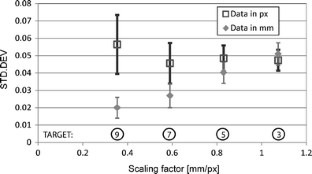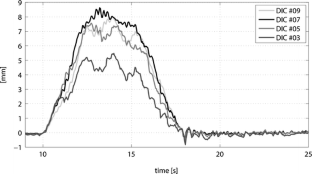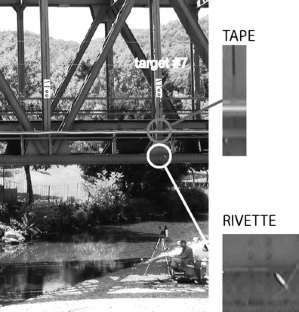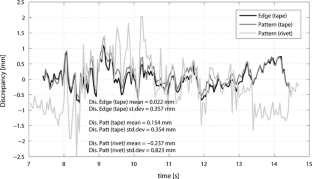 References
1.

Lee J, Fukuda Y, Shinozuka M, Cho S, Yun C (2007) Development and application of a vision-based displacement measurement system for structural health monitoring of civil structures. Smart Struct Syst 3:373–384

2.

Morlier J, Salom P, Bos F (2007) New image processing tools for structural dynamic monitoring. Key Eng Mater 347:239–244

3.

Warren C, Pingle P, Niezrecki C, Avitabile P (2011) Comparison of image based, laser, and accelerometer measurements, structural dynamics. Conf Proc Soc Exp Mech Ser 15(PART 1)

4.

Kim SW, Kim NS, Kim Y-M (2012) Application of vision-based monitoring system to stay cables. In: Biondini F and Frangopol DM (eds) Bridge Maintenance, Safety, Management, Resilience and Sustainability: Proceedings of the Sixth International IABMAS Conference, Stresa, Lake Maggiore, Italy, 8–12 July 2012. Taylor & Francis Ltd, pp. 1116–1123

5.

Lee J, Shinozuka M (2006) Real-time displacement measurement of a flexible bridge using digital image processing techniques. Exp Mech 46:105–114

6.

JCGM (2008) Evaluation of measurement data-Guide to the expression of uncertainty in measurement

7.

Wang S, Guan B, Wang G, Li Q (2007) Measurement of sinusoidal vibration from motion blurred images. Pattern Recogn Lett 28:1029–1040

8.

Kim S, Kim H, Lee C, Kim S (2006) A vision system for identifying structural vibration in civil engineering constructions. SICE-ICASE, 2006. International Joint Conference. IEEE Proceedings, Busan Exhibition & Convention Center-BEXCO, Busan, pp 5813–5818

9.

Fukuda Y (2010) Cost • effective vision • based system for monitoring dynamic response of civil engineering structures. Struct Control Heal Monit 17:918–936

10.

Olaszek P (1999) Investigation of the dynamic characteristic of bridge structures using a computer vision method. Meas: J Int Meas Confed 25:227–236

11.

Busca G, Cigada A, Mazzoleni P, Zappa E, Franzi M (2012) Cameras as displacement sensors to get the dynamic motion of a bridge: performance evaluation against traditional approaches. In: Biondini F and Frangopol DM (eds) Bridge Maintenance, Safety, Management, Resilience and Sustainability: Proceedings of the Sixth International IABMAS Conference, Stresa, Lake Maggiore, Italy, 8–12 July 2012. Taylor & Francis Ltd, pp. 2835–2841

12.

Wahbeh A, Caffrey J, Masri S (2003) A vision-based approach for the direct measurement of displacements in vibrating systems. Smart Mater Struct 12:785–794

13.

Petrauskiene V, Aleksa A, Fedaravicius A, Ragulskis M (2012) Dynamic visual cryptography for optical control of vibration generation equipment. Opt Lasers Eng 50:869–876

14.

Ragulskis M (2005) Identification of in-plane vibrations using time average stochastic moiré. Exp Tech 29:41–45

15.

Ragulskis M, Sanjuan M, Saunoriene L (2007) Applicability of time-average moiré techniques for chaotic oscillations. Phys Rev E 76:036208–036214

16.

Lee J, Shinozuka M (2006) A vision-based system for remote sensing of bridge displacement. NDT E Int 39:425–431

17.

Caetano E, Silva S, Bateira J (2011) A vision system for vibration monitoring of civil engineering structures. Exp Tech 35:74–82

18.

Busca G, Cigada A, Zappa E (2012) Dynamic characterization of flexible structures through vision-based vibration measurements. Conf Proc Soc Exp Mech Ser 1:189–196

19.

Kohut P, Kurowski P (2009) Application of modal analysis supported by 3D vision-based measurements. J Theor Appl Mech 47:855–870

20.

Iadicola MA, Zobel RS, Ocel JM (2012) Quantitative evaluation of digital image correlation as applied to large scale gusset plate experiments. In: Biondini F and Frangopol DM (eds) Bridge Maintenance, Safety, Management, Resilience and Sustainability: Proceedings of the Sixth International IABMAS Conference, Stresa, Lake Maggiore, Italy, 8–12 July 2012. Taylor & Francis Ltd, pp. 1436–1443

21.

Bell ES, Peddle JT, Goudreau A (2012) Bridge Condition Assessment using Digital Image Correlation and Structural Modeling. In: Biondini F and Frangopol DM (eds) Bridge Maintenance, Safety, Management, Resilience and Sustainability: Proceedings of the Sixth International IABMAS Conference, Stresa, Lake Maggiore, Italy, 8–12 July 2012. Taylor & Francis Ltd, pp. 330–337

22.

Ji Y, Chang C (2008) Nontarget image-based technique for small cable vibration measurement. J Bridg Eng 13:34–42

23.

Ji YF, Zhang QW (2012) A novel image-based approach for structural displacement measurement. In: Biondini F and Frangopol DM (eds) Bridge Maintenance, Safety, Management, Resilience and Sustainability: Proceedings of the Sixth International IABMAS Conference, Stresa, Lake Maggiore, Italy, 8–12 July 2012. Taylor & Francis Ltd, pp. 407–414

24.

Ji Y (2010) A computer vision-based approach for structural displacement measurement. In: Tomizuka M (ed) Sensors and Smart Structures Technologies for Civil, Mechanical, and Aerospace Systems 2010. SPIE Proceedings, San Diego, pp 1850–1856

25.

Fukuda Y, Feng M, Narita Y (2010) Vision-based displacement sensor for monitoring dynamic response using robust object search algorithm. Sensors, 2010 IEEE. IEEE Proceedings, pp. 1928–1931

26.

Lu C, Hager G, Mjolsness E (2000) Fast and globally convergent pose estimation from video images. IEEE Trans Pattern Anal Mach Intell 22:610–622

27.

Pisinger G, Maier G (2009) Re-projective pose estimation of a planar prototype. In: Gagalowicz A and Philips W (eds) Computer Vision/Computer Graphics CollaborationTechniques—4th International Conference, MIRAGE 2009, Rocquencourt, France, May 4–6, 2009. Proceedings. Springer Berlin Heidelberg, pp. 82–93

28.

Wang H, Xiang M, You H, Wei L, Wu Y (2009) Precision relative pose estimation at close range using single camera and laser range finder. In: Shenghua Y, Guangjun Z, Jun N (eds) International Conference on Optical Instruments and Technology: Optoelectronic Measurement Technology and Applications. SPIE Proceedings, Beijing, pp 1239–1246

29.

Zappa E, Pezzola M, Mazzoleni P, Ruspini E, Cheli F, Giappino S (2011) Vision system for the measurement of the rider posture during motorbike riding. 22nd International Sympusium on Dynamics of Vehicles on Road and Tracks, IAVSD. Manchester, UK

30.

Chang C, Xiao X (2009) Three-dimensional structural translation and rotation measurement using monocular videogrammetry. J Eng Mech 136:840–848

31.

Cantatore A, Cigada A, Sala R, Zappa E (2009) Hyperbolic tangent algorithm for periodic effect cancellation in sub-pixel resolution edge displacement measurement. Meas: J Int Meas Confed 42:1226–1232

32.

Cigada A, Sala R, Zappa E (2003) On the reduction of sub-pixel error in image based displacement measurement. XVII IMEKO World Congress. Metrology in Metrology in the 3rd Millenium. IMECO Proceedings, Dubrovnik

33.

Sutton M, Orteu J, Schreier H (2009) Image correlation for shape, motion and deformation measurements: Basic Concepts, Theory and Applications. Springer

34.

Wang Y, Sutton M, Bruck H, Schreier H (2009) Quantitative error assessment in pattern matching: effects of intensity pattern noise, interpolation, strain and image contrast on motion measurements. Strain 45:160–178

35.

Pan B, Lu Z, Xie H (2010) Mean intensity gradient: an effective global parameter for quality assessment of the speckle patterns used in digital image correlation. Opt Lasers Eng 48:469–477

36.

Lecomptea D, Solb H, Vantommea J, Habrakenc A (2006) Analysis of speckle patterns for deformation measurements by digital image correlation. Speckle06: Speckles, From Grains to Flowers. Proc SPIE 6341:63410E1–63410E6

37.

Wang Y, Sutton M, Bruck H, Schreier H (2009) Quantitative error assessment in pattern matching: effects of intensity pattern noise, interpolation, strain and image contrast on motion measurements. Strain

38.

Waterfall PW, Macdonald JHG, McCormick NJ (2012) Targetless Precision Monitoring of Road and Rail Bridges Using Video Cameras. In: Biondini F and Frangopol DM (eds) Bridge Maintenance, Safety, Management, Resilience and Sustainability: Proceedings of the Sixth International IABMAS Conference, Stresa, Lake Maggiore, Italy, 8–12 July 2012. Taylor & Francis Ltd, pp. 3976–3983

39.

Ray SF, Atteridge GG, Axford NR (2000) The geometry of image formation. Focal Press, Oxford
About this article
Cite this article
Busca, G., Cigada, A., Mazzoleni, P. et al. Vibration Monitoring of Multiple Bridge Points by Means of a Unique Vision-Based Measuring System. Exp Mech 54, 255–271 (2014). https://doi.org/10.1007/s11340-013-9784-8
Received:

Accepted:

Published:

Issue Date:
Keywords
Vision

Bridges

Dynamics

Monitoring

Uncertainty