Abstract
Examining a biological flapping-flight mechanism as a mechanical system provides valuable insight related to the development and construction of Flapping-Wing Micro Air Vehicles (FWMAVs). This paper presents two methods for the mechanical evaluation of the biological flight mechanism in the hawkmoth Manduca sexta (M.sexta). A method for analyzing the static response of the thorax under vertical compression, representing the contraction of the Dorso-Ventral Muscles (DVMs) which power wing elevation, was developed and applied to characterize the relationship between the action of the DVMs and the subsequent thoracic compression and wing elevation. The results have been applied to the evaluation of Finite Element (FE) models of M.sexta's thorax. In addition, nanoindentation was used to determine an average elastic modulus of 5 GPa for the tergal plate (or tergum) of the thoracic exoskeleton, an energy-storing component which bends during flight and supports one end of the DVMs and both ends of the DLMs.
This is a preview of subscription content, log in to check access.
Access options
Buy single article
Instant access to the full article PDF.
US$ 39.95
Price includes VAT for USA
Subscribe to journal
Immediate online access to all issues from 2019. Subscription will auto renew annually.
US$ 99
This is the net price. Taxes to be calculated in checkout.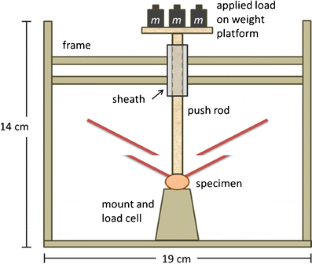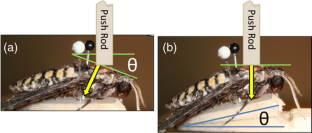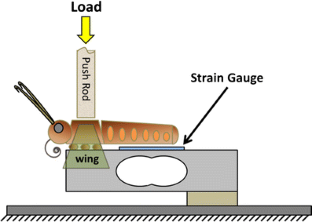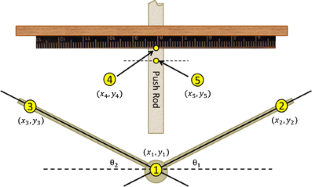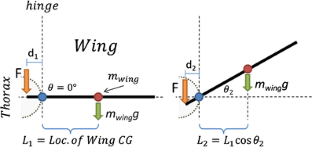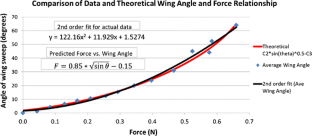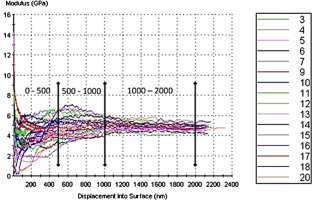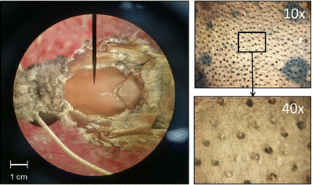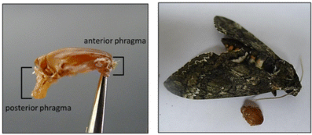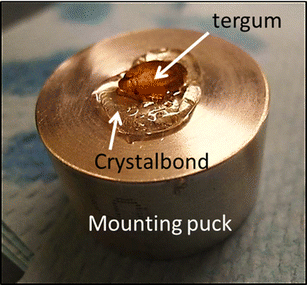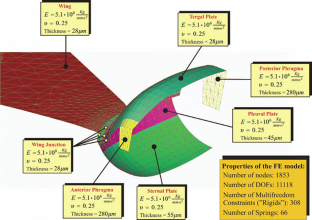 References
1.

Stevenson R, Josephson R (1990) Effects of operating frequency and temperature on mechanical power output form moth flight muscle. J Exp Biol 149:61–78

2.

Demasi L, Palazotto A, Hollenbeck A (April 2012) "Exploratory Structural Investigation of a Hawkmoth-Inspired MAV's Thorax," in 53rd Structures, Structural Dynamics and Materials Conference (SDM), Honolulu HI

3.

Tubbs T (2011) "Biological Investigation of the Stimulated Flapping Motions of the Moth, Manduca Sexta," MS thesis, Department of Aeronautics and Astronautics, Air Force Institute of Technology, Wright-Patterson AFB OH

4.

Hoffmann K (1989) An introduction to measurements using strain gages. Hottinger Baldwin Messtechnik GmbH, Darmstadt

5.

loadcelltheory.com (2012) [Online]. Available: http://www.loadcelltheory.com/loadCellTheory.html

6.

Omega (2012) "The Strain Gage" [Online]. Available: www.omega.com/literature/volume3/strain2.html.

7.

Casey T (1981) A comparison of mechanical and energetic estimates of flight cost for hovering sphinx moths. J Exp Biol 91:117–129

8.

Hollenbeck A, Palazotto A (2012) Methods used to evaluate the hawkmoth (Manduca sexta) as a flapping-wing-micro-Air-vehicle. Int J Micro Air Vehicles 4(2):119–132

9.

Hollenbeck A (March 2012) "Evaluation of the Thorax of Manduca sexta for Flapping-Wing Micro Air Vehicle Applications," MS thesis, Department of Aeronautics and Astronautics, Air Force Institute of Technology, Wright-Patterson AFB, Ohio

10.

Sun J, Tong J, Zhou J (2006) Application of nano-indenter for investigation of the properties of the elytra cuticle of the dung beetle (Copris ochus Motschulsky). IEE-Nanobiotechnology 153(5):129–133

11.

Barbakedze N, Enders S, Gorb S, Arzt E (2006) Local mechanical properties of the head articulation cuticle in the beetle panchnoda marginata (Coleoptera, Scarabaeidae). J Exp Biol 209(4):722–730

12.

Enders S, Barbakadse N, Gorb S, Arzt E (2004) Exploring biological surfaces by nanoindentation. Mater Res Soc 19(3):880–887

13.

MTS (2007) Nano Indenter G200 User's Manual, Doc. No. G2A-13192-0

14.

Vincent JF, Wegst UG (2004) Design and mechanical properties of insect cuticle. Arthropod Struct Dev 33(3):187–189

15.

Dickinson M (2012) "Mechanical Properties of an Arthropod Exoskeleton" [Online]. Available: www.hysitron.com/LinkClick.aspx?fileticket=x-hOMSdlj3E%3d&tabid=324

16.

Demasi L, Palazotto A, Hollenbeck A, Cavallaro R (2012) Exploratory sturctural investigation of a hawkmoth-inspired MAV's thorax. Int J Micro Air Vehicles 4(4):291–303
Acknowledgements
The authors would like to thank Dr. Douglas Smith of the Air Force Office of Scientific Research for financially supporting this effort.
About this article
Cite this article
Hollenbeck, A.C., Palazotto, A.N. Mechanical Characterization of Flight Mechanism in the Hawkmoth Manduca Sexta . Exp Mech 53, 1189–1199 (2013). https://doi.org/10.1007/s11340-013-9726-5
Received:

Accepted:

Published:

Issue Date:
Keywords
Manduca

Thorax

MAV

Flapping-wing

Nanoindentation

Bio-inspired