Abstract
Mechanical strain relief techniques for estimating the magnitude of residual stress work by measuring strains or displacements when part of the component is machined away. The underlying assumption is that such strain or displacement changes result from elastic unloading. Unfortunately, in components containing high levels of residual stress, elastic-plastic unloading may well occur, particularly when the residual stresses are highly triaxial. This paper examines the performance of one mechanical strain relief technique particularly suitable for large section components, the deep hole drilling (DHD) technique. The magnitude of error is calculated for different magnitudes of residual stress and can be substantial for residual stress states close to yield. A modification to the technique is described to allow large magnitudes of residual stress to be measured correctly. The new technique is validated using the case of a quenched cylinder where use of the standard DHD technique leads to unacceptable error. The measured residual stresses using the new technique are compared with the results obtained using the neutron diffraction technique and are shown to be in excellent agreement.
This is a preview of subscription content, log in to check access.
Access options
Buy single article
Instant access to the full article PDF.
US$ 39.95
Price includes VAT for USA
Subscribe to journal
Immediate online access to all issues from 2019. Subscription will auto renew annually.
US$ 99
This is the net price. Taxes to be calculated in checkout.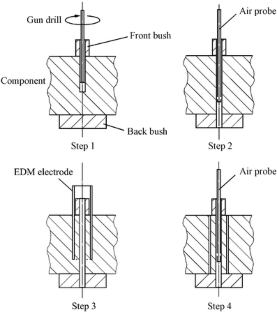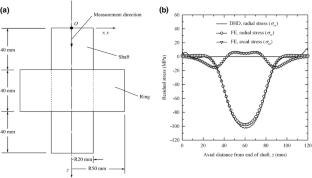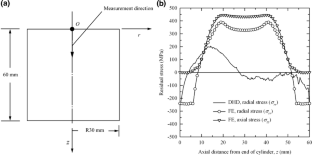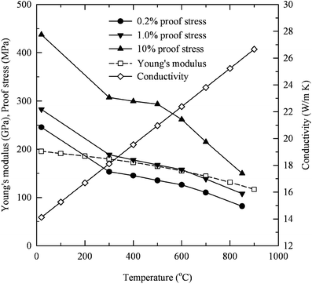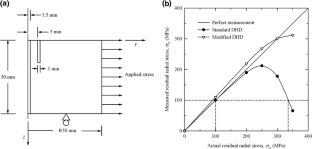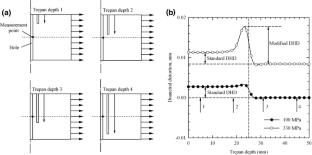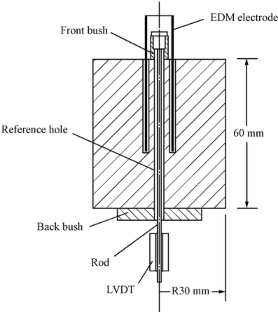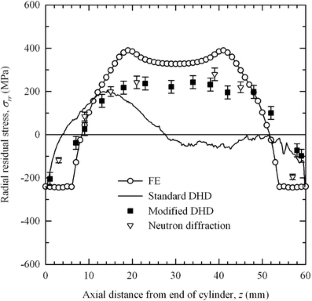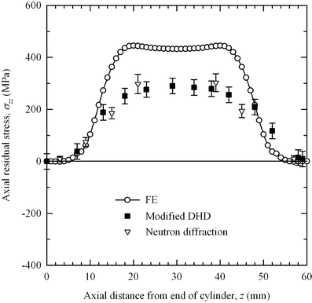 References
1.

Mahmoudi AH, Truman CE, Smith DJ (2008) Using local out-of-plane compression (LOPC) to study the effects of residual stress on apparent fracture toughness. Eng Fract Mech 75:1516–1534.

2.

Smith DJ (2003) The influence of the prior loading on structural integrity, 7, chapter 9. In: Ainsworth RA, Schwalbe KH (eds) Comprehensive structural integrity. Elsevier, London.

3.

Withers PJ, Bhadeshia HKDH (2001) Residual stresses, part 1—measurement techniques. Mater Sci Technol 174:355–365.

4.

Schajer GS (1998) Measurement of non-uniform residual stresses using the hole drilling method part I and part II. J Eng Mater Technol 1104:338–349.

5.

Cheng W, Finnie I (1986) Measurement of residual hoop stresses in cylinders using the compliance method. Trans ASME J Eng Mater Technol 1082:87–92.

6.

Lee MJ, Hill MR (2007) Effect of strain gage length when determining residual stress by slitting. J Eng Mater Technol 1291:143–150. doi:10.1115/1.2400263.

7.

Garcia-Granada AA, Smith DJ, Pavier MJ (2000) A new procedure based on Sachs boring for measuring non-axisymmetric residual stresses. Int J Mech Sci 426:1027–1047. doi:10.1016/S0020-7403(99)00039-9.

8.

Rosenthal D, Norton JT (1945) A method of measuring triaxial residual stresses in plates. J Weld Res 24Suppl:295–307.

9.

Zhdanov IM, Gonchar AK (1978) Determination of welding residual stresses at a depth in metals. Autom Weld 319:22–24.

10.

Beaney EM (1978) Measurement of sub-surface stresses. CEBG Report No. RD/B/N 4323.

11.

Smith DJ, Bonner NW (1994) Measurement of residual stresses in a thick section steel weld. In: Edward JH, Kerr J, Stanely P (eds) Engineering integrity assessment. Engineering Materials Advisory Services Chamelon Press, Birmingham, pp 259–274.

12.

Bonner NW (1996) Measurement of residual stresses in thick steel Welds. PhD thesis, University of Bristol.

13.

Mahmoudi AH, Stefanescu D, Hossain S, Truman CE, Smith DJ (2006) Measurement and prediction of residual stress field generated by side-punching. J Eng Mater Technol 1283:451–459. doi:10.1115/1.2203103.

14.

Bateman MG, Miller OH, Palmer TJ, Breen CEP, Kingston EJ, Smith DJ et al (2005) Measurement of residual stress in thick section composite laminates using the deep-hole method. Int J Mech Sci 4711:1718–1739. doi:10.1016/j.ijmecsci.2005.06.011.

15.

George D, Kingston E, Smith DJ (2002) Measurement of through thickness stresses using small holes. J Strain Anal 372:125–139. doi:10.1243/0309324021514899.

16.

Kingston EJ, Stefanescu D, Mahmoudi AH, Truman CE, Smith DJ (2006) Novel applications of the deep-hole drilling technique for measuring through-thickness residual stress distributions. J ASTM International 3(4). doi:10.1520/JAI12568.

17.

Lin YC, Chou CP (1995) Error induced by local yielding around hole in hole drilling method for measuring residual stress of materials. J Mar Sci Technol 116:600–604.

18.

Gibmeier J, Kornmeier M, Scholtes B (2000) Plastic deformation during application of the hole drilling method. Mat Sci Forum 347–349:131–136.

19.

Vangi D, Ermini M (2000) Plasticity effects in residual stress measurement by the hole drilling method. Strain 362:255–259.

20.

Beghini M, Bertini L (2000) Analytical expressions of the influence functions for accuracy and versatility improvement in the hole drilling method. J Strain Anal 352:125–135. doi:10.1243/0309324001514071.

21.

Beghini M, Bertini L, Raffaelli P (1994) Numerical analysis of plasticity effects in the hole-drilling residual stress measurement. J Test Eval 226:522–529.

22.

Prime MB (2001) Cross-sectional mapping of residual stresses by measuring the surface contour after a cut. J Eng Mater Technol 1232:162–168. doi:10.1115/1.1345526.

23.

Shin SH (2005) FEM analysis of plasticity-induced error on measurement of welding residual stress by the contour method. J Mech Sci Technol 1910:1885–1890.

24.

Mahmoudi AH, Pavier MJ, Truman CE, Smith DJ (2007) Accurate measurement of highly triaxial residual stresses. Proceedings of the Society for Experimental Mechanics (SEM) Conference, Springfield, Massachusetts, USA, CD.

25.

Smith DJ, Bouchard PJ, George D (2000) Measurement and prediction of residual stresses in thick section steel welds. J Strain Anal 354:287–305. doi:10.1243/0309324001514422.

26.

Kingston E (2003) Advances in the deep hole drilling technique for residual stress measurement. PhD thesis, University of Bristol.

27.

ABAQUS Users Manuals, version 6.4 (2006) Hibbit Karlsson, Sorenson Inc., 1080 Main street, Pawtucket RI, 02860-4847, USA

28.

Hossain S (2005) Residual stresses under conditions of high triaxiality. PhD thesis, University of Bristol.

29.

Fitzpatrick ME, Lodini A (2003) Analysis of residual stress by diffraction using neutron and synchrotron radiation. Taylor and Francis, London.
Acknowledgements
The work described here was a result of a joint project with the University of Oxford and was sponsored by EPSRC under grant number GR/T10558/01. The neutron diffraction work was supported by Dr E Oliver at ISIS. Prof Smith acknowledges the support of a Royal Society Wolfson Merit award.
About this article
Cite this article
Mahmoudi, A.H., Hossain, S., Truman, C.E. et al. A New Procedure to Measure Near Yield Residual Stresses Using the Deep Hole Drilling Technique. Exp Mech 49, 595–604 (2009). https://doi.org/10.1007/s11340-008-9164-y
Received:

Accepted:

Published:

Issue Date:
Keywords
Residual stress

Finite element analysis

Deep hole drilling

Plasticity