Abstract
In the United States, an estimated 100,000 anterior cruciate ligament (ACL) injuries occur every year. Despite decades of research, to this date, the mechanism or mechanisms of non-contact ACL injuries are not well understood. This is primarily because trials cannot be conducted on live subjects to understand the injury mechanism, and it is difficult to instrument a live human knee to measure the response of tissues during dynamic activities. In this paper, we present a dynamic knee injury simulator capable of in-vitro modeling of the ACL injury during jump-landing activity. This system was used to simulate jump-landing on cadaveric knees and to successfully test which conditions would result in isolated ACL injury. A restricted flexion of the hip (a hip that flexes minimally or not at all during landing), combined with low quadriceps and hamstring force levels during landing were found to be conducive to ACL injury. Elevated levels of quadriceps force prevented the injury from occurring even under restricted hip flexion conditions. The measured strain rates in the ACL tissue during injury causing activities were over 250%/s.
This is a preview of subscription content, log in to check access.
Access options
Buy single article
Instant access to the full article PDF.
US$ 39.95
Price includes VAT for USA
Subscribe to journal
Immediate online access to all issues from 2019. Subscription will auto renew annually.
US$ 99
This is the net price. Taxes to be calculated in checkout.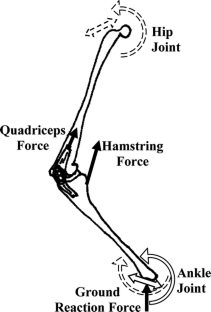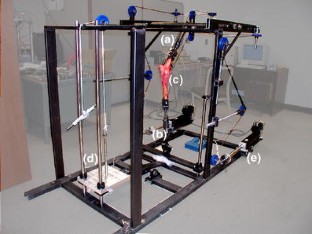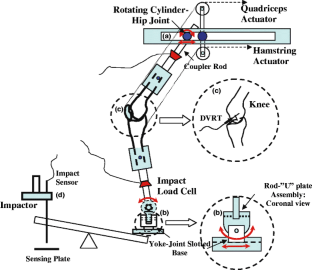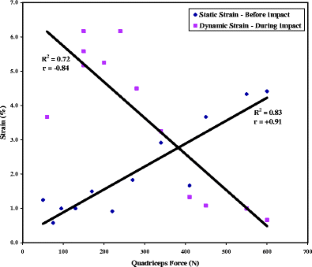 References
1.

Hewett TE, Myer GD, Ford KR (2006) Anterior cruciate ligament injuries in female athletes. Am J Sports Med 34:299–311.

2.

Zernick RF, Garhammer J, Jobe FW (1977) Human patellar tendon rupture. J Bone Jt Surg Am 34:312–315.

3.

DeMorat G, Weinhold P, Blackburn T, Chudik S, Garrett W (2004) Aggressive quadriceps loading can induce noncontact anterior cruciate ligament injury. Am J Sports Med 32:477–483.

4.

Withrow TJ, Huston LJ, Wojtys EM, Ashton-Miller JA (2006) The relationship between quadriceps muscle force, knee flexion, and anterior cruciate ligament strain in an in-vitro simulated jump landing. Am J Sports Med 34:269–74.

5.

Maletsky LP, Hillberry BM (2005) Simulating dynamic activities using a five-axis knee simulator. J Biomech Eng 127:123–133.

6.

Renstrom P, Arms SW, Stanwyck TS, Johnson RJ, Pope MH (1986) Strain within the anterior cruciate ligament during hamstring and quadriceps activity. Am J Sports Med 14:83–87.

7.

Durselen L, Claes L, Kiefer H (1995) The influence of muscle forces and external loads on cruciate ligament strain. Am J Sports Med 23:129–136.

8.

Draganich LF, Vahey JW (1990) An in-vitro study of anterior cruciate ligament strain induced by quadriceps and hamstring forces. J Orthop Res 8:57–63.

9.

Aune AK, Cawley PW, Ekeland A (1997) Quadriceps muscle contraction protects the anterior cruciate ligament during anterior tibial translation. Am J Sports Med 25:187–190.

10.

Bodor M (2001) Quadriceps protects the anterior cruciate ligament. J Orthop Res 19:629–633.

11.

Nyland JA, Shapiro R, Stine RL, Horn TS, Ireland ML (1994) Relationship of fatigued run and rapid stop to ground reaction forces, lower extremity kinematics, and muscle activation. J Orthop Sports Phys Ther 20:132–137.

12.

Nyland JA, Shapiro R, Caborn DNM, Nitz AJ, Malone TR (1997) The effect of quadriceps femoris, hamstring, and placebo eccentric fatigue on knee and ankle dynamics during crossover cutting. J Orthop Sports Phys Ther 25:171–184.

13.

Yu B, Lin C, Garrett WE (2006) Lower extremity biomechanics during the landing of a stop-jump task. Clin Biomech 21:297–305.
About this article
Cite this article
Hashemi, J., Chandrashekar, N., Jang, T. et al. An Alternative Mechanism of Non-contact Anterior Cruciate Ligament Injury During Jump-landing: In-vitro Simulation. Exp Mech 47, 347–354 (2007). https://doi.org/10.1007/s11340-007-9043-y
Received:

Revised:

Accepted:

Published:

Issue Date:
Keywords
Anterior Cruciate Ligament (ACL)

Quadriceps

Jump-landing

Strain

Strain rate

ACL failure