Abstract
Background
This study aimed to determine the differences in physiological profiles and bone health status of Malay adolescent male state boxing, Muay Thai and silat athletes.
Methods
Forty participants with mean age 16.7 ± 1.5 years participated in this study. They were divided into four groups, i.e., sedentary control, boxing, Muay Thai and silat groups with 10 participants per group. Participants' lung capacity, estimated maximal oxygen uptake (VO2max), Wingate anaerobic capacity, isokinetic muscular peak torque (strength) and power, hand-grip strength, back and leg strength, explosive power, agility, static balance and flexibility were measured. Bone sonometer was used to measure tibial and radial bone speed of sound (SOS). The research approach employed was purposive method and the duration for completing data collection was 3 months.
Results
The result of the present study showed that boxing athletes exhibited significantly (p < 0.05) greater arm isokinetic muscular strength and power than silat athletes, and greater arm isokinetic muscular power than Muay Thai athletes respectively. Boxing athletes also showed significantly (p < 0.05) higher estimated VO2max compared to silat athletes. Muay Thai athletes exhibited significantly (p < 0.05) greater radial bone SOS value compared to sedentary controls.
Conclusions
The Malay male adolescent boxing athletes had greater arm isokinetic muscular performance than their silat and Muay Thai counterparts. Boxing athletes also showed better aerobic fitness compared to silat athletes. In addition, Muay Thai athletes had better bone health status than sedentary individuals. This study provides new scientific information on physiological profiles and bone health status of Malay adolescent male state boxing, Muay Thai and silat athletes in the field of martial arts.
This is a preview of subscription content, log in to check access.
Access options
Buy single article
Instant unlimited access to the full article PDF.
US$ 39.95
Price includes VAT for USA
Subscribe to journal
Immediate online access to all issues from 2019. Subscription will auto renew annually.
US$ 99
This is the net price. Taxes to be calculated in checkout.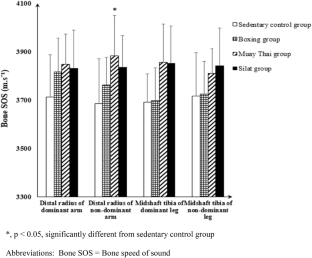 References
1.

Bu B, Haijun H, Yong L, Chaohui Z, Xiaoyuan Y, Singh MF (2010) Effects of martial arts on health status: a systematic review. J Evid Based Med 3(4):205–219

2.

Andreato LV, Branco BH (2016) Different sports, but the same physical and physiological profiles? Sports Med 46(12):1963–1965

3.

Khanna GL, Manna I (2006) Study of physiological profile of Indian boxers. J Sports Sci Med 5(CSSI):90–98

4.

Aziz AR, Tan B, Teh KC (2002) Physiological responses during matches and profile of elite pencak silat exponents. J Sports Sci Med 1(4):147–155

5.

Turner AN (2009) Strength and conditioning for Muay Thai athletes. Strength Cond J 31(6):78–92

6.

Guidetti L, Musulin A, Baldari C (2002) Physiological factors in middleweight boxing performance. J Sports Med Phys Fitness 42(3):309–314

7.

Cappai I, Pierantozzi E, Tam E, Tocco F, Angius L, Milia R, Squatrito S, Concu A, Crisafulli A (2012) Physiological responses and match analysis of Muay Thai fighting. Int J Perf Anal Sport 12(3):507–516

8.

Crisafulli A, Vitelli S, Cappai I, Milia R, Tocco F, Melis F, Concu A (2009) Physiological responses and energy cost during a simulation of a Muay Thai boxing match. Appl Physiol Nutr Metab 34(2):143–150

9.

Shapie MN, Oliver J, O'Donoghue P, Tong R (2013) Activity profile during action time in national silat competition. JCSMA 4(1):75–79

10.

Buśko K (2016) Comparison of muscle strength in male combat sport athletes. Pol J Sport Tourism 23(4):186–189

11.

Njeh CF, Fuerst T, Diessel E, Genant HK (2001) Is quantitative ultrasound dependent on bone structure? A reflection. Osteoporos Int 12(1):1–5

12.

Sahrir NA, Ooi FK, Chen CK, Kyi WM, Osman JM (2018) Bone metabolism in response to oat bran consumption and jogging exercise in young sedentary males. Sport Sci Health 14(1):135–142

13.

Ooi FK, Singh R, Singh H (2009) Jumping exercise and bone health: Beneficial effects of jumping exercise on bone health. VDM Verlag Dr. Muller, Germany

14.

Leinonen H (2013) Are martial arts good for strengthening bones? IQ Journal 2(1):37–48

15.

Ito IH, Mantovani AM, Agostinete RR, Junior PC, Zanuto EF, Christofaro DG, Ribeiro LP, Fernandes RA (2016) Practice of martial arts and bone mineral density in adolescents of both sexes. Rev Paul Pediatr (English Edition) 34(2):210–215

16.

Pincivero DM, Lephart SM, Karunakara RA (1997) Reliability and precision of isokinetic strength and muscular endurance for the quadriceps and hamstrings. Int J Sports Med 18(02):113–117

17.

Li X, Ooi FK, Chen CK, Hussaini MHM, Zilfalil BA, Juhara H (2017) Relationships between quantitative ultrasound measurement of the bone of lower limbs, muscular performance and anaerobic capacities in Malay university students. JPES 17(4):2097–2104

18.

Hachana Y, Chaabene H, Nabli MA, Attia A, Moualhi J, Farhat N, ElloumI M (2013) Test-retest reliability, criterion-related validity, and minimal detectable change of the Illinois agility test in male team sport athletes. J Strength Cond Res 27(10):2752–2759

19.

Panta K, Arulsingh W, Raj JO, Sinha M, Rahman M (2015) A study to associate the Flamingo test and the Stork test in measuring static balance on healthy adults. FAOJ 8(3):4

20.

Mayorga-Vega D, Merino-Marban R, Jesús Viciana J (2014) Criterion-related validity of sit-and-reach tests for estimating hamstring and lumbar extensibility: a meta-analysis. J Sports Sci Med 13:1–14

21.

Davis P, Wittekind A, Beneke R (2013) Amateur boxing: activity profile of winners and losers. Int J Sports Physiol Perform 8(1):84–92

22.

Myers T, Balmer N, Nevill A, Al-Nakeeb Y (2013) Techniques used by elite Thai and UK Muay Thai fighters: An analysis and simulation. Adv Phys Edu 3(04):175–186

23.

Singh B, Kumar A, Ranga MD (2014) Mechanical power of leg extensor muscles in male boxing players. JESP 10(1):40–45

24.

AIBA technical and competition rules (2017) AIBA. http://www.aiba.org/aiba-technical-competition-rules/. Accessed January 6, 2017

25.

Davis P, Benson PR, Pitty JD, Connorton AJ, Waldock R (2015) The activity profile of elite male amateur boxing. Int J Sports Physiol Perform 10(1):53–57

26.

Whelton SP, Chin A, Xin X, He J (2002) Effect of aerobic exercise on blood pressure: a meta-analysis of randomized, controlled trials. Ann Intern Med 136:493–503

27.

Silva CC, Teixeira AS, Goldberg TB (2003) Sport and its implications on the bone health of adolescent athletes. Rev Bras Med Esporte 9(6):426–432

28.

Nasri R, Zrour SH, Rebai H, Neffeti F, Najjar MF, Bergaoui N, Mejdoub H, Tabka Z (2015) Combat sports practice favors bone mineral density among adolescent male athletes. J Clin Densitom 18(1):54–59
Acknowledgements
The authors wish to thank the coaches of Kelantan boxing, Muay Thai and silat state teams, Malaysia, and the participants for their involvement in this study. Special gratitude to the staff from Exercise and Sports Science Laboratory, School of Health Sciences, Universiti Sains Malaysia for providing the technical support, and Ms. Nurul Ain Fathma for the assistance in this study.
Ethics declarations
Conflict of interest
The authors declare that they have no conflict of interest.
Ethical approval
All procedures were approved by Research and Human Ethics Committee of Universiti Sains Malaysia (JEPeM Code: USM/JEPeM/17030174).
Informed consent
Written informed consent has been obtained from all participants.
About this article
Cite this article
Abidin, M.A.H., Ooi, F.K. & Chen, C.K. Physiological profiles and bone health status of Malay adolescent male boxing, Muay Thai and silat athletes. Sport Sci Health 14, 673–683 (2018) doi:10.1007/s11332-018-0492-8
Received:

Accepted:

Published:

Issue Date:
Keywords
Physiological profile

Bone health

Martial arts