Abstract
Purpose
It has been proposed that warm-up activities including static stretching may have detrimental effects on power performance. While it is well established in the literature that more than 30 s of stretching before exercise induces deficit in force and power production, there are still controversial findings regarding 30 s or less when additional interventions, such as general warm-up, are allied to the stretching. Therefore, the purpose of this study was to evaluate the acute effect of passive static stretching preceded by dynamic warm-up on vertical jump performance.
Methods
Twenty healthy men participated in this study, and attended to one familiarization session and two testing sessions. In the warm-up (WP) condition, participants performed a 5 min warm-up on a cycle ergometer followed by the counter movement jump (CMJ) test. In the warm-up plus static stretching (WP + SS) condition, besides the same previously described warm-up, participants performed 30 s static stretching bouts for calf, hamstrings, gluteus maximus and quadriceps muscles in a randomized order, followed by the CMJ test.
Results
Data distribution was verified by the Shapiro–Wilk test and Paired T-Student test was used to compare jump height between the two conditions. A significant between-condition effect was observed for CMJ height (p < 0.05), such that jump height was significantly lower in WP + SS condition.
Conclusion
The results of the present study demonstrate that a 5 min dynamic warm-up combined to a 30 s of passive static stretch in four muscle groups induce a reduction in lower limb power measured by CMJ height.
This is a preview of subscription content, log in to check access.
Access options
Buy single article
Instant access to the full article PDF.
US$ 39.95
Price includes VAT for USA
Subscribe to journal
Immediate online access to all issues from 2019. Subscription will auto renew annually.
US$ 99
This is the net price. Taxes to be calculated in checkout.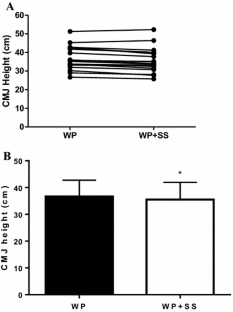 References
1.

McHugh MP, Cosgrave CH (2010) To stretch or not to stretch: the role of stretching in injury prevention and performance. Scand J Med Sci Sports 20(2):169–181. doi:10.1111/j.1600-0838.2009.01058.x

2.

Fowles JR, Sale DG, MacDougall JD (2000) Reduced strength after passive stretch of the human plantarflexors. J Appl Physiol 89(3):1179–1188

3.

Trajano GS, Seitz L, Nosaka K, Blazevich AJ (2013) Contribution of central vs. peripheral factors to the force loss induced by passive stretch of the human plantar flexors. J Appl Physiol 115(2):212–218. doi:10.1152/japplphysiol.00333.2013

4.

Hough PA, Ross EZ, Howatson G (2009) Effects of dynamic and static stretching on vertical jump performance and electromyographic activity. J Strength Cond Res/Natl Strength Cond Assoc 23(2):507–512. doi:10.1519/JSC.0b013e31818cc65d

5.

Bishop D, Middleton G (2013) Effects of static stretching following a dynamic warm-up on speed, agility and power. J Hum Sport Exerc 8(2):391–400

6.

Fortier J, Lattier G, Babault N (2013) Acute effects of short-duration isolated static stretching or combined with dynamic exercises on strength, jump and sprint performance. Sci Sports 28:111–117

7.

Pinto MD, Wilhelm EN, Tricoli V, Pinto RS, Blazevich AJ (2014) Differential effects of 30- vs. 60-second static muscle stretching on vertical jump performance. J Strength Cond Res/Natl Strength Cond Assoc 28(12):3440–3446

8.

Potteiger JA, Lockwood RH, Haub MD, Dolezal BA, Almuzaini KS, Schroeder JA, Zebas CJ (1999) Muscle power and fiber characteristics following 8 weeks of plyometric training. J Strength Cond Res/Natl Strength Cond Assoc 13(3):275–279

9.

Swinton PA, Lloyd R, Keogh JW, Agouris I, Stewart AD (2014) Regression models of sprint, vertical jump, and change of direction performance. J Strength Cond Res/Natl Strength Cond Assoc 28(7):1839–1848. doi:10.1519/JSC.0000000000000348

10.

Ogura Y, Miyahara Y, Naito H, Katamoto S, Aoki J (2007) Duration of static stretching influences muscle force production in hamstring muscles. J Strength Cond Res/Natl Strength Cond Assoc 21(3):788–792. doi:10.1519/R-18785.1

11.

Winchester JB, Nelson AG, Kokkonen J (2009) A single 30-s stretch is sufficient to inhibit maximal voluntary strength. Res Q Exerc Sport 80(2):257–261. doi:10.1080/02701367.2009.10599560

12.

Samuel MN, Holcomb WR, Guadagnoli MA, Rubley MD, Wallmann H (2008) Acute effects of static and ballistic stretching on measures of strength and power. J Strength Cond Res/Natl Strength Cond Assoc 22(5):1422–1428. doi:10.1519/JSC.0b013e318181a314

13.

Cramer JT, Housh TJ, Weir JP, Johnson GO, Coburn JW, Beck TW (2005) The acute effects of static stretching on peak torque, mean power output, electromyography, and mechanomyography. Eur J Appl Physiol 93(5–6):530–539. doi:10.1007/s00421-004-1199-x

14.

Knudson D, Bennett K, Corn R, Leick D, Smith C (2001) Acute effects of stretching are not evident in the kinematics of the vertical jump. J Strength Cond Res/Natl Strength Cond Assoc 15(1):98–101

15.

Chaouachi A, Castagna C, Chtara M, Brughelli M, Turki O, Galy O, Chamari K, Behm DG (2010) Effect of warm-ups involving static or dynamic stretching on agility, sprinting, and jumping performance in trained individuals. J Strength Cond Res/Natl Strength Cond Assoc 24(8):2001–2011. doi:10.1519/JSC.0b013e3181aeb181

16.

Curry BS, Chengkalath D, Crouch GJ, Romance M, Manns PJ (2009) Acute effects of dynamic stretching, static stretching, and light aerobic activity on muscular performance in women. J Strength Cond Res/Natl Strength Cond Assoc 23(6):1811–1819. doi:10.1519/JSC.0b013e3181b73c2b

17.

Kay AD, Blazevich AJ (2012) Effect of acute static stretch on maximal muscle performance: a systematic review. Med Sci Sports Exerc 44(1):154–164. doi:10.1249/MSS.0b013e318225cb27

18.

Vandewalle H, Peres G, Heller J, Panel J, Monod H (1987) Force-velocity relationship and maximal power on a cycle ergometer. Correlation with the height of a vertical jump. Eur J Appl Physiol Occup Physiol 56(6):650–656

19.

Markovic G, Jaric S (2007) Is vertical jump height a body size-independent measure of muscle power? J Sports Sci 25(12):1355–1363. doi:10.1080/02640410601021713

20.

Simic L, Sarabon N, Markovic G (2013) Does pre-exercise static stretching inhibit maximal muscular performance? A meta-analytical review. Scand J Med Sci Sports 23(2):131–148. doi:10.1111/j.1600-0838.2012.01444.x

21.

O'Sullivan K, Murray E, Sainsbury D (2009) The effect of warm-up, static stretching and dynamic stretching on hamstring flexibility in previously injured subjects. BMC Musculoskelet Disord 10:37. doi:10.1186/1471-2474-10-37

22.

Kay AD, Blazevich AJ (2009) Moderate-duration static stretch reduces active and passive plantar flexor moment but not Achilles tendon stiffness or active muscle length. J Appl Physiol 106(4):1249–1256. doi:10.1152/japplphysiol.91476.2008

23.

Herda TJ, Costa PB, Walter AA, Ryan ED, Hoge KM, Kerksick CM, Stout JR, Cramer JT (2011) Effects of two modes of static stretching on muscle strength and stiffness. Med Sci Sports Exerc 43(9):1777–1784. doi:10.1249/MSS.0b013e318215cda9

24.

Stewart D, Macaluso A, De Vito G (2003) The effect of an active warm-up on surface EMG and muscle performance in healthy humans. Eur J Appl Physiol 89(6):509–513. doi:10.1007/s00421-003-0798-2

25.

Ryan ED, Everett KL, Smith DB, Pollner C, Thompson BJ, Sobolewski EJ, Fiddler RE (2014) Acute effects of different volumes of dynamic stretching on vertical jump performance, flexibility and muscular endurance. Clin Physiol Funct Imaging 34(6):485–492. doi:10.1111/cpf.12122

26.

Fletcher IM (2010) The effect of different dynamic stretch velocities on jump performance. Eur J Appl Physiol 109(3):491–498. doi:10.1007/s00421-010-1386-x

27.

Ce E, Margonato V, Casasco M, Veicsteinas A (2008) Effects of stretching on maximal anaerobic power: the roles of active and passive warm-ups. J Strength Cond Res/Natl Strength Cond Assoc 22(3):794–800. doi:10.1519/JSC.0b013e31816a4353
Ethics declarations
Conflict of interest
The authors declare no conflict of interest.
Ethical approval
All procedures performed in studies involving human participants were in accordance with the ethical standards of the Human Ethics Committee of the Ardabil Department of Education and with the 1964 Helsinki declaration and its later amendments or comparable ethical standards.
Informed consent
Informed consent was obtained from all individual participants included in the study.
About this article
Cite this article
Brusco, C.M., Pompermayer, M.G., Esnaola, B.W. et al. Short duration static stretching preceded by cycling warm-up reduces vertical jump performance in healthy males. Sport Sci Health 14, 77–82 (2018). https://doi.org/10.1007/s11332-017-0404-3
Received:

Accepted:

Published:

Issue Date:
Keywords
Countermovement jump

Muscle performance

Muscle power

Warm-up