Abstract
Purpose
The study aimed to investigate the change in the skin temperature after exercise-induced delayed onset muscle soreness (DOMS) and after cold water immersion during a recovery period.
Methods
Randomized controlled trial. Thirty-nine participants were randomly divided into four groups: group 1 (G1) which performed aerobic exercise; group 2 (G2) only performed plyometric exercise; group 3 (G3) was submitted to plyometric exercise and cold water immersion (CWI) protocol; and group 4 (G4) was the non-exercised control group. Skin temperature (TsK) was collected in two regions of interest (forehead and anterior thigh) at rest (T-rest), immediately after exercise (T0), 10, 20, and 30 min (T10, T20, and T30), and 24 and 48 h (T24 and T48) after exercise using an infrared camera. In addition, isometric knee extension strength and DOMS were assessed at times T-rest, T0, T24, and T48 for all groups.
Results
A higher skin temperature was indicated in the anterior thigh muscles that performed plyometric exercise (G2). This thermographic change was accomplished by a decrease in the knee extensor strength immediately after performing exercises. In addition, it seems clear from our data that CWI was effective in reducing Thigh's TsK until 30 min after exercise, but had no effect on the Thigh's TsK 24 and 48 h after exercise. CWI attenuated pain inducted by muscle compression 48 h after plyometric exercise.
Conclusion
This paper presents evidence that plyometric anaerobic exercise leads to a higher skin temperature on the exercised muscle groups than aerobic exercise and that the application of CWI has no influence on muscle temperature 24 h after exercise while minimizing DOMS and the deficit of isometric force.
This is a preview of subscription content, log in to check access.
Access options
Buy single article
Instant access to the full article PDF.
US$ 39.95
Price includes VAT for USA
Subscribe to journal
Immediate online access to all issues from 2019. Subscription will auto renew annually.
US$ 99
This is the net price. Taxes to be calculated in checkout.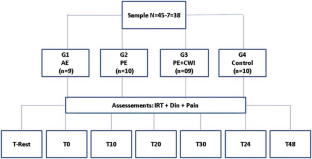 References
1.

Ferreira JJ, Mendonca LC, Nunes LA, Andrade Filho AC, Rebelatto JR, Salvini TF (2008) Exercise-associated thermographic changes in young and elderly subjects. Ann Biomed Eng 36(8):1420–1427

2.

Kenny GP, Reardon FD, Zaleski W, Reardon ML, Haman F, Ducharme MB (2003) Muscle temperature transients before, during, and after exercise measured using an intramuscular multisensor probe. J Appl Physiol 94(6):2350–2357

3.

Racinais S, Oksa J (2010) Temperature and neuromuscular function. Scand J Med Sci Sports 20(s3):1–18

4.

Proske U, Morgan D (2001) Muscle damage from eccentric exercise: mechanism, mechanical signs, adaptation and clinical applications. J Physiol 537(2):333–345

5.

Petrofsky JS, Laymon M, Berk DRL, Al-Nakhli HH, Banh A, Eisentrout A, Tokar A, Valentine M, Batt J (2012) A pilot study using blood biomarkers and physiological parameters to assess thermacare heat wraps for efficacy and timing of application to reduce delayed onset muscle soreness from exercise. J Appl Res 11(2):84–96

6.

Hedayatpour N, Hassanlouei H, Arendt-Nielsen L, Kersting UG, Falla D (2011) Delayed-onset muscle soreness alters the response to postural perturbations. Med Sci Sports Exerc 43(6):1010–1016

7.

Barnett A (2006) Using recovery modalities between training sessions in elite athletes. Does it help? Sports Med 36(9):781–796

8.

Costello JT, Donnelly AE, Karki A, Selfe J (2014) Effects of whole body cryotherapy and cold water immersion on knee skin temperature. Int J Sports Med 35(1):35–40

9.

Glasgow PD, Ferris R, Bleakley CM (2014) Cold water immersion in the management of delayed-onset muscle soreness: is dose important? A randomised controlled trial. Phys Ther Sports 15(4):228–233

10.

Ingram J, Dawson B, Goodman C, Wallman K, Beilby J (2009) Effect of water immersion methods on post-exercise recovery from simulated team sport exercise. J Sci Med Sport 12(3):417–421

11.

Peiffer JJ, Abbiss CR, Nosaka K, Peake JM, Laursen PB (2009) Effect of cold water immersion after exercise in the heat on muscle function, body temperatures, and vessel diameter. J Sci Med Sport 12(1):91–96

12.

Fernández-Cuevas I, Marins JCB, Lastras JA, Carmona PMG, Cano SP, García-Concepción MÁ, Sillero-Quintana M (2015) Classification of factors influencing the use of infrared thermography in humans: a review. Infrared Phys Tech 71:28–55

13.

Vainer BG (2005) FPA-based infrared thermography as applied to the study of cutaneous perspiration and stimulated vascular response in humans. Phys Med Biol 50(23):R63–R94

14.

Al-Nakhli HH, Petrofsky JS, Laymon MS, Berk LS (2012) The use of thermal infra-red imaging to detect delayed onset muscle soreness. J Vis Exp 59:e3551

15.

Byrne C, Lim CL (2007) The ingestible telemetric body core temperature sensor: a review of validity and exercise applications. Br J Sports Med 41(3):126–133

16.

Costello JT, McInerney CD, Bleakley CM, Selfe J, Donnelly AE (2012) The use of thermal imaging in assessing skin temperature following cryotherapy: a review. J Therm Biol 37(2):103–110

17.

Rossignoli I, Fernández-Cuevas I, Benito PJ, Herrero AJ (2016) Relationship between shoulder pain and skin temperature measured by infrared thermography in a wheelchair propulsion test. Infrared Phys Technol 76:251–258

18.

Ludwig N, Trecroci A, Gargano M, Formenti D, Bosio A, Rampinini E, Alberti G (2016) Thermography for skin temperature evaluation during dynamic exercise: a case study on an incremental maximal test in elite male cyclists. Appl Opt 55(34):D126–D130

19.

Ludwig N, Gargano M, Formenti D, Bruno D, Ongaro L, Alberti G (2012) Breathing training characterization by thermal imaging: a case study. Acta Bioeng Biomech 14(3):42–47

20.

Hildebrandt C, Raschner C, Ammer K (2010) An overview of recent application of medical infrared thermography in sports medicine in Austria. Sensors 10(5):4700–4715

21.

Al-Nakhli HH, Petrofsky JS, Laymon MS, Berk LS (2012) The use of thermal infra-red imaging to detect delayed onset muscle soreness. J Vis Exp 59:e3551–e3551

22.

Al-Nakhli HH, Petrofsky JS, Laymon MS, Arai D, Holland K, Berk LS (2012) The use of thermal infrared imaging to assess the efficacy of a therapeutic exercise program in individuals with diabetes. Diabetes Technol Ther 14(2):159–167

23.

Costello JT, McInerney CD, Bleakley CM, Selfe J, Donnelly AE (2012) The use of thermal imaging in assessing skin temperature following cryotherapy: a review. J Therm Biol 37(2):245–274

24.

Fernandes AA, Amorim PRS, Brito CJ, Moura AG, Moreira DG, Costa CMA, Sillero-Quintana M, Marins JCB (2014) Measuring skin temperature before, during and after exercise: a comparison of thermocouples and infrared thermography. Physiol Meas 35(2):189

25.

Fernández-Cuevas I, Sillero-Quintana M, Garcia-Concepcion MA, Serrano JR, Gómez-Carmona P, Marins JB (2014) Monitoring Skin Thermal Response to Training with Infrared Thermography. New Stud Athl 29:57–71

26.

Adamczyk JG, Boguszewski D, Siewierski M (2012) Physical effort ability in counter movement jump depending on the kind of warm-up and surface temperature of the quadriceps. Balt J Health Phys Act 4(3):164–171

27.

Todd G, Gordon CJ, Groeller H, Taylor NA (2014) Does intramuscular thermal feedback modulate eccrine sweating in exercising humans? Acta Physiol 212(1):86–96

28.

Silva GSF, Bergamaschine R, Rosa M, Melo C, Miranda R, Bara-Filho M (2007) Evaluation of the physical activity level of undergraduation students of health/biology fields. Rev Bras Med Esporte 13(1):39–42

29.

Faul F, Erdfelder E, Lang AG, Buchner A (2007) G*Power 3: a flexible statistical power analysis program for the social, behavioral, and biomedical sciences. Behav Res Methods 39(2):175–191

30.

Tanaka H, Monahan KD, Seals DR (2001) Age-predicted maximal heart rate revisited. J Am Coll Cardiol 37(1):153–156

31.

Goodall S, Howatson G (2008) The effects of multiple cold water immersions on indices of muscle damage. J Sports Sci Med 7(2):235–241

32.

Bailey DM, Erith SJ, Griffin PJ, Dowson A, Brewer DS, Gant N, Williams C (2007) Influence of cold-water immersion on indices of muscle damage following prolonged intermittent shuttle running. J Sports Sci 25(11):1163–1170

33.

Ammer K (2008) The Glamorgan Protocol for recording and evaluation of thermal images of the human body. Thermol Int 18(4):125–129

34.

Ring EFJ, Ammer K (2000) The Technique of Infra red Imaging in Medicine. Thermol Int 10(1):7–14

35.

Price DD, McGrath PA, Rafii A, Buckingham B (1983) The validation of visual analogue scales as ratio scale measures for chronic and experimental pain. Pain 17(1):45–56

36.

Machado-Moreira CA, Wilmink F, Meijer A, Mekjavic IB, Taylor NA (2008) Local differences in sweat secretion from the head during rest and exercise in the heat. Eur J Appl Physiol 104(2):257–264

37.

Formenti D, Ludwig N, Trecroci A, Gargano M, Michielon G, Caumo A, Alberti G (2016) Dynamics of thermographic skin temperature response during squat exercise at two different speeds. J Therm Biol 59:58–63

38.

Kenny GP, Journeay WS (2010) Human thermoregulation: separating thermal and nonthermal effects on heat loss. Front Biosci 15:259–290

39.

Paolini D, Alparone FR, Cardone D, van Beest I, Merla A (2016) "The face of ostracism": the impact of the social categorization on the thermal facial responses of the target and the observer. Acta Psychol 163:65–73

40.

Kenny GP (2014) Muscle temperature and sweating during exercise: a new link? Acta Physiol 212(1):11–13

41.

Bandeira F, Muniz de Moura MA, Abreu de Souza M, Nohama P, Borba Neves E (2012) Can thermography aid in the diagnosis of muscle injuries in soccer athletes? Rev Bras Med Esporte 18(4):234–239

42.

Ascensao A, Leite M, Rebelo AN, Magalhaes S, Magalhaes J (2011) Effects of cold water immersion on the recovery of physical performance and muscle damage following a one-off soccer match. J Sports Sci 29(3):217–225

43.

Sellwood KL, Brukner P, Williams D, Nicol A, Hinman R (2007) Ice-water immersion and delayed-onset muscle soreness: a randomised controlled trial. Br J Sports Med 41(6):392–397
Acknowledgements
The National Research Council—CNPq (Brazil), which funded this research project.
Ethics declarations
Conflict of interest
The authors declare that they have no conflict of interest.
Ethical approval
All procedures performed in studies involving human participants were in accordance with the ethical Standards of the institutional or national research committee and with the 1964 Helsinki declaration and its later amendments or compatible ethical standards. This article does not contain any studies with animals performed by any of the authors.
Informed consent
Informed consent was obtained from all individual participants included in this study.
About this article
Cite this article
Silva, Y.A., Santos, B.H., Andrade, P.R. et al. Skin temperature changes after exercise and cold water immersion. Sport Sci Health 13, 195–202 (2017). https://doi.org/10.1007/s11332-017-0353-x
Received:

Accepted:

Published:

Issue Date:
Keywords
Skin temperature

Infrared thermography

Cryotherapy

Exercise

Delayed onset muscle soreness