This is a preview of subscription content, log in to check access.
Access options
Buy single article
Instant access to the full article PDF.
US$ 39.95
Price includes VAT for USA
Subscribe to journal
Immediate online access to all issues from 2019. Subscription will auto renew annually.
US$ 99
This is the net price. Taxes to be calculated in checkout.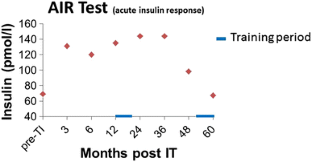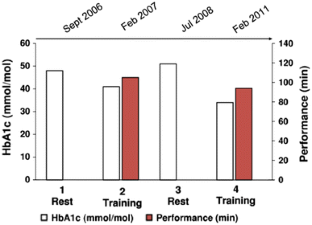 References
1.

Skyler JS, Ricordi C (2011) Stopping type 1 diabetes: attempts to prevent or cure type 1 diabetes in man. Diabetes 60:1–8

2.

Shapiro JAM (2011) State of the art of clinical islet transplantation and novel protocols of immunosuppression. Curr Diab Rep 11:345–354

3.

Bassi R, Fiorina P (2011) Impact of islet transplantation on diabetes complications and quality of life. Curr Diab Rep 11:355–363

4.

Lopes Souto D, Paes de Miranda M (2011) Physical exercises on glycemic control in type 1 diabetes mellitus. Nutr Hosp 26:425–429

5.

ADA (2003) ADA position statement: physical activity/exercise and diabetes mellitus. Diabetes Care 26:73–77

6.

Painter P (2005) Exercise following organ transplantation: a critical part of the routine post transplant care. Ann Transplant 10:28–30

7.

Surgit O, Ersoz G, Gursel Y, Ersoz S (2001) Effects of exercise training on specific immune parameters in transplant recipients. Transplant Proc 33:3298

8.

Piemonti L, Maffi P, Monti L, Lampasona V, Perseghin G, Magistretti P et al (2011) Beta cell function during rapamycin monotherapy in long-term type 1 diabetes. Diabetologia 54:433–439

9.

Froud T, Faradji RN, Pileggi A, Messinger S, Baidal DA, Ponte GM et al (2008) The use of exenatide in islet transplant recipients with chronic allograft dysfunction: safety, efficacy, and metabolic effects. Transplantation 86:36–45
Acknowledgments
This work was supported by European grants: FP7-PEOPLE-2009-IRSES (IMMEEDIA project nr. 247472) to L.L. and R.C.; FP7-PEOPLE-2009-RG (INMARESS project nr. 256506) to R.C.
Conflict of interest
V. Delmonte, R. Codella, L. Piemonti, A. La Torre, S. Benedini, P. Maffi, C. Ricordi and L. Luzi declare that they have no conflict of interest
About this article
Cite this article
Delmonte, V., Codella, R., Piemonti, L. et al. Effects of exercise in a islet-transplanted half-marathon runner: outcome on diabetes management, training and metabolic profile. Sport Sci Health 10, 49–52 (2014). https://doi.org/10.1007/s11332-013-0164-7
Received:

Accepted:

Published:

Issue Date:
Keywords
Tacrolimus

Training Period

Mycophenolate Mofetil

Insulin Glargine

Exenatide