Abstract
Purpose
Obstructive sleep apnea (OSA) is associated with coronary disease among men. However, this association is not clear for women. In this study, we evaluate the association between OSA and presence of subclinical atherosclerosis assessed by tomographic coronary calcium score in middle-aged women.
Methods
We evaluated consecutive women aged between 45 and 65 years in perimenopause or postmenopause period (with menstrual irregularity—amenorrhea > 60 days), without manifest cardiovascular disease (heart failure, coronary disease, and stroke), from two gynecologic clinics. All patients underwent clinical evaluation, computed tomographic examination for coronary artery calcium (CAC > 100 Agatston units), and portable sleep study. Multiple logistic regression models were used to evaluate the association between OSA and CAC, controlling for traditional risk factors including Framingham Risk Score (FRS), body mass index (BMI), and diabetes.
Results
We studied 214 women (age 56 years (52–61); BMI 28 kg/m2 (25–31), 25 % diabetes, 62 % hypertension). OSA (apnea-hypopnea index (AHI) ≥5 events/h) was diagnosed in 82 women (38.3 %). CAC was more prevalent in patients with moderate/severe OSA (AHI ≥15 events/h) than in patients without or with mild OSA, 19 % vs 4.5 and 1.6 %, respectively (p < 0.01). Moderate to severe OSA was associated with CAC in unadjusted (odds ratio = 6.25, 95 % CI 1.66–23.52; p < 0.01) and adjusted (odds ratio = 8.19, 95 % CI 1.66–40.32; p = 0.01) logistic regression analysis.
Conclusion
Moderate to severe OSA is independently associated with the presence of CAC in middle-aged women. These results reinforce the concept that women are also susceptible to the cardiovascular consequences of OSA.
This is a preview of subscription content, log in to check access.
Access options
Buy single article
Instant access to the full article PDF.
US$ 39.95
Price includes VAT for USA
Subscribe to journal
Immediate online access to all issues from 2019. Subscription will auto renew annually.
US$ 99
This is the net price. Taxes to be calculated in checkout.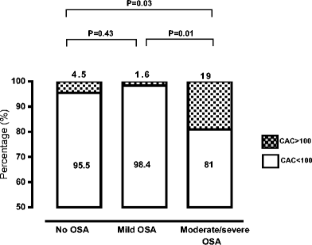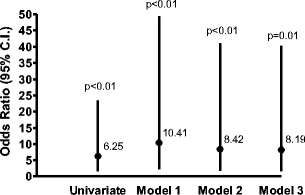 Abbreviations
AHI:

Apnea-hypopnea index

BMI:

Body mass index

BP:

Blood pressure

CAC:

Coronary artery calcium

CPAP:

Continuous positive airway pressure

ECG:

Electrocardiogram

ODI:

Oxygen desaturation index

OSA:

Obstructive sleep apnea
References
1.

Roger VL, Go AS, Lloyd-Jones DM, Adams RJ, Berry JD, Brown TM, Carnethon MR, Dai S, de Simone G, Ford ES, Fox CS, Fullerton HJ, Gillespie C, Greenlund KJ, Hailpern SM, Heit JA, Ho PM, Howard VJ, Kissela BM, Kittner SJ, Lackland DT, Lichtman JH, Lisabeth LD, Makuc DM, Marcus GM, Marelli A, Matchar DB, McDermott MM, Meigs JB, Moy CS, Mozaffarian D, Mussolino ME, Nichol G, Paynter NP, Rosamond WD, Sorlie PD, Stafford RS, Turan TN, Turner MB, Wong ND, Wylie-Rosett J (2011) Heart disease and stroke statistics—2011 update: a report from the American Heart Association. Circulation 123(4):e18–e209. doi:10.1161/CIR.0b013e3182009701

2.

Mosca L, Benjamin EJ, Berra K, Bezanson JL, Dolor RJ, Lloyd-Jones DM, Newby LK, Pina IL, Roger VL, Shaw LJ, Zhao D, Beckie TM, Bushnell C, D'Armiento J, Kris-Etherton PM, Fang J, Ganiats TG, Gomes AS, Gracia CR, Haan CK, Jackson EA, Judelson DR, Kelepouris E, Lavie CJ, Moore A, Nussmeier NA, Ofili E, Oparil S, Ouyang P, Pinn VW, Sherif K, Smith SC Jr, Sopko G, Chandra-Strobos N, Urbina EM, Vaccarino V, Wenger NK (2011) Effectiveness-based guidelines for the prevention of cardiovascular disease in women—2011 update: a guideline from the American Heart Association. Circulation 123(11):1243–1262. doi:10.1161/CIR.0b013e31820faaf8

3.

Sleep-related breathing disorders in adults: recommendations for syndrome definition and measurement techniques in clinical research. The Report of an American Academy of Sleep Medicine Task Force (1999). Sleep;22(5):667–689

4.

Peppard PE, Young T, Barnet JH, Palta M, Hagen EW, Hla KM (2013) Increased prevalence of sleep-disordered breathing in adults. Am J Epidemiol 177(9):1006–1014. doi:10.1093/aje/kws342

5.

Tufik S, Santos-Silva R, Taddei JA, Bittencourt LR (2010) Obstructive sleep apnea syndrome in the Sao Paulo Epidemiologic Sleep Study. Sleep Med 11(5):441–446. doi:10.1016/j.sleep.2009.10.005

6.

Kohler M, Stradling JR (2010) Mechanisms of vascular damage in obstructive sleep apnea. Nat Rev Cardiol 7(12):677–685. doi:10.1038/nrcardio.2010.145

7.

Pedrosa RP, Barros IM, Drager LF, Bittencourt MS, Medeiros AK, Carvalho LL, Lustosa TC, Carvalho MM, Ferreira MN, Lorenzi-Filho G, Costa LO (2014) OSA is common and independently associated with hypertension and increased arterial stiffness in consecutive perimenopausal women. Chest 146(1):66–72. doi:10.1378/chest.14-0097

8.

Marin JM, Agusti A, Villar I, Forner M, Nieto D, Carrizo SJ, Barbe F, Vicente E, Wei Y, Nieto FJ, Jelic S (2012) Association between treated and untreated obstructive sleep apnea and risk of hypertension. JAMA 307(20):2169–2176. doi:10.1001/jama.2012.3418

9.

Drager LF, Bortolotto LA, Lorenzi MC, Figueiredo AC, Krieger EM, Lorenzi-Filho G (2005) Early signs of atherosclerosis in obstructive sleep apnea. Am J Respir Crit Care Med 172(5):613–618. doi:10.1164/rccm.200503-340OC

10.

Gottlieb DJ, Yenokyan G, Newman AB, O'Connor GT, Punjabi NM, Quan SF, Redline S, Resnick HE, Tong EK, Diener-West M, Shahar E (2010) Prospective study of obstructive sleep apnea and incident coronary heart disease and heart failure: the sleep heart health study. Circulation 122(4):352–360. doi:10.1161/CIRCULATIONAHA.109.901801

11.

Campos-Rodriguez F, Martinez-Garcia MA, de la Cruz-Moron I, Almeida-Gonzalez C, Catalan-Serra P, Montserrat JM (2012) Cardiovascular mortality in women with obstructive sleep apnea with or without continuous positive airway pressure treatment: a cohort study. Ann Intern Med 156(2):115–122. doi:10.7326/0003-4819-156-2-201201170-00006

12.

Roca GQ, Redline S, Claggett B, Bello N, Ballantyne CM, Solomon SD, Shah AM (2015) Sex-specific association of sleep apnea severity with subclinical myocardial injury, ventricular hypertrophy, and heart failure risk in a community-dwelling cohort: the atherosclerosis risk in communities-sleep heart health study. Circulation 132(14):1329–1337. doi:10.1161/CIRCULATIONAHA.115.016985

13.

Silverman MG, Blaha MJ, Krumholz HM, Budoff MJ, Blankstein R, Sibley CT, Agatston A, Blumenthal RS, Nasir K (2014) Impact of coronary artery calcium on coronary heart disease events in individuals at the extremes of traditional risk factor burden: the Multi-Ethnic Study of Atherosclerosis. Eur Heart J 35(33):2232–2241. doi:10.1093/eurheartj/eht508

14.

Detrano R, Guerci AD, Carr JJ, Bild DE, Burke G, Folsom AR, Liu K, Shea S, Szklo M, Bluemke DA, O'Leary DH, Tracy R, Watson K, Wong ND, Kronmal RA (2008) Coronary calcium as a predictor of coronary events in four racial or ethnic groups. N Engl J Med 358(13):1336–1345. doi:10.1056/NEJMoa072100

15.

Harlow SD, Gass M, Hall JE, Lobo R, Maki P, Rebar RW, Sherman S, Sluss PM, de Villiers TJ (2012) Executive summary of the Stages of Reproductive Aging Workshop + 10: addressing the unfinished agenda of staging reproductive aging. Menopause 19(4):387–395. doi:10.1097/gme.0b013e31824d8f40

16.

Craig CL, Marshall AL, Sjostrom M, Bauman AE, Booth ML, Ainsworth BE, Pratt M, Ekelund U, Yngve A, Sallis JF, Oja P (2003) International physical activity questionnaire: 12-country reliability and validity. Med Sci Sports Exerc 35(8):1381–1395. doi:10.1249/01.MSS.0000078924.61453.FB

17.

Wilson PW, D'Agostino RB, Levy D, Belanger AM, Silbershatz H, Kannel WB (1998) Prediction of coronary heart disease using risk factor categories. Circulation 97(18):1837–1847

18.

Chobanian AV, Bakris GL, Black HR, Cushman WC, Green LA, Izzo JL Jr, Jones DW, Materson BJ, Oparil S, Wright JT Jr, Roccella EJ (2003) The Seventh Report of the Joint National Committee on Prevention, Detection, Evaluation, and Treatment of High Blood Pressure: the JNC 7 report. JAMA 289(19):2560–2572. doi:10.1001/jama.289.19.2560

19.

Agatston AS, Janowitz WR, Hildner FJ, Zusmer NR, Viamonte M Jr, Detrano R (1990) Quantification of coronary artery calcium using ultrafast computed tomography. J Am Coll Cardiol 15(4):827–832

20.

Ng SS, Chan TO, To KW, Ngai J, Tung A, Ko FW, Hui DS (2010) Validation of Embletta portable diagnostic system for identifying patients with suspected obstructive sleep apnoea syndrome (OSAS). Respirology 15(2):336–342. doi:10.1111/j.1440-1843.2009.01697.x

21.

Iber C, Ancoli-Israel S, Chesson A, Quan SF (2007) The AASM manual for the scoring of sleep and associated events: rules, terminology and technical specifications. American Academy of Sleep Medicine, Westchester

22.

Johns MW (1991) A new method for measuring daytime sleepiness: the Epworth sleepiness scale. Sleep 14(6):540–545

23.

Drager LF, Polotsky VY, Lorenzi-Filho G (2011) Obstructive sleep apnea: an emerging risk factor for atherosclerosis. Chest 140(2):534–542. doi:10.1378/chest.10-2223

24.

Lui MM, Lam JC, Mak HK, Xu A, Ooi C, Lam DC, Mak JC, Khong PL, Ip MS (2009) C-reactive protein is associated with obstructive sleep apnea independent of visceral obesity. Chest 135(4):950–956. doi:10.1378/chest.08-1798

25.

Lavie L (2003) Obstructive sleep apnoea syndrome—an oxidative stress disorder. Sleep Med Rev 7(1):35–51

26.

Ip MS, Tse HF, Lam B, Tsang KW, Lam WK (2004) Endothelial function in obstructive sleep apnea and response to treatment. Am J Respir Crit Care Med 169(3):348–353. doi:10.1164/rccm.200306-767OC

27.

Abboud F, Kumar R (2014) Obstructive sleep apnea and insight into mechanisms of sympathetic overactivity. J Clin Invest 124(4):1454–1457. doi:10.1172/JCI70420

28.

Pedrosa RP, Drager LF, Gonzaga CC, Sousa MG, de Paula LK, Amaro AC, Amodeo C, Bortolotto LA, Krieger EM, Bradley TD, Lorenzi-Filho G (2011) Obstructive sleep apnea: the most common secondary cause of hypertension associated with resistant hypertension. Hypertension 58(5):811–817. doi:10.1161/HYPERTENSIONAHA.111.179788

29.

Pedrosa RP, Drager LF, de Paula LK, Amaro AC, Bortolotto LA, Lorenzi-Filho G (2013) Effects of OSA treatment on BP in patients with resistant hypertension: a randomized trial. Chest 144(5):1487–1494. doi:10.1378/chest.13-0085

30.

Drager LF, Jun J, Polotsky VY (2010) Obstructive sleep apnea and dyslipidemia: implications for atherosclerosis. Curr Opin Endocrinol Diabetes Obes 17(2):161–165. doi:10.1097/MED.0b013e3283373624

31.

Sorajja D, Gami AS, Somers VK, Behrenbeck TR, Garcia-Touchard A, Lopez-Jimenez F (2008) Independent association between obstructive sleep apnea and subclinical coronary artery disease. Chest 133(4):927–933. doi:10.1378/chest.07-2544

32.

Matthews KA, Strollo PJ Jr, Hall M, Mezick EJ, Kamarck TW, Owens JF, Buysse DJ, Reis SE (2011) Associations of Framingham risk score profile and coronary artery calcification with sleep characteristics in middle-aged men and women: Pittsburgh SleepSCORE study. Sleep 34(6):711–716. doi:10.5665/SLEEP.1032

33.

Luyster FS, Kip KE, Aiyer AN, Reis SE, Strollo PJ Jr (2014) Relation of obstructive sleep apnea to coronary artery calcium in non-obese versus obese men and women aged 45–75 years. Am J Cardiol 114(11):1690–1694. doi:10.1016/j.amjcard.2014.08.040

34.

Weinreich G, Wessendorf TE, Erdmann T, Moebus S, Dragano N, Lehmann N, Stang A, Roggenbuck U, Bauer M, Jockel KH, Erbel R, Teschler H, Mohlenkamp S (2013) Association of obstructive sleep apnoea with subclinical coronary atherosclerosis. Atherosclerosis 231(2):191–197. doi:10.1016/j.atherosclerosis.2013.09.011

35.

Chowdhuri S, Quan SF, Almeida F, Ayappa I, Batool-Anwar S, Budhiraja R, Cruse PE, Drager LF, Griss B, Marshall N, Patel SR, Patil S, Knight SL, Rowley JA, Slyman A (2016) An official American Thoracic Society Research Statement: impact of mild obstructive sleep apnea in adults. Am J Respir Crit Care Med 193(9):e37–54. doi:10.1164/rccm.201602-0361ST

36.

Campos-Rodriguez F, Martinez-Garcia MA, Reyes-Nunez N, Caballero-Martinez I, Catalan-Serra P, Almeida-Gonzalez CV (2014) Role of sleep apnea and continuous positive airway pressure therapy in the incidence of stroke or coronary heart disease in women. Am J Respir Crit Care Med 189(12):1544–1550. doi:10.1164/rccm.201311-2012OC
Authors' contributions
Ana Kelley L. Medeiros: data collection and analysis and manuscript draft
Ricardo Q. Coutinho: data collection and analysis
Isly M. L. Barros: data collection and analysis
Laura O. B. F. Costa: study design.
Ana Paula D. L. Leite: CAC evaluations
Marcio S. Bittencourt: data analysis and manuscript draft
Thais C. Lustosa: data collection
Martinha M. B. Carvalho: data collection
Maria Priscila Figueiredo Lira: data collection
Moacir N. L. Ferreira: study design
Geraldo Lorenzi-Filho: data analysis and manuscript draft
Luciano F. Drager: data analysis and manuscript draft
Rodrigo P. Pedrosa: study design, data collection and analysis, and manuscript draft
Ethics declarations
Ethical approval
All procedures performed in studies involving human participants were in accordance with the ethical standards of the institute (Complexo Hospitalar-Hospital Universitário Oswaldo Cruz-Universidade de Pernambuco/UPE/Procape, Approval Number CAAE-0135.0.106.000-10) and with the 1964 Helsinki Declaration and its later amendments or comparable ethical standards.
Conflict of interest
All authors certify that they have no affiliations with or involvement in any organization or entity with any financial interest (such as honoraria; educational grants; participation in speakers' bureaus; membership, employment, consultancies, stock ownership, or other equity interest; and expert testimony or patent-licensing arrangements) or nonfinancial interest (such as personal or professional relationships, affiliations, knowledge, or beliefs) in the subject matter or materials discussed in this manuscript.
Informed consent
Informed consent was obtained from all individual participants included in the study.
Funding
Fundação de Amparo à Pesquisa do Estado de Pernambuco and Conselho Nacional de Desenvolvimento Científico e Tecnológico provided financial support in the form of 02 fundings.
The sponsor had no role in the design or conduct of this research.
About this article
Cite this article
Medeiros, A.K.L., Coutinho, R.Q., Barros, I.M.L. et al. Obstructive sleep apnea is independently associated with subclinical coronary atherosclerosis among middle-aged women. Sleep Breath 21, 77–83 (2017). https://doi.org/10.1007/s11325-016-1374-4
Received:

Revised:

Accepted:

Published:

Issue Date:
Keywords
Obstructive sleep apnea

Women

Atherosclerosis

Coronary heart disease