Abstract
Purpose
The objective of this study was to evaluate endothelial function and carotid intima media thickness (CIMT) in moderate to severe obstructive sleep apnea (OSA) without comorbidities.
Methods
It is an observational case control study in which endothelial function was assessed using flow-mediated dilatation (FMD) and peripheral arterial tonometry (PAT), and carotid artery ultrasound was used to measure CIMT in study group subjects that included 20 normotensive, non-diabetic, treatment naïve, and moderate to severe OSA patients, and 20 normotensive, non-diabetic, and non-OSA subjects served as a control group. Study was conducted in Polysomnography Laboratory, Department of Internal Medicine, All India Institute of Medical Sciences (AIIMS) Hospital, New Delhi.
Results
FMD was significantly lower in the moderate to severe OSA group compared to non-OSA group (mean ± SD, 8.3 ± 2.8 vs. 13.4 ± 4.1 %; p = 0.0001). Reactive hyperemia index (RHI) was also significantly lower in the OSA group (1.55 ± 0.27 vs. 2.01 ± 0.48, p = 0.0007). CIMT was observed to be significantly higher in the OSA group compared to the non-OSA group (0.54 ± 0.09 vs. 0.48 ± 0.08 mm; p = 0.049). In the OSA group, FMD, RHI, and CIMT did not show a significant correlation with OSA disease severity indices [apnea hypopnea index (AHI), oxygen desaturation index (ODI), and minimum O2 saturation].
Conclusion
Endothelial function in macrovascular and microvascular circulation is significantly impaired in moderate to severe OSA patients without comorbidities. These patients also show evidence of subclinical atherosclerosis, in the form of increased CIMT.
This is a preview of subscription content, log in to check access.
Access options
Buy single article
Instant access to the full article PDF.
US$ 39.95
Price includes VAT for USA
Subscribe to journal
Immediate online access to all issues from 2019. Subscription will auto renew annually.
US$ 99
This is the net price. Taxes to be calculated in checkout.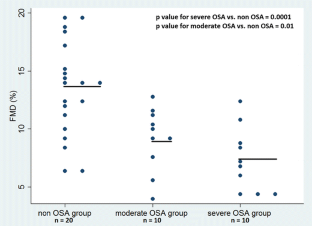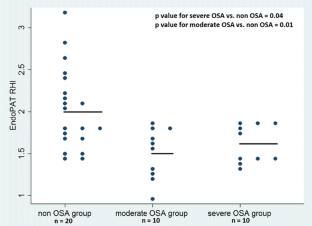 References
1.

Shamsuzzaman AM, Gersh BJ, Somers VK (2003) Obstructive sleep apnea: implications for cardiac and vascular disease. JAMA 290(14):1906–1914

2.

Palomäki H (1991) Snoring and the risk of ischemic brain infarction. Stroke J Cereb Circ 22(8):1021–1025

3.

Young T, Finn L, Peppard PE, Szklo-Coxe M, Austin D, Nieto FJ et al (2008) Sleep disordered breathing and mortality: eighteen-year follow-up of the Wisconsin sleep cohort. Sleep 31(8):1071–1078

4.

Kunz AB, Kraus J, Young P, Reuss R, Wipfler P, Oschmann P et al (2012) Biomarkers of inflammation and endothelial dysfunction in stroke with and without sleep apnea. Cerebrovasc Dis 33(5):453–460

5.

Celermajer DS, Sorensen KE, Gooch VM, Spiegelhalter DJ, Miller OI, Sullivan ID et al (1992) Non-invasive detection of endothelial dysfunction in children and adults at risk of atherosclerosis. Lancet 340(8828):1111–1115

6.

Ip MSM, Tse H-F, Lam B, Tsang KWT, Lam W-K (2003) Endothelial function in obstructive sleep apnea and response to treatment. Am J Respir Crit Care Med 169(3):348–353

7.

Oflaz H, Cuhadaroglu C, Pamukcu B, Meric M, Ece T, Kasikcioglu E et al (2006) Endothelial function in patients with obstructive sleep apnea syndrome but without hypertension. Respiration 73(6):751–756

8.

Kato M, Roberts-Thomson P, Phillips BG, Haynes WG, Winnicki M, Accurso V et al (2000) Impairment of endothelium-dependent vasodilation of resistance vessels in patients with obstructive sleep apnea. Circulation 102(21):2607–2610

9.

Butt M, Khair OA, Dwivedi G, Shantsila A, Shantsila E, Lip GYH (2011) Myocardial perfusion by myocardial contrast echocardiography and endothelial dysfunction in obstructive sleep apnea. Hypertension 58(3):417–424

10.

Itzhaki S, Lavie L, Pillar G, Tal G, Lavie P (2005) Endothelial dysfunction in obstructive sleep apnea measured by peripheral arterial tone response in the finger to reactive hyperemia. Sleep 28(5):594–600

11.

Cobble M, Bale B (2010) Carotid intima-media thickness: knowledge and application to everyday practice. Postgrad Med 122(1):10–18

12.

Minoguchi K, Yokoe T, Tazaki T, Minoguchi H, Tanaka A, Oda N et al (2005) Increased carotid intima-media thickness and serum inflammatory markers in obstructive sleep apnea. Am J Respir Crit Care Med 172(5):625–630

13.

Agha MA, Habib RM (2014) Assessment of carotid artery wall in patients with OSA syndrome and the effect of CPAP on its thickness. Egypt J Chest Dis Tuberc 63(1):155–160

14.

Sharma SK, Nehra A, Sinha S, Soneja M, Sunesh K, Sreenivas V, et al. (2015) Sleep disorders in pregnancy and their association with pregnancy outcomes: a prospective observational study. Sleep Breath Schlaf Atm;1–7

15.

Berry RB, Budhiraja R, Gottlieb DJ, Gozal D, Iber C, Kapur VK et al (2012) Rules for scoring respiratory events in sleep: update of the 2007 AASM Manual for the Scoring of Sleep and Associated Events. Deliberations of the Sleep Apnea Definitions Task Force of the American Academy of Sleep Medicine. J Clin Sleep Med JCSM Off Publ Am Acad Sleep Med 8(5):597–619

16.

Corretti MC, Anderson TJ, Benjamin EJ, Celermajer D, Charbonneau F, Creager MA et al (2002) Guidelines for the ultrasound assessment of endothelial-dependent flow-mediated vasodilation of the brachial artery: a report of the International Brachial Artery Reactivity Task Force. J Am Coll Cardiol 39(2):257–265

17.

Uehata A, Lieberman EH, Gerhard MD, Anderson TJ, Ganz P, Polak JF et al (1997) Noninvasive assessment of endothelium-dependent flow-mediated dilation of the brachial artery. Vasc Med Lond Engl 2(2):87–92

18.

Sidhu PS, Desai SR (1997) A simple and reproducible method for assessing intimal-medial thickness of the common carotid artery. Br J Radiol 70:85–89

19.

Nicolaides AN, Shifrin EG, Bradbury A, Dhanjil S, Griffin M, Belcaro G et al (1996) Angiographic and duplex grading of internal carotid stenosis: can we overcome the confusion? J Endovasc Surg Off J Int Soc Endovasc Surg 3(2):158–165

20.

Sharma SK, Kumpawat S, Banga A, Goel A (2006) Prevalence and risk factors of obstructive sleep apnea syndrome in a population of Delhi, India. Chest 130(1):149–156

21.

Atkeson A, Jelic S (2008) Mechanisms of endothelial dysfunction in obstructive sleep apnea. Vasc Health Risk Manag 4(6):1327–1335

22.

Mancini GBJ, Dahlöf B, Díez J (2004) Surrogate markers for cardiovascular disease structural markers. Circulation 109(25 suppl 1):IV – 22–IV – 30

23.

Bayram NA, Ciftci B, Keles T, Durmaz T, Turhan S, Bozkurt E et al (2009) Endothelial function in normotensive men with obstructive sleep apnea before and 6 months after CPAP treatment. Sleep 32(10):1257–1263

24.

Ozaki K, Hori T, Ishibashi T, Nishio M, Aizawa Y (2010) Effects of chronic cigarette smoking on endothelial function in young men. J Cardiol 56(3):307–313

25.

Chung S, Yoon I-Y, Shin Y-K, Lee CH, Kim J-W, Lee T et al (2007) Endothelial dysfunction and C-reactive protein in relation with the severity of obstructive sleep apnea syndrome. Sleep 30(8):997–1001

26.

Cereda CW, Tamisier R, Manconi M, Andreotti J, Frangi J, Pifferini V et al (2013) Endothelial dysfunction and arterial stiffness in ischemic stroke the role of sleep-disordered breathing. Stroke 44(4):1175–1178

27.

Gori T, Di Stolfo G, Sicuro S, Dragoni S, Lisi M, Parker JD et al (2006) Correlation analysis between different parameters of conduit artery and microvascular vasodilation. Clin Hemorheol Microcirc 35(4):509–515

28.

Hamburg NM, Palmisano J, Larson MG, Sullivan LM, Lehman BT, Vasan RS et al (2011) Relation of brachial and digital measures of vascular function in the community: the Framingham heart study. Hypertension 57(3):390–396

29.

Tanriverdi H, Evrengul H, Kara CO, Kuru O, Tanriverdi S, Ozkurt S et al (2006) Aortic stiffness, flow-mediated dilatation and carotid intima-media thickness in obstructive sleep apnea. Respiration 6:741–750

30.

Drager LF, Bortolotto LA, Lorenzi MC, Figueiredo AC, Krieger EM, Lorenzi-Filho G (2005) Early signs of atherosclerosis in obstructive sleep apnea. Am J Respir Crit Care Med 172(5):613–618
Acknowledgments
The authors acknowledge the study subjects, highly trained staff nurses (Mr. Sreejith, Mr. Shashikant, Mr. Mohan Babu, Ms. Tsering, and Ms. Dhanya), medical social worker, Mr Ajeet, laboratory technician, Mr. Rohit Rai, and laboratory attendant, Mr. Dharmender Sharma, for their immense help in the recruitment, conduct, and completion of this study. The authors are thankful to AIIMS administration for the provision of EndoPAT™ probes.
Ethics declarations
Support statement
Professor Surendra Kumar Sharma was supported by a J.C. Bose National Fellowship (SB/S2/JCB-04/2013), from the Ministry of Science and Technology, Government of India.
Funding
No funding was received for this research.
Conflict of interest
The authors declare that they have no conflicts of interest.
Ethical approval
This study was approved by the ethics committee of All India Institute of Medical Sciences (AIIMS). All procedures performed in studies involving human participants were in accordance with the ethical standards of the institutional and/or national research committee and with the 1964 Helsinki Declaration and its later amendments or comparable ethical standards.
Informed consent
Informed consent was obtained from all individual participants included in the study.
About this article
Cite this article
Farooqui, F.A., Sharma, S.K., Kumar, A. et al. Endothelial function and carotid intima media thickness in obstructive sleep apnea without comorbidity. Sleep Breath 21, 69–76 (2017). https://doi.org/10.1007/s11325-016-1371-7
Received:

Revised:

Accepted:

Published:

Issue Date:
Keywords
Obstructive sleep apnea

Endothelial function

Flow-mediated dilatation

Peripheral arterial tonometry

Reactive hyperemia index

Carotid intima media thickness