Abstract
Purpose
This study aimed to compare fiberoptic nasopharyngoscopy during Mueller's maneuver (FNMM) with fiberoptic nasopharyngoscopy with simulation of snoring (FNSS) for upper airway (UA) assessment in patients with obstructive sleep apnea and hypopnea syndrome. We also investigated the relationship between daytime endoscopic examinations and nocturnal pressure measurements.
Methods
We conducted a prospective, case-series study at Peking Union Medical College Hospital. All patients were evaluated by daytime FNMM and FNSS. The retropalatal and retroglossal regions were continuously video recorded during quiet breathing, FNMM, and FNSS. We calculated the narrowing rate and determined the level of obstruction and pattern of collapse (lateral, anterior-posterior, or concentric). Patients also underwent nocturnal pressure measurements to identify obstruction sites.
Results
Ninety-two patients were enrolled. FNMM and FNSS detected retropalatal obstruction in every case. Fifty-six and 38 patients had retroglossal obstruction detected by FNMM and FNSS, respectively. There was diagnostic agreement between FNMM and FNSS in 72 patients when diagnosing retroglossal obstruction, but the patterns of collapse were different using each technique. Pressure measurements showed that lower apnea and hypopnea index (AHI) and the proportion of lower AHI were significantly lower in the isolated retropalatal obstruction group than in the combined obstruction group diagnosed with either FNMM or FNSS (p < 0.01).
Conclusions
Daytime FNMM and FNSS are reliable for evaluating the level of obstruction and pattern of UA collapse, and correlate with sleep study findings. FNSS may provide some different information regarding patterns of collapse and retroglossal obstruction from FNMM. Both techniques are helpful for determining surgical strategies.
This is a preview of subscription content, log in to check access.
Access options
Buy single article
Instant access to the full article PDF.
US$ 39.95
Price includes VAT for USA
Subscribe to journal
Immediate online access to all issues from 2019. Subscription will auto renew annually.
US$ 99
This is the net price. Taxes to be calculated in checkout.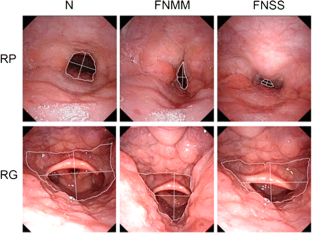 References
1.

Ravesloot MJ, de Vries N, Stuck BA (2014) Treatment adherence should be taken into account when reporting treatment outcomes in obstructive sleep apnea. Laryngoscope 124:344–345

2.

De Vito A, Carrasco Llatas M, Vanni A, Bosi M, Braghiroli A, Campanini A, de Vries N, Hamans E, Hohenhorst W, Kotecha BT, Maurer J, Montevecchi F, Piccin O, Sorrenti G, Vanderveken OM, Vicini C (2014) European position paper on drug-induced sedation endoscopy (DISE). Sleep Breath. doi:10.1007/s11325-014-0989-6

3.

Strollo PJ Jr, Soose RJ, Maurer JT, de Vries N, Cornelius J, Froymovich O, Hanson RD, Padhya TA, Steward DL, Gillespie MB, Woodson BT, Van de Heyning PH, Goetting MG, Vanderveken OM, Feldman N, Knaack L, Strohl KP, STAR Trial Group (2014) Upper-airway stimulation for obstructive sleep apnea. N Engl J Med 370:139–149

4.

Vanderveken OM, Maurer JT, Hohenhorst W, Hamans E, Lin HS, Vroegop AV, Anders C, de Vries N, Van de Heyning PH (2013) Evaluation of drug-induced sleep endoscopy as a patient selection tool for implanted upper airway stimulation for obstructive sleep apnea. J Clin Sleep Med 9:433–438

5.

Johal A, Battagel JM, Kotecha BT (2005) Sleep nasendoscopy: a diagnostic tool for predicting treatment success with mandibular advancement splints in obstructive sleep apnoea. Eur J Orthod 27:607–614

6.

Koutsourelakis I, Safiruddin F, Ravesloot M, Zakynthinos S, de Vries N (2012) Surgery for obstructive sleep apnea: Sleep endoscopy determinants of outcome. Laryngoscope 122:2587–2591

7.

Borowiecki BD, Sassin JF (1983) Surgical treatment of sleep apnea. Arch Otolaryngol 109:508–512

8.

Hsu PP, Tan AK, Tan BY, Gan EC, Chan YH, Blair RL, Lu PK (2007) Uvulopalatopharyngoplasty outcome assessment with quantitative computer-assisted videoendoscopic airway analysis. Acta Otolaryngol 127:65–70

9.

Sher AE, Thorpy MJ, Shprintzen RJ, Spielman AJ, Burack B, McGregor PA (1985) Predictive value of Müller maneuver in selection of patients for uvulopalatopharyngoplasty. Laryngoscope 95:1483–1487

10.

Pevernagie D, Aarts RM, De Meyer M (2010) The acoustics of snoring. Sleep Med Rev 14:131–144

11.

Herzog M, Metz T, Schmidt A, Bremert T, Venohr B, Hosemann W, Kaftan H (2006) The prognostic value of simulated snoring in awake patients with suspected sleep-disorder breathing: Introduction of a new technique of examination. Sleep 29:1456–1462

12.

Hudgel DW (1986) Variable site of airway narrowing among obstructive sleep apnea patients. J Appl Physiol 61:1403–1409

13.

Osnes T, Rollheim J, Hartmann E (2002) Effect of UPPP with respect to site of pharyngeal obstruction in sleep apnoea: Follow-up at 18 months by overnight recording of airway pressure and flow. Clin Otolaryngol Allied Sci 27:38–43

14.

Tvinnereim M, Mitic S, Hansen RK (2007) Plasma radiofrequency preceded by pressure recording enhances success for treating sleep related breathing disorders. Laryngoscope 117:731–736

15.

Yu R, Li W, Huo H, Shen P, Tian X (2011) Short daytime ApneaGraph for initial case selection of obstructive sleep apnea-hypopnea syndrome before surgery. Eur Arch Otorhinolaryngol 268:1663–1669

16.

Rollheim J, Tvinnereim M, Sitek J, Osnes T (2001) Repeatability of sites of sleep-induced upper airway obstruction. A 2-night study based on recordings of airway pressure and flow. Eur Arch Otorhinolaryngol 258:259–264

17.

Singh A, Al-Reefy H, Hewitt R, Kotecha B (2008) Evaluation of ApneaGraph in the diagnosis of sleep-related breathing disorders. Eur Arch Otorhinolaryngol 26:1489–1494

18.

Safiruddin F, Vanderveken OM, de Vries N, Maurer JT, Lee K, Ni Q, Strohl KP (2014) Effect of upper-airway stimulation for obstructive sleep apnoea on airway dimensions. Eur Respir J. doi:10.1183/09031936.00059414

19.

Abdullah B, Rajet KA, Abd Hamid SS, Mohammad WM (2011) A videoendoscopic evaluation of the upper airway in South East Asian adults with obstructive sleep apnea. Sleep Breath 15:747–754

20.

Won TB, Kim SY, Lee WH, Han DH, Kim DY, Kim JW, Rhee CS, Lee CH (2012) Acoustic characteristics of snoring according to obstruction site determined by sleep videofluoroscopy. Acta Otolaryngol 132:S13–S20

21.

Borowiecki B, Pollak CP, Weitzman ED, Rakoff S, Imperato J (1978) Fibro-optic study of pharyngeal airway during sleep in patients with hypersomnia obstructive sleep-apnea syndrome. Laryngoscope 88(8 Pt 1):1310–1313

22.

Croft CB, Pringle M (1991) Sleep nasendoscopy: a technique of assessment in snoring and obstructive sleep apnoea. Clin Otolaryngol Allied Sci 16:504–509

23.

Eichler C, Sommer JU, Stuck BA, Hormann K, Maurer JT (2012) Does drug-induced sleep endoscopy change the treatment concept of patients with snoring and obstructive sleep apnea? Sleep Breath 17:63–68

24.

Bonora M, St John WM, Bledsoe TA (1985) Differential elevation by protriptyline and depression by diazepam of upper airway respiratory motor activity. Am Rev Respir Dis 131:41–45

25.

Stuck BA, Maurer JT (2008) Airway evaluation in obstructive sleep apnea. Sleep Med Rev 12:411–436

26.

Sadaoka T, Kakitsuba N, Fujiwara Y, Kanai R, Takahashi H (1996) The value of sleep nasendoscopy in the evaluation of patients with suspected sleep-related breathing disorders. Clin Otolaryngol Allied Sci 21:485–489

27.

Jones TM, Ho MS, Earis JE, Swift AC, Charters P (2006) Acoustic parameters of snoring sound to compare natural snores with snores during 'steady-state' propofol sedation. Clin Otolaryngol 31:46–52

28.

Ravesloot MJ, de Vries N (2011) One hundred consecutive patients undergoing drug-induced sleep endoscopy: Results and evaluation. Laryngoscope 121:2710–2716

29.

Vroegop AV, Vanderveken OM, Boudewyns AN, Scholman J, Saldien V, Wouters K, Braem MJ, Van de Heyning PH, Hamans E (2014) Drug-induced sleep endoscopy in sleep-disordered breathing: report on 1,249 cases. Laryngoscope 124:797–802

30.

Vanderveken OM (2013) Drug-induced sleep endoscopy (DISE) for non-CPAP treatment selection in patients with sleep-disordered breathing. Sleep Breath 17:13–14
Disclosure
The authors declare that they have no conflict of interest.
About this article
Cite this article
Huo, H., Li, W., Tian, X. et al. Endoscopic upper airway evaluation in obstructive sleep apnea: Mueller's maneuver versus simulation of snoring. Sleep Breath 19, 661–667 (2015). https://doi.org/10.1007/s11325-014-1073-y
Received:

Revised:

Accepted:

Published:

Issue Date:
Keywords
Obstructive sleep apnea

Upper airway

Video-endoscopy

Mueller's maneuver

Simulation of snoring

Manometry