Abstract
Background
Patients under treatment with continuous positive airway pressure (CPAP) may have residual sleep apnea (RSA).
Objective
The main objective of our study was to evaluate a novel auto-CPAP for the diagnosis of RSA.
Methods
All patients referred to the sleep laboratory to undergo CPAP polysomnography were evaluated. Patients treated with oxygen or noninvasive ventilation and split-night polysomnography (PSG), PSG with artifacts, or total sleep time less than 180 min were excluded. The PSG was manually analyzed before generating the automatic report from auto-CPAP. PSG variables (respiratory disturbance index (RDI), obstructive apnea index, hypopnea index, and central apnea index) were compared with their counterparts from auto-CPAP through Bland–Altman plots and intraclass correlation coefficient. The diagnostic accuracy of autoscoring from auto-CPAP using different cutoff points of RDI (≥5 and 10) was evaluated by the receiver operating characteristics (ROCs) curve.
Results
The study included 114 patients (24 women; mean age and BMI, 59 years old and 33 kg/m2; RDI and apnea/hypopnea index (AHI)-auto median, 5 and 2, respectively). The average difference between the AHI-auto and the RDI was −3.5 ± 3.9. The intraclass correlation coefficient (ICC) between the total number of central apneas, obstructive, and hypopneas between the PSG and the auto-CPAP were 0.69, 0.16, and 0.15, respectively. An AHI-auto >2 (RDI ≥ 5) or >4 (RDI ≥ 10) had an area under the ROC curve, sensitivity, specificity, positive likelihood ratio, and negative for diagnosis of residual sleep apnea of 0.84/0.89, 84/81 %, 82/91 %, 4.5/9.5, and 0.22/0.2, respectively.
Conclusions
The automatic analysis from auto-CPAP (S9 Autoset) showed a good diagnostic accuracy to identify residual sleep apnea. The absolute agreement between PSG and auto-CPAP to classify the respiratory events correctly varied from very low (obstructive apneas, hypopneas) to moderate (central apneas).
This is a preview of subscription content, log in to check access.
Access options
Buy single article
Instant access to the full article PDF.
US$ 39.95
Price includes VAT for USA
Subscribe to journal
Immediate online access to all issues from 2019. Subscription will auto renew annually.
US$ 99
This is the net price. Taxes to be calculated in checkout.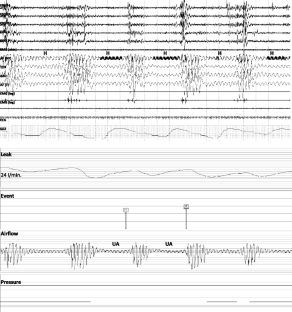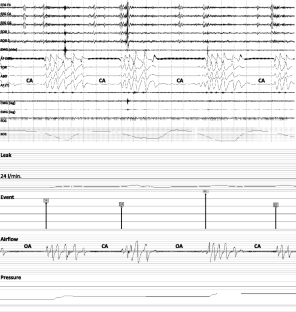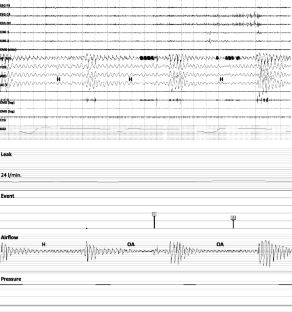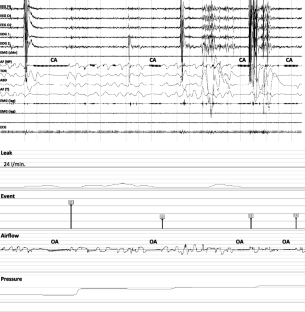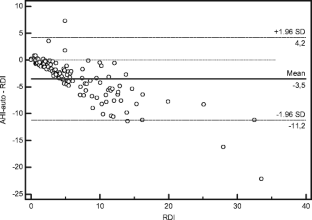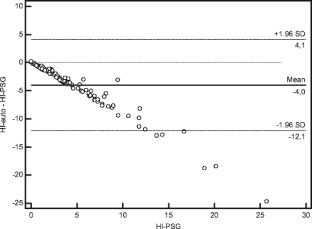 References
1.

Baltzan MA, Kassissia I, Elkholi O, Palayew M, Dabrusin R, Wolkove N (2006) Prevalence of persistent sleep apnea in patients treated with continuous positive airway pressure. Sleep 29:557–663

2.

Shahar E, Whitney CW, Redline S, Lee ET, Newman AB, Nieto FJ, O'Connor GT, Boland LL, Schwartz JE, Samet JM (2001) Sleep-disordered breathing and cardiovascular disease: cross-sectional results of the Sleep Heart Health Study. Am J Respir Crit Care Med 163:19–25

3.

Young T, Blustein J, Finn L, Palta M (1997) Sleep-disordered breathing and motor vehicle accidents in a population-based sample of employed adults. Sleep 20:608–613

4.

Young T, Peppard P, Palta M, Hla KM, Finn L, Morgan B, Skatrud J (1997) Population-based study of sleep-disordered breathing as a risk factor for hypertension. Arch Int Med 157:1746–1752

5.

Pepperell JC, Ramdassingh-Dow S, Crosthwaite N, Mullins R, Jenkinson C, Stradling JR, Davies RJ (2002) Ambulatory blood pressure after therapeutic and subtherapeutic nasal continuous positive airway pressure for obstructive sleep apnoea: a randomised parallel trial. Lancet 359:204–210

6.

Practice parameters for the indications for polysomnography and related procedures. Polysomnography Task Force, American Sleep Disorders Association Standards of Practice Committee (1997) Sleep 20:406–422

7.

Pittman SD, Pillar G, Berry RB, Malhotra A, MacDonald MM, White DP (2006) Follow-up assessment of CPAP efficacy in patients with obstructive sleep apnea using an ambulatory device based on peripheral arterial tonometry. Sleep Breath 10:123–131

8.

Sériès F, Plante J, Lacasse Y (2008) Reliability of home CPAP titration with different automatic CPAP devices. Respir Res 9:56

9.

Woodson BT, Saurejan A, Brusky LT, Han JK (2003) Nonattended home automated continuous positive airway pressure titration: comparison with polysomnography. Otolaryngol Head Neck Surg 128:353–357

10.

Ueno K, Kasai T, Brewer G, Takaya H, Maeno K, Kasagi S, Kawana F, Ishiwata S, Narui K (2010) Evaluation of the apnea-hypopnea index determined by the S8 auto-CPAP, a continuous positive airway pressure device, in patients with obstructive sleep apnea-hypopnea syndrome. J Clin Sleep Med 6:146–151

11.

Ikeda Y, Kasai T, Kawana F, Kasagi S, Takaya H, Ishiwata S, Narui K (2012) Comparison between the apnea-hypopnea indices determined by the REMstar Auto M series and those determined by standard in-laboratory polysomnography in patients with obstructive sleep apnea. Intern Med 51:2877–2885

12.

Prasad B, Carley DW, Herdegen JJ (2010) Continuous positive airway pressure device-based automated detection of obstructive sleep apnea compared to standard laboratory polysomnography. Sleep Breath 14:101–107

13.

Mulgrew AT, Lawati NA, Ayas NT, Fox N, Hamilton P, Cortes L, Ryan CF (2010) Residual sleep apnea on polysomnography after 3 months of CPAP therapy: clinical implications, predictors and patterns. Sleep Med 11:119–125

14.

Desai H, Patel A, Patel P, Grant BJ, Mador MJ (2009) Accuracy of autotitrating CPAP to estimate the residual apnea-hypopnea Index in patients with obstructive sleep apnea on treatment with autotitrating CPAP. Sleep Breath 13:383–390

15.

Morgenthaler TI, Aurora RN, Brown T, Zak R, Alessi C, Boehlecke B, Chesson AL Jr, Friedman L, Kapur V, Maganti R, Owens J, Pancer J, Swick TJ (2008) Practice parameters for the use of autotitrating continuous positive airway pressure devices for titrating pressures and treating adult patients with obstructive sleep apnea syndrome: an update for 2007. An American Academy of Sleep Medicine report. Sleep 31:141–147

16.

Rechtschafen A, Kales A (1968) A manual of standarized technology, techniques and scoring system for sleep stages of human subjects. Brain information Service, Braininformation institute, University of California, Los Angeles

17.

American Sleep Disorders Association (1992) The Atlas Task Force. EEG arousals: scoring rules and examples. Sleep 15:174–184

18.

Consenso Nacional sobre el Síndrome Apneas-Hipopneas del Sueño del Grupo Español de Sueño Definición y concepto, fisiopatología, clínica y exploración del SAHS (2005) Arch bronconeumol 41 Extraordinario 4:12–29

19.

Ayappa I, Norman RG, Krieger AC, Rosen A, O'malley RL, Rapoport DM (2000) Non-invasive detection of respiratory effort-related arousals (REras) by a nasal cannula/pressure transducer system. Sleep 23:763–771

20.

Masa JF, Corral J, Martín MJ, Riesco JA, Sojo A, Hernández M, Douglas NJ (2003) Assessment of thoracoabdominal bands to detect respiratory effort-related arousal. Eur Respir J 22:661–667

21.

Sala H, Nigro C, Rabec C, Guardia AS, Smurra M (2001) Consenso Argentino de Trastornos Respiratorios Vinculados al Sueño. Medicina 61:351–363

22.

Guilleminault C, Bassiri A (2005) Clinical features and evaluation of obstructive sleep apnea-hypopnea syndrome and upper airway resistance syndrome. In: Kryger MH, Roth T, Dement WC (eds) Principles and practice of sleep medicine, 4th edn. Elservier Inc, Philadelphia, pp 1043–1052

23.

Pita Fernández S, Pértega Díaz S (2003) Pruebas diagnósticas. Cad Aten Prim 10:120–124
Acknowledgments
The authors wish to thank Ms. Jaquelina Mastantuono for revising the English text.
Conflict of interest
This study had no financial support. We declare there were no conflicts of interest related to this investigation.
About this article
Cite this article
Nigro, C.A., González, S., Arce, A. et al. Accuracy of a novel auto-CPAP device to evaluate the residual apnea-hypopnea index in patients with obstructive sleep apnea. Sleep Breath 19, 569–578 (2015). https://doi.org/10.1007/s11325-014-1048-z
Received:

Revised:

Accepted:

Published:

Issue Date:
Keywords
Auto-CPAP

Obstructive sleep apnea

Residual sleep apnea

Residual apnea/hypopnea index