Abstract
Background
The treatment of choice for sleep apnoea-hypopnoea syndrome (SAHS) is continuous positive airway pressure (CPAP). However, CPAP effectiveness strongly depends on patient adherence to treatment. The aim of this study was to determine the effectiveness of a low-cost, basic intervention on improving CPAP adherence.
Methods
A controlled parallel-group trial. Participants were SAHS patients for whom CPAP treatment was indicated. Those in the intervention group were shown the results of their sleep test and were told the importance of treatment adherence; the control group received neither. Outcomes for both groups were compared at 6 months. The primary outcome assessed was CPAP usage.
Results
One hundred fifty-four patients were included in the intervention group and 167 in the control group. At 6 months, the intervention group had 10 % more participants with CPAP usage ≥4 h, significantly higher adherence as compared to controls (5 ± 1.8 h vs 4.3 ± 1.7, p = 0.031), mean: 0.7 h/day and fewer discontinuations of CPAP. A multiple linear regression model showed that intervention group and daytime sleepiness were variables independently associated with treatment adherence.
Conclusions
An inexpensive basic intervention involving communication of sleep test results and the importance of CPAP adherence improves adherence to CPAP therapy. In addition, greater daytime sleepiness is associated with higher CPAP adherence.
This is a preview of subscription content, log in to check access.
Access options
Buy single article
Instant access to the full article PDF.
US$ 39.95
Price includes VAT for USA
Subscribe to journal
Immediate online access to all issues from 2019. Subscription will auto renew annually.
US$ 99
This is the net price. Taxes to be calculated in checkout.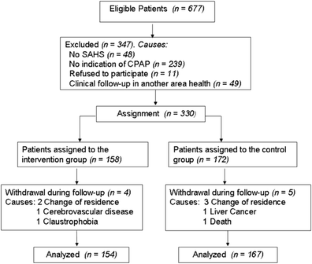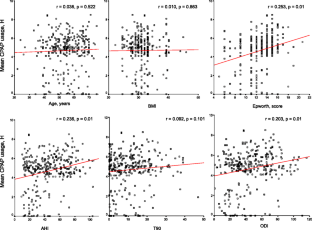 References
1.

Epstein LJ, Kristo D, Strollo PJ, Friedman N, Malhotra A, Patil SP, Adult Obstructive Sleep Apnea Task Force of the American Academy of Sleep Medicine (2009) Clinical guideline for the evaluation, management and long-term care of obstructive sleep apnea in adults. J Clin Sleep Med 5:263–276

2.

Young T, Peppard PE, Gottlieb DJ (2002) Epidemiology of obstructive sleep apnea: a population health perspective. Am J Respir Crit Care Med 165:1217–1239

3.

Siccoli MM, Pepperell JC, Kohler M, Craig SE, Davies RJ, Stradling JR (2008) Effects of continuous positive airway pressure on quality of life in patients with moderate to severe obstructive sleep apnea: data from a randomized controlled trial. Sleep 31:1551–1558

4.

Tregear S, Reston J, Schoelles K, Phillips B (2009) Obstructive sleep apnea and risk of motor vehicle crash: systematic review and meta-analysis. J Clin Sleep Med 5:573–581

5.

Redline S, Yenokyan G, Gottlieb DJ, Shahar E, O'Connor GT, Resnick HE et al (2010) Obstructive sleep apnea–hypopnea and incident stroke: the sleep heart health study. Am J Respir Crit Care Med 182:269–277

6.

Gottlieb DJ, Yenokyan G, Newman AB, O'Connor GT, Punjabi NM, Quan SF et al (2010) Prospective study of obstructive sleep apnea and incident coronary heart disease and heart failure: the sleep heart health study. Circulation 122:352–360

7.

Jennum P, Kjellberg J (2011) Health, social and economical consequences of sleep-disordered breathing: a controlled national study. Thorax 66:560–566

8.

Wozniak DR, Lasserson TJ, Smith I (2014) Educational, supportive and behavioural interventions to improve usage of continuous positive airway pressure machines in adults with obstructive sleep apnoea. Cochrane Database Syst Rev Issue 1. Art. No.: CD007736

9.

Aloia MS, Arnedt JT, Stepnowsky C, Hecht J, Borrelli B (2005) Predicting treatment adherence in obstructive sleep apnea using principles of behavior change. J Clin Sleep Med 1:346–353

10.

Masa F, Jiménez A, Durán J, Capote F, Monasterio C, Mayos M et al (2004) Alternative methods of titrating continuous positive airway pressure: a large multicenter study. Am J Respir Crit Care Med 170:1218–1224

11.

Aloia S, Knoepke C, Lee-Chiong T (2010) The new local coverage determination criteria for adherence to positive airway pressure treatment: testing the limits? Chest 138:875–879

12.

Avlonitou E, Kapsimalis F, Varouchakis G, Vardavas CI, Behrakis P (2012) Adherence to CPAP therapy improves quality of life and reduces symptoms among obstructive sleep apnea syndrome patients. Sleep Breath 16:563–569

13.

Basoglu OK, Midilli M, Midilli R, Bilgen C (2012) Adherence to continuous positive airway pressure therapy in obstructive sleep apnea syndrome: effect of visual education. Sleep Breath 16:1193–1200

14.

Jurado-Gamez B, Fernandez-Marin MC, Gomez-Chaparro JL, Muñoz-Cabrera L, Lopez-Barea J, Perez-Jimenez F et al (2011) Relationship of oxidative stress and endothelial dysfunction in sleep apnoea. Eur Respir J 37:873–879

15.

Barbe F, Duran-Cantolla J, Capote F, de la Peña M, Chiner E, Masa JF et al (2010) Long-term effect of continuous positive airway pressure in hypertensive patients with sleep apnea. Am J Respir Crit Care Med 181:718–726

16.

Weaver TE, Grunstein RR (2008) Adherence to continuous positive airway pressure therapy: the challenge to effective treatment. Proc Am Thorac Soc 5:173–178

17.

Aloia MS, Arnedt JT, Stanchina M, Millman RP (2007) How early in treatment is PAP adherence established? Revisiting night-to-night variability. Behav Sleep Med 5:229–240

18.

Rosenthal L, Gerhardstein R, Lumley A, Guido P, Day R, Syron ML et al (2000) CPAP therapy in patients with mild OSA: implementation and treatment outcome. Sleep Med 1:215–220

19.

Wallace DM, Vargas SS, Schwartz SJ, Aloia MS, Shafazand S (2013) Determinants of continuous positive airway pressure adherence in a sleep clinic cohort of South Florida Hispanic veterans. Sleep Breath 17:351–363

20.

Stepnowsky CJ Jr, Marler MR, Ancoli-Israel S (2002) Determinants of nasal CPAP compliance. Sleep Med 3:239–247

21.

Budhiraja R, Parthasarathy S, Drake CL, Roth T, Sharief I, Budhiraja P et al (2007) Early CPAP use identifies subsequent adherence to CPAP therapy. Sleep 30:320–324

22.

Kohler M, Smith D, Tippett V, Stradling JR (2010) Predictors of long-term compliance with continuous positive airway pressure. Thorax 65:829–832

23.

Deng T, Wang Y, Sun M, Chen B (2013) Stage-matched intervention for adherence to CPAP in patients with obstructive sleep apnea: a randomized controlled trial. Sleep Breath 17:791–801

24.

Richards D, Bartlett DJ, Wong K, Malouff J, Grunstein RR (2007) Increased adherence to CPAP with a group cognitive behavioral treatment intervention: a randomized trial. Sleep 30:635–640

25.

Jean Wiese H, Boethel C, Phillips B, Wilson JF, Peters J, Viggiano T (2005) CPAP compliance: video education may help! Sleep Med 6:171–174

26.

Stepnowsky CJ, Palau JJ, Marler MR, Gifford AL (2007) Pilot randomized trial of the effect of wireless telemonitoring on compliance and treatment efficacy in obstructive sleep apnea. J Med Internet Res 9(2):e14

27.

Sparrow D, Aloia M, Demolles DA, Gottlieb DJ (2010) A telemedicine intervention to improve adherence to continuous positive airway pressure: a randomised controlled trial. Thorax 65:1061–1066

28.

Aloia MS, Arnedt JT, Riggs RL, Hecht J, Borrelli B (2004) Clinical management of poor adherence to CPAP: motivational enhancement. Behav Sleep Med 2:205–222

29.

Olsen S, Smith SS, Oei TP, Douglas J (2012) Motivational interviewing (MINT) improves continuous positive airway pressure (CPAP) acceptance and adherence: a randomized controlled trial. J Consult Clin Psychol 80:151–163

30.

Pamidi S, Knutson KL, Ghods F, Mokhlesi B (2012) The impact of sleep consultation prior to a diagnostic polysomnogram on continuous positive airway pressure adherence. Chest 141:51–57
Acknowledgments
The authors would like to acknowledge and sincerely thank the supporting nurses of the CPAP-school (Sleep Unit and Linde Medicinal) of Reina Sofia University Hospital who contributed to the present research.
Funding
This work was supported in part by Neumocor association.
Conflict of interest
The authors declare that they have no competing interests.
About this article
Cite this article
Jurado-Gamez, B., Bardwell, W.A., Cordova-Pacheco, L.J. et al. A basic intervention improves CPAP adherence in sleep apnoea patients: a controlled trial. Sleep Breath 19, 509–514 (2015). https://doi.org/10.1007/s11325-014-1038-1
Received:

Revised:

Accepted:

Published:

Issue Date:
Keywords
Adherence

Continuous positive airway pressure

Interventional program

Sleep apnoea-hypopnoea syndrome