Abstract
Purpose
We aimed to determine the prevalence of and the risk factors for obstructive sleep apnea syndrome (OSAS) in Japanese children aged 6–8 years.
Methods
The parents of 202 children aged 6–8 years who attended a single elementary school in Shiga, Japan, were requested to complete the Child and Adolescent Sleep Checklist (CASC) and perform home Type 3 portable monitoring of their children. By using the CASC data and monitor recordings, we estimated the prevalence of pediatric OSAS with the help of different diagnostic criteria and identified the risk factors associated with OSAS.
Results
Complete data were obtained from 170 of the 194 children whose parents participated in the study. The mean total apnea–hypopnea index and obstructive apnea hypopnea index were 1.4 ± 1.3 and 0.4 ± 0.6 h−1, respectively, and central apnea was the most prevalent type of respiratory event, accounting for 70.4 % of all events. The overall prevalence of OSAS ranged from 0.6 % to 43.5 %, depending on the cutoff value used, and was 3.5 % when using International Criteria of Sleep Disorders version II (ICSD II) diagnostic criteria. The presence of tonsillar hypertrophy was the only parameter whose prevalence was significantly elevated in children with OSAS across all diagnostic criteria.
Conclusions
The prevalence of pediatric OSAS varies according to the diagnostic criteria used, indicating the need for further research focusing on outcomes to define a clinically significant diagnostic threshold. The presence of tonsillar hypertrophy is an important risk factor in the development of pediatric OSAS.
This is a preview of subscription content, log in to check access.
Access options
Buy single article
Instant access to the full article PDF.
US$ 39.95
Price includes VAT for USA
Subscribe to journal
Immediate online access to all issues from 2019. Subscription will auto renew annually.
US$ 99
This is the net price. Taxes to be calculated in checkout.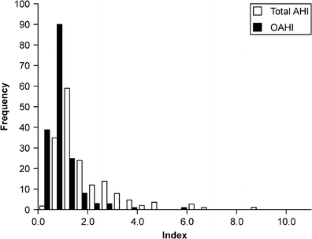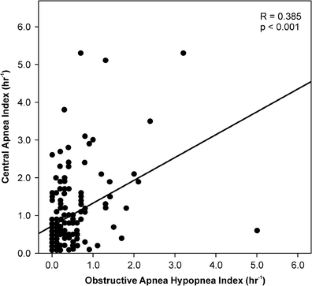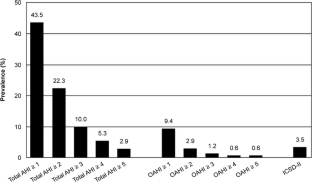 References
1.

American Thoracic Society (1996) Standards and indications for cardiopulmonary sleep studies in children. Am J Respir Crit Care Med 153:866–878

2.

Marcus CL, Brooks LJ, Draper KA, Gozal D, Halbower AC, Jones J, Schechter MS, Sheldon SH, Spruyt K, Ward SD, Lehmann C, Shiffman RN, American Academy of Pediatrics (2012) Clinical practice guidelines: diagnosis and management of childhood obstructive sleep apnea syndrome. Pediatrics 130:576–584

3.

Lumeng JC, Chervin RD (2008) Epidemiology of pediatric obstructive sleep apnea. Proc Am Thorac Soc 5:242–252

4.

Marcus CL, Brooks LJ, Draper KA, Gozal D, Halbower AC, Jones J, Schechter MS, Ward SD, Sheldon SH, Shiffman RN, Lehmann C, Spruyt K, American Academy of Pediatrics (2012) Technical report: diagnosis and management of childhood obstructive sleep apnea syndrome. Pediatrics 130:e714–755

5.

Anuntaseree W, Rookkapan K, Kuasirikul S, Thongsuksai P (2001) Snoring and obstructive sleep apnea in Thai school-age children: prevalence and predisposing factors. Pediatr Pulmonol 32:222–227

6.

Anuntaseree W, Kuasirikul S, Suntornlohanakul S (2005) Natural history of snoring and obstructive sleep apnea in Thai school-age children. Pediatr Pulmonol 39:415–420

7.

Wing YK, Hui SH, Pak WM, Ho CK, Cheung A, Li AM, Fok TF (2003) A controlled study of sleep related disordered breathing in obese children. Arch Dis Child 88:1043–1047

8.

Ng DKK, Kwok KL, Poon G, Chau KW (2002) Habitual snoring and sleep bruxism in a paediatric outpatient population in Hong Kong. Singapore Med J 43:554–556

9.

Xu Z, Jiaqing A, Yuchuan L, Shen K (2008) A case–control study of obstructive sleep apnea–hypopnea syndrome in obese and nonobese Chinese children. Chest 133:684–689

10.

Li AM, So HK, Au CT, Ho C, Lau J, Ng SK, Abdullah VJ, Fok TF, Wing YK (2010) Epidemiology of obstructive sleep apnoea syndrome in Chinese children: a two-phase community study. Thorax 65:991–997

11.

Redline S, Tishler PV, Schluchter M, Aylor J, Clark K, Graham G (1999) Risk factors for sleep-disordered breathing in children. Associations with obesity, race, and respiratory problems. Am J Respir Crit Care Med 159:1527–1532

12.

Sanchez-Armengol A (2001) Sleep-related breathing disorders in adolescents aged 12 to 16 years: clinical and polygraphic findings. Chest 119:1393–400

13.

Castronovo V, Zucconi M, Nosetti L, Marazzini C, Hensley M, Veglia F, Nespoli L, Ferini-Strambi L (2003) Prevalence of habitual snoring and sleep-disordered breathing in preschool-aged children in an Italian community. J Pediatr 142:377–382

14.

Rosen CL, Larkin EK, Kirchner HL, Emancipator JL, Bivins SF, Surovec SA, Martin RJ, Redline S (2003) Prevalence and risk factors for sleep-disordered breathing in 8- to 11-year-old children: association with race and prematurity. J Pediatr 142:383–389

15.

Goodwin JL, Kaemingk KL, Mulvaney SA, Morgan WJ, Quan SF (2005) Clinical screening of school children for polysomnography to detect sleep-disordered breathing—the Tucson Children's Assessment of Sleep Apnea Study (TuCASA). J Clin Sleep Med 1:247–254

16.

Urschitz MS, Brockmann PE, Schlaud M, Poets CF (2010) Population prevalence of obstructive sleep apnoea in a community of German third graders. Eur Respir J 36:556–568

17.

Jacob SV, Morielli A, Mograss MA, Ducharme FM, Schloss MD, Brouillette RT (1995) Home testing for pediatric obstructive sleep apnea syndrome secondary to adenotonsillar hypertrophy. Pediatr Pulmonol 20:241–252

18.

Morielli A, Ladan S, Ducharme FM, Brouillette RT (1996) Can sleep and wakefulness be distinguished in children by cardiorespiratory and videotape recordings? Chest 109:680–687

19.

Ramanathan R, Corwin MJ, Hunt CE, Lister G, Tinsley LR, Baird T, Silvestri JM, Crowell DH, Hufford D, Martin RJ, Neuman MR, Weese-Mayer DE, Cupples LA, Peucker M, Willinger M, Keens TG, Collaborative Home Infant Monitoring Evaluation (CHIME) Study Group (2001) Cardiorespiratory events recorded on home monitors. JAMA 285:2199–2207

20.

Goodwin JL, Enright PL, Kaemingk KL, Rosen GM, Morgan WJ, Fregosi RF, Quan SF (2001) Feasibility of using unattended polysomnography in children for research—report of the Tucson Children's Assessment of Sleep Apnea study (TuCASA). Sleep 24:937–944

21.

Poels PJP, Schilder AGM, Van den Berg S, Hoes AW, Joosten KF (2003) Evaluation of a new device for home cardiorespiratory recording in children. Arch Otolaryngol Head Neck Surg 129:1281–1284

22.

Iber C, Ancoli-Israel S, Chesson A (2007) The AASM manual for the scoring of sleep and associated events: rules, terminology and technical specifications. Westchester, IL

23.

American Academy of Sleep Medicine (2005) International classification of sleep disorders: diagnostic and coding manual. 2nd ed. Westchester, IL

24.

Cole TJ, Green PJ (1992) Smoothing reference centile curves: the lMS method and penalized likelihood. Stat Med 11:1305–1319

25.

Friedman M, Ibrahim H, Bass L (2002) Clinical staging for sleep-disordered breathing. Arch Otolaryngol Head Neck Surg 127:13–21

26.

Kobayashi R, Miyazaki S, Karaki M, Kobayashi E, Karaki R, Akiyama K, Matsubara A, Mori N (2011) Measurement of nasal resistance by rhinomanometry in 892 Japanese elementary school children. Auris Nasus Larynx 38:73–76

27.

Azevedo de Almeida L, Eckeli AL, Terezinha W, Lima A, de Oliveira Filho EC, Sander HH, Fernandes RM, Valera FC (2012) Central apnea after adenotonsillectomy in childhood: case report. Sleep Breath 16:961–966

28.

Moss D, Urschitz MS, Von Bodman A, Eitner S, Noehren A, Urschitz-Duprat PM, Schlaud M, Poets CF (2005) Reference values for nocturnal home polysomnography in primary schoolchildren. Pediatr Res 58:958–965

29.

Montgomery-Downs HE, O'Brien LM, Gulliver TE, Gozal D (2006) Polysomnographic characteristics in normal preschool and early school-aged children. Pediatrics 117:741–753

30.

Verhulst SL, Schrauwen N, Haentjens D, Van Gaal L, De Backer WA, Desager KN (2007) Reference values for sleep-related respiratory variables in asymptomatic European children and adolescents. Pediatr Pulmonol 42:159–167

31.

Tang JPL, Rosen CL, Larkin EK, DiFiore JM, Arnold JL, Surovec SA, Youngblut JM, Redline S (2002) Identification of sleep-disordered breathing in children: variation with event definition. Sleep 25:72–79

32.

Sanders MH, Rogers RM, Pennock BE (1985) Prolonged expiratory phase in sleep apnea. A unifying hypothesis. Am Rev Respir Dis 131:401–408

33.

Harms CA, Zeng YJ, Smith CA, Vidruk EH, Dempsey JA (1996) Negative pressure-induced deformation of the upper airway causes central apnea in awake and sleeping dogs. J Appl Physiol 80:1528–1539

34.

O'Brien LM, Holbrook CR, Mervis CB, Klaus CJ, Bruner JL, Raffield TJ, Rutherford J, Mehl RC, Wang M, Tuell A, Hume BC, Gozal D (2003) Sleep and neurobehavioral characteristics of 5- to 7-year-old children with parentally reported symptoms of attention-deficit/hyperactivity disorder. Pediatrics 111:554–563

35.

Gozal D (2001) Morbidity of obstructive sleep apnea in children: facts and theory. Sleep Breath 5:35–42

36.

Young T, Palta M, Dempsey J, Skatrud J, Weber S, Badr S (1993) The occurrence of sleep-disordered breathing among middle-aged adults. N Engl J Med 328:1230–1235

37.

Bixler EO, Vgontzas AN, Lin HM, Ten Have T, Rein J, Vela-Bueno A, Kales A (2001) Prevalence of sleep-disordered breathing in women: effects of gender. Am J Respir Crit Care Med 163:608–613

38.

Durán J, Esnaola S, Rubio R, Iztueta A (2001) Obstructive sleep apnea–hypopnea and related clinical features in a population-based sample of subjects aged 30 to 70 yr. Am J Respir Crit Care Med 163:685–689

39.

Kim J, In K, Kim J, You S, Kang K, Shim J, Lee S, Lee J, Lee S, Park C, Shin C (2004) Prevalence of sleep-disordered breathing in middle-aged Korean men and women. Am J Respir Crit Care Med 170:1108–1113

40.

Baldwin CM, Kapur VK, Holberg CJ, Rosen C, Nieto FJ, Sleep Heart Health Study Group (2004) Associations between gender and measures of daytime somnolence in the Sleep Heart Health Study. Sleep 27:305–311

41.

Howard ME, Desai AV, Grunstein RR, Hukins C, Armstrong JG, Joffe D, Swann P, Campbell DA, Pierce RJ (2004) Sleepiness, sleep-disordered breathing, and accident risk factors in commercial vehicle drivers. Am J Respir Crit Care Med 170:1014–1021

42.

Nakayama-ashida Y, Takegami M, Chin K, Sumi K, Nakamura T, Takahashi K, Wakamura T, Horita S, Oka Y, Minami I, Fukuhara S, Kadotani H (2008) Sleep-disordered breathing in the usual lifestyle setting as detected with home monitoring in a population of working men in Japan. Sleep 31:419–425

43.

Tufik S, Santos-Silva R, Taddei JA, Bittencourt LR (2010) Obstructive sleep apnea syndrome in the Sao Paulo Epidemiologic Sleep Study. Sleep Med 11:441–446

44.

Matsushita Y, Yoshiike N, Kaneda F, Yoshita K, Takimoto H (2004) Trends in childhood obesity in Japan over the last 25 years from the National Nutrition Survey. Obes Res 12:205–214

45.

Rizzi M, Onorato J, Andreoli A, Colombo S, Pecis M, Marchisio P, Morelli M, Principi N, Esposito S, Sergi M (2002) Nasal resistances are useful in identifying children with severe obstructive sleep apnea before polysomnography. Int J Pediatr Otorhinolaryngol 65:7–13
Acknowledgments
The authors thank the staff of the Department of Sleep Medicine, Shiga University of Medical Science, for logistical support and the school staff, children, and their parents for their cooperation and participation. This work was supported by a Grant-in-Aid for Scientific Research (B) (no. 21390461) from the Japanese Society for the Promotion of Science.
Conflict of interest
We have no conflicts of interest or financial interests to declare.
About this article
Cite this article
Kitamura, T., Miyazaki, S., Kadotani, H. et al. Prevalence of obstructive sleep apnea syndrome in Japanese elementary school children aged 6–8 years. Sleep Breath 18, 359–366 (2014). https://doi.org/10.1007/s11325-013-0893-5
Received:

Revised:

Accepted:

Published:

Issue Date:
Keywords
Apnea

Hypopnea

International Classification of Sleep Disorders version II

Rhinomanometry

Tonsillar hypertrophy

Type 3 portable monitoring