Abstract
Background
The alteration of regional cerebral blood flow (rCBF) during wakefulness after the treatment for obstructive sleep apnea syndrome (OSA) using continuous positive airway pressure (CPAP) has not been elucidated. The aim of this study was to investigate rCBF characteristics and the effects of nasal CPAP in OSA patients.
Methods
Fifteen severe OSA patients (apnea–hypopnea index, 62.7 ± 22.4/h), when awake, underwent Technetium-99m ethyl cysteinate dimer single photon emission computed tomography before and after CPAP treatment, and the findings were compared to those of nine healthy controls matched for age and sex.
Results
Compared to controls, patients with OSA before CPAP treatment showed a significantly lower rCBF in the frontal lobe. After the treatment, no difference in rCBF was observed between the good CPAP compliance group and the controls. In the former group, there was a positive correlation between the 3 % oxygen desaturation index on diagnostic polysomnogram and the increase of rCBF after CPAP treatment in the frontal lobe.
Conclusions
When awake, patients with severe OSA were shown to have reversible decreases in rCBF, especially in the frontal lobe, and an appropriate CPAP treatment was thought to improve rCBF in this area. Our results support the importance of appropriate CPAP treatment for severe OSA patients.
This is a preview of subscription content, log in to check access.
Access options
Buy single article
Instant access to the full article PDF.
US$ 39.95
Price includes VAT for USA
Subscribe to journal
Immediate online access to all issues from 2019. Subscription will auto renew annually.
US$ 99
This is the net price. Taxes to be calculated in checkout.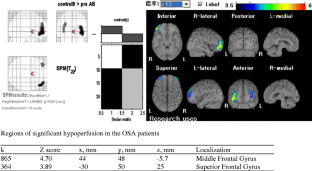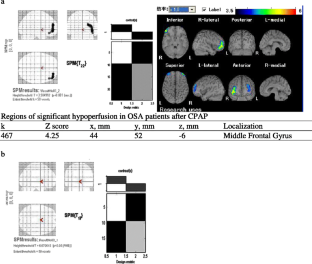 References
1.

Punjabi NM (2008) The epidemiology of adult obstructive sleep apnea. Proc Am Thorac Soc 5(2):136–143

2.

Aloia MS, Arnedt JT, Davis JD, Riggs RL, Byrd D (2004) Neuropsychological sequelae of obstructive sleep apnea-hypopnea syndrome: a critical review. J Int Neuropsychol Soc 10(5):772–785

3.

Findley LJ, Barth JT, Powers DC, Wilhoit SC, Boyd DG, Suratt PM (1986) Cognitive impairment in patients with obstructive sleep apnea and associated hypoxemia. Chest 90(5):686–690

4.

Greenberg GD, Watson RK, Deptula D (1987) Neuropsychological dysfunction in sleep apnea. Sleep 10(3):254–262

5.

Montplaisir J, Bedard MA, Richer F, Rouleau I (1992) Neurobehavioral manifestations in obstructive sleep apnea syndrome before and after treatment with continuous positive airway pressure. Sleep 15(6 Suppl):S17–S19

6.

Marshall RS (2012) Effects of altered cerebral hemodynamics on cognitive function. J Alzheimers Dis 32(3):633–642

7.

Joo EY, Tae WS, Han SJ, Cho JW, Hong SB (2007) Reduced cerebral blood flow during wakefulness in obstructive sleep apnea-hypopnea syndrome. Sleep 30(11):1515–1520

8.

Feuerstein C, Naegele B, Pepin JL, Levy P (1997) Frontal lobe-related cognitive functions in patients with sleep apnea syndrome before and after treatment. Acta Neurol Belg 97(2):96–107

9.

Bedard MA, Montplaisir J, Malo J, Richer F, Rouleau I (1993) Persistent neuropsychological deficits and vigilance impairment in sleep apnea syndrome after treatment with continuous positive airways pressure (CPAP). J Clin Exp Neuropsychol 15(2):330–341

10.

Canessa N, Castronovo V, Cappa SF, Aloia MS, Marelli S, Falini A, Alemanno F, Ferini-Strambi L (2011) Obstructive sleep apnea: brain structural changes and neurocognitive function before and after treatment. Am J Respir Crit Care Med 183(10):1419–1426

11.

Sasoh M, Ogasawara K, Kuroda K, Okuguchi T, Terasaki K, Yamadate K, Ogawa A (2003) Effects of EC-IC bypass surgery on cognitive impairment in patients with hemodynamic cerebral ischemia. Surg Neurol 59(6):455–460, discussion 460-463

12.

Duan W, Chun-Qing Z, Zheng J, Gui L, Huang HQ, Chen KN (2011) Relief of carotid stenosis improves impaired cognition in a rat model of chronic cerebral hypoperfusion. Acta Neurobiol Exp (Wars) 71(2):233–243

13.

Juni JE, Waxman AD, Devous MD Sr, Tikofsky RS, Ichise M, Van Heertum RL, Carretta RF, Chen CC (2009) Procedure guideline for brain perfusion SPECT using (99m)Tc radiopharmaceuticals 3.0. J Nucl Med Technol 37(3):191–195

14.

Friston KJ, Holmes A, Worsley KJ, Poline JP, Frith CD, Frackowiak RSJ (1995) Statistical parametric maps in functional imaging: a general linear approach. Hum Brain Mapp 2(189):189–210

15.

Maquet P (2000) Functional neuroimaging of normal human sleep by positron emission tomography. J Sleep Res 9(3):207–231

16.

Nakano H, Ikeda T, Hayashi M, Ohshima E, Itoh M, Nishikata N, Shinohara T (2004) Effect of body mass index on overnight oximetry for the diagnosis of sleep apnea. Respir Med 98(5):421–427

17.

Hukins C (2004) Comparative study of autotitrating and fixed-pressure CPAP in the home: a randomized, single-blind crossover trial. Sleep 27(8):1512–1517

18.

Gay P, Weaver T, Loube D, Iber C (2006) Evaluation of positive airway pressure treatment for sleep related breathing disorders in adults. Sleep 29(3):381–401

19.

Usui C, Hatta K, Doi N, Nakanishi A, Nakamura H, Nishioka K, Arai H (2010) Brain perfusion in fibromyalgia patients and its differences between responders and poor responders to gabapentin. Arthritis Res Ther 12(2):R64

20.

Lancaster JL, Woldorff MG, Parsons LM, Liotti M, Freitas CS, Rainey L, Kochunov PV, Nickerson D, Mikiten SA, Fox PT (2000) Automated Talairach atlas labels for functional brain mapping. Hum Brain Mapp 10(3):120–131

21.

Ficker JH, Feistel H, Moller C, Merkl M, Dertinger S, Siegfried W, Hahn EG (1997) Changes in regional CNS perfusion in obstructive sleep apnea syndrome: initial SPECT studies with injected nocturnal 99mTc-HMPAO. Pneumologie 51(9):926–930

22.

Alchanatis M, Deligiorgis N, Zias N, Amfilochiou A, Gotsis E, Karakatsani A, Papadimitriou A (2004) Frontal brain lobe impairment in obstructive sleep apnoea: a proton MR spectroscopy study. Eur Respir J 24(6):980–998

23.

Zhang X, Ma L, Li S, Wang Y, Wang L (2011) A functional MRI evaluation of frontal dysfunction in patients with severe obstructive sleep apnea. Sleep Med 12(4):335–340

24.

Macey PM, Henderson LA, Macey KE, Alger JR, Frysinger RC, Woo MA, Harper RK, Yan-Go FL, Harper RM (2002) Brain morphology associated with obstructive sleep apnea. Am J Respir Crit Care Med 166(10):1382–1387

25.

Xu W, Chi L, Row BW, Xu R, Ke Y, Xu B, Luo C, Kheirandish L, Gozal D, Liu R (2004) Increased oxidative stress is associated with chronic intermittent hypoxia-mediated brain cortical neuronal cell apoptosis in a mouse model of sleep apnea. Neuroscience 126(2):313–323

26.

Row BW, Liu R, Xu W, Kheirandish L, Gozal D (2003) Intermittent hypoxia is associated with oxidative stress and spatial learning deficits in the rat. Am J Respir Crit Care Med 167(11):1548–1553

27.

Cai XH, Zhou YH, Zhang CX, Hu LG, Fan XF, Li CC, Zheng GQ, Gong YS (2010) Chronic intermittent hypoxia exposure induces memory impairment in growing rats. Acta Neurobiol Exp (Wars) 70(3):279–287

28.

Willeumier KC, Taylor DV, Amen DG (2011) Elevated BMI is associated with decreased blood flow in the prefrontal cortex using SPECT imaging in healthy adults. Obesity (Silver Spring) 19(5):1095–1097

29.

O'Donoghue FJ, Briellmann RS, Rochford PD, Abbott DF, Pell GS, Chan CH, Tarquinio N, Jackson GD, Pierce RJ (2005) Cerebral structural changes in severe obstructive sleep apnea. Am J Respir Crit Care Med 171(10):1185–1190

30.

Gage FH (2002) Neurogenesis in the adult brain. J Neurosci 22(3):612–613

31.

Nigro CA, Aimaretti S, Gonzalez S, Rhodius E (2009) Validation of the WristOx 3100 oximeter for the diagnosis of sleep apnea/hypopnea syndrome. Sleep Breath 13(2):127–136
Acknowledgments
This work was supported in part by grants from the Arthritis Foundation of the Ministry of Health, Welfare, and Labor of the Japanese Government and the Japan Rheumatology Foundation and by a Grant-in-Aid for Young Scientists (start-up 19890214) from the Japan Society for the Promotion of Science.
Conflict of interest
Dr. Yuichi Inoue is supported by Hisamitsu Pharmaceutical Co. Inc., Nippon Boehringer Ingelheim Co. Ltd., Philips Respironics GK, Alfresa Pharma Corporation, Takeda Pharmaceutical Company Limited, MSD K.K., Pacific Medico Co. Ltd., Otsuka Pharmaceutical Co. Ltd., Eisai Co. Ltd., Mitsubishi Tanabe Pharma Corporation, Eisai Co. Ltd., GlaxoSmithKline KK., Sanofi-Aventis K.K., and Yoshitomi Yakuhin Corporation. All other listed authors have no conflicts of interest to disclose.
About this article
Cite this article
Shiota, S., Inoue, Y., Takekawa, H. et al. Effect of continuous positive airway pressure on regional cerebral blood flow during wakefulness in obstructive sleep apnea. Sleep Breath 18, 289–295 (2014). https://doi.org/10.1007/s11325-013-0881-9
Received:

Revised:

Accepted:

Published:

Issue Date:
Keywords
Obstructive sleep apnea syndrome

Continuous positive airway pressure

Frontal lobes

Regional cerebral blood flow

Single photon emission computed tomography

3 % Oxygen desaturation index