Abstract
Purpose
Allergic bronchial asthma is one of the most common chronic diseases worldwide. For many years, the climate at moderate altitude has been used as an alternative therapy for patients suffering from bronchial asthma. The aim of such therapy is to reduce the medication dose and to improve the quality of life for each patient. The aim of our current work was to assess published data evaluating the effects of climate therapy at moderate altitude on the health status of patients with bronchial asthma. The health status is represented through surrogate parameters for the pulmonary function (forced expiratory volume in one second (FEV1)), bronchial hyperresponsiveness (PC20), and inflammation (total number of eosinophils, eosinophilic cationic protein, and exhaled nitric oxide).
Methods
Our systematic review included randomized controlled trials (RCTs) and single-armed studies with adults and children participating. Included in our review were climate therapies occurring at moderate altitudes between 1,500 and 2,500 m and evaluation of patient FEV1 or PC20 values.
Results
A literature research in MEDLINE and EMBASE identified three RCTs, two clinically controlled trials, and 15 single-armed studies. Analysis revealed a lack of evidence regarding the moderate altitude therapy arising from small sample sizes, deficits in documentation, and heterogeneous results. Most of the studies, however, showed a tendency for improvement of the analyzed parameters.
Conclusions
The currently available data do not allow for valid and generalizable recommendations with respect to moderate altitude therapy for patients with allergic bronchial asthma. There is a need for additional, qualitatively strong research including larger sample sizes and randomized, controlled trial design.
This is a preview of subscription content, log in to check access.
Access options
Buy single article
Instant access to the full article PDF.
US$ 39.95
Price includes VAT for USA
Subscribe to journal
Immediate online access to all issues from 2019. Subscription will auto renew annually.
US$ 99
This is the net price. Taxes to be calculated in checkout.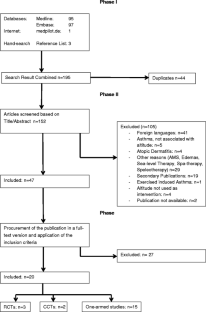 Reference
1.

Global Inititative for Asthma (2009) Global Strategy for Asthma Management and Prevention.

2.

Masoli M, Fabian D, Holt S, Beasley R (2004) Global Initiative for Asthma (GINA) Program. The global burden of asthma: executive summary of the GINA Dissemination Committee report. Allergy 59(5):469–478

3.

Beasley R (2004) The Global Burden of Asthma Report, Global Initiative for Asthma (GINA).

4.

Wenzel S (2005) Severe asthma in adults. Am J Respir Crit Care Med 172(2):149–160

5.

Levy ML, Thomas M, Small IR, Pearce L, Pinnock H, Stephenson P (2009) Summary of the 2008 BTS/SIGN British Guideline on the Management of Asthma. Prim Care Respir J 18:1–16

6.

Siddiqui S, Gonem S, Wardlaw AJ (2012) Advances in the Management of Severe Asthma. Semin Respir Crit Care Med 33:666–684

7.

Allbutt C (1879) The past winter in Davos. Lancet 114:76–78

8.

Schultze-Werninghaus G (2006) Should asthma management include sojourns at high altitude? Chem Immunol Allergy 91:16–29

9.

Turban K, Spengler L (1906) Resultate der Asthmabehandlung im Hochgebirge. Jahresbericht schweiz balneol Gesellsch 2:72–72

10.

de Andrade AD, Bartal M, Birnbaum J, Lanteaume A, Charpin D, Vervloet D (1995) House dust mite allergen content in two areas with large differences in relative humidity. Ann Allergy Asthma Immunol 74:314–316

11.

Menz G, Petri E, Lind P, Virchow C (1987) House dust mite in different altitudes of Grisons (Switzerland). Experientia Advances in Aerobiology 20:161–167

12.

Vervloet D, Penaud A, Razzouk H, Senft M, Arnaud A, Boutin C, Charpin J (1982) Altitude and house dust mites. J Allergy Clin Immunol 69:290–296

13.

Leuschner RM, Boehm W (1981) Pollen and inorganic particles in the air of climatically very different places in Switzerland. Grana 20:161–167

14.

Casan P, Togores B, Giner J, Nerin I, Drobnic F, Borderias L, Caminero J, Duce F, Agusti AG (1999) Lack of effects of moderate-high altitude upon lung function in healthy middle-aged volunteers. Respir Med 93(10):739–743

15.

European Environment Agency (2010) Air Quality Maps of Europe.

16.

Sandhu MS, Casale TB (2010) The role of vitamin D in asthma. Ann Allergy Asthma Immunol 105:191–199

17.

Schobersberger W, Leichtfried V, Mück-Weymann M, Humpeler E (2010) Austrian Moderate Altitude Studies (AMAS): benefits of exposure to moderate altitudes (1,500–2,500 m). Sleep Breath 14(3):201–207

18.

Liberati A, Altman DG, Tetzlaff J, Mulrowk C, Götsche PC, Ioannidis JPA, Clarke M, Devereaux PJ, Kleijnen J, Moher D (2009) The PRISMA statement for reporting systematic reviews and meta-analyses of studies that evaluate health care interventions: explanation and elaboration. PLOS Med 6(7):1–28

19.

Bärtsch P, Saltin B, Dvorak J (2008) Consensus statement on playing football at different altitude. Scand J Med Sci Sports Suppl 1:96–99

20.

Pellegrini R, Viegi G, Brusasco V, Crapo RO, Burgos F, Casaburi R, Coates A, van der Grinten CP, Gustafsson P, Hankinson J, Jensen R, Johnson DC, MacIntyre N, McKay R, Miller MR, Navajas D, Pedersen OF, Wanger J (2005) Interpretative strategies for lung function tests. Eur Respir J 26(5):948–968

21.

Jadad AR, Moore RA, Carroll D, Jenkinson C, Reynolds DJM, Gavaghan DJ, McQuay HJ (1996) Assessing the quality of reports of randomized clinical trials: is blinding necessary? Control Clin Trials 17(17):1–12

22.

Boner AL, Comis A, Schiassi M, Venge P, Piacentini GL (1995) Bronchial reactivity in asthmatic children at high and low altitude. Effect of budesonide. Am J Respir Crit Care Med 151(4):1194–1200

23.

Christie PE, Yntema JL, Tagari P, Ysselstijn H, Ford-Hutchinson AW, Lee TH (1995) Effect of altitude on urinary leukotriene (LT) E4 excretion and airway. Eur Respir J 8(3):357–363

24.

Peroni DG, Piacentini GL, Martinati LC, Warner JO, Boner AL (1995) Double-blind trial of house-dust mite immunotherapy in asthmatic children resident at high altitude. Allergy 50(11):925–930

25.

Grootendorst DC, Dahlen SE, van den Bos JW, Duiverman EJ, Veselic-Charvat M, Vrijlandt EJ, O'Sullivan S, Kumlin M, Sterk PJ, Roldaan AC (2001) Benefits of high altitude allergene avoidance in atopic adolescents with moderate to severe asthma, over and above treatment with high dose inhealed steroids. Clin Exp Allergy 31:400–408

26.

Milanese M, Peroni DG, Costella S, Aralla R, Loiacono A, Barp C, Boner A, Brusasco V (2004) Improved bronchodilator effect of deep inhalation after allergen avoidance in asthmatic children. J Allergy Clin Immunol 114(3):505–511

27.

Benckhuijsen J, van den Bos JW, van Velzen E, de Bruijn R, Aalbers R (1996) Differences in the effect of allergen avoidance on bronchial hyperresponsiveness as measured by metacholine, adenosine 5'-monophosphate, and exercise in asthmatic children. Pediatr Pulmonol 22(3):147–153

28.

Boner AL, Peroni DG, Piacentini GL, Venge P (1993) Influence of allergen avoidance at high altitude on serum markers of eosinophil activation in children with allergic asthma. Clin Exp Allergy 23(12):1021–1026

29.

Peroni DG, Boner AL, Vallone G, Antolini I, Warner JO (1994) Effective allergen avoidance at high altitudes reduces allergen-induced bronchial hyperresponsiveness. Am J Respir Crit Care Med 149(6):15–24

30.

Peroni DG, Piacentini GL, Costella S, Pietrobelli A, Bodini A, Loiacono A, Aralla R, Boner AL (2002) Mite avoidance can reduce air trapping and airway inflammation in allergic asthmatic children. Clin Exp Allergy 32(6):850–855

31.

Peroni DG, Bodini A, Loiacono A, Paida G, Tenero L, Piacentini GL (2009) Bioimpedance monitoring of airway inflammation in asthmatic allergic children. Allergol Immunopathol 37(1):3–6

32.

Piacentini GL, Martinati LC, Fornari A, Comis A, Carcereri L, Boccagni P, Boner AL (1993) Antigen avoidance in a mountain environment: Influence on basophil releasability in children with allergic asthma. J Allergy Clin Immunol 92(5):644–650

33.

Piacentini GL, Martinati LC, Mignoni S, Boner AL (1996) Influence of allergen avoidance on the eosinophil phase of airway inflammation. J Allergy Clin Immunol 97(5):1079–1084

34.

Piacentini GL, Vicentini L, Mazzi P, Chilosi M, Martinati LC, Boner AL (1998) Mite-antigen avoidance can reduce bronchial epithelial shedding in allergic. Clin Exp Allergy 28(5):561–567

35.

Piacentini GL, Peterson C, Peroni DG, Bodini A, Boner AL (1999) Allergen avoidance at high altitude and urinary eosinophil protein X. J Allergy Clin Immunol 104(1):243–244

36.

Rijssenbeek-Nouwens LH, Fieten KB, Bron AO, Hashimoto S, Bel EH, Weersink EJ (2012) High altitude treatment in atopic and non-atopic patients with severe asthma. Eur Respir J 40(6):1374–1380

37.

Simon HU, Grotzer M, Nikolaizik WH, Blaser K, Schoni MH (1994) High altitude climate therapy reduces peripheral blood T lymphocyte activation, eosinophilia, and bronchial obstruction in children with house-dust mite allergic asthma. Pediatr Pulmonol 17(5):304–311

38.

Straub DA, Ehmann R, Hall GL, Moeller A, Hamacher J, Frey U, Sennhauser FH, Wildhaber JH (2004) Correlation of nitrites in breath condensates and lung function in asthmatic children. Pediatr Allergy Immunol 15(1):20–25

39.

Valletta EA, Comis A, Del Col G, Spezia E, Boner AL (1995) Peak expiratory flow variation and bronchial hyperresponsiveness in asthmatic children during periods of antigen avoidance and reexposure. Allergy 50(4):366–369

40.

Valletta EA, Piacentini GL, Del Col G, Boner AL (1997) FEF25–75 as a marker of airway obstruction in asthmatic children during reduced mite exposure at high altitude. J Asthma 34(2):127–131

41.

van Velzen E, van den Bos JW, Benckhuijsen J, van Essel T, de Bruijn R, Aalbers R (1996) Effect of allergen avoidance at high altitude on direct and indirect bronchial hyperresponsiveness and markers of inflammation in children with allergic asthma. Thorax 51(6):582–584

42.

Schuh A, Novak D (2011) Evidence-based acute and long-lasting effects of climatotherapy in moderate altitudes and on the seaside: a qualitative review. Dtsch Med Wochenschrift 136:135–139

43.

Rijssenbeek-Nouwens LH, Bel EH (2011) High-altitude treatment: a therapeutic option for patients with severe, refractory asthma? Clin Exp Allergy 41:775–782

44.

Schultze-Werninghaus G (2008) Effects of high altitude on bronchial asthma. Pneumologie 62(3):170–176

45.

Ahnert J, Löffler S, Müller J, Vogel H (2010) Systematic literature review on interventions in rehabilitation for children and adolescents with asthma bronchiale. Rehabilitation 49(3):147–159

46.

Cockcroft DW (2003) Bronchoprovocation methods: direct challenges. Clin Rev Allergy Immunol 24(1):19–26

47.

Eberlein B, Gulyas A, Schultz K, Lecheler J, Flogel S, Wolfmeyer C, Thiessen K, Gass S, Kroiss M, Huss-Marp J, Darsow U, Hollweck R, Schuster T, Behrendt H, Ring J (2009) Benefits of alpine mountain climate of Bavaria in patients with allergic diseases and chronic obstructive pulmonary disease: results from the AURA* study. J Investig Allergol Clin Immunol 19(2):159–161

48.

Huss-Marp J, Krämer U, Eberlein B, Pfab F, Ring J, Behrendt H, Gulyas AF (2007) Reduced exhaled nitric oxide values in children with asthma after inpatient rehabilitation at high altitude. J Allergy Clin Immunol 120(2):471–472

49.

Szefler SJ, Mitchell H, Sorkness CA, Gergen PJ, O'Connor GT, Morgan WJ, Kattan M, Pongracic JA, Teach SJ, Bloomberg GR, Eggleston PA, Gruchalla RS, Kercsmar CM, Liu AH, Wildfire JJ, Curry MD, Busse WW (2008) Management of asthma based on exhaled nitric oxide in addition to guideline-based treatment for inner-city adolescents and young adults: a randomized controlled trial. Lancet 372(9643):1065–1072

50.

Drzimalla K, Wagner SA, Disch R (1999) Long-term results after high-altitude climatotherapy in Davos—a follow-up study. Allergologie 22(1):29–35

51.

Schulz KF, Chalmers I, Hayes RJ, Altman DG (1995) Empirical evidence of bias. Dimensions of methodological quality associated with estimates of treatment effects in controlled trials. JAMA 273:408–412

52.

Jüni P, Holenstein F, Sterne J, Bartlett C, Egger M (2002) Direction and impact of language bias in meta-analysis of controlled trials: empirical study. Int J Epidemiol 31:115–123

53.

Greenhalgh T (2003) Einführung in die evidenc-based medicine. Kritische Beurteilung klinischer Studien als Basis rationaler Medizin. Huber, Bern

54.

Institut für Qualität und Wirtschaftlichkeit im Gesundheitswesen (IQWIG) (10-3-2011) Allgemeine Methoden 4.0. 24-6-2011
Conflict of interest
No conflict of interest was declared.
About this article
Cite this article
Massimo, T., Blank, C., Strasser, B. et al. Does climate therapy at moderate altitudes improve pulmonary function in asthma patients? A systematic review. Sleep Breath 18, 195–206 (2014). https://doi.org/10.1007/s11325-013-0870-z
Received:

Revised:

Accepted:

Published:

Issue Date:
Keywords
Bronchial asthma

Moderate altitude

Climate therapy

Systematic review