Abstract
Background
The Berlin Questionnaire (BQ) is a useful tool to identify the high-risk group for obstructive sleep apnea (OSA) in the primary care sites or hospital, but the usefulness of the BQ to identify the high-risk group for OSA in the general population has not been evaluated. The purpose of our study was to develop the Korean version of the BQ (KBQ) and evaluate the usefulness of the BQ in identifying patients with OSA in the general population.
Methods
A total of 1,305 subjects were included in a population-based door-to-door cross-sectional study. For validation of the KBQ, an overnight polysomnography (PSG) was performed on 101 subjects who were randomly selected considering their age, sex, and risk group classification at a controlled sleep laboratory.
Results
The KBQ showed a relatively good to excellent internal consistency (Cronbach's α correlation 0.64–0.78) and test–retest reliability (intraclass correlation 0.92). The apnea–hypopnea index (AHI) was significantly correlated with the scores in each category and the total scores of the KBQ. In addition, high risk grouping based on the KBQ predicted an AHI ≥ 5 with a sensitivity of 0.69 and a specificity of 0.83. According to the risk categorization based on the KBQ, 26.1 % subjects were in the high-risk group for OSA which was similar to the prevalence of OSA in a previous large epidemiological study using PSG in Korea.
Conclusion
This is the first study to confirm the usefulness of the BQ as a screening tool for OSA by prioritizing subjects at high risk for OSA in the general population.
This is a preview of subscription content, log in to check access.
Access options
Buy single article
Instant access to the full article PDF.
US$ 39.95
Price includes VAT for USA
Subscribe to journal
Immediate online access to all issues from 2019. Subscription will auto renew annually.
US$ 99
This is the net price. Taxes to be calculated in checkout.
References
1.

Weinreich G, Plein K, Teschler T, Resler J, Teschler H (2006) Is the Berlin questionnaire an appropriate diagnostic tool for sleep medicine in pneumological rehabilitation? Pneumologie 60:737–742

2.

American Academy of Sleep Medicine (2005) International classification of sleep disorders: diagnostic and coding manual, 2nd edn. American Academy of Sleep Medicine, Westchester

3.

Nieto FJ, Young TB, Lind BK, Shahar E, Samet JM, Redline S, D'Agostino RB, Newman AB, Lebowitz MD, Pickering TG (2006) Association of sleep-disordered breathing, sleep apnea, and hypertension in a large community-based study. Sleep Heart Health Study. JAMA 283:1829–1836

4.

Peppard PE, Young T, Palta M, Skatrud J (2000) Prospective study of the association between sleep-disordered breathing and hypertension. N Engl J Med 342:1378–1384

5.

Yaggi HK, Concato J, Kernan WN, Lichtman JH, Brass LM, Mohsenin V (2005) Obstructive sleep apnea as a risk factor for stroke and death. N Engl J Med 353:2034–2041

6.

Babu AR, Herdegen J, Fogelfeld L, Shott S, Mazzone T (2005) Type 2 diabetes, glycemic control, and continuous positive airway pressure in obstructive sleep apnea. Arch Intern Med 165:447–452

7.

Kim J, In K, Kim J, You S, Kang K, Shim J, Lee S, Lee J, Lee S, Park C, Shin C (2004) Prevalence of sleep-disordered breathing in middle-aged Korean men and women. Am J Respir Crit Care Med 170:1108–1113

8.

Young T, Palta M, Dempsey J, Skatrud J, Weber S, Badr S (1993) The occurrence of sleep-disordered breathing among middle-aged adults. N Engl J Med 328:1230–1235

9.

Ohayon MM, Guilleminault C, Priest RG, Caulet M (1997) Snoring and breathing pauses during sleep: telephone interview survey of a United Kingdom population sample. BMJ 314:860–863

10.

Young T, Evans L, Finn L, Palta M (1997) Estimation of the clinically diagnosed proportion of sleep apnea syndrome in middle-aged men and women. Sleep 20:705–706

11.

Sharma SK, Vasudev C, Sinha S, Banga A, Pandey RM, Handa KK (2006) Validation of the modified Berlin questionnaire to identify patients at risk for the obstructive sleep apnoea syndrome. Indian J Med Res 124:281–290

12.

Netzer NC, Stoohs RA, Netzer CM, Clark K, Strohl KP (1999) Using the Berlin questionnaire to identify patients at risk for the sleep apnea syndrome. Ann Intern Med 131:485–491

13.

Ahmadi N, Chung SA, Gibbs A, Shapiro CM (2008) The Berlin questionnaire for sleep apnea in a sleep clinic population: relationship to polysomnographic measurement of respiratory disturbance. Sleep Breath 12:39–45

14.

Dement WC, Netzer NC (2000) Primary care: is it the setting to address sleep disorders? [published erratum appears in Sleep Breath 2000;4:187-92]. Sleep Breath 4:1–9

15.

World Health Organization (WHO) Regional Office for the Western Pacific/International Association for the Study of Obesity/International Obesity Task Force (2000) The Asia-Pacific perspective: redefining obesity and its treatment. Health Communications Australia, Sydney, Australia

16.

Iber C, Ancoli-Israel S, Chesson A, Quan S (2007) The AASM manual for the scoring of sleep and associated events: rules, terminology and technical specifications. American Academy of Sleep Medicine, Westchester

17.

Mok WY, Lam CL, Lam B, Cheung MT, Yam L, Ip MS (2004) A Chinese version of the Sleep Apnea Quality of Life Index was evaluated for reliability, validity, and responsiveness. J Clin Epidemiol 57:470–478

18.

Wiegand L, Zwillich CW (1994) Obstructive sleep apnea. Dis Mon 40:197–252

19.

Redline S, Tosteson T, Boucher MA, Millma RP (1991) Measurement of sleep-related breathing disturbances in epidemiologic studies. Assessment of the validity and reproducibility of a portable monitoring device. Chest 100:1281–1286

20.

Bliwise DL, Benkert RE, Ingham RH (1991) Factors associated with nightly variability in sleep-disordered breathing in the elderly. Chest 100:973–976

21.

Agnew HW Jr, Webb WB, Williams RL (1966) The first night effect: an EEG study of sleep. Psychophysiology 2:263–266

22.

Selwa LM, Marzec ML, Chervin RD, Weatherwax KJ, Vaughn BV, Foldvary-Schaefer N, Wang L, Song Y, Malow BA (2008) Sleep staging and respiratory events in refractory epilepsy patients: is there a first night effect? Epilepsia 49:2063–2068
Acknowledgments
This research was supported by a grant of Korea Centers for Disease Control and Prevention, Republic of Korea (2009-E33029-00) and by Kyungpook National University Research Fund, 2012.
Conflict of interest
This was not an industry-supported study. The authors have indicated no financial conflicts of interest. There is no off-label or investigational use in this study.
Additional information
Kyunghun Kang and Ki-Soo Park contributed equally to this work.
Appendix. The Korean version of Berlin Questionnaire
Appendix. The Korean version of Berlin Questionnaire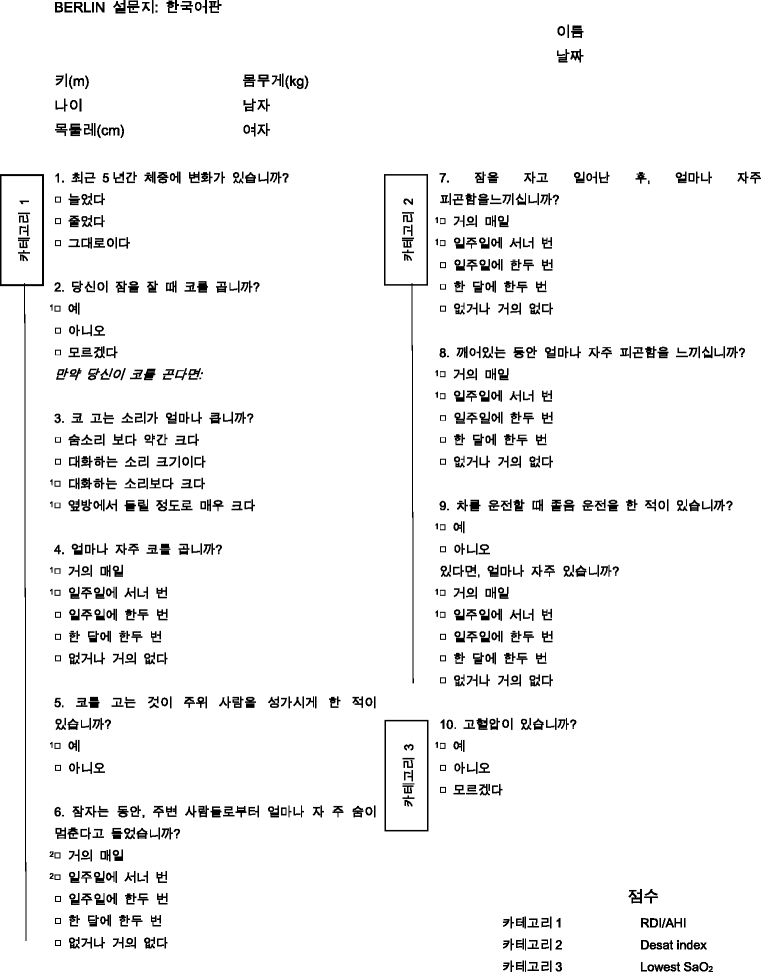 About this article
Cite this article
Kang, K., Park, K., Kim, J. et al. Usefulness of the Berlin Questionnaire to identify patients at high risk for obstructive sleep apnea: a population-based door-to-door study. Sleep Breath 17, 803–810 (2013). https://doi.org/10.1007/s11325-012-0767-2
Received:

Revised:

Accepted:

Published:

Issue Date:
Keywords
Berlin Questionnaire

Obstructive sleep apnea

Sleep-disordered breathing

Polysomnography

General population

Validity