Abstract
Aim
Obstructive sleep apnea syndrome (OSAS) is characterized by recurrent respiratory disorders in the upper airways during sleep. Although continuous positive airway pressure (CPAP) has been accepted to be the most effective treatment for OSAS, its role on inflammation remains debatable. In this study, our aim was to examine the influence of 3 months of CPAP treatment on tumor necrosis factor-alpha (TNF-α), interleukin-6 (IL-6), 8-isoprostane, and peroxynitrite levels in exhaled breathing condensates (EBC) and serum.
Methods
Thirty-five patients who were newly diagnosed as moderate or severe OSAS with full night polysomnography and used CPAP therapy regularly for 3 months were included in the study. Polysomnography, spirometric tests, fasting blood samples, and EBC were ascertained on entry into the study and after 3 months of treatment. All patients were assessed monthly for treatment adherence and side effects.
Results
We found that all polysomnographic parameters were normalized after CPAP therapy in the control polysomnogram. Also, all markers in EBC and nitrotyrosine and 8-isoprostane levels in serum were decreased significantly with CPAP treatment. Sedimentation rate, C-reactive protein, IL-6, and TNF-α remained unchanged in serum after treatment. We found that baseline nitrotyrosine levels were significantly correlated with apnea–hypopnea index, oxygen desaturation index, and percent time in SpO2 < 90 % (p < 0.01).
Conclusions
CPAP therapy has primarily a relevant impact on airways, and nitrotyrosine levels correlated well with severity of OSAS. This treatment decreases both inflammation and oxidative stress levels in airways in OSAS patients. Also, this treatment helps to decrease systemic oxidative stress levels in serum.
This is a preview of subscription content, log in to check access.
Access options
Buy single article
Instant access to the full article PDF.
US$ 39.95
Price includes VAT for USA
Subscribe to journal
Immediate online access to all issues from 2019. Subscription will auto renew annually.
US$ 99
This is the net price. Taxes to be calculated in checkout.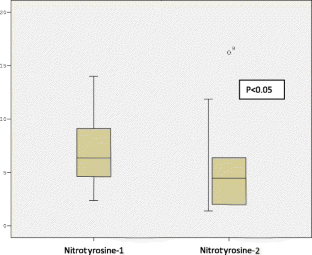 References
1.

Young T, Palta M, Dempsey J, Skatrud J, Weber S, Badr S (1993) The occurrence of sleep-disordered breathing among middle-aged adults. N Engl J Med 328:1230–1235

2.

Kohler M, Stradling JR (2010) Mechanisms of vascular damage in obstructive sleep apnea. Nat Rev Cardiol 7:677–685

3.

Ryan S, Taylor CT, McNicholas WT (2009) Systemic inflammation: a key factor in the pathogenesis of cardiovascular complications in obstructive sleep apnoea syndrome? Postgrad Med J 85:693–698

4.

Quercioli A, Mach F, Montecucco F (2010) Inflammation accelerates atherosclerotic processes in obstructive sleep apnea syndrome (OSAS). Sleep Breath 14:261–269

5.

Takama N, Kurabayasi M (2009) Influence of untreated sleep-disordered breathing on the long-term prognosis of patients with cardiovascular disease. Am J Cardiol 103:730–734

6.

Foresi A, Leone C, Olivieri D, Cremona G (2007) Alveolar-derived exhaled nitric oxide is reduced in obstructive sleep apnea syndrome. Chest 132:860–867

7.

Alberti A, Sarchielli P, Gallinella E, Floridi A, Floridi A, Mazzotta G, Gallai V (2003) Plasma cytokine levels in patients with obstructive sleep apnea syndrome: a preliminary study. J Sleep Res 12:305–311

8.

Ciftci TU, Kokturk O, Bukan N, Bilgihan A (2004) Relationship between serum cytokine levels with obesity and obstructive sleep apnea syndrome. Cytokine 21:87–91

9.

Kushida CA, Littner MR, Hirshkowitz M, Morgenthaler TI, Alessi CA, Bailey D, Boehlecke B, Brown TM, Coleman J Jr, Friedman L, Kapen S, Kapur VK, Kramer M, Lee-Chiong T, Owens J, Pancer JP, Swick TJ, Wise MS (2006) American Academy of Sleep Medicine Practice parameters for the use of continuous and bilevel positive airway pressure devices to treat adult patients with sleep-related breathing disorders. Sleep 29:375–380

10.

Kushida CA, Morgenthaler TI, Littner MR, Alessi CA, Bailey D, Coleman J Jr, Friedman L, Hirshkowitz M, Kapen S, Kramer M, Lee-Chiong T, Owens J, Pancer JP (2006) American Academy of Sleep Practice parameters for the treatment of snoring and obstructive sleep apnea with oral appliances. Sleep 29:240–243

11.

Skoczyński S, Ograbek-Król M, Tazbirek M, Semik-Orzech A, Pierzchała W (2008) Short-term CPAP treatment induces a mild increase in inflammatory cells in patients with sleep apnoea syndrome. Rhinology 46:144–150

12.

Kohler M, Ayers L, Pepperell JC, Packwood KL, Ferry B, Crosthwaite N, Craig S, Siccoli MM, Davies RJ, Stradling JR (2009) Effects of continuous positive airway pressure on systemic inflammation in patients with moderate to severe obstructive sleep apnoea: a randomised controlled trial. Thorax 64:67–73

13.

Fortuna AM, Miralda R, Calaf N, González M, Casan P, Mayos M (2011) Airway and alveolar nitric oxide measurements in obstructive sleep apnea syndrome. Respir Med 105:630–636

14.

Tamaki S, Yamauchi M, Fukuoka A, Makinodan K, Koyama N, Tomoda K, Yoshikawa M, Kimura H (2007) Production of inflammatory mediators by monocytes in patients with obstructive sleep apnea syndrome. Intern Med 48:1255–1262

15.

Iber C, Ancoli-Israel S, Chesson A, Quan SF (2007) The AASM manual for the scoring of sleep and associated events: rules, terminology, and technical specification. 1st ed. American Academy of Sleep Medicine, Westchester

16.

McNicholas WT (2009) Obstructive sleep apnea and inflammation. Prog Cardiovasc Dis 51:392–399

17.

Salerno FG, Carpagnano E, Guido P, Bonsignore MR, Roberti A, Aliani M, Vignola AM, Spanevello A (2004) Airway inflammation in patients affected by obstructive sleep apnea syndrome. Respir Med 98:25

18.

Guasti L, Marino F, Cosentino M, Maroni L, Maresca AM, Colombo F, Maio RC, Castiglioni L, Saporiti F, Loraschi A, Gaudio G, Bernasconi A, Laurita E, Grandi AM, Venco A (2011) Cytokine production from peripheral blood mononuclear cells and polymorphonuclear leukocytes in patients studied for suspected obstructive sleep apnea. Sleep Breath 15:3–11

19.

Devouassoux G, Lévy P, Rossini E, Pin I, Fior-Gozlan M, Henry M, Seigneurin D, Pépin JL (2007) Sleep apnoea is associated with bronchial inflammation and continuous positive airway pressure-induced airway hyperresponsiveness. J Allergy Clin Immunol 119:597–603

20.

Vgontzas AN, Zoumakis E, Bixler EO, Lin HM, Collins B, Basta M, Pejovic S, Chrousos GP (2008) Selective effects of CPAP on sleep apnoea-associated manifestations. Eur J Clin Invest 38:585–595

21.

Mota PC, Drummond M, Winck JC, Santos AC, Almeida J, Marques JA (2011) APAP impact on metabolic syndrome in obstructive sleep apnea patients. Sleep Breath 15:665–672

22.

Hegglin A, Schoch OD, Korte W, Hahn K, Hürny C, Münzer T (2012) Eight months of continuous positive airway pressure (CPAP) decrease tumor necrosis factor alpha (TNFA) in men with obstructive sleep apnea syndrome. Sleep Breath 16:405–412

23.

Yokoe T, Minoguchi K, Matsuo H, Oda N, Minoguchi H, Yoshino G, Hirano T, Adachi M (2003) Elevated levels of C-reactive protein and interleukin-6 in patients with obstructive sleep apnea syndrome are decreased by nasal continuous positive airway pressure. Circulation 107:1129–1134

24.

Carpagnano GE, Spanevello A, Sabato R, Depalo A, Turchiarelli V, Foschino MP (2008) Exhaled pH, exhaled nitric oxide, and induced sputum cellularity in obese patients with obstructive sleep apnea syndrome. Transl Res 151:45–50

25.

Weaver TE, Maislin G, Dinges DF, Bloxham T, George CF, Greenberg H, Kader G, Mahowald M, Younger J, Pack AI (2007) Relationship between hours of CPAP use and achieving normal levels of sleepiness and daily functioning. Sleep 30:711–719

26.

Hunt J (2007) Exhaled breath condensate: an overview. Immunol Allergy Clin North Am 27:587–596

27.

Rosias PP, Robroeks CM, Kester A, den Hartog GJ, Wodzig WK, Rijkers GT, Zimmermann LJ, van Schayck CP, Jöbsis Q, Dompeling E (2008) Biomarker reproducibility in exhaled breath condensate collected with different condensers. Eur Respir J 31:934–942

28.

Yamauchi M, Kimura H (2008) Oxidative stress in obstructive sleep apnea: putative pathways to the cardiovascular complication. Antioxid Redox Signal 10:735–768

29.

Petrosyan M, Perraki E, Simoes D, Koutsourelakis I, Vagiakis E, Roussos C, Gratziou C (2008) Exhaled breath markers in patients with obstructive sleep apnea. Sleep Breath 12:207–215
Acknowledgments
This study is supported by Fatih University Scientific Research Fund under project no. P53011005_2.
Conflict of interest
All authors have indicated no financial conflicts of interest.
About this article
Cite this article
Karamanlı, H., Özol, D., Ugur, K.S. et al. Influence of CPAP treatment on airway and systemic inflammation in OSAS patients. Sleep Breath 18, 251–256 (2014). https://doi.org/10.1007/s11325-012-0761-8
Received:

Revised:

Accepted:

Published:

Issue Date:
Keywords
Sleep apnea

CPAP

Inflammation

Oxidative stress