Abstract
Introduction
Over the past half century, evidence has been accumulating on the emergence of obstructive sleep apnea (OSA), the most prevalent sleep-disordered breathing, as a major risk factor for cardiovascular disease. A significant body of research has been focused on elucidating the complex interplay between OSA and cardiovascular risk factors, including dyslipidemia, obesity, hypertension, and diabetes mellitus that portend increased morbidity and mortality in susceptible individuals.
Conclusion
Although a clear causal relationship of OSA and dyslipidemia is yet to be demonstrated, there is increasing evidence that chronic intermittent hypoxia, a major component of OSA, is independently associated and possibly the root cause of the dyslipidemia via the generation of stearoyl-coenzyme A desaturase-1 and reactive oxygen species, peroxidation of lipids, and sympathetic system dysfunction. The aim of this review is to highlight the relationship between OSA and dyslipidemia in the development of atherosclerosis and present the pathophysiologic mechanisms linking its association to clinical disease. Issues relating to epidemiology, confounding factors, significant gaps in research and future directions are also discussed.
This is a preview of subscription content, log in to check access.
Access options
Buy single article
Instant access to the full article PDF.
US$ 39.95
Price includes VAT for USA
Subscribe to journal
Immediate online access to all issues from 2019. Subscription will auto renew annually.
US$ 99
This is the net price. Taxes to be calculated in checkout.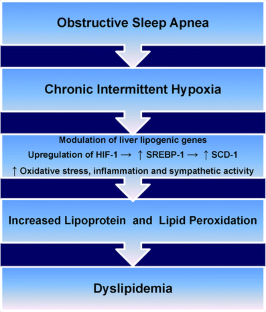 References
1.

Guilleminault C, Tilkian A, Dement WC (1976) The sleep apnea syndromes. Annu Rev Med 27:465–484

2.

Tishler PV, Larkin EK, Schluchter MD, Redline S (2003) Incidence of sleep-disordered breathing in an urban adult population: the relative importance of risk factors in the development of sleep-disordered breathing. JAMA 289(17):2230–2237

3.

Young T, Peppard PE, Gottlieb DJ (2002) Epidemiology of obstructive sleep apnea: a population health perspective. Am J Respir Crit Care Med 165(9):1217–1239

4.

Terán-Santos J, Jiménez-Gómez A, Cordero-Guevara J (1999) The association between sleep apnea and the risk of traffic accidents. Cooperative Group Burgos–Santander. N Engl J Med 340(11):847–851

5.

Chami HA, Resnick HE, Quan SF, Gottlieb DJ (2011) Association of incident cardiovascular disease with progression of sleep-disordered breathing. Circulation 123(12):1280–1286

6.

Redline S, Yenokyan G, Gottlieb DJ, Shakar E, O'Connor GT, Resnick HE, Diener-West M, Sanders MH, Wolf PA, Geraghty EM, Ali T, Lebowitz M, Punjabi NM (2010) Obstructive sleep apnea–hypopnea and incident stroke: the Sleep Heart Health Study. Am J Respir Crit Care Med 182:269–277

7.

Won CH, Chun HJ, Chandra SM, Sarinas PS, Chitkara RK, Heidenreich PA (2012) Severe obstructive sleep apnea increases mortality in patients with ischemic heart disease and myocardial injury. Sleep Breath. doi:10.1007/s11325-012-0653-y, PMID: 22294346 [Epub ahead of print]

8.

Campos-Rodriguez F, Martinez-Garcia MA, de la Cruz-Moron I, Almeida-Gonzalez C, Catalan-Serra P, Montserrat JM (2012) Cardiovascular mortality in women with obstructive sleep apnea with or without continuous positive airway pressure treatment: a cohort study. Ann Intern Med 156(2):115–122

9.

Sjösten N, Vahtera J, Salo P, Oksanen T, Saaresranta T, Virtanen M, Pentti J, Kivimäki M (2009) Increased risk of lost workdays prior to the diagnosis of sleep apnea. Chest 136(1):130–136

10.

Kapur V, Blough DK, Sandblom RE, Hert R, de Maine JB, Sullivan SD, Psaty BM (1999) The medical cost of undiagnosed sleep apnea. Sleep 22(6):749–755

11.

Phillipson EA (1993) Sleep apnea -a major public health problem. N Engl J Med 328(17):1271–1273

12.

The National Commission on Sleep Disorders Research (2002) Wake up America: a national sleep alert. US Government Printing Office, Washington

13.

Somers VK, White DP, Amin R, Abraham WT, Costa F, Culebras A, Daniels S, Floras JS, Hunt CE, Olson LJ, Pickering TG, Russell R, Woo M, Young T (2008) Sleep apnea and cardiovascular disease: an American Heart Association/American College of Cardiology Foundation Scientific Statement from the American Heart Association Council for High Blood Pressure Research Professional Education Committee, Council on Clinical Cardiology, Stroke Council, and Council on Cardiovascular Nursing. J Am Coll Cardiol 52(8):686–717

14.

Li J, Savransky V, Nanayakkara A, Smith PL, O'donnell CP, Polotsky VY (2007) Hyperlipidemia and lipid peroxidation are dependent on the severity of chronic intermittent hypoxia. J Appl Physiol 102(2):557–563

15.

Malakasioti G, Alexopoulos E, Befani C, Tanou K, Varlami V, Ziogas D, Liakos P, Gourgoulianis K, Kaditis AG (2011) Oxidative stress and inflammatory markers in the exhaled breath condensate of children with OSA. Sleep Breath. doi:10.1007/s11325-011-0560-7, PMID: 21811879 [Epub ahead of print]

16.

Vatansever E, Surmen-Gur E, Ursavas A, Karadag M (2011) Obstructive sleep apnea causes oxidative damage to plasma lipids and proteins and decreases adiponectin levels. Sleep Breath 15(3):275–282

17.

Savransky V, Nanayakkara A, Li J, Bevans S, Smith P, Rodriguez A, Polotosky V (2005) Chronic intermittent hypoxia induces atherosclerosis. Am J Respir Crit Care Med 175:1290–1297

18.

Tan KC, Chow WS, Lam JC, Lam B, Wong WK, Tam S, Ip MS (2006) HDL dysfunction in obstructive sleep apnea. Atherosclerosis 184(2):377–382

19.

Lin QC, Zhang XB, Chen GP, Huang DY, Din HB, Tang AZ (2011) Obstructive sleep apnea syndrome is associated with some components of metabolic syndrome in nonobese adults. Sleep Breath 571–578, doi:10.1007/s11325-011-0544-7; PMID: 21681412 [Epub ahead of print]

20.

National Cholesterol Education Program (NCEP) Expert Panel on Detection, Evaluation, and Treatment of High Blood Cholesterol in Adults (Adult Treatment Panel III) (2002) Third Report of the National Cholesterol Education Program (NCEP) expert panel on detection, evaluation, and treatment of high blood cholesterol in adults (Adult Treatment Panel III) final report. Circulation 106(25):3143–3421

21.

Jean-Louis G, Zizi F, Clark LT, Brown CD, McFarlane SI (2008) Obstructive sleep apnea and cardiovascular disease: role of the metabolic syndrome and its components. J Clin Sleep Med 4(3):261–272

22.

Parish JM, Adam T, Facchiano L (2007) Relationship of metabolic syndrome and obstructive sleep apnea. J Clin Sleep Med 3(5):467–472

23.

Kono M, Tatsumi K, Saibara T, Nakamura A, Tanabe N, Takiguchi Y, Kuriyama T (2007) Obstructive sleep apnea syndrome is associated with some components of metabolic syndrome. Chest 131(5):1387–1392

24.

Savransky V, Jun J, Nanayakkara A, Fonti S, Moser A, Steele K, Schweitzer M, Patil S, Bhanot S, Schwartz A, Polotsky V (2008) Dyslipidemia and atherosclerosis induced by chronic intermittent hypoxia are attenuated by deficiency of stearoyl Coenzyme A desaturase. Circ Res 103(10):1173–1180

25.

Grunstein RR, Stenlof K, Hedner J, Sjostrom L (1995) Impact of obstructive sleep apnea and sleepiness on metabolic and cardiovascular risk factors in the Swedish Obese Subjects (SOS) Study. Int J Obes Relat Metab Disord 19(6):410–418

26.

Coughlin SR, Mawdsley L, Mugarza JA, Calverley PM, Wilding JP (2004) Obstructive sleep apnoea is independently associated with an increased prevalence of metabolic syndrome. Eur Heart J 25(9):735–741

27.

Davies RJ, Turner R, Crosby J, Stradling JR (1994) Plasma insulin and lipid levels in untreated obstructive sleep apnea and snoring; their comparison with matched controls and response to treatment. J Sleep Res 3(3):180–185

28.

de la Eva RC, Baur LA, Donaghue KC, Waters KA (2002) Metabolic correlates with obstructive sleep apnea in obese subjects. J Pediatr 140(6):654–659

29.

Drager LF, Jun J, Polotsky VY (2010) Obstructive sleep apnea and dyslipidemia: implications for atherosclerosis. Curr Opin Endocrinol Diabetes Obes 17(2):161–165

30.

Chou YT, Chuang LP, Li HY, Fu JY, Lin SW, Yang CT, Chen NH (2010) Hyperlipidemia in patients with sleep-related breathing disorders: prevalence & risk factors. Indian J Med Res 131:121–125

31.

Perry JC, D'Almeida V, Souza FG, Schoorlemmer GH, Colombari E, Tufik S (2007) Consequences of subchronic and chronic exposure to intermittent hypoxia and sleep deprivation on cardiovascular risk factors in rats. Respir Physiol Neurobiol 156(3):250–258

32.

Li J, Thorne LN, Punjabi NM, Sun CK, Schwartz AR, Smith PL, Marino RL, Rodriguez A, Hubbard WC, O'Donnell CP, Polotsky VY (2005) Intermittent hypoxia induces hyperlipidemia in lean mice. Circ Res 97(7):698–706

33.

Li J, Bosch-Marce M, Nanayakkara A, Savransky V, Fried SK, Semenza GL, Polotsky VY (2006) Altered metabolic responses to intermittent hypoxia in mice with partial deficiency of hypoxia-inducible factor-1alpha. Physiol Genomics 25(3):450–457

34.

Hughes AL, Todd BL, Espenshade PJ (2005) SREBP pathway responds to sterols and functions as an oxygen sensor in fission yeast. Cell 120(6):831–842

35.

Semenza GL, Prabhakar NR (2007) HIF-1-dependent respiratory, cardiovascular, and redox responses to chronic intermittent hypoxia. Antioxid Redox Signal 9(9):1391–1396

36.

Semenza GL (2006) Regulation of physiological responses to continuous and intermittent hypoxia by hypoxia-inducible factor 1. Exp Physiol 91(5):803–806

37.

Li J, Grigoryev DN, Ye SQ, Thorne L, Schwartz AR, Smith PL, O'Donnell CP, Polotsky VY (2005) Chronic intermittent hypoxia upregulates genes of lipid biosynthesis in obese mice. J Appl Physiol 99(5):1643–1648

38.

Foretz M, Guichard C, Ferre P, Foufelle F (1999) Sterol regulatory element binding protein-1c is a major mediator of insulin action on the hepatic expression of glucokinase and lipogenesis-related genes. Proc Natl Acad Sci USA 96:12737–12742

39.

Shimomura I, Matsuda M, Hammer RE, Bashmakov Y, Brown MS, Goldstein JL (2000) Decreased IRS-2 and increased SREBP-1c lead to mixed insulin resistance and sensitivity in livers of lipodystrophic and ob/ob mice. Mol Cell 6:77–86

40.

Shimomura I, Bashmakov Y, Horton JD (1999) Increased levels of nuclear SREBP-1c associated with fatty liver in two mouse models of diabetic mellitus. J Biol Chem 274:30028–30032

41.

Schulz R, Mahmoudi S, Hattar K, Sibelius U, Olschewski H, Mayer K, Seeger W, Grimminger F (2000) Enhanced release of superoxide from polymorphonuclear neutrophils in obstructive sleep apnea: impact of continuous positive airway pressure therapy. Am J Respir Crit Care Med 162(2 Pt 1):566–570

42.

Barceló A, Miralles C, Barbé F, Vila M, Pons S, Agustí AG (2000) Abnormal lipid peroxidation in patients with sleep apnoea. Eur Respir J 16(4):644–647

43.

Carpagnano GE, Kharitonov SA, Resta O, Foschino-Barbaro MP, Gramiccioni E, Barnes PJ (2002) Increased 8-isoprostane and interleukin-6 in breath condensate of obstructive sleep apnea patients. Chest 122(4):1162–1167

44.

Carpagnano GE, Kharitonov SA, Resta O, Foschino-Barbaro MP, Gramiccioni E, Barnes PJ (2003) 8-Isoprostane, a marker of oxidative stress, is increased in exhaled breath condensate of patients with obstructive sleep apnea after night and is reduced by continuous positive airway pressure therapy. Chest 124(4):1386–1392

45.

Zhang Y, Zanotti I, Reilly MP, Glick JM, Rothblat GH, Rader DJ (2003) Overexpression of apolipoprotein A-I promotes reverse transport of cholesterol from macrophages to feces in vivo. Circulation 108(6):661–663

46.

Sattler W, Stocker R (1993) Greater selective uptake by Hep G2 cells of high-density lipoprotein cholesteryl ester hydroperoxides than of unoxidized cholesteryl esters. Biochem J 294(Pt 3):771–778

47.

Shih DM, Xia YR, Wang XP, Miller E, Castellani LW, Subbanagounder G, Cheroutre H, Faull KF, Berliner JA, Witztum JL, Lusis AJ (2000) Combined serum paraoxonase/apolipoprotein E knockout mice exhibit increased lipoprotein oxidation and atherosclerosis. J Biol Chem 275(23):17527–17535

48.

Tward A, Xia YR, Wang XP, Shi YS, Park C, Castellani LW, Lusis AJ, Shih DM (2002) Decreased atherosclerotic lesion formation in human serum paraoxonase transgenic mice. Circulation 106(4):484–490

49.

Mackness B, Hine D, Liu Y, Mastorikou M, Mackness M (2004) Paraoxonase-1 inhibits oxidized LDL-induced MCP-1 production by endothelial cells. Biochem Biophys Res Commun 318(3):680–683

50.

Garner B, Waldeck AR, Witting PK, Rye KA, Stocker R (1998) Oxidation of high density lipoproteins. II. Evidence for direct reduction of lipid hydroperoxides by methionine residues of apolipoproteins AI and AII. J Biol Chem 273(11):6088–6095

51.

Lavie L, Vishnevsky A, Lavie P (2004) Evidence for lipid peroxidation in obstructive sleep apnea. Sleep 27(1):123–128

52.

Navab M, Hama SY, Hough GP, Subbanagounder G, Reddy ST, Fogelman AM (2001) A cell-free assay for detecting HDL that is dysfunctional in preventing the formation of or inactivating oxidized phospholipids. J Lipid Res 42(8):1308–1317

53.

Ansell BJ, Navab M, Hama S, Kamranpour N, Fonarow G, Hough G, Rahmani S, Mottahedeh R, Dave R, Reddy ST, Fogelman AM (2003) Inflammatory/antiinflammatory properties of high-density lipoprotein distinguish patients from control subjects better than high-density lipoprotein cholesterol levels and are favorably affected by simvastatin treatment. Circulation 108(22):2751–2756

54.

Somers VK, Dyken ME, Clary MP, Abboud FM (1995) Sympathetic neural mechanisms in obstructive sleep apnea. J Clin Invest 96(4):1897–1904

55.

Leren P, Eide I, Foss OP, Helgeland A, Hjermann I, Holme I, Kjeldsen SE, Lund-Larsen PG (1982) Antihypertensive drugs and blood lipids: the Oslo study. Br J Clin Pharmacol 13(Suppl 2):441S–444S

56.

Marrone O, Riccobono L, Salvaggio A (1993) Catecholamines and blood pressure in obstructive sleep apnea syndrome. Chest 103(3):722–727

57.

Lowenstein J (1984) Effects of prazosin on serum lipids in patients with essential hypertension: a review of the findings presented at the Satellite Symposium on coronary heart disease, hypertension and other risk factors, Milan, 1983. Am J Cardiol 53(3):21A–23A

58.

Bartels NK, Börgel J, Wieczorek S, Büchner N, Hanefeld C, Bulut D, Mügge A, Rump LC, Sanner BM, Epplen JT (2007) Risk factors and myocardial infarction in patients with obstructive sleep apnea: impact of β2-adrenergic receptor polymorphisms. BMC Med 5:1

59.

Narkiewicz K, Somers VK (2003) Sympathetic nerve activity in obstructive sleep apnoea. Acta Physiol Scand 177(3):385–390

60.

Ottosson M, Vikman-Adolfsson K, Enerback S, Olvercrona G, Bjorntorp P (1994) The effects of cortisol on the regulation of lipoprotein lipase activity in human adipose tissue. J Clin Endocrinol Metab 79(3):820–825

61.

Börgel J, Sanner BM, Bittlinsky A, Keskin F, Bartels NK, Buechner N, Huesing A, Rump LC, Mügge A (2006) Obstructive sleep apnea and its therapy influence high-density lipoprotein cholesterol serum levels. Eur Respir J 27(1):121–127

62.

Shahar E, Whitney CW, Redline S, Lee ET, Newman AB, Javier Nieto F, O'Connor GT, Boland LL, Schwartz JE, Samet JM (2001) Sleep-disordered breathing and cardiovascular disease: cross-sectional results of the Sleep Heart Health Study. Am J Respir Crit Care Med 163(1):19–25

63.

Newman AB, Nieto FJ, Guidry U, Lind BK, Redline S, Pickering TG, Quan SF (2001) Sleep Heart Health Study Research Group. Relation of sleep-disordered breathing to cardiovascular disease risk factors: the Sleep Heart Health Study. Am J Epidemiol 154(1):50–59

64.

Roche F, Sforza E, Pichot V, Maudoux D, Garcin A, Celle S, Picard-Kossovsky M, Gaspoz JM, Barthélémy JC (2009) PROOF Study Group. Obstructive sleep apnoea/hypopnea influences high-density lipoprotein cholesterol in the elderly. Sleep Med 10(8):882–886

65.

Philips CL, Yee BJ, Marshall NS, Liu PY, Sullivan DR, Grunstein RR (2011) Continuous positive airway pressure reduces postprandial lipidemia in obstructive sleep apnea. Am J Respir Crit Care Med 184(3):355–361

66.

Robinson GV, Pepperell JC, Segal HC, Davies RJ, Stradling JR (2004) Circulating cardiovascular risk factors in obstructive sleep data from randomized controlled trials. Thorax 59(9):777–782
Acknowledgment
This research was supported by funding from the NIH (R25HL105444, R01HL095799 and R01MD004113). The authors declare that they have no conflict of interest.
About this article
Cite this article
Adedayo, A.M., Olafiranye, O., Smith, D. et al. Obstructive sleep apnea and dyslipidemia: evidence and underlying mechanism. Sleep Breath 18, 13–18 (2014). https://doi.org/10.1007/s11325-012-0760-9
Received:

Revised:

Accepted:

Published:

Issue Date:
Keywords
Obstructive sleep apnea

Chronic intermittent hypoxia (CIH)

Dyslipidemia

Cardiovascular risks