Abstract
Purpose
Restless leg syndrome (RLS) and periodic limb movements (PLMS) are common neurological diseases often associated with insomnia. A familial aggregation in RLS has been identified since it was first described; however, inheritance patterns of RLS/PLMS are poorly understood and their exact pathophysiology is not well-known. We have identified a Turkish pedigree with RLS/PLMS, which is a rare condition, in five generations of a family, including nine affected family members.
Methods
A detailed clinical evaluation of the family was conducted with the help of polysomnographic recording, electrophysiological findings, and biochemical parameters.
Results
The proband is a 38-year-old male member of the family who first started to show symptoms at the age of 29. All the patients from this family have been diagnosed with RLS, according to the criteria of the International RLS Study Group. Disease onset was early in all cases and even earlier in the younger generation. Three affected individuals also had PLMS on polysomnographic recordings.
Conclusion
To our knowledge, this is the first Turkish family in which nine individuals in five generations are affected. We suggest an important effect of anticipation and genetic impact of the diseases and describe specific clinical features. Further investigation of clinical, genetic, and biochemical similarities between PLMS and RLS may yield important clues, adding to our understanding of the pathophysiology of these common diseases.
This is a preview of subscription content, log in to check access.
Access options
Buy single article
Instant access to the full article PDF.
US$ 39.95
Price includes VAT for USA
Subscribe to journal
Immediate online access to all issues from 2019. Subscription will auto renew annually.
US$ 99
This is the net price. Taxes to be calculated in checkout.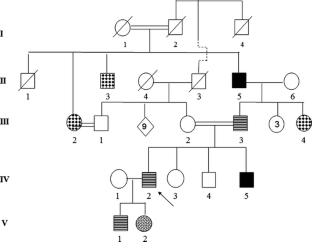 References
1.

Natarajan R (2010) Review of periodic limb movement and restless leg syndrome. J Postgrad Med 56:157–162

2.

American Academy of Sleep Medicine (2005) International classification of sleep disorders, 2nd ed. Diagnostic and coding manual. Westchester

3.

Pollmächer T, Schulz H (1993) Periodic leg movements (PLM): their relationship to sleep stages. Sleep 16:572–577

4.

Coleman RM, Pollak CP, Weitzman ED (1980) Periodic movements in sleep (nocturnal myoclonus): relation to sleep disorders. Ann Neurol 8:416–421

5.

Allen RP, Picchietti D, Hening WA, Trenkwalder C, Walters AS, Montplaisi J (2003) Restless legs syndrome: diagnostic criteria, special considerations, and epidemiology. A report from the restless legs syndrome diagnosis and epidemiology workshop at the National Institutes of Health. Sleep Med 4:101–119

6.

Hornyak M, Feige B, Voderholzer U, Philipsen A, Riemann D (2007) Polysomnography findings in patients with restless legs syndrome and in healthy controls: a comparative observational study. Sleep 30:861–865

7.

Yeh P, Walters AS, Tsuang JW (2012) Restless legs syndrome: a comprehensive overview on its epidemiology, risk factors, and treatment. Sleep Breath. doi:10.1007/s11325-011-0606-x

8.

Winkelmann J, Schormair B, Lichtner P, Ripke S, Xiong L, Jalilzadeh S, Fulda S, Pütz B, Eckstein G, Hauk S, Trenkwalder C, Zimprich A, Stiasny-Kolster K, Oertel W, Bachmann CG, Paulus W, Peglau I, Eisensehr I, Montplaisir J, Turecki G, Rouleau G, Gieger C, Illig T, Wichmann HE, Holsboer F, Müller-Myhsok B, Meitinger T (2007) Genome-wide association study of restless legs syndrome identifies common variants in three genomic regions. Nat Genet 39:1000–1006

9.

Schormair B, Kemlink D, Roeske D, Eckstein G, Xiong L, Lichtner P, Ripke S, Trenkwalder C, Zimprich A, Stiasny-Kolster K, Oertel W, Bachmann CG, Paulus W, Högl B, Frauscher B, Gschliesser V, Poewe W, Peglau I, Vodicka P, Vávrová J, Sonka K, Nevsimalova S, Montplaisir J, Turecki G, Rouleau G, Gieger C, Illig T, Wichmann HE, Holsboer F, Müller-Myhsok B, Meitinger T, Winkelmann J (2008) PTPRD (protein tyrosine phosphatase receptor type delta) is associated with restless legs syndrome. Nat Genet 40:946–948

10.

Stefansson H, Rye DB, Hicks A, Petursson H, Ingason A, Thorgeirsson TE, Palsson S, Sigmundsson T, Sigurdsson AP, Eiriksdottir I, Soebech E, Bliwise D, Beck JM, Rosen A, Waddy S, Trotti LM, Iranzo A, Thambisetty M, Hardarson GA, Kristjansson K, Gudmundsson LJ, Thorsteinsdottir U, Kong A, Gulcher JR, Gudbjartsson D, Stefansson K (2007) A genetic risk factor for periodic limb movements in sleep. N Engl J Med 357:639–647

11.

Trenkwalder C, Paulus W (2010) Restless legs syndrome: pathophysiology, clinical presentation and management. Nat Rev Neurol 6:337–346

12.

Rechtschaffen A, Kales A (1968) A manual of standardized terminology, techniques and scoring system for sleep stages of human subjects. University of California, Brain Information Service/Brain Research Institute, Los Angeles

13.

Lapierre O, Montplaisir J (1992) Polysomnographic features of REM sleep behavior disorder: development of a scoring method. Neurology 42:1371–1374

14.

Montplaisir J, Boucher S, Poirier G, Lavigne G, Lapierre O, Lespérance P (1997) Clinical, polysomnographic, and genetic characteristics of restless legs syndrome: a study of 133 patients diagnosed with new standard criteria. Mov Disord 12:61–65

15.

Picchietti DL, Walters AS (1999) Moderate to severe periodic limb movement disorder in childhood and adolescence. Sleep 22:297–300

16.

Trotti LM, Bliwise DL, Greer SA, Sigurdsson AP, Gudmundsdóttir GB, Wessel T, Organisak LM, Sigthorsson T, Kristjansson K, Sigmundsson T, Rye DB (2009) Correlates of PLMs variability over multiple nights and impact upon RLS diagnosis. Sleep Med 10:668–671

17.

Koo BB (2012) Restless legs syndrome: relationship between prevalence and latitude. Sleep Breath. doi:10.1007/s11325-011-0640-8

18.

Ekbom KA (1945) Restless legs: a clinical study. Acta Med Scand 158:1–123

19.

Desautels A, Turecki G, Montplaisir J, Xiong L, Walters AS, Ehrenberg BL, Brisebois K, Desautels AK, Gingras Y, Johnson WG, Lugaresi E, Coccagna G, Picchietti DL, Lazzarini A, Rouleau GA (2005) Restless legs syndrome: confirmation of linkage to chromosome 12q, genetic heterogeneity, and evidence of complexity. Arch Neurol 62:591–596

20.

Lazzarini A, Walters AS, Hickey K, Coccagna G, Lugaresi E, Ehrenberg BL, Picchietti DL, Brin MF, Stenroos ES, Verrico T, Johnson WG (1999) Studies of penetrance and anticipation in five autosomal-dominant restless legs syndrome pedigrees. Mov Disord 14:111–116

21.

Esteves AM, Pedrazzoli M, Bagnato M, Moreira F, de Mello MT, Tufik S (2008) Two pedigrees with restless legs syndrome in Brazil. Braz J Med Biol Res 41:106–109

22.

Koc I (2008) Prevalence and sociodemographic correlates of consanguineous marriages in Turkey. J Biosoc Sci 40:137–148

23.

Trenkwalder C, Seidel VC, Gasser T, Oertel WH (1996) Clinical symptoms and possible anticipation in a large kindred of familial restless legs syndrome. Mov Disord 11:389–394

24.

Birinyi PV, Allen RP, Hening W, Washburn T, Lesage S, Earley CJ (2006) Undiagnosed individuals with first-degree relatives with restless legs syndrome have increased periodic limb movements. Sleep Med 7:480–485

25.

Ancoli-Israel S, Kripke DF, Klauber MR, Mason WJ, Fell R, Kaplan O (1991) Periodic limb movements in sleep in community-dwelling elderly. Sleep 14:496–500

26.

Youngstedt SD, Kripke DF, Klauber MR, Sepulveda RS, Mason WJ (1998) Periodic leg movements during sleep and sleep disturbances in elders. J Gerontol A Biol Sci Med Sci 53:391–394

27.

Kirk VG, Bohn S (2004) Periodic limb movements in children: prevalence in a referred population. Sleep 27:313–315

28.

Picchietti DL, Underwood DJ, Farris WA, Walters AS, Shah MM, Dahl RE, Trubnick LJ, Bertocci MA, Wagner M, Hening WA (1999) Further studies on periodic limb movement disorder and restless legs syndrome in children with attention-deficit hyperactivity disorder. Mov Disord 14:1000–1007

29.

Sforza E, Pichot V, Barthelemy JC, Haba-Rubio J, Roche F (2005) Cardiovascular variability during periodic leg movements: a spectral analysis approach. Clin Neurophysiol 116:1096–1104

30.

Guggisberg AG, Hess CW, Mathis J (2007) The significance of the sympathetic nervous system in the pathophysiology of periodic leg movements in sleep. Sleep 30:755–766

31.

Nazhel B, Yetkin I, Irkeç C, Koçer B (2002) Sympathetic skin response in diabetic neuropathy. Electromyogr Clin Neurophysiol 42:181–185

32.

Carskadon MA, Dement WC (1994) Normal human sleep: an overview. In: Principles and practice of sleep medicine. Saunders, Philadelphia, pp. 16–25
Acknowledgments
The authors thank the participating family members for their collaboration and Marianne Abrams for language editing.
About this article
Cite this article
Babacan-Yildiz, G., Gürsoy, E., Kolukisa, M. et al. Clinical and polysomnographic features of a large Turkish pedigree with restless leg syndrome and periodic limb movements. Sleep Breath 17, 741–746 (2013). https://doi.org/10.1007/s11325-012-0756-5
Received:

Revised:

Accepted:

Published:

Issue Date:
Keywords
Restless leg syndrome (RLS)

Periodic limb movements (PLMS)

Genetics

Polysomnography

Turkey