Abstract
Purpose
Success rates of non-ventilation therapies for sleep disordered breathing (SDB) remain hardly acceptable. Drug-induced sleep endoscopy (DISE) tends to show the level and mechanism of obstruction and helps to specify therapy individually. Therefore, increasing success rates are expected. The objective of this study is to detect whether locations of treatment recommendations given after DISE are different to those made after clinical basic ENT (ear, nose, throat) examination (CBE).
Methods
This study included patients with obstructive sleep apnea (OSA) and primary snoring who wish or require an alternative therapy to the gold standard, continuous positive airway pressure (CPAP). After CBE, a theoretical treatment recommendation was given comprising surgery (possible surgical target: soft palate, tonsils, tongue base, epiglottis) and mandibular advancement splints (MAS) or both. A second ENT specialist conducted a DISE and independently recommended a second therapy concept without knowing the first one. A third person compared both theoretical locations of treatment recommendations (CBE vs. DISE).
Results
A total of 97 patients (eight female and 89 male, age 30–85 years, AHI 1.9–88.6/h, body mass index [BMI] 20.3–36.3 kg/m²) received two therapy recommendations. Regarding surgical options only, 63.9% of the examined patients got a different recommendation in at least one of four levels. If MAS was included, a change was found in 78.4% of the patients. Subdivided into each type of intervention, the following changes were found in the therapy concept: 24.7% (n = 24/97) soft palate, 12.4% (n = 12/97) tonsils, 33.0% (n = 32/97) tongue base, 27.8% (n = 27/97) epiglottis, 38.1% (n = 37/97) MAS.
Conclusions
DISE shows a relevant influence on the location of treatment recommendation. Thus, a change in success rates of non-CPAP therapy in OSA and snoring appears possible.
This is a preview of subscription content, log in to check access.
Access options
Buy single article
Instant access to the full article PDF.
US$ 39.95
Price includes VAT for USA
Subscribe to journal
Immediate online access to all issues from 2019. Subscription will auto renew annually.
US$ 99
This is the net price. Taxes to be calculated in checkout.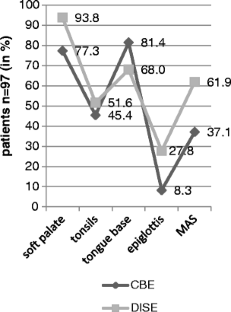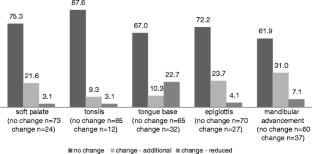 References
1.

Lin HC, Friedman M, Chang HW, Gurpinar B (2008) The efficacy of multilevel surgery of the upper airway in adults with obstructive sleep apnea/hypopnea syndrome. Laryngoscope 118(5):902–908

2.

Hoffstein V (2007) Review of oral appliances for treatment of sleep-disordered breathing. Sleep Breath 11(1):1–22

3.

Croft CB, Pringle M (1991) Sleep nasendoscopy: a technique of assessment in snoring and obstructive sleep apnoea. Clin Otolaryngol Allied Sci 16(5):504–509

4.

Faber CE, Grymer L (2003) Available techniques for objective assessment of upper airway narrowing in snoring and sleep apnea. Sleep Breath 7(2):77–86

5.

Abdullah VJ, Wing YK, van Hasselt CA (2003) Video sleep nasendoscopy: the Hong Kong experience. Otolaryngol Clin North Am 36(3):461–471

6.

Bachar G, Feinmesser R, Shpitzer T, Yaniv E, Nageris B, Eidelman L (2008) Laryngeal and hypopharyngeal obstruction in sleep disordered breathing patients, evaluated by sleep endoscopy. Eur Arch Otorhinolaryngol 265(11):1397–1402

7.

Hessel N, de Vries N (2003) Results of uvulopalatopharyngoplasty after diagnostic workup with polysomnography and sleep endoscopy: a report of 136 snoring patients. Eur Arch Otorhinolaryngol 260(2):91–95

8.

Pringle MB, Croft CB (1993) A grading system for patients with obstructive sleep apnoea–based on sleep nasendoscopy. Clin Otolaryngol Allied Sci 18(6):480–484

9.

Steinhart H, Kuhn-Lohmann J, Gewalt K, Constantinidis J, Mertzlufft F, Iro H (2000) Upper airway collapsibility in habitual snorers and sleep apneics: evaluation with drug-induced sleep endoscopy. Acta Otolaryngol 120(8):990–994

10.

Maurer JT, Hormann K (2010) Endoscopy in sleep medicine. HNO 58(4):341–347

11.

Fischer Y, Neagos A, Gronau S, Rettinger G (2006) Examiner variability of clinical findings in patients with sleep related breathing disorders. Laryngorhinootologie 85(5):338–343

12.

Kezirian EJ, Hohenhorst W, de Vries N (2011) Drug-induced sleep endoscopy: the VOTE classification. Eur Arch Otorhinolaryngol 268(8):1233–1236

13.

Quinn SJ, Daly N, Ellis PD (1995) Observation of the mechanism of snoring using sleep nasendoscopy. Clin Otolaryngol Allied Sci 20(4):360–364

14.

Camilleri AE, Ramamurthy L, Jones PH (1995) Sleep nasendoscopy: what benefit to the management of snorers? J Laryngol Otol 109(12):1163–1165

15.

Hewitt R, Dasgupta A, Singh A, Dutta C, Kotecha BT (2009) Is sleep nasendoscopy a valuable adjunct to clinical examination in the evaluation of upper airway obstruction? Eur Arch Otorhinolaryngol 266(5):691–697

16.

Johal A, Battagel JM, Kotecha BT (2005) Sleep nasendoscopy: a diagnostic tool for predicting treatment success with mandibular advancement splints in obstructive sleep apnoea. Eur J Orthod 27(6):607–614

17.

Vanderveken O, Vroegop A, Dieltjens M, Wouters K, Saldien V, Boudewyns A, Verbraecken J, Braem M, Van de Heyning P (2011) 20th Anniversary Meeting of the American Academy of Dental Sleep Medicine, Minneapolis, MN, USA, 10–12 June 2011. Abstract P14 Drug-induced sleependoscopy with simulation bite approach to predict treatment success of oral appliance therapy in adults with sleep-disordered breathing. Sleep Breath 15:260

18.

Vanderveken O, Vroegop A, Van de Heyning P, Braem M (2011) Drug-induced sleep endoscopy completed with a simulation bite approach for the prediction of the outcome of treatment of obstructive sleep apnea with mandibular repositioning appliances. Oper Tech Otolaryngol 22(2):175–182

19.

Kezirian E, Goldberg AN (2005) Propofol sleep endoscopy for evaluation in obstructive sleep apnea otolaryngology. Head Neck Surg 133(2):136

20.

Rodriguez-Bruno K, Goldberg AN, McCulloch CE, Kezirian EJ (2009) Test–retest reliability of drug-induced sleep endoscopy. Otolaryngol Head Neck Surg 140(5):646–651

21.

Abdullah B, Rajet KA, Abd Hamid SS, Mohammad WM (2010) A videoendoscopic evaluation of the upper airway in South East Asian adults with obstructive sleep apnea. Sleep Breath 15(4):747–754

22.

Berry S, Roblin G, Williams A, Watkins A, Whittet HB (2005) Validity of sleep nasendoscopy in the investigation of sleep related breathing disorders. Laryngoscope 115(3):538–540

23.

Maurer JT (2006) Current trends in the diagnosis of sleep related breathing disorders. Laryngorhinootologie 85(Suppl 1):11–25
Conflict of interest
The authors declare that they have no conflict of interest.
About this article
Cite this article
Eichler, C., Sommer, J.U., Stuck, B.A. et al. Does drug-induced sleep endoscopy change the treatment concept of patients with snoring and obstructive sleep apnea?. Sleep Breath 17, 63–68 (2013). https://doi.org/10.1007/s11325-012-0647-9
Received:

Revised:

Accepted:

Published:

Issue Date:
Keywords
Drug-induced sleep endoscopy

Obstructive sleep apnea

Sleep disordered breathing

Mandibular advancement splint