Abstract
Purpose
Restless legs syndrome (RLS) has a broad worldwide prevalence between 0.01% and 18.3%. While differences in RLS definitions and data ascertainment methods account for some variability, other factors likely contribute. The circadian nature of RLS and the fact that RLS symptoms track with endogenous melatonin levels suggest that light or ultraviolet radiation (UVR) may be related to RLS expression. As the amount of UVR decreases with latitude, we considered the potential effect of geography on RLS prevalence with the thought being that RLS prevalence rises with increasing latitude.
Methods
RLS epidemiologic studies were sought via Pubmed search in the period between January 1, 1992 and November 15, 2010. Prevalence was mapped for each country or specific region studied and examined by continent. Pearson's correlational testing was carried out for RLS prevalence and latitude of the region studied.
Results
Global RLS prevalence ranges from 0.01% in Africa, 0.7% to 12.5% in Asia, 2.0% to 18.9% in the Americas, and 3.2% to 18.3% in Europe. Mapping RLS prevalence by country or region in both the Americas and in Europe suggests increasing RLS frequency with greater northern latitude. RLS prevalence is positively correlated with northern latitude in both North America and Europe with correlation coefficients of r = 0.77 (0.15, 0.96; p = 0.02) and r = 0.74 (0.44, 0.89; p = 0.0002), respectively. In Europe, lower latitudinal countries like Greece and Turkey had RLS prevalence (per 1,000 persons) of 38 and 34, respectively, middle latitudinal countries like France and England of 108 and 86, respectively, and high latitudinal countries like Norway and Iceland of 143 and 183, respectively.
Conclusions
RLS epidemiology indicates an increase in RLS frequency in northern latitudinal countries as a function of distance from the equator, an effect most evident in Europe. This suggests that factors that track with latitude like UVR may be involved in the expression of RLS.
This is a preview of subscription content, log in to check access.
Access options
Buy single article
Instant access to the full article PDF.
US$ 39.95
Price includes VAT for USA
Subscribe to journal
Immediate online access to all issues from 2019. Subscription will auto renew annually.
US$ 99
This is the net price. Taxes to be calculated in checkout.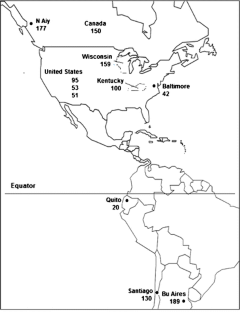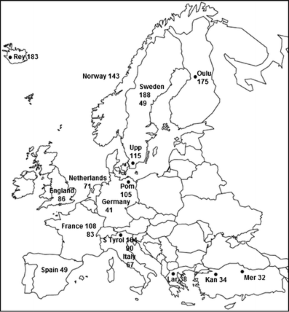 References
1.

Winkler AS, Trendafilova A, Meindl M, Kaaya J, Schmutzhard E, Kassubek J (2010) Restless legs syndrome in a population of northern Tanzania: a community-based study. Mov Disord 25:596–601

2.

Benediktsdottir B, Janson C, Lindberg E, Arnardóttir ES, Olafsson I, Cook E, Thorarinsdottir EH, Gislason T (2010) Prevalence of restless legs syndrome among adults in Iceland and Sweden: lung function, comorbidity, ferritin, biomarkers and quality of life. Sleep Med 11:1043–1048

3.

Whittom S, Dumont M, Petit D, Desautels A, Adam B, Lavigne G, Montplaisir J (2010) Effects of melatonin and bright light administration on motor and sensory symptoms of RLS. Sleep Med 11:351–355

4.

Michaud M, Dumont M, Selmaoui B, Paquet J, Fantini ML, Montplaisir J (2004) Circadian rhythm of restless legs syndrome: relationship with biological markers. Ann Neurol 55:372–380

5.

Dubocovich ML (1983) Melatonin is a potent modulator of dopamine release in the retina. Nature 306:782–786

6.

Vaughan GM, Allen JP, Tullis W, Siler-Khodr TM, de la Peña A, Sackman JW (1978) Overnight plasma profiles of melatonin and certain adenohypophyseal hormones in men. J Clin Endocrinol Metab 47:566–571

7.

Laakso ML, Porkka-Heiskanen T, Alila A, Stenberg D, Johansson G (1994) Twenty-four-hour rhythms in relation to the natural photoperiod: a field study in humans. J Biol Rhythms 9:283–293

8.

Fischer TW, Scholz G, Knöll B, Hipler UC, Elsner P (2004) Melatonin suppresses reactive oxygen species induced by UV irradiation in leukocytes. J Pineal Res 37:107–112

9.

Wetterberg L, Bratlid T, von Knorring L, Eberhard G, Yuwiler A (1999) A multinational study of the relationships between nighttime urinary melatonin production, age, gender, body size, and latitude. Eur Arch Psychiatry Clin Neurosci 249:256–262

10.

Tan EK, Seah A, See SJ, Lim E, Wong MC, Koh KK (2001) Restless legs syndrome in an Asian population: a study in Singapore. Mov Disord 16:577–579

11.

Rangarajan S, Rangarajan S, D'Souza GA (2007) Restless legs syndrome in an Indian urban population. Sleep Med 9:88–93

12.

Chen NH, Chuang LP, Yang CT, Kushida CA, Hsu SC, Wang PC, Lin SW, Chou YT, Chen RS, Li HY, Lai SC (2010) The prevalence of restless legs syndrome in Taiwanese adults. Psychiatry Clin Neurosci 64:170–178

13.

Nomura T, Inoue Y, Kusumi M, Uemura Y, Nakashima K (2008) Prevalence of restless legs syndrome in a rural community in Japan. Mov Disord 23:2363–2369

14.

Cho SJ, Hong JP, Hahm BJ, Jeon HJ, Chang SM, Cho MJ, Lee HB (2009) Restless legs syndrome in a community sample of Korean adults: prevalence, impact on quality of life, and association with DSM-IV psychiatric disorders. Sleep 32:1069–1076

15.

Kim J, Choi C, Shin K, Yi H, Park M, Cho N, Kimm K, Shin C (2005) Prevalence of restless legs syndrome and associated factors in the Korean adult population: the Korean Health and Genome Study. Psychiatry Clin Neurosci 59:350–353

16.

Cho YW, Shin WC, Yun CH, Hong SB, Kim JH, Allen RP, Earley CJ (2008) Epidemiology of restless legs syndrome in Korean adults. Sleep 31:219–223

17.

Persi GG, Etcheverry JL, Vecchi C, Parisi VL, Ayarza AC, Gatto EM (2009) Prevalence of restless legs syndrome: a community-based study from Argentina. Parkinsonism Relat Disord 15:461–465

18.

Miranda M, Araya F, Castillo JL, Duran C, Gonzalez F, Arıs L (2001) Restless legs syndrome: a clinical study in adult general population and in uremic patients. Rev Med Chil 129:179–186

19.

Castillo PR, Kaplan J, Lin SC, Fredrickson PA, Mahowald MW (2006) Prevalence of restless legs syndrome among native South Americans residing in coastal and mountainous areas. Mayo Clin Proc 81:1345–1347

20.

Gao X, Schwarzschild MA, Wang H, Ascherio A (2009) Obesity and restless legs syndrome in men and women. Neurology 72:1255–1261

21.

Phillips B, Hening W, Britz P, Mannino D (2006) Prevalence and correlates of restless legs syndrome: results from the 2005 National Sleep Foundation Poll. Chest 129:76–80

22.

Winkelman JW, Shahar E, Sharief I, Gottlieb DJ (2008) Association of restless legs syndrome and cardiovascular disease in the Sleep Heart Health Study. Neurology 70:35–42

23.

Phillips B, Young T, Finn L, Asher K, Hening WA, Purvis C (2000) Epidemiology of restless legs symptoms in adults. Arch Intern Med 160:2137–2141

24.

Lee HB, Hening WA, Allen RP, Earley CJ, Eaton WW, Lyketsos CG (2006) Race and restless legs syndrome symptoms in an adult community sample in east Baltimore. Sleep Med 7:642–645

25.

Winkelman JW, Finn L, Young T (2006) Prevalence and correlates of restless legs syndrome symptoms in the Wisconsin Sleep Cohort. Sleep Med 7:545–552

26.

Froese CL, Butt A, Mulgrew A, Cheema R, Speirs MA, Gosnell C, Fleming J, Fleetham J, Ryan CF, Ayas NT (2008) Depression and sleep-related symptoms in an adult, indigenous, North American population. J Clin Sleep Med 4:356–361

27.

Lavigne GJ, Montplaisir JY (1994) Restless legs syndrome and sleep bruxism: prevalence and association among Canadians. Sleep 17:739–743

28.

Hadjigeorgiou GM, Stefanidis I, Dardiotis E, Aggellakis K, Sakkas GK, Xiromerisiou G, Konitsiotis S, Paterakis K, Poultsidi A, Tsimourtou V, Ralli S, Gourgoulianis K, Zintzaras E (2007) Low RLS prevalence and awareness in central Greece: an epidemiological survey. Eur J Neurol 14:1275–1280

29.

Taşdemir M, Erdoğan H, Börü UT, Dilaver E, Kumaş A (2010) Epidemiology of restless legs syndrome in Turkish adults on the western Black Sea coast of Turkey: a door-to-door study in a rural area. Sleep Med 11:82–86

30.

Sevim S, Dogu O, Kaleagasi H, Aral M, Metin O, Camdeviren H (2004) Correlation of anxiety and depression symptoms in patients with restless legs syndrome: a population based survey. J Neurol Neurosurg Psych 75:226–230

31.

Allen RP, Walters AS, Montplaisir J, Hening W, Myers A, Bell TJ, Ferini-Strambi L (2005) Restless legs syndrome prevalence and impact: REST general population study. Arch Intern Med 165:1286–1292

32.

Högl B, Kiechl S, Willeit J, Saletu M, Frauscher B, Seppi K, Müller J, Rungger G, Gasperi A, Wenning G, Poewe W (2005) Restless legs syndrome: a community-based study of prevalence, severity, and risk factors. Neurology 64:1920–1924

33.

Vogl FD, Pichler I, Adel S, Pinggera GK, Bracco S, De Grandi A, Volpato CB, Aridon P, Mayer T, Meitinger T, Klein C, Casari G, Pramstaller PP (2006) Restless legs syndrome: epidemiological and clinicogenetic study in a South Tyrolean population isolate. Mov Disorder 21:1189–1195

34.

Tison F, Crochard A, Léger D, Bouée S, Lainey E, El Hasnaoui A (2005) Epidemiology of restless legs syndrome in French adults: a nationwide survey: the INSTANT Study. Neurology 65:239–246

35.

Berger K, Luedemann J, Trenkwalder C, John U, Kessler C (2004) Sex and the risk of restless legs syndrome in the general population. Arch Intern Med 164:196–202

36.

Rijsman R, Neven AK, Graffelman W, Kemp B, de Weerd A (2004) Epidemiology of restless legs in the Netherlands. Eur J Neurol 11:607–611

37.

Bjorvatn B, Leissner L, Ulfberg J, Gyring J, Karlsborg M, Regeur L, Skeidsvoll H, Nordhus IH, Pallesen S (2005) Prevalence, severity and risk factors of restless legs syndrome in the general adult population in two Scandinavian countries. Sleep Med 6:307–312

38.

Broman JE, Mallon L, Hetta J (2008) Restless legs syndrome and its relationship with insomnia symptoms and daytime distress: epidemiological survey in Sweden. Psychiatry Clin Neurosci 62:472–475

39.

Ulfberg J, Bjorvatn B, Leissner L, Gyring J, Karlsborg M, Regeur L, Skeidsvoll H, Polo O, Partinen M, Nordic RLS Study Group (2007) Comorbidity in restless legs syndrome among a sample of Swedish adults. Sleep Med 8:768–772

40.

Juuti AK, Läärä E, Rajala U, Laakso M, Härkönen P, Keinänen-Kiukaanniemi S, Hiltunen L (2010) Prevalence and associated factors of restless legs in a 57-year-old urban population in northern Finland. Acta Neurol Scand 122:63–69

41.

Norman JE Jr, Kurtzke JF, Beebe GW (1983) Epidemiology of multiple sclerosis in U.S. veterans: 2. Latitude, climate and the risk of multiple sclerosis. J Chronic Dis 36:551–559

42.

Levin LI, Munger KL, O'Reilly EJ, Falk KI, Ascherio A (2010) Primary infection with the Epstein–Barr virus and risk of multiple sclerosis. Ann Neurol 67:824–830

43.

Scharffetter-Kochanek K, Wlaschek M, Brenneisen P, Schauen M, Blaudschun R, Wenk J (1997) UV-induced reactive oxygen species in photocarcinogenesis and photoaging. Biol Chem 378:1247–1257

44.

Trenam CW, Blake DR, Morris CJ (1992) Skin inflammation: reactive oxygen species and the role of iron. J Invest Dermatol 99:675–682

45.

Aubailly M, Santus R, Salmon S (1991) Ferrous ion release from ferritin by ultraviolet-A radiations. Photochem Photobiol 54(5):769–773

46.

Mizuno S, Mihara T, Miyaoka T, Inagaki T, Horiguchi J (2005) CSF iron, ferritin and transferrin levels in restless legs syndrome. J Sleep Res 14(1):43–47

47.

Fischer TW, Scholz G, Knoll B, Hipler UC, Elsner P (2002) Melatonin suppresses reactive oxygen species in UV-irradiated leukocytes more than vitamin C and trolox. Skin Pharmacol Appl Skin Physiol 15:367–373

48.

Cooke MS, Podmore ID, Mistry N, Evans MD, Herbert KE, Griffiths HR, Lunec J (2003) Immunochemical detection of UV-induced DNA damage and repair. J Immunol Methods 280(1–2):125–133

49.

Song X, Mosby N, Yang J, Xu A, Abdel-Malek Z, Kadekaro AL (2009) alpha-MSH activates immediate defense responses to UV-induced oxidative stress in human melanocytes. Pigment Cell Melanoma Res 22(6):809–818

50.

Koo BB, Feng P, Dostal J, Strohl KP (2008) Alpha-melanocyte stimulating hormone and adrenocorticotropic hormone: an alternative approach when thinking about restless legs syndrome? Mov Disord 23(9):1234–1242

51.

Kastin AJ, Kullander S, Borglin NE, Dahlberg B, Dyster-Aas K, Krakau CE, Ingvar DH, Miller MC 3rd, Bowers CY, Schally AV (1968) Extrapigmentary effects of melanocyte-stimulating hormone in amenorrhoeic women. Lancet 1(7550):1007–1010

52.

Bartelt RN, Altmeyer P, Stöhr L, Chilf GN, Holzmann H (1984) Effect of ultraviolet rays on alpha-MSH plasma concentration. Z Hautkr 59(16):1053–1055

53.

The International Restless Legs Syndrome Study Group, Walters AS (1995) Toward a better definition of the restless legs syndrome. Mov Disord 10:634–642

54.

Allen RP, Picchietti D, Hening WA, Trenkwalder C, Walters AS, Montplaisir J (2003) Restless legs syndrome: diagnostic criteria, special considerations, and epidemiology. A report from the restless legs syndrome diagnosis and epidemiology workshop at the National Institutes of Health. Sleep Med 4:101–119

55.

Whittom S, Dauvilliers Y, Pennestri MH, Vercauteren F, Molinari N, Petit D, Montplaisir J (2007) Age-at-onset in restless legs syndrome: a clinical and polysomnographic study. Sleep Med 9:54–59
Acknowledgments
The author would like to thank Kingman Strohl and R. John Leigh for their help in editing the manuscript.
About this article
Cite this article
Koo, B.B. Restless legs syndrome: relationship between prevalence and latitude. Sleep Breath 16, 1237–1245 (2012). https://doi.org/10.1007/s11325-011-0640-8
Received:

Revised:

Accepted:

Published:

Issue Date:
Keywords
Restless legs syndrome

Epidemiology

Prevalence

Latitude