Abstract
Background
The purpose of this study is to investigate whether the general body adiposity or regional adiposity was a risk factor in the evolution of obstructive sleep apnea syndrome (OSAS) by examining the relationships between the anthropometric obesity indexes such as waist (WC) and neck circumference index (NC), body mass index (BMI), and OSAS in Turkish adult population, and to access the possible differences by gender.
Methods
The data related to polysomnographic, demographic, and anthropometric indexes of the 499 subjects were examined retrospectively. The patients whose apnea–hypopnea index was ≥5 were determined as OSAS group.
Results
The avarage BMI, WC, and NC of the OSAS group (n = 431) were statistically higher than the control group (p < 0.001). According to logistic regression analysis, BMI, WC, and NC enlargement were observed as significant risk factors for OSAS development. Risk coefficients were determined 5.53 for NC, 4.48 for WC, and 2.22 for BMI. Cutoff point values for anthropometric obesity indexes as OSAS determiner were recorded as below: BMI for male >27.77 kg/m2 and female >28.93 kg/m2, NC index for male >40 cm and female >36 cm, and WC index for male >105 cm and female >101 cm.
Conclusions
BMI, WC, and NC enlargement were determined as significant risk factors for OSAS development. This was an initial study to determine the cutoff points of which increase the OSAS risk in BMI, WC, and NC index in Turkish adult population.
This is a preview of subscription content, log in to check access.
Access options
Buy single article
Instant access to the full article PDF.
US$ 39.95
Price includes VAT for USA
Subscribe to journal
Immediate online access to all issues from 2019. Subscription will auto renew annually.
US$ 99
This is the net price. Taxes to be calculated in checkout.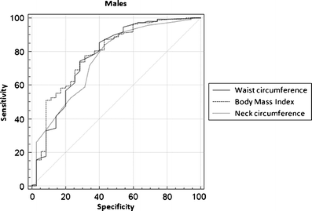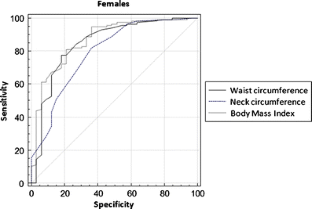 References
1.

Schwartz AR, Patil SP, Laffan AM, Polotsky V, Schneider H, Smith PL (2008) Obesity and obstructive sleep apnea: pathogenic mechanisms and therapeutic approaches. Proc Am Thorac Soc 5:185–192

2.

Pillar G, Shehadeh N (2008) Abdominal fat and sleep apnea: the chicken or the egg? Diabetes Care 31(Suppl 2):S303–S309

3.

Resta O, Bonfitto P, Sabato R, De Pergola G, Barbaro MP (2004) Prevalence of obstructive sleep apnoea in a sample of obese women: effect of menopause. Diabetes Nutr Metab 17:296–303

4.

Simpson L, Mukherjee S, Cooper MN, Ward KL, Lee JD, Fedson AC, Potter J, Hillman DR, Eastwood P, Palmer LJ, Kirkness J (2010) Sex differences in the association of regional fat distribution with the severity of obstructive sleep apnea. Sleep 33:467–474

5.

Strobel RJ, Rosen RC (1996) Obesity and weight loss in obstructive sleep apnea: a critical review. Sleep 19:104–115

6.

Namyslowski G, Scierski W, Mrowka-Kata K, Kawecka I, Kawecki D, Czecior E (2005) Sleep study in patients with overweight and obesity. J Physiol Pharmacol 56(Suppl 6):S59–S65

7.

Dancey DR, Hanly PJ, Soong C, Lee B, Shepard J Jr, Hoffstein V (2003) Gender differences in sleep apnea: the role of neck circumference. Chest 123:1544–1550

8.

Patil SP, Schneider H, Schwartz AR, Smith PL (2007) Adult obstructive sleep apnea: pathophysiology and diagnosis. Chest 132:325–337

9.

Rechtschaffen A, Kales A (1968) A manual of standardized terminology, techniques and scoring system for sleep satges in human subjects. Brain Information Service, Los Angeles

10.

Iber C, Ancoli-Israel S, Chesson A, Quan SF, American Academy of Sleep Medicine (2007) The AASM manual for the scoring of sleep and associated events: rules, terminology and technical specifications, 1st edn. AASM, Westchester

11.

McNicholas WT (2008) Diagnosis of obstructive sleep apnea in adults. Proc Am Thorac Soc 5:154–160

12.

World Health Organization (2000) Obesity: preventing and managing the global epidemic. Report of a WHO consultation. WHO Tech Rep Ser 894:1–253

13.

Martins AB, Tufik S, Moura SM (2007) Physiopathology of obstructive sleep apnea–hypopnea syndrome. J Bras Pneumol 33:93–100

14.

Hoffstein V, Mateika S (1992) Differences in abdominal and neck circumferences in patients with and without obstructive sleep apnoea. Eur Respir J 5:377–381

15.

Katz I, Stradling J, Slutsky AS, Zamel N, Hoffstein V (1990) Do patients with obstructive sleep apnea have thick necks? Am Rev Respir Dis 141:1228–1231

16.

Davies RJ, Stradling JR (1990) The relationship between neck circumference, radiographic pharyngeal anatomy, and the obstructive sleep apnoea syndrome. Eur Respir J 3:509–514

17.

Bouloukaki I, Kapsimalis F, Mermigkis C, Kryger M, Tzanakis N, Panagou P, Moniaki V, Vlachaki EM, Varouchakis G, Siafakas NM, Schiza SE (2011) Prediction of obstructive sleep apnea syndrome in a large Greek population. Sleep Breath 15:657–664

18.

Sajkov D, McEvoy RD (2009) Obstructive sleep apnea and pulmonary hypertension. Prog Cardiovasc Dis 51:363–370

19.

Mihaere KM, Harris R, Gander PH, Reid PM, Purdie G, Robson B, Neill A (2009) Obstructive sleep apnea in New Zealand adults: prevalence and risk factors among Māori and non-Māori. Sleep 32:949–956

20.

Newman AB, Foster G, Givelber R, Nieto FJ, Redline S, Young T (2005) Progression and regression of sleep-disordered breathing with changes in weight: the Sleep Heart Health Study. Arch Intern Med 165:2408–2413

21.

Dehghan M, Merchant AT (2008) Is bioelectrical impedance accurate for use in large epidemiological studies. Nutr J 7:26

22.

Neovius M, Hemmingsson E, Freyschuss B, Uddén J (2006) Bioelectrical impedance underestimates total and truncal fatness in abdominally obese women. Obesity 14:1731–1738

23.

Mortimore IL, Marshall I, Wraith PK, Sellar RJ, Douglas NJ (1998) Neck and total body fat deposition in nonobese and obese patients with sleep apnea compared with that in control subjects. Am J Respir Crit Care Med 157:280–283

24.

Bixler EO, Vgontzas AN, Ten Have T, Tyson K, Kales A (1998) Effects of age on sleep apnea in men: I. prevalence and severity. Am J Respir Crit Care Med 157:144–148

25.

Millman RP, Carlisle CC, McGarvey ST, Eveloff SE, Levinson PD (1995) Body fat distribution and sleep apnea severity in women. Chest 107:362–366

26.

Sharma SK, Kumpawat S, Banga A, Goel A (2006) Prevalence and risk factors of obstructive sleep apnea syndrome in a population of Delhi, India. Chest 130:149–156

27.

Kim JA, Choi CJ, Yum KS (2006) Cut-off values of visceral fat area and waist circumference: diagnostic criteria for abdominal obesity in a Korean population. J Korean Med Sci 21:1048–1053

28.

Tashkandi Y, Badr MS, Rowley JA (2005) Determinants of the apnea index in a sleep center population. Sleep Breath 9:181–186

29.

Davidson TM, Patel MR (2008) Waist circumference and sleep disordered breathing. Laryngoscope 118:339–347

30.

Shelton KE, Woodson H, Gay S, Suratt PM (1993) Pharyngeal fat in obstructive sleep apnea. Am Rev Respir Dis 148:462–466
Conflict of interest
The authors declare that they have no conflict of interest.
About this article
Cite this article
Soylu, A.C., Levent, E., Sarıman, N. et al. Obstructive sleep apnea syndrome and anthropometric obesity indexes. Sleep Breath 16, 1151–1158 (2012). https://doi.org/10.1007/s11325-011-0623-9
Received:

Revised:

Accepted:

Published:

Issue Date:
Keywords
Body mass index

Neck circumference

Obesity

Obstructive sleep apnea syndrome

Waist circumference