Abstract
Purpose
The present study attempted to characterize the phenotype of men and women of different ages with a laboratory diagnosis of obstructive sleep apnea (OSA) using demographic, subjective complaints and medical history and to determine the best fitting apnea–hypopnea index (AHI) cutoff point for OSA diagnosis in each group.
Methods
Data collected from 23,806 patients examined by a whole-night polysomnography were retrospectively analyzed. First, descriptive analysis was used to determine the gender-specific relationship between AHI and age, then binary logistic regression was used to determine the best fitting gender- and age-specific AHIs and the predictors of OSA in each age and gender group.
Results
Of the total number of patients, 70.7% had AHI >10, and men had consistently higher AHI than women. OSA severity rose linearly with age in normal-weight and obese women and in normal-weight men. The best fitting AHI cutoff point increased with age in both genders. Obesity and snoring were significant predictors of OSA in all age by gender groups, while hypertension and excessive daytime sleepiness were common to all men and the two older women groups. Insomnia-related complaints were negative predictors of obstructive sleep apnea syndrome (OSAS) in some of the groups.
Conclusions
OSAS severity varies with age in both genders, while women have less severe syndrome in all ages. Obesity, snoring, hypertension, and excessive daytime sleepiness are OSAS predictors in both genders, while insomnia-related complaints are negative predictors.
This is a preview of subscription content, log in to check access.
Access options
Buy single article
Instant access to the full article PDF.
US$ 39.95
Price includes VAT for USA
Subscribe to journal
Immediate online access to all issues from 2019. Subscription will auto renew annually.
US$ 99
This is the net price. Taxes to be calculated in checkout.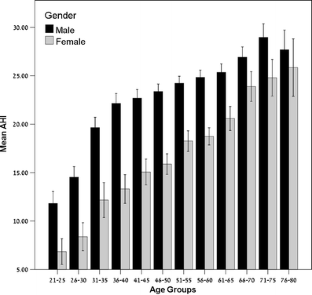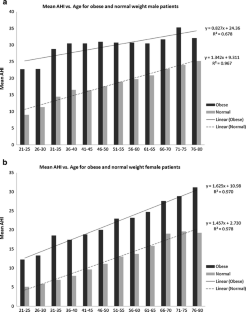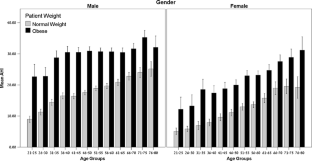 References
1.

Patil SP, Schneider H, Schwartz AR, Smith PL (2007) Adult obstructive sleep apnea: pathophysiology and diagnosis. Chest 132(1):325–337

2.

Friedman O, Logan AG (2009) The price of obstructive sleep apnea–hypopnea: hypertension and other ill effects. Am J Hypertens 22(5):474–483

3.

Kato M, Adachi T, Koshino Y, Somers VK (2009) Obstructive sleep apnea and cardiovascular disease. Circ J 73(8):1363–1370

4.

Lavie P, Herer P, Lavie L (2007) Mortality risk factors in sleep apnoea: a matched case–control study. J Sleep Res 16(1):128–134

5.

Pisoni R, Ahmed MI, Calhoun DA (2009) Characterization and treatment of resistant hypertension. Curr Cardiol Rep 11(6):407–413

6.

Young T, Skatrud J, Peppard PE (2004) Risk factors for obstructive sleep apnea in adults. JAMA 291(16):2013–2016

7.

George CF (2007) Sleep apnea, alertness, and motor vehicle crashes. Am J Respir Crit Care Med 176(10):954–956

8.

Rodenstein D (2009) Sleep apnea: traffic and occupational accidents—individual risks, socioeconomic and legal implications. Respiration 78(3):241–248

9.

Tregear S, Reston J, Schoelles K, Phillips B (2009) Obstructive sleep apnea and risk of motor vehicle crash: systematic review and meta-analysis. J Clin Sleep Med 5(6):573–581

10.

AlGhanim N, Comondore VR, Fleetham J, Marra CA, Ayas NT (2008) The economic impact of obstructive sleep apnea. Lung 186(1):7–12

11.

Ayalon L, Liu L, Ancoli-Israel S (2004) Diagnosing and treating sleep disorders in the older adult. Med Clin North Am 88(3):737–750, ix–x

12.

Martinez-Garcia MA, Soler-Cataluna JJ, Roman-Sanchez P, Gonzalez V, Amoros C, Montserrat JM (2009) Obstructive sleep apnea has little impact on quality of life in the elderly. Sleep Med 10(1):104–111

13.

Wahner-Roedler DL, Olson EJ, Narayanan S, Sood R, Hanson AC, Loehrer LL, Sood A (2007) Gender-specific differences in a patient population with obstructive sleep apnea–hypopnea syndrome. Gend Med 4(4):329–338

14.

Shepertycky MR, Banno K, Kryger MH (2005) Differences between men and women in the clinical presentation of patients diagnosed with obstructive sleep apnea syndrome. Sleep 28(3):309–314

15.

Valipour A, Lothaller H, Rauscher H, Zwick H, Burghuber OC, Lavie P (2007) Gender-related differences in symptoms of patients with suspected breathing disorders in sleep: a clinical population study using the sleep disorders questionnaire. Sleep 30(3):312–319

16.

Bixler EO, Vgontzas AN, Lin HM, Ten Have T, Rein J, Vela-Bueno A, Kales A (2001) Prevalence of sleep-disordered breathing in women: effects of gender. Am J Respir Crit Care Med 163(3 Pt 1):608–613

17.

Young T, Palta M, Dempsey J, Skatrud J, Weber S, Badr S (1993) The occurrence of sleep-disordered breathing among middle-aged adults. N Engl J Med 328(17):1230–1235

18.

Zomer JPR, Rubin A, Lavie P (1985) Mini sleep questionnaire (MSQ) for screening large populations for EDS complaints. In: Koella W, Ruther E, Schulz H (eds) Sleep 1984. Gustav Fisher Verlag, Stuttgart, pp 467–470

19.

Hosmer DW, Lemeshow S (1989) Applied logistic regression. Wiley series in probability and mathematical statistics applied probability and statistics. Wiley, New York

20.

Alotair H, Bahammam A (2008) Gender differences in Saudi patients with obstructive sleep apnea. Sleep Breath 12(4):323–329

21.

Bixler EO, Vgontzas AN, Ten Have T, Tyson K, Kales A (1998) Effects of age on sleep apnea in men: I. Prevalence and severity. Am J Respir Crit Care Med 157(1):144–148

22.

Ip MS, Lam B, Tang LC, Lauder IJ, Ip TY, Lam WK (2004) A community study of sleep-disordered breathing in middle-aged Chinese women in Hong Kong: prevalence and gender differences. Chest 125(1):127–134

23.

Subramanian S, Guntupalli B, Murugan T, Bopparaju S, Chanamolu S, Casturi L, Surani S (2011) Gender and ethnic differences in prevalence of self-reported insomnia among patients with obstructive sleep apnea. Sleep Breath (in press)

24.

Vagiakis E, Kapsimalis F, Lagogianni I, Perraki H, Minaritzoglou A, Alexandropoulou K, Roussos C, Kryger M (2006) Gender differences on polysomnographic findings in Greek subjects with obstructive sleep apnea syndrome. Sleep Med 7(5):424–430

25.

Epstein LJ, Kristo D, Strollo PJ Jr, Friedman N, Malhotra A, Patil SP, Ramar K, Rogers R, Schwab RJ, Weaver EM, Weinstein MD (2009) Clinical guideline for the evaluation, management and long-term care of obstructive sleep apnea in adults. J Clin Sleep Med 5(3):263–276

26.

Nakayama-Ashida Y, Takegami M, Chin K, Sumi K, Nakamura T, Takahashi K, Wakamura T, Horita S, Oka Y, Minami I, Fukuhara S, Kadotani H (2008) Sleep-disordered breathing in the usual lifestyle setting as detected with home monitoring in a population of working men in Japan. Sleep 31(3):419–425

27.

Pavlova MK, Duffy JF, Shea SA (2008) Polysomnographic respiratory abnormalities in asymptomatic individuals. Sleep 31(2):241–248
Conflict of interests
The authors declare that they have no conflict of interests.
About this article
Cite this article
Gabbay, I.E., Lavie, P. Age- and gender-related characteristics of obstructive sleep apnea. Sleep Breath 16, 453–460 (2012). https://doi.org/10.1007/s11325-011-0523-z
Received:

Revised:

Accepted:

Published:

Issue Date:
Keywords
Sleep apnea

Gender differences

Age differences

AHI