Abstract
Purpose
Oral appliances (OA) are commonly prescribed for the treatment of obstructive sleep apnoea–hypopnoea (OSAH), but there is limited evidence on their cost-effectiveness.
Materials and methods
A model was designed to simulate the costs and benefits of treatment of OSAH with OA or continuous positive airway pressure (CPAP) based on their effects on quality of life, motor vehicle crashes, and cardiovascular effects. The primary outcome was the incremental cost-effectiveness ratio (ICER) in terms of costs per one quality-adjusted life year (QALY) gained 5 years after treatment.
Results
Compared with no treatment, OA results in $268 higher costs and an incremental QALY of 0.0899 per patient (ICER = $2,984/QALY). Compared with OA, CPAP resulted in $1,917 more costs and 0.0696 additional QALYs (ICER = $27,540/QALY). For the most part in the sensitivity analyses, CPAP remained cost-effective compared to OA, and OA remained cost-effective with respect to no treatment in almost all scenarios.
Conclusions
OAs are less economically attractive than CPAP but remain a cost-effective treatment for patients who are unwilling or unable to adhere to CPAP therapy.
This is a preview of subscription content, log in to check access.
Access options
Buy single article
Instant access to the full article PDF.
US$ 39.95
Price includes VAT for USA
Subscribe to journal
Immediate online access to all issues from 2019. Subscription will auto renew annually.
US$ 99
This is the net price. Taxes to be calculated in checkout.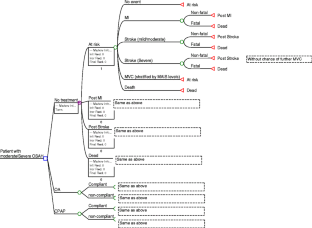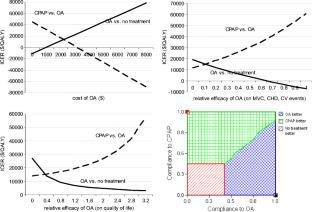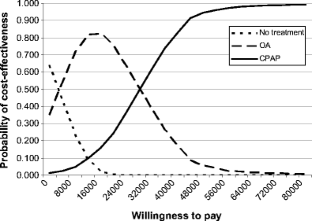 References
1.

Kales A, Vela-Bueno A, Kales JD (1987) Sleep disorders: sleep apnea and narcolepsy. Ann Intern Med 106(3):434–443

2.

Patil SP et al (2007) Adult obstructive sleep apnea: pathophysiology and diagnosis. Chest 132(1):325–337 doi:10.1378/chest.07-0040

3.

Howard ME et al (2004) Sleepiness, sleep-disordered breathing, and accident risk factors in commercial vehicle drivers. Am J Respir Crit Care Med 170(9):1014–1021 doi:10.1164/rccm.200312-1782OC

4.

Marin JM et al (2005) Long-term cardiovascular outcomes in men with obstructive sleep apnoea–hypopnoea with or without treatment with continuous positive airway pressure: an observational study. Lancet 365(9464):1046–1053

5.

Yaggi HK et al (2005) Obstructive sleep apnea as a risk factor for stroke and death. N Engl J Med 353(19):2034–2041 doi:10.1056/NEJMoa043104

6.

Moyer CA et al (2001) Quality of life in obstructive sleep apnea: a systematic review of the literature. Sleep Med 2(6):477–491 doi:10.1016/S1389-9457(01)00072-7

7.

Zozula R, Rosen R (2001) Compliance with continuous positive airway pressure therapy: assessing and improving treatment outcomes. Curr Opin Pulm Med 7(6):391–398 doi:10.1097/00063198-200111000-00005

8.

Lim J et al (2006) Oral appliances for obstructive sleep apnoea. Cochrane Database Syst Rev (1):CD004435

9.

Hoffstein V (2007) Review of oral appliances for treatment of sleep-disordered breathing. Sleep Breath 11(1):1–22 doi:10.1007/s11325-006-0084-8

10.

Ayas NT et al (2006) Cost-effectiveness of continuous positive airway pressure therapy for moderate to severe obstructive sleep apnea/hypopnea. Arch Intern Med 166(9):977–984 doi:10.1001/archinte.166.9.977

11.

Association for the Advancement of Automotive Medicine C.o.I.S (1990) The Abbreviated Injury Scale-1990 Revision (AIS-90). Available from http://www.carcrash.org/publications_books.htm. Cited 2007 2007/12/19

12.

Arias E (2006) United States life tables, 2003. Natl Vital Stat Rep 54(14):1–40

13.

Young T, Peppard PE, Gottlieb DJ (2002) Epidemiology of obstructive sleep apnea: a population health perspective. Am J Respir Crit Care Med 165(9):1217–1239 doi:10.1164/rccm.2109080

14.

Bixler EO et al (2001) Prevalence of sleep-disordered breathing in women: effects of gender. Am J Respir Crit Care Med 163(3 Pt 1):608–613

15.

George CF (2001) Reduction in motor vehicle collisions following treatment of sleep apnoea with nasal CPAP. Thorax 56(7):508–512 doi:10.1136/thorax.56.7.508

16.

Young T et al (1997) Sleep-disordered breathing and motor vehicle accidents in a population-based sample of employed adults. Sleep 20(8):608–613

17.

National Highway Traffic Safety Administration N.C.f.S.a.A. US Departmentt of Transportation (2006) Traffic safety facts 2005. Available from http://www-nrd.nhtsa.dot.gov/pdf/nrd-30/NCSA/TSFAnn/TSF2005.pdf. Cited 2007 2007/12/19

18.

Blincoe L, S.L., Zaloshnja L, Miller T, Romano E, Luchter S, Spicer R (2000) Economic impact of motor vehicle crashes, 2000. National Highway Traffic safety Administration 2000. National Highway Traffic safety Administration, Washington, DC

19.

Findley L et al (2000) Treatment with nasal CPAP decreases automobile accidents in patients with sleep apnea. Am J Respir Crit Care Med 161(3 Pt 1):857–859

20.

Krieger J et al (1997) Accidents in obstructive sleep apnea patients treated with nasal continuous positive airway pressure: a prospective study. The Working Group ANTADIR, Paris and CRESGE, Lille, France. Association Nationale de Traitement a Domicile des Insuffisants Respiratoires. Chest 112(6):1561–1566 doi:10.1378/chest.112.6.1561

21.

Engleman HM et al (1996) Self-reported use of CPAP and benefits of CPAP therapy: a patient survey. Chest 109(6):1470–1476 doi:10.1378/chest.109.6.1470

22.

Horstmann S et al (2000) Sleepiness-related accidents in sleep apnea patients. Sleep 23(3):383–389

23.

Cassel W et al (1996) Risk of traffic accidents in patients with sleep-disordered breathing: reduction with nasal CPAP. Eur Respir J 9(12):2606–2611 doi:10.1183/09031936.96.09122606

24.

Yamamoto H et al (2000) Long-term effects nasal continuous positive airway pressure on daytime sleepiness, mood and traffic accidents in patients with obstructive sleep apnoea. Respir Med 94(1):87–90 doi:10.1053/rmed.1999.0698

25.

Suratt P, Findley L (1992) Effect of nasal CPAP treatment on automobile driving simulator performance and on self-reported automobile accidents in subjects with sleep apnea. Am Rev Respir Dis 145:A69

26.

Anderson KM et al (1991) Cardiovascular disease risk profiles. Am Heart J 121(1 Pt 2):293–298 doi:10.1016/0002-8703(91)90861-B

27.

Williams GR (2001) Incidence and characteristics of total stroke in the United States. BMC Neurol 1:2 doi:10.1186/1471-2377-1-2

28.

Greenberg-Dotan S et al (2007) Gender differences in morbidity and health care utilization among adult obstructive sleep apnea patients. Sleep 30(9):1173–1180

29.

Mar J et al (2003) The cost-effectiveness of nCPAP treatment in patients with moderate-to-severe obstructive sleep apnoea. Eur Respir J 21(3):515–522 doi:10.1183/09031936.03.00040903

30.

Carandang R et al (2006) Trends in incidence, lifetime risk, severity, and 30-day mortality of stroke over the past 50 years. JAMA 296(24):2939–2946 doi:10.1001/jama.296.24.2939

31.

Lee KL et al (1995) Predictors of 30-day mortality in the era of reperfusion for acute myocardial infarction. Results from an international trial of 41,021 patients. GUSTO-I Investigators. Circulation 91(6):1659–1668

32.

Jenkinson C, Stradling J, Petersen S (1998) How should we evaluate health status? A comparison of three methods in patients presenting with obstructive sleep apnoea. Qual Life Res 7(2):95–100 doi:10.1023/A:1008845123907

33.

Barnes M et al (2004) Efficacy of positive airway pressure and oral appliance in mild to moderate obstructive sleep apnea. Am J Respir Crit Care Med 170(6):656–664 doi:10.1164/rccm.200311-1571OC

34.

Mc-Daid C G.S., Weatherly H, Durée K, van der Burgt M, van Hout S, Akers J, Davies RJO, Sculpher M, Westwood M (2007) The continuous positive airway pressure for the treatment of obstructive sleep apnoea–hypopnoea syndrome: a systematic review and economic analysis. CRD/CHE Technology Assessment Group (Centre for Reviews and Dissemination/Centre for Health Economics), University of York, pp 120–126

35.

Pickard AS, Johnson JA, Feeny DH (2005) Responsiveness of generic health-related quality of life measures in stroke. Qual Life Res 14(1):207–219 doi:10.1007/s11136-004-3928-3

36.

Bradley CJ, Kroll J, Holmes-Rovner M (2000) The health and activities limitation index in patients with acute myocardial infarction. J Clin Epidemiol 53(6):555–562 doi:10.1016/S0895-4356(99)00219-X

37.

Krieger J et al (1996) Long-term compliance with CPAP therapy in obstructive sleep apnea patients and in snorers. Sleep 19(9):S136–S143

38.

McArdle N et al (1999) Long-term use of CPAP therapy for sleep apnea/hypopnea syndrome. Am J Respir Crit Care Med 159(4 Pt 1):1108–1114

39.

Lacassagne L et al (2000) Results of 248 patients with sleep apnea syndrome treated by continuous positive pressure ventilation between 1990 and 1995. A study of compliance and outcome of the apnea–hypopnea index. Rev Mal Respir 17(2):467–474

40.

Loube MD, Strauss AM (1997) Survey of oral appliance practice among dentists treating obstructive sleep apnea patients. Chest 111(2):382–386 doi:10.1378/chest.111.2.382

41.

Sarasin FP, Gaspoz JM, Bounameaux H (2000) Cost-effectiveness of new antiplatelet regimens used as secondary prevention of stroke or transient ischemic attack. Arch Intern Med 160(18):2773–2778 doi:10.1001/archinte.160.18.2773

42.

O'Hagan A, Stevens JW, Montmartin J (2000) Inference for the cost-effectiveness acceptability curve and cost-effectiveness ratio. Pharmacoeconomics 17(4):339–349 doi:10.2165/00019053-200017040-00004

43.

Kushida CA et al (2006) Practice parameters for the treatment of snoring and obstructive sleep apnea with oral appliances: an update for 2005. Sleep 29(2):240–243

44.

Hirth RA et al (2000) Willingness to pay for a quality-adjusted life year: in search of a standard. Med Decis Making 20(3):332–342 doi:10.1177/0272989X0002000310

45.

Albarrak M et al (2005) Utilization of healthcare resources in obstructive sleep apnea syndrome: a 5-year follow-up study in men using CPAP. Sleep 28(10):1306–1311

46.

Tousignant P et al (1994) Quality adjusted life years added by treatment of obstructive sleep apnea. Sleep 17(1):52–60

47.

Shahar E et al (2001) Sleep-disordered breathing and cardiovascular disease: cross-sectional results of the Sleep Heart Health Study. Am J Respir Crit Care Med 163(1):19–25

48.

Hung J et al (1990) Association of sleep apnoea with myocardial infarction in men. Lancet 336(8710):261–264 doi:10.1016/0140-6736(90)91799-G

49.

Punjabi NM et al (2008) Sleep-disordered breathing and cardiovascular disease: an outcome-based definition of hypopneas. Am J Respir Crit Care Med 177(10):1150–1155 doi:10.1164/rccm.200712-1884OC

50.

Gotsopoulos H, Kelly JJ, Cistulli PA (2004) Oral appliance therapy reduces blood pressure in obstructive sleep apnea: a randomized, controlled trial. Sleep 27(5):934–941

51.

Marklund M (2006) Predictors of long-term orthodontic side effects from mandibular advancement devices in patients with snoring and obstructive sleep apnea. Am J Orthod Dentofacial Orthop 129(2):214–221 doi:10.1016/j.ajodo.2005.10.004

52.

Almeida FR et al (2006) Long-term sequellae of oral appliance therapy in obstructive sleep apnea patients: part 2. Study-model analysis. Am J Orthod Dentofacial Orthop 129(2):205–213 doi:10.1016/j.ajodo.2005.04.034

53.

Ferguson KA et al (2006) Oral appliances for snoring and obstructive sleep apnea: a review. Sleep 29(2):244–262

54.

Malacrida R et al (1998) A comparison of the early outcome of acute myocardial infarction in women and men. The Third International Study of Infarct Survival Collaborative Group. N Engl J Med 338(1):8–14 doi:10.1056/NEJM199801013380102

55.

Engleman HM et al (2002) Randomized crossover trial of two treatments for sleep apnea/hypopnea syndrome: continuous positive airway pressure and mandibular repositioning splint. Am J Respir Crit Care Med 166(6):855–859 doi:10.1164/rccm.2109023

56.

Randerath WJ et al (2002) An individually adjustable oral appliance vs continuous positive airway pressure in mild-to-moderate obstructive sleep apnea syndrome. Chest 122(2):569–575 doi:10.1378/chest.122.2.569

57.

Ferguson KA et al (1997) A short-term controlled trial of an adjustable oral appliance for the treatment of mild to moderate obstructive sleep apnoea. Thorax 52(4):362–368

58.

Ferguson KA et al (1996) A randomized crossover study of an oral appliance vs nasal-continuous positive airway pressure in the treatment of mild-moderate obstructive sleep apnea. Chest 109(5):1269–1275 doi:10.1378/chest.109.5.1269

59.

Graham JD et al (1997) The cost-effectiveness of air bags by seating position. JAMA 278(17):1418–1425 doi:10.1001/jama.278.17.1418

60.

Mahoney EM et al (2002) Cost and cost-effectiveness of an early invasive vs conservative strategy for the treatment of unstable angina and non-ST-segment elevation myocardial infarction. JAMA 288(15):1851–1858 doi:10.1001/jama.288.15.1851
About this article
Cite this article
Sadatsafavi, M., Marra, C.A., Ayas, N.T. et al. Cost-effectiveness of oral appliances in the treatment of obstructive sleep apnoea–hypopnoea. Sleep Breath 13, 241–252 (2009). https://doi.org/10.1007/s11325-009-0248-4
Received:

Revised:

Accepted:

Published:

Issue Date:
Keywords
Obstructive sleep apnoea

Oral appliances

Continuous positive airway pressure

Economic evaluation

Decision analysis