Abstract
The purpose of this study was to investigate the effects of an oral appliance (OA), with and without mandible advance, in the treatment of obstructive sleep apnea syndrome (OSA). Twenty-four patients diagnosed with OSA agreed to participate in this study. The patients were treated for 3 months (with a removable soft elastic silicone positioner customized with thermoplastic silicone and with a 5-mm opening). Patients were selected, using a randomized design, to receive an OA model either with (12 patients) or without advance (12 patients). Before treatment, a snoring questionnaire, the Medical Outcomes Study 36-Item Short-Form Health Survey (SF-36), the Functional Outcomes of Sleep Questionnaire (FOSQ), the Epworth Sleepiness Scale (ESS), and polysomnography were completed. Fifteen subjects completed the protocol (13 men, two women). With respect to basal values, the mandible-advanced OA group presented a decrease in the mean apnea–hypopnea index (AHI) (33.8±4.7 versus 9.6±2.1; p<0.01), number of arousals per hour (33.8±13.9 versus 16.0±1.5; p<0.05), ESS score (14.7±5.1 versus 5.1±1.9; p<0.05), snoring score (15.4±1.9 versus 10.1±3.2; p<0.05), and total FOSQ score (78.1±22.6 versus 99.3±14.4; p<0.05). After treatment, the non-advanced group presented a decrease in the mean AHI (24.0±12.2 versus. 11.7±7.9; p<0.05). However, no significant differences were found in the number of arousals per hour, ESS score, snoring, and total FOSQ score in the non-advanced group. Neither study group showed significant difference in mean SF36 scores. Oral appliances, especially those that advance the mandible, offer an effective treatment for OSA.
This is a preview of subscription content, log in to check access.
Access options
Buy single article
Instant access to the full article PDF.
US$ 39.95
Price includes VAT for USA
Subscribe to journal
Immediate online access to all issues from 2019. Subscription will auto renew annually.
US$ 99
This is the net price. Taxes to be calculated in checkout.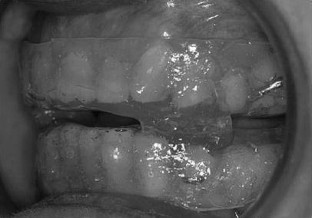 References
1.

Young T, Palta M, Dempsey J et al (1993) The occurrence of sleep-disordered breathing among middle-aged adults. N Engl J Med 328:1230–1235

2.

Zamarron C, Gude F, Otero Y et al (1999) Prevalence of sleep disordered breathing and sleep apnea in 50- to 70-year-old individuals. A survey. Respiration 66(4):317–322

3.

Remmers JE, DeGroot WJ, Sauerland EK, Anch AM (1978) Pathogenesis of upper airway occlusion during sleep. J Appl Physiol 44:931–938

4.

Hoffstein V, Viner S, Mateika S, Conway J (1992) Treatment of obstructive sleep apnea with nasal continuous positive airway pressure. Patient compliance, perception of benefits, and side effects. Am Rev Respir Dis 145:841–845

5.

Meurice JC, Dore P, Paquereau J, Neau et al (1994) Predictive factors of long-term nasal continuous positive airway pressure treatment in sleep apnea syndrome. Chest 105:429–433

6.

Schmidt-Nowara W, Lowe A, Wiegand L et al (1995) Oral appliances for the treatment of snoring and obstructive sleep apnea: a review. Sleep 18:501–510

7.

Rogers R (2000) Oral appliance therapy for the management of sleep disordered breathing: an overview. Sleep Breath 4:79–83

8.

Liu Y, Zeng X, Fu M, Huang X, Lowe A (2000) Effects of a mandibular repositioner on obstructive sleep apnea. Am J Orthod Dentofac Orthoped 120:639–647

9.

Cartwright R (2001) What's new in oral appliances for snoring and sleep apnea: an update. Sleep Med Rev 5:25–32

10.

Tan YK, L'Estrange PR, Luo YM et al (2002) Mandibular advancement splints and continuous positive airway pressure in patients with obstructive sleep apnoea: a randomized cross-over trial. Eur J Orthod 24:239–249

11.

Gall R, Isaac L, Kryger M (1993) Quality of life in mild obstructive sleep apnea. Sleep 16:S59–S61

12.

Fornas C, Ballester E, Arteta E et al (1995) Measurement of general health status in obstructive sleep apnea hypopnea patients. Sleep 18:876–879

13.

Sanner BM, Klewer J, Trumm A et al (2000) Long term treatment with continuous positive airway pressure improves quality of life in obstructive sleep apnoea syndrome. Eur Respir J 16:118–122

14.

Barnes M, Houston D, Worsnop CJ et al (2002) A randomized controlled trial of continuous positive airway pressure in mild obstructive sleep apnea. Am J Respir Crit Care Med 165:773–780

15.

Sin DD, Mayers I, Man GC, Gharary A, Pawluk L (2002) Can continuous positive airway therapy improve the general health status of patients with obstructive apnea?: a clinical effectiveness study. Chest 122:1679–1685

16.

Profant J, Ancoli-Israel S, Dimsdale JE (2003) A randomized, controlled trial of 1 week of continuous positive airway pressure treatment on quality of life. Heart Lung 32:52–58

17.

Pichel F, Zamarron C, Magan F et al (in press) Health related quality of life in patients with obstructive sleep apnea: effects of long term positive airway pressure treatment. Respir Med

18.

Walker-Engstrom ML, Wilhelmsson B, Tegelberg A, Dimenas E, Ringqvist I (2000) Quality of life assessment of treatment with dental appliance or UPPP in patients with mild to moderate obstructive sleep apnoea. A prospective randomized 1-year follow-up study. J Sleep Res 9:303–308

19.

Engleman HM, McDonald JP, Graham D et al (2002) Randomized crossover trial of two treatments for sleep apnea/hypopnea syndrome: continuous positive airway pressure and mandibular repositioning splint. Am J Respir Crit Care Med 166:855–859

20.

Rechtschaffen A, Kales A (1968) A manual of standardised terminology, techniques and scoring system for sleep stages of human subjects. BIS/BRI, Los Angeles

21.

American Sleep Disorders Association (1992) EEG arousals: scoring rules and examples: a preliminary report from the Sleep Disorders Atlas Task Force of the American Sleep Disorders Association. Sleep 15:173–184

22.

Pancer J, Al-Faifi S, Al-Faifi M, Hoffstein V (1999) Evaluation of variable mandibular advancement appliance for treatment of snoring and sleep apnea. Chest 116:1511–1518

23.

Ferrer M, Vilagut G, Monasterio C et al (1999) Measurement of the perceived impact of sleep disorders: Spanish version of the functional outcomes sleep questionnaire and the Epworth sleepiness scale. [Medida del impacto de los trastornos del sueño: las versiones españolas del cuestionario funcional del sueño y de la Escala de somnolencia de Epworth]. Med Clin (Barc) 113:250–255

24.

Alonso J, Regidor E, Barrio G et al (1998) [Population reference values of the Spanish version of the Health Questionnaire SF-36] Valores poblacionales de referencia de la versión española del Cuestionario de Salud SF-36. Med Clin (Barc) 111:410–416

25.

Weaver TE, Laizner AM, Evans LK et al (1997) An instrument to measure functional status outcomes for disorders of excessive sleepiness. Sleep 20:835–843

26.

Kazis LE, Anderson JJ, Meenan RF (1989) Effect sizes for interpreting changes in health status. Med Care 27:S178–S189

27.

Cohen J (1977) Statistical power for the behavioral sciences. Academic Press, New York

28.

Clark GT, Arand D, Chung E, Tong D (1993) Effect of anterior mandibular positioning on obstructive sleep apnea. Am Rev Respir Dis 147:624–629

29.

Eveloff SC, Rosenberg CL, Carlisle CC, Millman RP (1994) Efficacy of a Herbst mandibular advancement device in obstructive sleep apnea. Am J Respir Crit Care Med 149:905–909

30.

O'Sullivan RA, Hillman DR, Mateljan R, Pantin C, Finucane KE (1995) Mandibular advancement splint: an appliance to treat snoring and obstructive sleep apnea. Am J Respir Crit Care Med 151:194–198

31.

Pancer J, Al-Faifi S, Al-Faifi M, Hoffstein V (1999) Evaluation of variable mandibular advancement appliance for treatment of snoring and sleep apnea. Chest 116:1511–1518

32.

Henke E, Frantz DE, Kuna ST (2000) An oral elastic mandibular advancement device for obstructive sleep apnea. Am J Respir Crit Care Med 161:420–425

33.

Marklund M, Persson M, Franklin KA (1998) Treatment success with a mandibular advancement device is related to supine-dependent sleep apnea. Chest 114:1630–1635

34.

Ferguson KA, Ono T, Lowe AA, Al-Majed S, Love LL, Fleetham JA (1997) A short term controlled trial of an adjustable oral appliance for the treatment of mild to moderate obstructive sleep apnoea. Thorax 52:362–368

35.

Mehta A, Qian J, Petocz P et al (2001) A randomized, controlled study of a mandibular advancement splint for obstructive sleep apnea. Am J Respir Crit Care Med 163:1457–1461

36.

Pitsis AJ, Darendeliler MA, Gotsopoulos H, Petocz P, Cistulli PA (2002) Effect of vertical dimension on efficacy of oral appliance therapy in obstructive sleep apnea. Am J Respir Crit Care Med 166:860–864

37.

Fritsch KM, Iseli A, Russi EW et al (2001) Side effects of mandibular advancement devices sleep apnea treatment. Am J Respir Crit Care Med 164:813–818

38.

Johnston CD, Gleadhill IC, Cinnamond MJ, Gabbey J, Burden DJ (2002) Mandibular advancement appliances and obstructive sleep apnoea: a randomised clinical trial. Eur J Orthod 24:251–262

39.

Reimer MA, Flemons WW (2003) Quality of life in sleep disorders. Sleep Med Rev 7:335–349
About this article
Cite this article
Blanco, J., Zamarrón, C., Abeleira Pazos, M.T. et al. Prospective evaluation of an oral appliance in the treatment of obstructive sleep apnea syndrome. Sleep Breath 9, 20–25 (2005). https://doi.org/10.1007/s11325-005-0003-4
Keywords
Obstructive sleep apnea

Oral appliance

Quality of life